About Us & Visitor Comments
Visitor Comments: 2004
---
From: Anand Dharan, Princeton, USA, 31 December 2004
Hi, I am a Tamil Iyer college student, born and raised in America (family originally from Tiruchi and Tanjavur). I've found the tamilnation site very useful for the hypertexts of the deeply philosophical Tamil works like Tirukkural and Tirumandiram. I was also fascinated to read about the Tamil diaspora and to know that Tamil is still alive and well after over a hundred years in Fiji and Mauritius. Thanks so much for providing Tamils worldwide with this resource.

I was a little disappointed to find that there's almost nothing on this site on the Tamil Iyer and Iyengar communities and their contribution to the arts and culture of the Tamils. Saint Thyagaraja, Muthuswamy Dikshitar, and Shyama Shastri, the holy trinity of Carnatic music who transformed Carnatic music, were all Tamil Iyers. In contemporary times, these communities have produced politicians and freedom fighters like S. Radhakrishnan and C. Rajagopalachari, while only Bharathiyar is recognized duly on this site. And then there are renowned scientists such as C.V. Raman, S. Chandrasekhar, and Srinivasa Ramanujan. All of India venerated Sri Chandrasekharendra Saraswati Maha Swamigal, the 68th Shankaracharya of the Kanchi Kamakoti Peetham, popularly considered an incarnation of Adi Shankara himself and born to a very pious Iyer family. Today, Iyers and Iyengars still dominate the classical music scene in South India. Bharatha Natyam, another quintessentially Tamil art form, has one of its greatest exponents in Padma Subramanyam.

No mention is made, either, that Tamilians traditionally make the best Vedic scholars; so many Tamils of my dad's generation have memories of listening to Sengalipuram Anantharama Dikshitar, the pioneer of religious discourse in South India, chanting from the Vedas and other works and giving talks on their meaning. These communities have produced innumerable philosophers, artists, musicians, and other great men who have cultivated the Tamil language, arts, and values, and have brought international recognition to the Tamil people. I think that any comprehensive website on the "Tamil Nation" is incomplete without ample space devoted to these great souls.

Please take this into consideration. In the meantime, thanks again for providing such a thorough website that allows those of us in the diaspora to learn more about our heritage.
Response by tamilnation.org
Many thanks for your comments. It appears that Saint Thyagarajah was born in Tiruvaiyaru, near Thanjavur in Tamil Nadu on May 4, 1767 and that his parents were Smarta Telegu Brahmins, who had moved to Tamil Country during the Vijayanagar period (early 1600's). Sri Tyagaraja composed more than 800 songs in his long devoted life to Lord Rama, most of them written in his mother tongue Telegu, and a few in Sanskrit. Most of Shyama Shastri's compositions were in Telegu. Muthuswamy Dikshitar was born in modern day Karnataka and composed most of his songs in Telegu and a few in Sanskrit. C.V. Raman, S. Chandrasekhar, Srinivasa Ramanujan and C. Rajagopalachari are included in the Hundred Tamils of the 20th Century. There is also a link in Tamils - a Trans State Nation to the Iyer Heritage Site. Having said that, Mu Vardarajan's comments about some Sanskrit scholars are also relevant -

"..Caminata Desikar, a Sanskrit scholar and author of a grammatical work entitled ilakkaNakkottu compared the alphabets of Sanskrit and Tamil and found that all, expect five alphabets, the two short vowels e (எ) and o (ஒ) and three consonants Ra, na and za (ற, ன, ழ) are common to both the languages. Based on his findings he wrote an unusual verse in which he posed insolently a question whether Tamil with only five letters of its own could ever be called a language.

"Intelligent persons will be ashamed
To call it a language
That possesses only five letters.""

Again many may disagree with your comment that 'today, Iyers and Iyengars still dominate the classical music scene in South India'. Here the views of Dr.K.Srinivasan, Appapillai Rajendra and Kalki Krishnamurthy as to the origin of Carnatic music merit attention. You may also find the discussion at Caste & the Tamil Nation of interest.
From: Sivaram Arumugam, Canada 25 December 2004
Vannakam. Congratulations for the excellant effort re Tamilnation. Its a treat for Tamils all over the world. I believe that one of my longstanding concerns regarding an issue about Navalar may be mentioned here. In my very young days while preparing for the Saiva exams held by the Vivekananda society in Colombo, we were forced to memorise Navalar's "Saiva Vinaa Vidai" (சைவ வினா விடை). I was utterly confused. It is a book which puts wrong and demeaning values into society and particularly young minds. Teachers endorsed it. My father had the courage to burn it in front of my eyes and said that I need not take up the exam. I can understand the damage that the book would have caused in our society. I am wondering whether it is still in use. Freedom of conscience is a fundamental right. Those who want to hold Navalar vizha may still hold it. But the stakeholders of a Nation have the duty to be fair towards all its members.If language and religion are to be protected and promoted, society should be free of demoralising and dividing factors. I also cannot understand how Navalar challenged Ramalinga Swamigal who was a progressive spiritual guide. While appreciating Navalar's contribution for Saivam and Thamil I still will not permit my children to read his works or History if his Saiva Vinaa Vidai is still in force. - A Saiva Thamil
From: B. Kumaravadivelu, San Jose State University, California, 28 November 2004
Vannakam. I need your help in identifying the source (name and time period) of the following two familiar quotes from Tamil literature (sorry for the rough transliteration):

1. yaadhum oore; yaavarum kelir

2. katradhu kaimannalavu; kallaadhathu ulagalavu

I vaguely remember that the author of the first is Kaniyan Poongunranaar and of the second, Auvaiyaar, but I'm not sure. Please help with the authors' names and their time period. Thank you.
Response by tamilnation.org
Vannakam.

1. You are right - yaadhum oore; yaavarum kelir (யாதும் ஊரே - யாவரும் கேளீர்) is a poem by Kanniyan Poongundran. It is poem no.196 in Purananuru - Four Hundred Poems On Heroism - one of the 'Eight Anthologies' (Ettuthokai) which are themselves a part of the Sangam poems - the earliest literature we have in Tamil. You will find further information at the Ettuthokai page.

The dating of the Sangam works is not without some controversy. According to Mu Varatharajan they may be dated roughly between 100 B.C. and 250 A.D and were written over a period of 250 to 300 years. Rev. G.U.Pope has suggested circa 500 B.C. Here, 'Some Remarks on Dating of Sangam poetry by Professor George Hart' may be of interest.

2. katradhu kaimannalavu; kallaadhathu ulagalavu (கற்றது கைம்மண்ணளவு கல்லாதது உலகளவு) appears to be a Tamil proverb. You will find this in Singai Krishnan's compilation of Tamil Proverbs . Having said that, we ourselves are not certain as to its origin. Anbudan.,
From: Sara Ananthan & Family, Sydney, Australia, 26 November 2004
Dear tamilnation.org, This is a copy of the birthday wishes sent to our National Leader Honorable Velupillai Prabaharan on his 50th Birthday.

Our dearest Tamil Eelam National Leader, Honorable Velupillai Prabaharan, May God bless you and your family. We pray daily to almighty God to bestow you with many happy returns. Engal Arumai Thalaiva, you are our hope, pride and the very breath of our Tamil Nation.

Even though we are thousands of miles away from our homeland, every day we think of you and our Tamil Nation. Liberation is divine as such you are also divine. Every living creature in this world strives to be free from bondage. The bondage that shackles us is more than two thousand years of old. As such our liberation is not about freeing just the land, but it is also about the liberation of mind, body and the very soul of our new nation.

All we are asking is live and let live, as such our struggle is a very just struggle. Any just cause is intrinsically blessed. Lord Jesus struggled against oppression and liberated his people from bondage. For this just struggle, he was called a terrorist by Rome which was the greatest power at that time. Prophet Mohamed liberated his wandering hordes and turned them into powerful people. Lord Buddha rebelled against Hindu rituals and Vedic sacrifices and liberated his people from religious tyranny.

Therefore divinity itself is the pinnacle of liberation. As our, Tamil Poet Arivumathy's immortal song portrays so beautifully, Lord Muruga himself was a Liberator of Tamils from tyranny in ancient times.

You are our liberator at our present time. As such we are blessed to be living in your Prabaharan era. In time to come, our future generations will sing in veneration Kakka Kakka Prabaharan Kakka. As our emancipator you are so divine!!. As penned by a Porali in that immortal song,

Raja Gopuram Engal Thalaivan. Parr Engum Pugal Manakum Engal Thalaivan.
From: Karthika Anandarajah, Sri Lanka 22 November 2004
Vanakkam tamilnation.org. I am a regular reader of this site. Every day during my lunch time from my office I go through your site. I also mail some links to my friends. I am fond of your site, it has got every thing I like. Iym(5) Perung Kaappiyangal - when I read them, I feel proud of my mother tongue. But it will be a gift if you would kindly publish the meanings of the phrases on the side of each paragraph because its heavy Tamil writing. It will be a great pleasure and it will reach all the Paamararkal and the children. Thanking you for the great job you are doing. Vaalha Tamil, Valarha athan sirappu. Nantri வாழ்க தமிழ், வளர்க அதன் சிறப்பு. நன்றி.
From: Paarimahan, Sooriyan.Com, 15 November 2004
It is nice to see the tamilnation.org is back. Keep up the good work. Anbudan..
From: Harutoma Kikuchi, Japan, 13 November 2004
Vannakam. I'm learning the Tamil language and I 'd like to buy Handbook Tamil: An Auto-Instructional Course (with cassette tapes) published by the International Institute of Tamil Studies, Madras, India. But I do not know where I may purchase the book. Please help. Romba Nandri.

Response by tamilnation.org
From: Jaimal Yogis, Reporter, Columbia University [[email protected]] 2 November 2004
Dear tamilnation.org,

I am a Columbia Journalism student writing a news analysis on the peace process in Sri Lanka. In this particular piece I am focusing on the future of the LTTE. The BBC referred me to you as an organization that might be able to help. If possible, could you please respond to the questions below by Wednesday morning at the latest. Thank you very much.

1.) Why do you think the LTTE has rejected the governments offers for peace talks?
2.) Do you think the LTTE's ISGA proposal is fair?
3.) Is the LTTE using the ceasefire time to rearm?
4.) Do you think Col. Karuna's split from the LTTE has weakened the organization? How?
5.) Do the LTTE have the support of the Tamil people in general or are Tamils just afraid of dissenting?
6.) Do you think the LTTE has gained more international legitimacy by their recent Euro trip?
7.) What is the future of the LTTE in your opinion?

Response by tamilnation.org Many thanks for your communication. We feel that we cannot usefully add to the information that we have provided at this website - and, hopefully, you may find that information of some help in your efforts during the relatively short time at your disposal to examine the complex issues relating to a conflict which has continued for more than a quarter century.
From: Professor Murugesu Sivapalan, University of Western Australia, 25 October 2004
I found an interesting website operated by two individuals, Uthayakumar and Sathytharan... The website appears to be based in Tamil Eelam, and is called Tamil Research and News. http://www.tamilresearchandnews.com/ The website is in Tamil and carries a number of regular research articles and commentaries, on Tamil language, history and politics. I really enjoyed reading these, and appreciated the depth and seriousness of the analyses. Visitors to Tamil Nation may want to know the existence of this website...

Response by tamilnation.org Many thanks for letting us know - we have now included a link to the site in the Struggle for Tamil Eelam page - and also announced it in the Whats New page.
From: Dr.T.Wignesan, Editor, The Asianists' Asia, Paris 10 October 2004
Greetings! Judging by tamilnation's renaissance, I guess all is well and flourishing. The site looks better now than it did of old, more organized and access-prone. No need to sing the praises of such a site. Far too many have surely missed your columns in the intervening period. I'm really glad you thought better of not staying away for good. You're providing a service that many all over the world cannot but feel is wholly instructive. And not just Tamils but researchers and others who chance upon your site will recognise how you have answered their needs - handsomely. Thanks and every good wish for the future.

Response by tamilnation.org Vannakam. It was, as always good to hear from you - and many thanks for your kind words of support. Mikka Nanri.
From: Appapillai Rajendra, New Jersey, USA., 7 October 2004
I wish to make the following observation on the subject of 'Tamil Music on the Web'... You mention that the anglicized word 'Carnatic' had its roots in 'Karnadagam.' This word when broken up into its components goes as 'karu' - 'nada' - 'agam'. You attribute the meaning of these components or may we call it segments as follows : 'Karu' (black) also means = 'agam' (house).. 'Nada' from its origin 'Nadu' means 'agam' (house ) and 'agam' of course means 'house' Going by the meaning of the three segments of the word karnadagam Karu-nada-agam should actually mean "house" - "house" - "house". I don't see the logic in this explanation. I am sure you will agree with me that your explanation is far from correct.

We all know that Tamil which is considered the oldest language and so very rich in its grammar and literature cannot have such a shabby coinage as to eventually end up as 'carnatic'. I got to learn that the word 'carnatic' music did not come from the word karnatak or has any connection to the state of Karnataka. Cilappathiharam makes mention of Cavari Puhum Pattinam. During this period the performing arts were very popular and as a matter of routine, dramas and music expositions were held on every full moon night for the amusement of the people, on the moon lit banks of the river Cavery, where it merges into the sea. The popularity of these dramas cum music prevailed in the township that was located on Cavery near the sea shore (Kadal Carai) which got its name as Cavery puhum Pattanam and the festivity on the sea shore got the significans as 'Carai' (Shore) 'nadaham' (Drama) and 'issai' (music), which turned out 'carai nadaha issai' to 'carnadaha isssai' and anglicized as 'Carnatic music.

I was shocked when I heard none other than the music maestro Balamurali Krishna mention that Carnatic music derived from Karnatak music most probably from the fallacy that Kannada hosts the classical music. I would wish you verify the accuracy of my explanation if you find it necessary, and make the necessary correction on your web site.

Response by tamilnation.org The views as to the origin of the expression 'Carnatic Music' that appears at Tamil Music on the Web are those expressed by Dr.Srinivasan. Our own reading of Dr.Srinivasan's views is that he does not deny the Tamil origin of what is described as Carnatic music and that he does not take the view expressed by Balamurali Krishna. It appears that Dr.Srinivasan suggests that the land mass known as 'Carnatic'- included "most of South India and was almost the same as Madras State of the 1950s" and was populated by the Tamil people. Having said that, clearly the origin of the expression 'Carnatic Music' itself is not without controversy and we have now included your views in Tamil Music on the Web. Mikka Nanri.
From: Visagaperumal Vasanthan , 27 September 2004
This is my first visit to your website and I am grateful for your service to Tamil. Your nominations to One Hundred Tamils of the 20th Century missed one important person. Mr Ramalingam Muttiah was the father of Tamil Typewriter who hailed from Chundikuli, Jaffna and lived in Malaysia until his death in 1959. He designed and produced first Tamil typewriter which was commercially distributed. His contribution to Tamil was timely and important.
Response by tamilnation.org Mikka Nanri. His name has now been included.
From: Kundavi Sandrasegaran, Kuala Lumpur, Malaysia, 17 September 2004
Keep Thamil alive! Accidentally bumped into your site, or should I say, our site! Delighted to welcome tamilnation.org into my life. Hope to spend the rest of my life learning my roots. I am learning Tamil and and reading voraciously all I can about our Tamil 'panbadu ', our very 'soul'. Having spent barely a year in Tamil Nadu, I missed absorbing our rich culture. I am more fluent in other languages than in my wonderful 'Thamil'. So, now at forty- one I am reading the 'Thirukkural', and marvelling at it and the great mind of Thiruvalluvar. My children will not miss out on their culture. So, keep us informed and let us grow learning all we can about our 'Thamil'
Response by tamilnation.org: Vannakam. Yes, it is (all) 'our site' - and your comments were heart warming and help to sustain us in our endeavours. May God Bless. Mikka Nanri
From: M.Thiru, Singapore, 12 September 2004
From: Simon Gill, Australia, 31 August 2004

I am an international law student at Flinders University South Australia. I am currently researching issues of self-determination regarding East Timor and have been trying to source the report of Hector Gros Espiell 'The Right to Self Determination: Implementation of United Nations Resolutions'. I am finding it difficult to source and have discovered the first chapter on your website. Do you know where I might find a copy of the full text?

Response by tamilnation.org: The copy we have is E/CN.4/Sub.2/405/Rev.1 and is titled "Right to Self Determination - Implementation of United Resolutions, Study Prepared by Hector Gros Espiell, Special Rapporteur of the Sub Commission On Prevention of Discrimination and Protection of Minorities". It was published by United Nations, New York, 1980 - United Nations Publications - Sales No.E.79.XIV.5. The book is in A4 format and has 86 pages. The back cover notes: ' How to Obtain United Nations Publications - United Nations Publications may be obtained from book stores and distributors throughout the world. Consult your bookstore or write to: United Nations, Sales Section, New York or Geneva. Ofcourse all this was in 1980! And we do not know whether this info is of any help - we have been unable to find an online source - but perhaps this is something you have already tried. We are sorry that we cannot be of greater assistance. Our good wishes for the success of your research efforts.
From: Phillip Gnanapragasam, Australia, 27 August 2004
My best wishes to Prof. Sivapalan. May his tribe increase, amongst Thamilians. I am mortified that I only came across Prof. Sivapalan recently when he sent his wishes on the re-birth of tamilnation.org. I was struck by the succinct clarity of his expression. Reading his response at the John Dalton Medal presentation, I was touched by the simplicity of his eloquence (or may be it is the eloquence of his simplicity that came through!)
From: Maya Ranganathan, Australia 23 August 2004
from Monash University, National Centre for Australian Studies Newsletter, May 2004 - Maya Ranganathan, PhD candidate with NCAS, is the recipient of a Monash Postgraduate Publications Award which will assist her to prepare articles for publication. Maya completed her Masters in Communication at the University of Madras, India, and has already received two Monash Graduate Scholarships. She has just completed her PhD thesis, 'Nurturing Nations on the Net: an exploration of nation-building on the Internet'. The thesis looks at political websites in South Asia, arguing that both nation-states and aspiring nation- states employ the Internet to reiterate the concept of 'nation' and 'nationality' among their members. Maya is also contributing to an upcoming Monash-Asia Institute publication on Singapore.
It was soon after I started my Ph D in Oct 2000 on the subject of using the Internet for nation-building that I chanced upon tamilnation.org. You can imagine my delight. My argument was that the Internet was one of the most ideal tools for nation-building and I had discovered this website which I intended analysing in depth. But as luck would have it, tamilnation.org vanished without a trace soon after. For my PhD I ended up choosing other websites which were sadly not as comprehensive, interesting or as authoritative. I submitted my thesis in May 2004. Yesterday, I recalled the material on tamilnation.org on Tamils and the Sumerian civilisation during a discussion with a friend about similarities in Korean and Tamil grammar. We did a Google search and to my great surprise I found tamilnation.org was back! For me, it is a little too late. But then, better late than never. Welcome back and yes, I missed you!

Response by tamilnation.org: Mikka Nanri. As you may recall from your own experience, writing is often a lonely business, and your 'welcome back' was welcome and gratifying. I watched the film Finding Forrester recently. A budding 16 year old author is advised: 'write from the heart, rewrite with your mind'. Over the years, tamilnation.org has grown and taken shape, hopefully, by bringing heart and mind together and also by being ever mindful that none of us grow alone - we grow by interacting with our fellow beings and by endeavouring to relate to the essential goodness that is in each one of them. Again, many thanks - and God Bless.

From:

K.Sankar, Bangalore, India 21 August 2004
I am looking for a Tamil to Tamil dictionary. If you have any idea where I can get the dictionary, please give me the contact address. Thanks & Regards

Response by tamilnation.org You may find some information in the recently revised 'Dictionaries & Reference' page at the Tamilnation Library. One address that may be of interest is the Little Flower Co. at T. Nagar, Madras 600 017.
From: Aarooran Thiyagarajah, San Diego, California, USA 1 June 2004
I was among the hundreds of the happy Tamils here in Southern California to welcome tamilnation.org back on the web. Excellent...excellent website. If anything out there is good, you are better. Some humble suggestions. The home page is clustered with all kind of information and it's often hard for a non-Tamil or a newcomer to find tail or head at times. If you may rearrange some items it will be much more friendlier website for non Tamil readers. With all information in all directions and color coordination on words and moving objects, clearly a spin on the website may take a reader in all directions at one given time. Nothing wrong with that, but often it may prevent some non courageous people to move on, in this excellent website. I clearly understand the time and relentless effort that you have dedicated and it's often easy for me to say of a rearrangement, but I want your website to be the impeccable door and the sunshine to the young Tamil nation. If I may help in any direction, I am there for your service. Wishing the best.

Response by tamilnation.org: Vannakam. Many thanks for your comments and thoughtful feedback. We take on board your concerns about the home page appearing cluttered - the news and special focus sections have now been moved to a more traditional 'Whats New' page. We have also reduced the number of colors in the homepage and this may hopefully reduce the effect of 'spin'. The site has had an organic growth and is an expression of not only what we think but also what we feel. Here the comments of Professor Murugesu Sivapalan and Phillip Gnanapragasam were helpful. We feel in harmony when form and content go together. When they do not, conflict emerges. The conflict when it appears is a measure of our own shortcomings - and will help us to grow and change. Mikka Nanri for having taken the time to write to us.
From: M.Thiru, Singapore 1 June 2004
tamilnation.org site is doing a great service to the Tamils all over the world. It makes them appreciate their roots and their rich culture and the language. Look at Singapore and its Senior minister Lee Kuan Yew, how he has contributed to elevate the status of Chinese all over the world .
---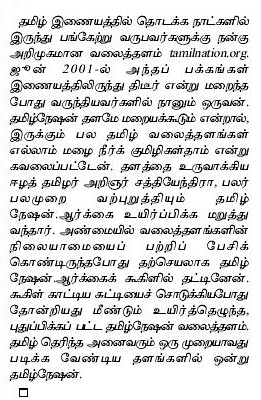 From Mani M. Manivannan, Editor, Thendral Magazine, USA. 28 May 2004
vaNakkam. I am ecstatic to see tamilnation.org come alive. Along with Ramani and other friends, we mourned its disappearance and we are immensely delighted that it is back. I have written about tamilnation.org in my back page column in Thendral, a Tamil magazine for North American Tamils, published from the Silicon valley. I have enclosed the image file of my column. Anbudan...

Response by tamilnation.org: Many thanks for your welcome and support. We also wish you well with your efforts with Thendral. Your logo is continuing proof of the saying that a picture speaks more than a thousand words. [please see Tamils: a Trans State Nation - USA]
From: Lawrence Christy, Eelam 27 May 2004
From: Vishy (Author, AzhagiNo.1) India 26 May 2004
I understand from my evergreen friend, Mr.Visweswarand, in Canada that you are UP again after 3 years. I wish tamilnation.org all the best at all times. With best regards. [note by tamilnation.org: see also AzhagiNo.1 - 'Dual Screen' Tamil Transliterator at Tamils & the Digital Revolution]
From: Victor Rajakulendran, Australia 26 May 2004
Like many others, I am also delighted and relieved to see the long awaited re-launch of your prestigious Website again. I was told by reliable sources that this will happen one day and we were all waiting for that day and that has come....Thank you once again for reviving the site again. [note by tamilnation.org: see also Selected Writings - Victor Rajakulendran]
From M.Thanapalasingham, Australia 24 May 2004
Re-birth of tamilnation.org. As Maharishi Ramana said "Life's purpose is not to create a new reality, it is to remove the impediments that cloud that reality." I see the re-birth of tamilnation.org as the natural extension of a process of re-examination which has inevitably arrived at this truth. I am convinced that this process of purification would see tamilnation.org shine even brighter in the years ahead. I am looking forward to participate in this process.
From Sanmugam Sabesan, Australia 23 May 2004
Valthukal. Vanakkam! Meendum Tamil Nation! Meendum oru noolaham! Inthak kadalil meendum neenthith thilaika nangalum thayaar! Mikka mahilvudan [note by tamilnation.org: see also Selected Writings by Sanmugam Sabesan]
From: Palmer Paramadhas, USA 21 May 2004
Please add our Church website http://www.atlantatamilchurch.org in the Tamil Nation Website. Thanks.
From Margaret Trawick, New Zealand 21 May 2004
Coming back to me. Hello! I am totally rejoicing to see tamilnation.org back on the web. It is like a dear old friend who had disappeared and who one thought was gone forever, suddenly and unexpectedly appearing on one's doorstep. Please never leave us again!

Response by tamilnation.org Mikka Nanri. It was more than heart warming to read your words of welcome. - it was humbling. May God Bless. [see also Professor Margaret Trawick's Website at Massey University, New Zealand & Notes on Love in a Tamil Family]
From N.I.Umakantha Sarma, Australia 19 May 2004
Please accept my humble obeisance. First of all, please accept my congratulation for your untiring work on tamilnation.org. With the new look of the site and comments on Tamil spiritualism, I thought it would be appropriate to introduce links to two new web sites which promotes spirituality to all human beings on this earthly planet. Over the last two years Tamil people have migrated to various parts of the world and some became into contact with ISKCON popularly known as Hare Krishna movement. Aims of the movement is spelt out as below :-

The Seven Purposes of ISKCON

1. To systematically propagate spiritual knowledge to society at large and to educate all people in the techniques of spiritual life in order to check the imbalance of values in life and to achieve real unity and peace in the world.
2. To propagate a consciousness of Krishna (God), as it is revealed in the great scriptures of India, Bhagavad-gita and Srimad-Bhagavatam.
3. To bring the members of the Society together with each other and nearer to Krishna, the prime entity, thus developing the idea within the members, and humanity at large, that each soul is part and parcel of the quality of Godhead (Krishna).
4. To teach and encourage the sankirtana movement, congregational chanting of the holy name of God, as revealed in the teachings of Lord Sri Caitanya Mahaprabhu.
5. To erect for the members and for society at large a holy place of transcendental pastimes dedicated to the personality of Krishna.
6. To bring the members closer together for the purpose of teaching a simpler, more natural way of life.
7. With a view towards achieving the aforementioned purposes, to publish and distribute periodicals, magazines, books and other writings.

All those, who follow the teachings of Bhagavath Gita from the Hare Krishna movement has found a new meaning to life, a life where one is freed from hankering and lamenting and have found a life where they can live joyfully by leading a life, which is full of happiness and bliss. In this context , I humbly request you to add links in your web site for www.iskcon.com and www.iskcon.org so that visitors to your site can get the benefit of association with the devotees of the Lord.

Response by tamilnation.org. Many thanks for your comments. Your links have been included in the Hinduism Teachers & Teachings page. We ourselves relate to the story about Bodhirama. He had once gathered his disciples about him to test their perception. One of the pupils said, 'In my opinion truth is beyond affirmation or negation.'. Bodhirama replied 'You have my skin'. Another disciple said, 'In my view it is like Ananda's sight of the Buddha - seen once and forever', and Bodhirama said, 'You have my flesh'. And, then as the story goes, the third disciple came before Bodhirama and was silent, and Bodhirama said, 'You have my marrow.' The words of Ken Wilbur in A Brief History of Everything come to mind:

"In Douglas Adams's Hitchhiker's Guide to the Galaxy, a massive supercomputer is designed to give the ultimate answer, the absolute answer, the answer that would completely explain "God, life, the universe, and everything." But the computer takes seven and a half million years to do this, and by the time the computer delivers the answer, everybody has forgotten the question. Nobody remembers the ultimate question, but the ultimate answer the computer comes up with is: 42. This is amazing! Finally, the ultimate answer. So wonderful is the answer that a contest is held to see if anybody can come up with the question. Many profound questions are offered, but the final winner is: How many roads must a man walk down?"
From: Nathan Bahirathan, Canada 18 May 2004
I am very happy that

tamil

nation.

org

is back on the web. I had encouraged many to read the tamilnation as it was one of the best and very comprehensive site one could access to get information on Tamil (Sri Lankan) subject matter. Thank you very much for restoring

tamil

nation.

org

to the reading public.
From Jeevan, Webmaster, Tamilosai, 18 May 2004

From Sachi Sri Kantha, Japan, 18 May 2004
'Kadal kadanthaan Engal Thamizhan - Angum Karpoora Theepam Kandaan Iraivan

Udalukkup Porul Thedi Ullaththil Irai Naadi - Thamizhukkum Pani Seithu Than Maanathudan Vaazha'

From Phillip Gnanapragasam, Sydney, Australia, 18 May 2004
Ullam Poorikkindradhu. I am exhilarated that

tamil

nation.org is back on the net. Over the years, Nadesan Satyendra's commentary on a range of issues have helped me make sense of the world. Professor Murugesu Sivapalan of Perth has hit the nail on the head. 'The seamless transition between Tamil Nationalism, Tamil Globalism and Tamil Spiritualism' is to me the very essence of

tamil

nation.org. May your endeavours prosper in nourishing us, intellectually, emotionally and spiritually.
From Natkeeran Ledchumikanthan, Canada, 18 May 2004
tamilnation.org is an amazing collection of works. I was one of the many who lamented its closure, and I welcome its return. Hopefully, this time tamilnation.org will remain in the web forever. On another note, please consider including (linking) Tamil E magZines Index which categorizes, describes, and links more than 100 Tamil E magZines in your web site. http://www.natkeeran.ca/AJLinks/TMag/TamilMagazines06.html

Response by tamilnation.org: Yes, we promise to make every effort to ensure that the site continues 'forever'. Your links have been included in the Tamil Portals & E-Zines page and also in the Tamil Language & Literature page
From Nagalingam Ethirveerasingam, USA, 18 May 2004
When tamilnation.org went off line I felt like a child who suddenly found that his home with his parents and siblings suddenly disappeared. Now I feel like that child who found them, after three years, all intact. I am glad to read about your assurance that tamilnation.org will not disappear again. I did say that, "You have taught the Tamils one great lesson - Tamils should build institutions that would not perish on the will of individuals and the wish of other communities." But I also realise that it is individuals who build institutions, create masterpieces and invent or discover new ideas for their communities to appreciate, make it their own and promote. My best wishes for all to ensure the continuity of your creation.
From Ramanitharan Kandiah, USA, 18 May 2004
It is very nice to see tamilnation.org back in action. Welcome Back.
From Alex Doss, President of Tamil Sangam SDSU, San Diego, USA 17 May 2004
Vanakkam, I am a student at San Diego State University. I have formed the first Tamil Sangam on campus. Recent events was a guest speaker from India by the name of Dr. Sethuraman. I have also had the first Tamil New Year Celebration with a live performance of Bharatha Natayam. Our goal is to promote Tamil language and culture at San Diego State University and to address the issues of the Tamils of Sri Lanka and India. I respectfully request to put my yahoo groups site http://groups.yahoo.com/group/tamilsangamsdsu/ on your link page.

Response by tamilnation.org: We have included your group site in the Tamil National Forum page and also in the US Diaspora page. We wish you well in the endeavour that you have undertaken. God Bless.
From: Well Wisher, Australia, 17 May 2004
Wonderful to have our 'Tamil Nation' back! I can't tell you how good it is to have tamilnation.org on the Web again. I am elated that you decided to resume this wonderful fountain of knowledge on Tamil affairs, religion, culture, history etc etc to our Tamil youngsters to whom we recommended this as a reference library. Most of all it is good to have you back.
From Ken Kangeyan, London United Kingdom, 16 May 2004
From Doctor Mahendran, Harrow, London England 16 May 2004
I am glad to see you back on the net. We missed your valued contribution towards keeping us the Tamils alive to our culture, heritage and quest for freedom