INDICTMENT AGAINST SRI LANKA
The Charge is Ethnic Cleansing
Nadesan Satyendra

Ethnic cleansing is a crime against humanity. Ethnic cleansing is about assimilating and digesting a people. It is about destroying the identity of a people, as a people. And in the case of Sri Lanka the theoretical frame was articulated with clarity in July 2009 by Sri Lanka President Mahinda Rajapaksa -
�Now, my theory is: there are no minorities in Sri Lanka, there are only those who love the country and those who don�t... For reconciliation to happen, there must be a mix [of ethnicities]. Here the Sinhalese, the Tamils, and Muslims inter-marry. In my own family, there have been mixed marriages: Sinhalese with Tamils, Sinhalese with Muslims. This is Sri Lankan society..." Sri Lanka President Rajapaksa's Theory of Reconciliation: Intermarriage, 7 July 2009
Given President Rajapaksa's genocidal record, it seems that his theory of reconciliation may be simply stated: kill off as many Tamils as you can and then marry those that you have failed to kill.
Ethnic cleansing often occurs in stages . The preferred route of a conqueror is to achieve his objective without resort to violence - peacefully and stealthily. But when that fails, the would be conqueror turns to murderous violence and genocide to progress his assimilative agenda. Genocides do not just happen. And Sri Lanka is no exception to these general rules.
In the island of Sri Lanka, the record shows that during the past sixty years and more, the intent and goal of all Sinhala governments (without exception) has been to secure the island as a Sinhala Buddhist Deepa.
"...One of the essential elements that must be kept in mind in understanding the Sri Lankan ethnic conflict is that, since 1958 at least, every time Tamil politicians negotiated some sort of power-sharing deal with a Sinhalese government - regardless of which party was in power - the opposition Sinhalese party always claimed that the party in power had negotiated away too much. In almost every case - sometimes within days - the party in power backed down on the agreement..." - Professor Marshall Singer, at US Congress Committee on International Relations Subcommittee on Asia and the Pacific Hearing on Sri Lanka November 14,1995
The current Sri Lanka President Mahinda Rajapaksa is simply the latest in a long line of leaders of the Sinhala Buddhist nation, a nation which dare not speak its name. It is a Sinhala Buddhist nation which seeks to masquerade as a multi ethnic 'civic' 'Sri Lankan' nation albeit with a Sinhala Lion flag , with an unrepealed Sinhala Only Act, with Buddhism as the state religion, and with the Sinhala name 'Sri Lanka' which it gave itself unilaterally in 1972 .
"...In the Sinhala language, the words for nation, race and people are practically synonymous, and a multiethnic or multicommunal nation or state is incomprehensible to the popular mind. The emphasis on Sri Lanka as the land of the Sinhala Buddhists carried an emotional popular appeal, compared with which the concept of a multiethnic polity was a meaningless abstraction..." [Sinhala Historian K. M. de Silva in Religion, Nationalism and the State, USF Monographs in Religion and Public Policy, No.1 (Tampa, FLA: University of South Florida 1986) at p31 quoted by David Little in Religion and Self Determination in Self Determination - International Perspectives, MacMillan Press, 1996]
The Sinhala Buddhist nation masquerading as a multi ethnic 'civic' 'Sri Lankan' nation set about its task of assimilation and 'cleansing' the island of the Tamils, as a people, by
- depriving a section of Eelam Tamils of their citizenship,
- declaring the Sinhala flag as the national flag,
- colonising parts of the Tamil homeland with Sinhala people,
- imposing Sinhala as the official language,
- discriminating against Tamils students seeking University admission,
- depriving Tamil language speakers of employment in the public sector,
- dishonouring agreements entered into with the Tamil parliamentary political leadership,
- refusing to recognise constititutional safeguards against discrimination,
- later removing these constitutional safeguards altogether,
- giving to themselves an authocthonous Constitution with a foremost place for Buddhism,
- and changing the name of the island itself to the Sinhala Buddhist name of Sri Lanka - appropriately enough, on the 'tenth day of the waxing moon in the month of Vesak in the year two thousand five hundred and fifteen of the Buddhist Era'.
When the attempts at ethnic cleansing by Sinhala majority governments (within the confines of a single state) were resisted by the Tamil people by non violent means and parliamentary struggle, Sinhala governments resorted to violence in 1956, in 1958, in 1961, in 1974, and again in 1977 - a murderous violence directed to terrorise the Tamils into submission. Rule by a permanent ethnic majority within the confines of a single state was and is the dark side of democracy.
The inevitable rise of Tamil armed resistance to State terror was then met with enactment of laws which were an 'ugly blot on statute book of any civilised country', with arbitrary arrest and detention, torture, extra judicial killings and massacres, indiscriminate aerial bombardment and artillery shelling, wanton rape, and by genocide in 1983 and thereafter - together with press censorship, disinformation and murder of journalists. And the impunity granted to Sinhala armed forces, para military groups, goondas and Sinhala thugs, exposed the encouragement, support and direction given by successive Sri Lanka governments for the crimes committed against the Tamil people.
In 1987, at the invitation of Sri Lanka President J.R.Jayawardene, Indian Prime Minister Rajiv Gandhi sent the Indian Peace Keeping Force to subdue Tamil resistance to alien Sinhala rule.
"Over a period of about 20 days (commencing 9 October 1987) , the Indian Army's direct attack on LTTE positions, and defence from LTTE attacks, was coupled with the Indian Army's attack and storming of still unevacuated Jaffna - and many villages and settlements throughout the Peninsula - with widespread (insofar as territory), indiscriminate (insofar as targetting) and sustained (insofar as intensity) artillery shelling. Only less widespread, sustained and indiscriminate, there was air-strafing from helicopter as well. It was not "cross-fire" that incidentally killed thousands of civilians. The majority were killed unavoidably inside their houses and huts under shelling, or were shot at random by the roads and on the streets. A large number of people were "only" wounded - yet, many of them died in the absence of medical care, especially under the 24-hour curfew over a period of about one month, to mid-November. ....On top of everything else there has been the "unmilitary" or "unsoldiery" side of events :- wanton killings out of rage, reprisals against non-combatants, looting of homes of middle and wealthier classes, soldier's assault of women, a murderous attack on the main hospital victimising both patients and medical personnel, and killing of a number of unarmed and disarmed guerrilla suspects without trial according to the Law of War." Eduardo Marino, Report to International Alert - Some Observations and Conclusions following a trip to Jaffna Peninsula in November 1987
After the IPKF left in 1989 Sinhala President Ranasinghe Premadasa renewed the attacks on the people of Tamil Eelam with vigour in1990. In September 1990, Amnesty launched a 3 month campaign against state terror in Sri Lanka. During the period 1990 to 1994, Tamils were attacked in the East, in Kannapuram. 180 Tamils were butchered at Saththurukondan. Hundreds of Tamils 'Disappeared' after detention. Tamils in the North were bombed. Over 1,000 Tamil civilians were killed in the three years bombing of Jaffna. Jaffna Hospital and other Tamil civilian centres were bombed. Tamil detainees were systematically tortured.
Following upon Sinhala President Premadasa's terror, the new Sinhala President Chandrika Kumaratunga Bandaranaike continued the genocidal attack on the people of Tamil Eelam in the years 1995 to 2001. The genocidal intent of the Chandrika led Sri Lanka government was proved by -
Thereafter the period 2002 to 2007 (under the dispensation of Sinhala President Chandrika Kumaratunga Bandaranaike & Sinhala Prime Minister Ranil Wickremasinghe and later Sinhala President Mahinda Rajapaksa) witnessed Sri Lanka's undeclared war on the people of Tamil Eelam under the shadow of the 2002 cease fire agreement. It was an undeclared war which witnessed the massacres at Vaharai, Vankalai, Pessalai, Trincomalee, Vallipunam, Padahuthurai, Killinochchi and Muthur. It was an undeclared war which witnessed the murder by Sri Lankan state agencies of a growing number of Tamil intellectuals -A.Nadesan, J.Pararajasingham, D.Sivaram, C.Nehru, P.Ganeshamurthy, V.Vigneswaran, N.Raviraj, Sivamaharajah amongst others.
In 2005, upon his election as the new Sri Lanka President, Mahinda Rajapakse pursued the Sinhala assimilative agenda by reneging on the 2002 Oslo Declaration, and by refusing to recognise the existence of the Tamil homeland.
Finally, in January 2008, the Sri Lanka government unilaterally abrogated the ceasefire agreement which it had solemnly entered into in February 2002 and which agreement had received internationally recognition.
The genocidal intent of the President Rajapakse government was reflected in the war crimes committed by the Sri Lankan armed forces under the President's command and by the Sri Lanka para military. They have raped, murdered Tamil Parliamentarians, Tamil journalists, executed Tamil students with impunity, arbitrarily arrested and detained Tamil civilians, abducted Tamil refugee workers, orchestrated attacks on Tamil civilians and Tamil shops, bombed Tamil civilian population centres and displaced thousands of Tamils from their homes.
And after the Tamil armed resistance silenced its guns on the 17 May 2009, the Sri Lanka regime under Sinhala President Rajapaksa has continued its allotted task of ethnic cleansing with Tamils languishing in Sri Lankan death camps, and with the hidden massacre of tens of thousands of Tamil civilians .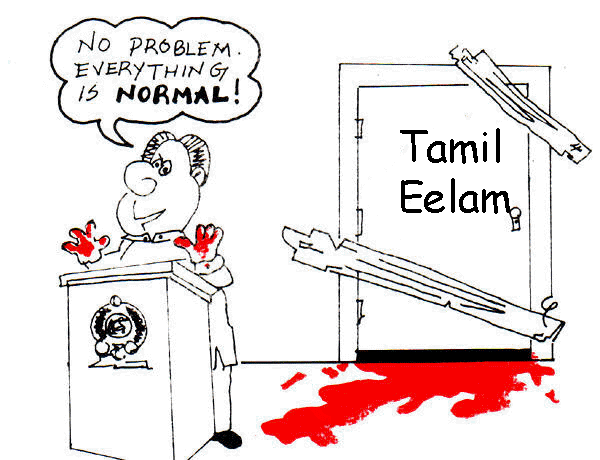 The Record Speaks...
The gross, consistent, and continuing violations of the rights of the Tamil people, by the Sri Lankan government and its agencies during the past several decades, include grave breaches of the Universal Declaration of Human Rights, the International Covenant on Civil and Political Rights, the Genocide Convention, and the Geneva Conventions relating to the humanitarian law of armed conflict.

These violations by Sri Lanka have been well documented by several human rights organisations and independent observers as well as by eye witnesses - and have been the subject of hundreds of statements and interventions at the United Nations Commission on Human Rights.

This publication brings together extracts from some of these reports - including those that cover Genocide '58, Genocide'83 , Rajiv Gandhi's War Crimes, the Genocidal War '95 to '01, Sri Lanka's Undeclared War on Eelam Tamils in the Shadow of a Ceasefire '02 to '07, Sri Lanka's Genocidal War '08 ...after Abrogation of the Ceasefire and after the Tamil armed resistance ended on 17 May 2009, Sri Lanka's Continued Ethnic Cleansing 2009...

---