INDICTMENT AGAINST SRI LANKA
The Charge is Ethnic Cleansing
CHURCHES AND TEMPLES BOMBED, 1993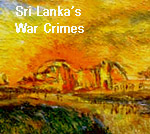 On 13 November 1993 , Sri Lankan supersonic bombers attacked St.James Church at Gurunagar at about 7.30 a.m. St.James is one of the largest and oldest Roman Catholic churches in Jaffna. The church was completely destroyed. A nursery school nearby, two shops and ten houses in the neighbourhood were also destroyed. Ten persons were killed and over 30 injured. Of the dead three belonged to the same family. The bodies of the dead were torn and charred. The blown up parts of all the bodies were collected and buried together.
On the evening of the same day, the Sri Lankan supersonic bombers targeted the Nanthavil Amman Temple at Kokuvil but the bombs fell on a land on the rear side of the temple. Damage to the temple was averted but six houses in the neighbourhood were damaged - one of which was completely destroyed. 8 persons were injured.
On the evening of 14 November, the Sri Lanka airforce attacked the Vairavar Temple at Varany. The temple was completely destroyed. Seven persons were injured. A number of houses were also damaged."
At about 5 p.m. on Thursday 30 December 1993, Sri Lanka Air Force planes attacked CSI church in the centre of Chavakachcheri town. Mrs.Pamela Indranee Lawrence, wife of the Vicar of the Church, was killed in the attack. Her husband who had gone to Varany at the time of the rocket attack escaped. The Church building and the Vicarage were badly damaged. (Network, published by the International Federation of Tamils, January 1994)