INDICTMENT AGAINST SRI LANKA
The Charge is Ethnic Cleansing
SRI LANKA AIRFORCE TARGETS
TAMIL CIVILIAN POPULATION
November 1993/ January1994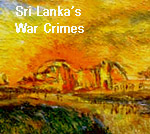 "Following the overrunning of the Pooneryn camp by the LTTE on 11 November 1993, on the morning of 12 November at about 8.30 a.m. Sri Lanka supersonic planes bombed the Jaffna Secretariat premises. The first bomb hit the Kacheri and splinters caused injury to Mr.K.Manickavasagar, the Government Agent who was at his desk attending to his duties. As the shrapnel hit Mr.Manickavasagar he ran out of his room and down the stairs to reach the lower floor.
While he was still on the stairs, a second bomb hit his office and it came tumbling down. Mr.Mani-ckavasagar told pressmen that it was fortunate that he ran out of his office because had he delayed, he would have been killed by the second bomb which brought his office down. Mr.Manickavasagar was admitted to hospital for treatment. One person was killed and over 25 injured in the attack on the Secretariat. Some of the injured were staff attached to the Jaffna Hospital whilst the others were members of the public who had gone to the Kacheri. The continued attacks on selected targets where civilians converge evidence the intent of the government to let loose a reign of terror in violation of all norms of the laws of armed conflict.''(Network, published by the International Federation of Tamils, January 1994)
As Sri Lanka planes flew into the centre of Chavakachcheri Town, on 30 December 1993, they fired rockets in quick succession giving no time for people to escape. Heavy damage was caused to shop buildings. The Thirukantha Press which prints alamancs was burnt. Having fired over 15 rockets, the planes vanished over the horizon. Thereafter, the people around and the Tamil Eelam Police rescued the injured and despatched them to hospitals in carts and bicycles.
Six persons died on the spot and three on admission to the hospital. Their names are R.Arumugam (60, male, goldsmith), P.Balakumar (12, male, student), R.Balan (60, male, cobbler), Valli (55, female, gramseller), Pamela Indranee Lawrence (48, female, vicar's wife), K.P.Perambalam (40, male, shop employee) Munusami (53, male labourer), Mohan (34, male, farmer) and S.Krishnapillai (70, male, farmer). Over 60 were injured. Later, on 1 January, one of the injured, Athputharajah Thileepan (aged 4) died at the Jaffna Hospital. His father, brother and sister who were also injured in the attack were still in hospital at that time. On Thursday, 6 January, S.Namasivayam, owner of the Ambika Dispensary at Chavakachcheri and President of the Thenmaradachy Traders Association succumbed to his injuries and died. All were civilians.(Network, published by the International Federation of Tamils, January 1994)
Jaffna Town was bombed again on 5 December. ''Reliable sources in Jaffna say that on Sunday 5 December 1993, Sri Lanka airforce carried out heavy bombing of Jaffna town. The bombardment which was directed to several parts of the town resulted in the deaths of 26 civilians. 71 others were injured. It is learnt that the air raid was carried out between 8.30 and 9.00 by the Sri Lankan airforce Puccara planes. Gurunagar, Pasayur and Chinn-akaddai were amongst the areas that were attacked. The vicinity of the St.James Refugee Camp where persons had sought refuge from earlier bombardments was also attacked during the Sunday raid.''
''The details of the persons killed by aerial bombing on 5 December in Jaffna, Gurunagar, and Pasayur are as follows: S.Priyan Mary Pauline (age 26), S.P. Riyan Nadarajah (age 5), Cyril Ranee (age 52), Patrick Anth-onypillai (age 42), Suwikin Thomas (age 60), V.Nagarasa (age 50), Yogarajah Rosamalar (age 48), A.Charles (age 35),Patrick Selv-aranee (age 40), Visvarayar Ranee (age 35), Anton Ranee (age 35), Chilomen Rosari (age 40), Maan (age 70), M.Mayuran (age 18), Selvaraja Rajansi (age 4), Kandiah Vigneswaran (age 46),Stansilaus Prakasiamma (age 51), P.Kiru-pairatnam (age 65), William Jeyarasingham (age 66), Cyril Augustine Santhan (age 11), Christopher Suwakin (age 67), Raviriyansi (age 3), Maruthappa Balasingham (age 68) and M. Sithathurai (age 45).'' -(Colombo based Virakesari , 12 December 1993)
Jaffna Town was bombed yet again on 5 January 1994. Two Sri Lanka Argentine made Puccaro planes flew into Jaffna on Wednesday 5 January at about 10.30 a.m. and bombed the village of Thavady. Three women and an infant were killed. Their bodies were torn and limbs and flesh were strewn all over. The deceased were S.T.Saras-wathy (aged 39), her niece Santhini (aged 23), Mrs.P.Selvaratnam (aged 65) and her grand daughter, M.Logiga (aged 3). They were all displaced person Thaiyiddy. Three houses were completely destroyed. Several other houses were damaged. The Thavady Sub Post Office and the office of the Grama Sevaka were also badly damaged. A school was in session within a hundred yards from where the bombs exploded. Fortunately no splinters hit the school and the children escaped without injuries.(Network, published by the International Federation of Tamils, January 1994)
On 11 January 1994, two Sri Lanka Puccaro planes bombed Nedunkerni in the Mullativu District. Many houses and tractors were damaged. A husband and wife, parents of four children died on the spot. The deceased are M.Jeyanathan (44) and his wife N.Vasantha (40). Another woman suffered serious injuries. Harvested crops of tobacco and chilles worth around Rs.200,000 were destroyed.(Network, March 1994)
On 13 January, three Sri Lanka naval boats shelled the Vadamaratchy coast from Munai to Valvettiturai for one hour from about 5.45 a.m. Canon fire and 50 calibre gun fire were directed were directed indiscriminately at the sea shore and on coastal residential areas. Fisherman abandoned work and swam for safety to the coast. The Point Pedro Rural Hospital, the Valvettiturai Hospital, several houses, a community centre and some office buildings were damaged. Other villages along the coast also suffered damage. Two persons died and five others were injured. The injured were taken to the Manthikai Hospital.(Network, published by the International Federation of Tamils, March 1994)