INDICTMENT AGAINST SRI LANKA
The Charge is Ethnic Cleansing
SRI LANKA AIRFORCE
STRAFES TAMIL VILLAGES
December 1993/January 1994
Network, published by International Federation of Tamils reported in January 1994...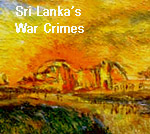 Manal Aru bombed on 29 December 1993.
At about 8.40 a.m on Monday, 28 December 1993, two Sri Lanka Airforce bombers dropped five bombs in Alampil, a village in the Manal Aru area. Five houses were damaged. The Multi Purpose Coop Society building was completely destroyed. Siyamani Komala (aged 4) and her brother Siyamani Theepan (aged 12) were killed. Another young girl Priya (aged 18) was also killed by the attack. Siyamani Jayaranjani (aged 8), a sister of the deceased Komala and Theepan, and who was taken to the Killinochchi Hospital, later succumbed to her injuries and died.
Kumilamunai bombed on 31 December.
At about 10.15 a.m. on Friday, 31 December 1993, a Sri Lanka Air Force Argentine made Puccaro bomber dropped four bombs on Kumilamunai in the Manal Aru area. A young woman, Sutsuthananthy was killed on the spot. Two houses were razed to the ground.
Meanwhile, on Wednesday, 29 December 1993 at the Jaffna Hospital, a woman victim of the Sri Lanka Airforce bombing on 5 December , succumbed to her injuries and died. She was Aseerwatham Ranee of Gurunagar, aged 43. died. Twenty five civilians died in that attack on Gurunagar and Passaiyoor on 5 December. More than 70 were injured.
Thondamanaru strafed by helicopters on 7 January.
On the same day, at about 10 a.m. there were helicopter strafing at Thondamanru in the Vadamartchy area. The Veerakathipllai school was attacked. The children and teachers escaped without injuries but the school building was damaged. Heli attacks also took place in Navandil, Udupiddy, Valvettiturai, Putur and Avarangal villages on 7 January.