INDICTMENT AGAINST SRI LANKA
The Charge is Ethnic Cleansing
"THIS IS ORGANISED STATE TERRORISM"
SAY RELIGIOUS HEADS, 17 November 1993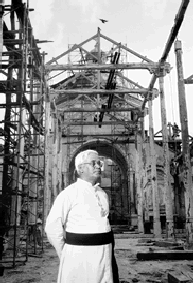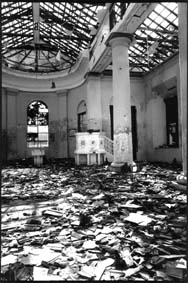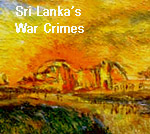 "How could any one avoid concluding that this is organised State terrorism?.." - Bishop D.J.Ambalavanar,
''We religious leaders from the North, belonging to the Hindu, Christian and Catholic religions... strongly protest against the actions of the Sri Lankan Air Force which seems guided by the sole motive of revenge and striking terror among the Tamil people.''
''Following on the recent Pooneryn operations, the Air Force has used its supersonic bombers to bomb the Jaffna Secretariat killing and injuring several. The Government Agent of Jaffna, Mr.K.Manickavasagar being one of those injured. It has bombed a place of worship, the St.James Catholic Church in Main Street, Jaffna destroying that large and venerated house of God and killing and injuring several innocent citizens. It has dropped its bombs within the protected zone around the Jaffna General Hospital damaging the hospital and striking panic among the patients and the public. We have reports that the hospitals in Killinochchi and Mulaitivu have also been bombed. The market block in Chavakachcheri has also been bombed and destroyed.
All these buildings used exclusively for sacred worship and public services are such large and prominent structures that no Air Force can pretend innocence about the targets being struck....
These events are not just sporadic occurrences but have been repeated so often in the past that we cannot but conclude it is part of state policy against the Tamils. A close statistical study of the air raids carried out by the Sri Lankan airforce in the North will show that the victims of the raids have almost always been innocent helpless civilians... When this is the case how could any one avoid concluding that this is organised State terrorism.?
We wonder whether massacring innocent civilians can bring any honour or credit to an Air Force. We would therefore appeal to the Government to control its Air Force and not permit it to be an instrument of State Terrorism. Our desire is for Peace and a Just Peace.'' - (Joint statement by Bishop D.J.Ambalavanar, Bishop Thomas Saundranayagam and Nallai Thiru Sampandar Atheenam, 17 November 1993)