Liberation Tigers of Tamil Eelam
1976 - 2009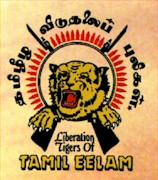 The Tiger emblem of the Cholas inspired
both the name of the Liberation Tigers of Tamil Eelam as well as the LTTE flag

ராஜ ராஜ சோழனே நி வாழ்க வாழ்கவே...

Velupillai Pirabaharan: 26 November 1954 - 17 May 2009
LTTE - Department of International Relations
12 January 2009
End of Armed Resistance - We are silencing our guns - LTTE, 17 May 2009
Tamil Eelam De Facto State: 2001 - 2009
LTTE
Armed Resistance - The Record
Black Tigers
LTTE & Terrorism
Concerning Ideology
Reflections of the Leader: Quotes by Veluppillai Prabhakaran
Translation of Tamil Original by Peter Schalk and Alvappillai Velupillai. Published by Uppasala University, Sweden....
A Picture Speaks A Thousand Words: An Analysis of LTTE Emblem - Irene Lee Rasmussen, University of St Andrews
Birth of the Tiger Movement - Anton Balasingham, 1983
Theoretical Guide to the National Question - Political Affairs Committee of LTTE, 1983
War and Peace: Armed Struggle and Peace Efforts of Liberation Tigers - Anton Balasingham
L
iberation struggle & determination of its people - K.V. Balakumaran, 15 June 2008
Venugopal Master - Sachi Sri Kantha
Tehelka Interviews Tamizh Kavi: Prabhakaran�s speech writer, 2005
The Case of Rajasingham Jeyadevan, March/May 2005
Li
beration struggle & determination of its people - Nilavaram - Tamil, 16 January 2009
Tigers will bring clarity to Sri Lanka's conflict - K.V.Balakumaran, Senior Member, LTTE, 1 January 2008
Liberation struggle or terrorism? The politics of naming the LTTE - Suthaharan Nadarajah, Dhananjayan Sriskandarajah, 2005
Lawrence Thilakar on the Tamil Position, 1996
The Revival of Martyr Cults among Ilavar - Peter Schalk, 1997
On the sacrificial ideology of the Liberation Tigers - Peter Schalk, 1993
LTTE open letter to the Sinhala People, 1991
Political Front
On Rudrakumaran�s role - Daya Gamage in Asian Tribune, 22 August 2009
LTTE Delegation visits Europe & South Africa: March- April 2005
Political Front of the Liberation Tigers, 1989
Audio Visual Presentation:
Sirappu Paarvai - Tamil Eelam


LTTE Coin
Tamil Tigers
Tamil Eelam Home Page
Eelam Web
LTTE at Global Security
Report on Voice of Tigers Radio
---
Sathasivam Krishnakumar - Kittu, 1960-1993
Vaithilingam Sornalingam - Shankar, 1948-2001
Thileepan - Rasaiah Parthipan
Anton S.Balasingham
Brigadier S P Tamilselvan
War Journey by Maveeran Captain Malaravan, Translated from Tamil by N Malathy, 2007
Gajaani: The Tiger's Fighter Journalist
Women
Women Fighters of Liberation Tigers, Adele Balasingham, 1993
LTTE Women Guerrillas: A New Revolution, 1990
Maria Vasanthi Michael - Sorthia, Leader of LTTE Women's Military Wing, 1990
Malathi - First Woman Martyr, 1987
Freedom Birds of Tamil Eelam
---
Prabakaran may already have an able successor in his son, Charles Anthony, Tehelka, 18 April 2009
Anita Pratap Interview with Puthinam, 15 July 2008
Teaching Tamil Tigers - John S Whitehall, Medical Journal of Australia, 21 October 2007
Tigers of Lanka - M.R.Narayan Swamy, 1995
Forging Nationhood Through Struggle, Suffering and Sacrifice - Sumantra Bose, 1994
Glimpse of the LTTE's Fortunes in Sri Lanka: Designs on India - Major General Asfir Karim. 1993
---
Sri Lanka's Defeat of LTTE: the Lessons - V.K. Sashikumar, Indian Defence Review July � Sept 2009
Sri Lanka Targets Tamil Tigers' Overseas Support Network, 11 June 2009
Tamil Diaspora in Shock,
19 May 2009
USD200 million profit margins maintain sophisticated Tamil Tiger war - Janes Intelligence Review, 19 July 2007
Jane's Editor interviewed by Australian Broadcasting Corporation on Intelligence Report on LTTE, 25 July 2007
LTTE�s Online Network and its Implications for Regional Security - Shyam Tekwani, January 2006
Dynamics of LTTE's Comercial Maritime Infra Structure - Vijay Sakhuja, April, 2006
LTTE: The Metamorphosis - B. Raman ,
Additional Secretary (retired), Cabinet Secretariat, Government of India, New Delhi,
2002 - "...The Liberation Tigers of Tamil Eelam (LTTE) of Sri Lanka uses effectively the modus operandi (MO) of an insurgent as well as a terrorist organisation..."
LTTE and the Tamil Diaspora 2001, Chapter 3 of
Trends in Outside Support for Insurgent Movements
by Daniel L. Byman, Peter Chalk, Bruce Hoffman, William Rosenau, David Brannan, A Rand Corporation Publication
LTTE's Military-Related Procurement
, 2001- Appendix B to
Trends in Outside Support for Insurgent Movements
by Daniel L. Byman, Peter Chalk, Bruce Hoffman, William Rosenau, David Brannan, A Rand Corporation Publication
LTTE at Military.Com.
LTTE�s international organisation and operations - Peter Chalk, 2000
Jane's Sentinel on LTTE success in resisting Sri Lankan forces, 2000
Between Tigers & Triggers - Piyush Kumar
, 2000
International and Regional Implications of the Sri Lankan Tamil Insurgency - Rohan Gunaratna, 1998
Liberation Tigers' International Activities and Sri Lanka Propaganda - Manivannan, Head of LTTE Internatioanl Coordinating Office, 1997
Tiger International - Asia Week Cover Story, 1996
Aruchuna