From: Sakthivel Kandasamy, 9 December 2008

அற்வோர்கள்

ஐயன்மீர்,

நுண்ணொழுக்கம் காட்டும், நுண்ணுர்வை ஊட்டும் நூல்களை இணைய தளத்தில் வெளியிட்டு வருகிறீர்கள். இவைகள் என் மனதில் நல்லெண்ணங்களை உருவாக்கி, தீயவைகளை போக்கிட உதவுகின்றன.

நம் பண்பாடு பாழாகமல் தடுக்கின்றன. தங்கள் புகழ், அறச் செய்கை என்றும் நிலைத்து நிற்கும். தங்கள் பணி இப் புவியைக் காக்கும். போர்,கலகம்,நோய் போன்றவற்றை குறைக்கும். சொல்ல நிறைய உண்டு. .

தங்களுண்மையுள்ள, க. சக்திவேலு, அன்பன்.

Response by tamilnation.org Mikka Nanri. Project Madurai itself is the work of a group of enthusiastic volunteers living in many parts of the globe and is led by Dr.K.Kalyanasundram from Switzerland and Dr. Kumar Mallikarjunan from USA. If you would like to participate in the project in any way you may want to join the Project Madurai Yahoo Group or email Dr.Kalyanasundaram at <pmadurai AT gmail DOT com>.

From: Sanjeeth Tharmarajah, 18 November 2008

Hi, I am fascinated by

tamil

nation.

org

website. I found

tamil

nation.

org

an intellectual resource - a Tamil online library. I also like to dedicate my share of help to expand our Tamil culture world wide online at Tamil Dawn - 'water will flow from a well in the sand in proportion to depth to which it is dug, and knowledge will flow from a man in proportion to his learning'. I thank

tamil

nation.

org

for its dedication in enriching Tamil Culture via Internet.

From: Meenakshi Panchapakesan [ [email protected] ], 17 November 2008

It was interesting to go through your website. It is a proud moment to see a website dedicated to our rich Tamil literature and culture. However, it is odd to read about the contributions of almost every one in the planet, except that of the ONE man without whose efforts we may not have Tamil literature today - DR. U. V. SWAMINATHA IYER.

Response by tamilnation.org We thank you for your interest. It appears that you may have missed reading our page on U.V.Swaminatha Iyer at One Hundred Tamils of the 20th Century - U.V.Swaminatha Iyer (U.Ve.Sa) - together with a video presentation on his life. Please also see that which we have said on British conquest & Tamil renaissance in our page on The Tamil Heritage - Tamils are an Ancient People -

"The response of a people to invasion by aliens from a foreign land is a measure of the depth of their roots and the strength of their identity. It was under British conquest that the Tamil renaissance of the second half of the 19th century gathered momentum.

It was a renaissance which had its cultural beginnings in the discovery and the subsequent editing and printing of the Tamil classics of the Sangam period. These had existed earlier only as palm leaf manuscripts. Arumuga Navalar in Jaffna, in the island of Sri Lanka, published the Thirukural in 1860 and Thirukovaiyar in 1861. Thamotherampillai, who was born in Jaffna but who served in Madras, published the grammatical treatise Tolkapiyam by collating material from several original ola leaf manuscripts.

It was on the foundations laid by Arumuga Navalar and Thamotherampillai that Swaminatha Aiyar, who was born in Tanjore, in South India, put together the classics of Tamil literature of the Sangam period. Swaminatha Aiyar spent a lifetime researching and collecting many of the palm leaf manuscripts of the classical period and it is to him that we owe the publication of Cilapathikaram, Manimekali, Puranuru, Civakachintamani and many other treatises which are a part of the rich literary heritage of the Tamil people."

From: Thiru, Singapore 6 November 2008

From 1965 to 1967 when I was an A level science student in one of the village schools in Jaffna, the teacher (a left wing supporter from the Kanapathipillai family) who taught the 'General Knowledge' subject taught us about Bandaranaike's Sinhala only language policies, importance to Buddhism etc and about the meanings of revenge and avenge and the difference. Interestingly he also taught us about Martin Luther King, Alabama riots, the famous dream speech, the poems etc.

Yesterday when I was watching the victory speech by Obama live, together with two of my three children I was able to show them the tears in the eyes of Jessie Jackson, Oprah Winfery and others. My children always tease me when ever I get carried away by empathy and emotion. How far America has come and Martin Luther King's dream has come true at least symbolically for the time being and hopefully Obama will take it to higher planes now in real terms.

When I looked at the faces of my children when Oprah Winfery & Colin Powell were interviewed by CNN later, I thought my children were expressing their wisdom through silence - that Obama has many homelands (Chicago, Hawaii, Kenyan village) to be proud of and is welcome there but Appa your birth place is a Sinhalese owned Island and you can only be a visitor at the mercy of the Sinhalese army. So be happy with your adopted country until the Tamils in Eelam get their peace and security through their own leadership and the baton changes in the journey that was started by SJV Chelva like Martin Luther King. The Tamil struggle is about PEACE and SECURITY and not ownership of the whole Island and perpetual military domination.


From: நீலாம்பரி, தமிழ்நாடு. 3 November 2008

ஈழத்தமிழா, கவலை கொள்ளாதே, இன்று இல்லை, நாளை இல்லை, என்றாவது ஒரு நாள் இந்திய அரசுக்கு உன் உதவி தேவைப்படும். ஆம் இந்திய துணைக் கண்டத்தில் இலங்கையை பாகிஸ்தானும் சீனாவும் கை கோர்க்கும் நாள் வெகு தொலைவில் இல்லை. ஈழத்தமிழனின் அருமை இந்திய அரசுக்கு அன்று தெரியும்.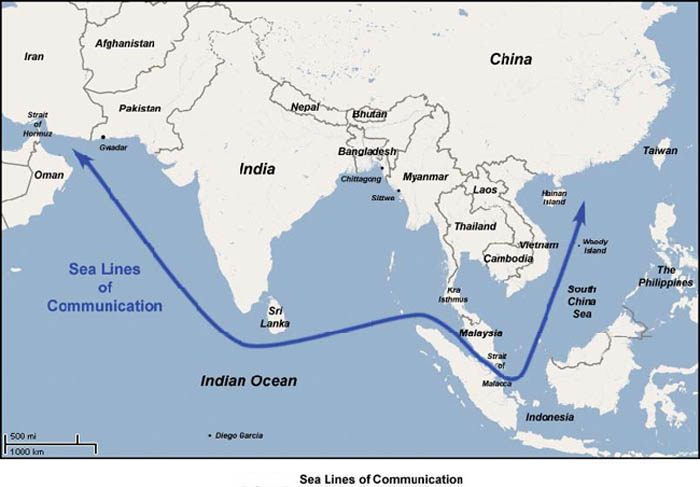 From: Subramani Pillai, Tamil Nadu, 2 November 2008

Vannakam Anbare, Mikka Nanri.. Thanks a lot for publishing our comments in tamilnation.org..

Engalathu Unarvughalai purinthukondu, seythigalai veliyattamaikku engal
ajith tamil rasigar manrathin kodanakodi Nanrigalai therivikkirom.

Eelam Tamilargal prechanai miga virayvil theerum endru ellam valla andavanai
veyndugirom. Eelam Tamilargalai entha oru sakthiyalum thorkadikka mudiyathu.
Engalathu swasam ullavarai, engalathu koral olikkum tamilargalukkaga...

Vazhlga Tamil Inam

From: Subramani Pillai, Tamil Nadu [ [email protected] ], 1 November 2008

We are from Tamil Nadu Actor Ajith Fans Association. We request you sincerely and earnestly to publish this in visitor comments, especially as Eelam Tamils should know the truth. It would be of great help, if this reaches Eelam Tamils in Europe. They should hear that our voices are for them.We are shocked and deeply concerned about happenings in Sri Lanka concerning our Tamil Eelam Brothers and sisters. We shed tears and want to show our support to Eelam Tamils. We express our sincere solidarity and grief whole heartedly.

We would like to bring to your notice that some false news has breen spread in some Tamil Magazines about Actor Ajith Kumar regarding his stance on fasting in support of Eelam Tamils. We came to know that in Europe Eelam Tamils have protested against this, considering that the news is truth.

Ajith has always condemned attacks on Tamils in any part of the world and his heart always cares about the Tamil sufferings. Already we are hurt by the atrocities meted to Eelam Tamils. We , Ajth and Ajith Fans are always with Eelam Tamils and will extend our support as long as we live. We pray to Almighty whole heartedly for the well being of Eelam Tamils. Morover the official Website for Ajith Fans, www.Ajithfans.com and www.starajith.com can be checked for authentication regarding our stance for Eelam Tamils Issue.

Once again, we request you to publish this comment to show our support for our beloved Eelam Tamil Brothers and sisters. "Whatever may be said, whosoever may say it - to determine the truth of it, is wisdom" - Thirukural. "Tamilan Endru Sollada Thalai Nimirnthu Nillada" Vazhlga Tamil Inam

From: S.M.Pillai, Australia, 28 October 2008

From: Suresh, Tamil Nadu 27 October 2008

"Arasiyal Chanakkiyanin ! Kulla Nari Thanam" If any one wants to make a movie about Karunanidhi in future, I would suggest this title. The second title I can think of is "Kottum Mazhaiyil Makkalai Muttaal Akkiya Thalaivan" Long live Kalaignar Karunanidhi for your excellent service to Tamil and Tamil People. [see also India-Sri Lanka Joint Press Release & Karunanidhi Shows his Hand, 26 October 2008]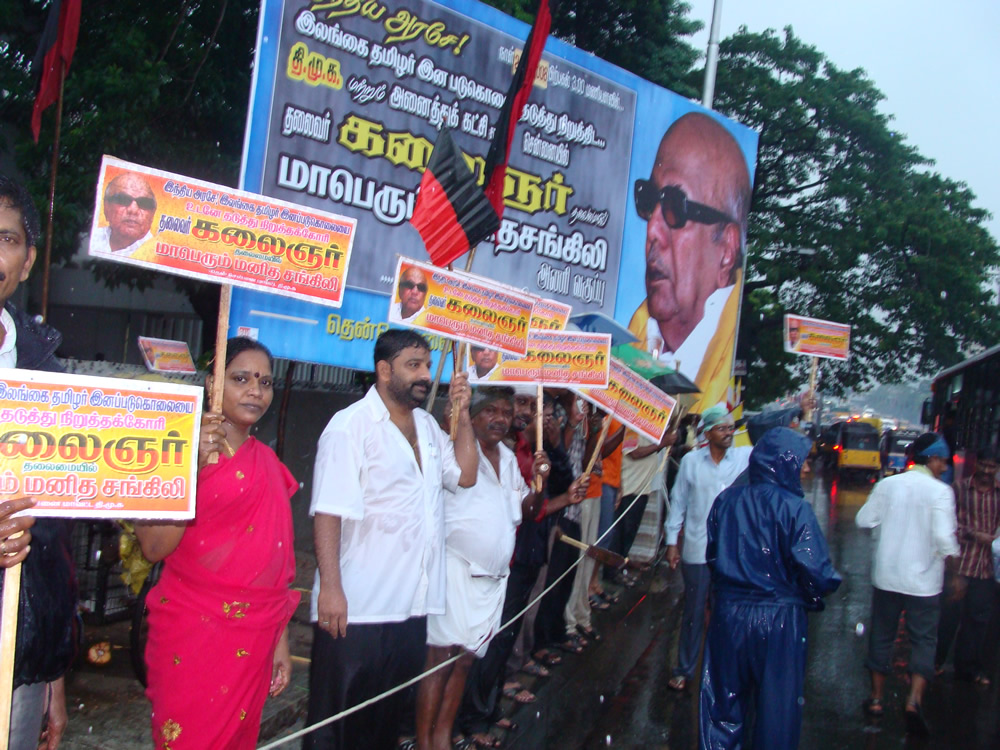 Kottum Mazhaiyil Makkalai Muttaal Akkiya Thalaivan
- கொட்டும் மழையில் மக்களை முட்டாளாக்கிய தலைவன்
From: V.Shrinivas, Tamil Nadu, 27 October 2008

I am just an ordinary person but with an indestructible love for my mother tongue Tamil. I don�t know if any website in the world can equal tamilnation.org for its EXCELLENCE. I am thankful to the Almighty that it happens to be a website dedicated to covering (with unfailingly prompt updating) all subjects and aspects relating to the God-given Tamil Language.

It is sheer chance, that I came to know that one can send a mail to your website. Last night I saw the following news-heading with disheartening contents - 'LTTE chief V Prabhakaran speaks out'.

I began to type out the following letter to rediffmail to express my reaction. Owing to limitation imposed on number of letter-characters (viz: 1500) I could not write more in detail. I seek your patience to go through the letterforw whatever ii is worth.

"I WRITE THIS WITH MY MIND & HEART FILLED WITH SOULFUL PRAYERS TO THE LORD FOR SAVING THE TAMIL-SPEAKING PEOPLE OF SRI LANKA FROM THE ENDLESS TORTURES THEY HAVE BEEN UNDERGOING AND FROM THEIR TOTAL ELIMINATION FROM SRI LANKA."

Soon after the Partition of our Country (the unpardonable result of our so-called freedom fighters� folly), the Bengali speaking people of East Pakistan, unable to bear the atrocities of the brutal army of West Pakistan, went on a revolt and sought India�s help. The then Premier Indira Gandhi gave spontaneous consent and deployed the Indian Army in support of the rebelling �East Pakistan� soldiers. The rest is history. The Indian Premier even cleared a vast area in Vindhya Pradesh to accommodate the flooding refugees. That the Bengali refuges didn�t opt for that area is another point.

I want to ask �what prevented the Indian Govt from going to the rescue of the tortured and persecuted Tamils of Sri Lanka?' What eventually happened is all the more unpardonable. Against the sober advice of the fearlessly frank retired Supreme Court Judge Krishna Aiyer, Rajiv Gandhi deployed the so called �Indian Peace Keeping Force� (comprised of all North Indian Soldiers) in compliance of Sri Lankan Govt�s request for India�s intervention, when its army was facing defeat in their unholy war against the lion-hearted LTTE. Untold atrocities were committed by the so-called Peace-keeping army resulted in the assassination of Rajiv Gandhi.

Thank You & God Bless You

From: K.Thiruselvam, Kuala Lumpur, Malaysia, 17 October 2008
Sri Lankan Horror
What I saw on television (Makkal TV) in the early morning hours (17 October 08) shook me to tears. I spent the entire day, upset but searching for 'international press medias' and e-mail addresses to submit the letter below to as many editors possible, 'Letters to the editor'. What I wanted was an awakening reminder, and international reading. Having found nothing, I 'tamed' the letter and e-mailed it to the local 2 newspapers. Outcome?!!!! It is only 4.30am, and I am awake (disturbed by the yesterday's 4 - 5 minutes news) and still searching. I found your site by chance. Hence this attached intro letter.

What could have possibly awakened me at 5am, to go into the garden driveway to collect the newspapers. With the television on, and flipping through the pages, the sound of a roaring jet, stopped my reading and shifted my attention to the television screen.

It was the "Makkal" station beaming overseas from India. In the foreground were trenches. Children in uniforms were each, seeking space to shelter. You could see, that even in calamity, the seniors helped lower the younger children into trenches.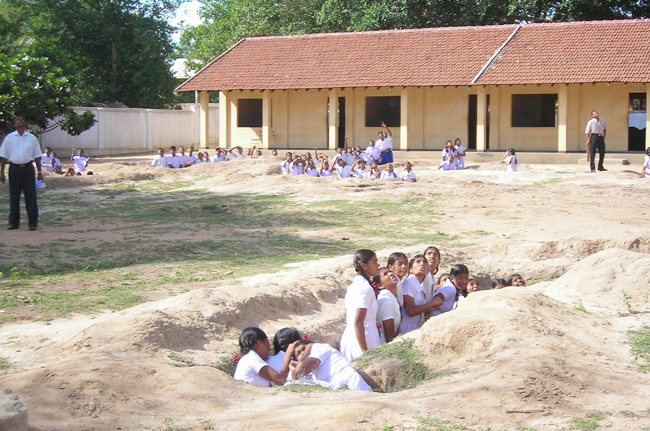 The camera pans the scene to show the injured being carried away, dead people lying around, broken houses, sheds, dead cattle and the rise of white smoke from hit grounds. How aptly, the announcer added, where is the difference between cattle and men.

The decision at the helm by the Sri Lankan President is, "We will carry on bombing and shelling". This only means continuation of onslaught and attacks. Across in the mainland India, effigies are being burnt on the streets. Tempers are rising, and violence is rearing it's ugly head. Obviously now, the emerging need to "Revolt, defend, and protect Tamils of Sri Lanka" is showing vehemently. Also, pressures are mounting on the Indian government and political parties for action.
I am neither a politician nor a war analyst/strategist. I could only question the 4-5 minutes in silence with disappointment, I ask, where are all of the International Organizations that care for human life and welfare? What about those organisations that care for mother, life and child in turmoil? Is the United Nations asleep? Where is that glamorous UNITED NATIONS?

Would the leaders of the world, all well dressed and in luxury flights and limousines, stop their pretentions and pretexts of negotiating peace and people rights. Stay put on earth. See, what people like me see. It is no use looking at Mars and Venus. Learn to let people, live, eat and sleep in peace. They ask no more.
From: நாட்டேரி அடிகள், Tamil Nadu, 11 October 2008
நான் ஆங்கில்த்தில் merinews.com இணைப்பக்கத்தில் எழுதிய Tamil Nadu Going Eelam Way? --I கட்டுரையை தங்கள் வலைப்பக்கத்தில் வெளியிட்டதிற்கு மிக்க ந்ன்றி. கட்டுரையின் இரண்டாம் பாகம் Tamil Nadu Going Eelam Way? - II பதிக்கப்பட்டுவிட்டது. இக்கட்டுரைகளைத் தமிழ்ப்படுத்தி வெளியிடுவது எதிரிகளாலும், இனவிரோதிகளாலும் உலகத்தமிழர்களைப் ப்ற்றி பரப்பப்பட்டுள்ள நச்சுக்கருத்துக்களையும் பொய்த்தகவல்களையும் (உலகத்தமிழர்களின் எண்ணத்தில் விதைக்கப்பட்டுள்ள தடுமாற்றங்களையும்கூட) முறியடைக்க உதவும் எனக் கருதுகிறேன். "தமிழ்நாட்டை 'தெற்கு காஷ்மீர'மாக்குவது இந்தியநலனுக்கு உகந்ததா?" எனத் தலைப்பிடலாம். அதற்குவேண்டிய திறமை எனக்கில்லாததால், வேறெவரும் முன்வரட்டும்.
From: Selvi Arumugam, Canada 29 September 2008
Your website is great and wonderful. It's very hard to see such a wonderful website. I'm really proud of being a Tamil. As a Tamil I am really grateful to ur group.
From: Nalina Mahesh, Tamil Nadu, 29 September 2008
Thank you very much for the detailed information about Tamil saint Auvaiyar - very useful explanations also.
From: V. Sathya Narayanan, 19 September 2008
Tamil is the mother of all languages. You know that better than I and your work is great. Keep going . I have never seen a Tamil site like this. The literary and spirituality areas are mind blowing. Let Tamil be spread far and wide. My hearty wishes for that. Simply the BEST.

Response by tamilnation.org Mikka Nanri
From: Dr. Velayuthan Pandian, 28 August 2008
Re Karunanidhi Turns on Nedumaran The last two lines of his poem should actually address to Karunanithi himself rather than to Sri. Nedumaran.

சீராக்கவே முடியாத சீழ் பிடித்த சிந்தை!
கூராக்கவே இயலாத மூளையில் விஷம் ஒரு மொந்தை!

It is Karunanithi's own self-assessment.
From: Kasil Hariharan, 28 August 2008
Re Karunanidhi Turns on Nedumaran - tamilnation இன் கண்டனத்துடன், எனது கண்டனத்தையும் தெரிவிற்க விரும்புகிறேன். இதுவரை உலகத் தமிழர்கட்கு தன்மேல் இருந்த கொஞ்ச நஞ்ச மரியாதையையும் கருணாநிதி இந்த பித்தலாட்டுதனத்தால் இழந்து விட்டார். இது ஒரு வரலாற்று தவறு. அய்யா நெடுமாறனின் கண்ணியம் இது போன்ற பிசத்தல்களால் இம்மி அளவும் குன்றாது மாறாக என்றும்போல் மலைபோல் மேலோங்கியே நிற்கும். மிக்க வருத்தத்துடன், தமிழ் அன்பன்
From: Nagaih Subramanian, 27 August 2008
Ayya Vannakam., Ungal pathil kandu Magilenden...Oru Samaniyan Kuda Sathika mudium yendra Veeriyam irundathu ungal Pathilil.nandri ...Naan Yenna seiya vendum Yen Thoupulkodi oravukalluku... Ramayana Anil polla nanum Yethavadu seiya vendum yena ninaikeeran...yenaium vallinathungal. Nandri
From: Sara Ananthan, Australia, 24 August 2008
This is a reply to Nagaih Subranian's letter to Tamil Nation.

அன்பு நண்பா, உனது மடல் கண்டு பெரு மகிழ்ச்சி. என்று தணியும் இந்த போர் முழக்கம்?. ஒரு நல்ல கேள்வி.

ஒரு சகோதர சண்டையை ஊதிப் பெருக்கி, ஈழத் தமிழனை, இந்த இரண்டும் கெட்ட நிலைக்கு இட்டு வந்ததில் காந்தி தேசமாம் பாரதத்திற்கு பெரும் பங்கு உண்டு.

அன்று ஈழ போராளிகளுக்கு ஆயுதம் கொடுத்து ஊக்குவித்து, ஆனால் இன்று தமிழ் இனத்தையே வேருடன் அழித்து ஒழிக்க கங்கணம் கட்டி உள்ள சிங்கள பேரினவாதத்திற்கு, ராஜ தந்திர ஆலோசனை, ஆயுத உதவி வழங்கி, நய வஞ்சகம் செய்யும் நாராயணன்கள் வரை பாரதத்தின் பாதகச் செயல்கள், அண்ணனை சதி செய்து கொன்று, அவன் மனைவியை தம்பிக்கு அபகரித்துக் கொடுத்த ராமனின் ஓர வஞ்சகமான பாதகச் செயலையும் விடக் கொடியது.

அன்பு நண்பா! ஆனால் கார் இருளிலும் ஒரு ஒளிக் கீற்று. பின் வரும் செய்தியை கூர்ந்து படித்துப் பார்.

ஈழ மக்கள் உயிர் வாழ்விற்கான போராட்டத்தைப் போலவே, வல்அரசுகளின் சதியால் தம் வாழ்விழந்த பாலஸ்தின மக்களது போராட்டமும் மிக நீண்டது. கொடியது. சக போராடும் ஒரு இன குழுவான எம்மவர் சிலர் கூட இன்றும் அவர் தம் அடக்கு முறை ஆள்பவர் புகழ் பாடிடும் இவ் வேளையில், தம் இனத் துரோகிகளால் கூட சிதைக்கப்பட்ட அம் மக்கள் வாழ்வில் ஒரு சிறு ஒளி வட்டம்.

ஆம் நண்பா, இப் பூ உலகின் நாலா பக்கம் இருந்தும் மனிதம் நேசிக்கும் பண்பட்ட நல் உள்ளங்கள் ஒன்று கூடி அவர் தம் வெந் சிறை உடைத்துப், பரிவு காட்டிடும் அற்புதக் காட்சி காண ஆயிரம் கண் போதாது.

இவ் வேளையில் உனக்கு ஒரு பணிவான வேண்டுதல்.

ஆறு கோடி ஈழத்து உறவுகள் அக்கரையில் என்று சொல்லியே, எம்மைப் பரிகசித்து, இகழ்ந்து, எம் இரத்த உறவுகள் மீது கொடிய போர் தொடுத்து, அவர் தம் வாழ்வு அழித்துக் கொக்கரிக்கும் சிங்களத்தின் சிறை உடைத்து, செந்தமிழர் சிறை மீட்க ஏன் உன்னால் முடியாது?. சொல்லு நண்பா ஏன் இந்த மௌனம்?. என்று நீ உன் மௌனம் தொலைக்கிறாஜோ அன்றுடன் ஓயும் இப் போர் முழக்கம்.

நீ இந்த வரலாற்று கடமையை செய்யத் தவறினால், நேரம் கெட்ட வேளையில் இந்த இடக்கு கேள்வி கேட்டாயே என்று உன்னையும், தமிழன் மீது சிங்களவர் கூடக் காட்டாத தமிழினப் பகை வெறி கொண்டு அலையும் நாராயண்கள் கூட்டத்தில் நீயும் ஒன்று என்றே வரலாறுப் பழி சுமந்திட நேரிடும்.

விரைந்து காட்டிடு உன் தமிழ் வீரத்தை!.

இவ் வேளையில் எம் உறவு கூறிப் போந்த உனக்காகத் தமிழ் இனம், இத் தரணியிலே தன் மானத்துடன், தலை நிமிந்து வாழ, இசை அமுது படைத்து, உயிர் கொடுத்து, எம் இன விடுதலை வேண்டிக் காண மழை பொழியும், தேன் இசை செல்லப்பாவின் ஒரு இனிய பாடல்.

" உலகத் தமிழ் இனமே எண்ணிப் பார். நீ உறங்கினால் வரலாற்றில் யார் உன்னை மன்னிப்பார் ". [ see also தமிழீழ எழுச்சிப் பாடல்கள் & Flotilla lands and Gaza blockade falls ]

Comment by tamilnation.org
From: Nagaih Subramanian [ [email protected] ] 24 August 2008
Ayya Vannakam, Nirya solla ninathau yellam maranthu ponathu .....ungal valaithalam kanndu...yendru thanium intha oyatha pormulakkam... itharkana theervu than yenna. Nanri

Response by tamilnation.org We too ask this question from time to time. We then remind ourselves of something which Mahatma Gandhi said in South Africa more than a century ago -

"If someone asks me when and how the struggle may end, I may say that, if the entire community manfully stands the test, the end will be near. If many of us fall back under storm and stress, the struggle will be prolonged. But I can boldly declare, and with certainty, that so long as there is even a handful of men true to their pledge, there can only be one end to the struggle, and that is victory... It is possible that a majority of those present here might take the pledge in a fit of enthusiasm or indignation but might weaken under the ordeal, and only a handful might be left to face the final test. Even then there is only one course open to the like of me, to die but not to submit to the law..."

We also remind ourselves of the words of Cheryl Berger

Freedom is not Free

Why do we call it freedom
when freedom is not free.
The cost was blood and sweat
and tears that bought our liberty....

For many left their loved ones
their friends, their families
Standing true to oaths once taken
to defend our liberties.

Holding fast they fought for freedom
both at home and then abroad
Spilling blood upon the waters
o'er the ground on which they trod.

Wounded from the many battles
in mire and blood their bodies lay
The dead with mouths wide open
forming words they'd never say.

Seeing eyes no longer seeing
hearing ears no longer hear
Hearts once beating stilled and quiet
loved ones close no longer near.

And though their hopes and dreams were shattered
let their deaths not be in vain
We must keep forever burning
freedom's torch, the victor's flame.

For they died for you, America
your freedom was not free
For t'was their blood and sweat and tears
that bought your liberty.

So when you speak again of freedom
may your hearts be filled with pride
And your gratitude for those
who for your freedom fought and died.
From: Professor Bob Rothstein, USA 19 August 2008
I cannot find two publications that you list: "Envisioning New Trajectories for Peace in Sri Lanka" (2006) and "International Dimensions of the Conflict in Sri Lanka". Could you tell me how I might find these works? I am a Professor of International Relations in the US but am currently living in London.

Response by tamilnation.org Many thanks for your interest, You will find "Envisioning New Trajectories for Peace in Sri Lanka" at http://www.tamilnation.org/conflictresolution/tamileelam/seminar_06_Zurich/index.htm and also at http://www.tamilnation.org/books/Conflict%20Resolution/cjpd_2006.htm

You will find "International Dimensions of the Conflict in Sri Lanka" at http://www.tamilnation.org/saty/071001international_dimension.htm
From: Harsh Raghuvir [ [email protected] ], 27 July 2008
Hello, I would like to enquire as to whether your organization advocates an independent Tamil Nadu? Thanks

Response by tamilnation.org The short answer is No. For a longer answer please see Tamil Nation & the Unity of India, written seven years ago on 3 February 2001. The break up of India, if it comes will not come from the efforts of tamilnation.org. It will come despite our efforts. It will come from a failure of political leaders in India to openly recognise that India is a multi national state - and recognise the enduring wisdom of the words of Pramatha Chaudhuri in 1920... more
From: Kay Jambulingam, Tamil Nadu, 26 July 2008
I am teaching Tamil in an ICSE school for tenth standard. Veerapandiya Kattabomman is one of the two text books. I am immensely benefitted from your site. I am really proud to teach about one of the earliest freedom fighters of Tamilnadu. I am grateful to you.Thank you for the noble work you have been doing. Regards.

Response by tamilnation.org Mikka Nanri.
From: Viv Nathan, USA 20 July 2008
Re Second World Tamil Eelam Convention, Nanuet, New York, 1984. Thank you tamilnation.org for publishing the letter of reply from our National Leader, Mr. Prabhakaran dated May 19th of 1984 for the invitation letter from Dr.Winston Panchadcharam. We always compare our National leader with Israel's first Prime Minister, David Ben-Gurion who fought for the creation of a newly independent state for his people. We, the 70 million Tamils all over the globe are fortunate to have a web site such as yours to learn a lot - from our art to our culture and to our literature.
From: G.S.Vinod, Inventory Management, Ozone Media Solutions, India, 17 July 2008
Greetings from Ozone Media. We would like to advertise our campaigns on tamilnation.org. Ozone Media is India's leading internet Ad Network with the largest Online Publishers in India as partners. We would be pleased to take you in as our valuable partner.

Response by tamilnation.org We thank you for your interest. However we do not at present carry advertisements. Should this policy change we will certainly get in touch.

From: Dr. Jessie J. Mercay, Chancellor, American University of Mayonic Science & Technology, United States , 8 July 2008
Hello, I am a student of the famous architect V. Ganapati Sthapati. I want to tell you that I so appreciate your wonderful website. You have done an amazing job with all of the poetry, music and knowledge. It nurtures beauty and truth. Thank you again for all that you do.
From: Tilly Naidoo, Soth Africa, 8 July 2008
Vannakam. I am a 4th generation diaspora Thamizhan from South Africa.I have visited a few web-sites gleaning information on the essence of Tamil Heritage.Your site, however, stands tall offering invaluable information and deserves laudable comments.I am looking for an apt Tamil saying / sayings, with English translation, that capture/s the essence of Tamilhood and the rich Tamil Heritage in its totality.It must be something extremely powerful with no chinks in the wall that can be frivolously chipped at by amateuirstic viewspoints. I also have questions on the following:

1.What is the Panjangam and what is its purpose ?
2. How did the concept / celebration of Tamil New Year come about ?

Response by tamilnation.org Mikka Nanri. You may find the information re the Hindu Panchangam at the Himalayan Academy of some use. Re the Tamil New Year please see Tamil New Year Day - First of Thai

From: இராஜேஷ் லெனின், MakkalTV, Tamil Nadu, 20 June 2008
அன்பிற்குரிய (tamilnation.org) தமிழ் நேஷன் குழாமுக்கு... மக்கள் வணக்கம். தங்கள் வலைமனையைத் தொடர்ந்து பார்த்து, படித்து, பயன்பெரும் தமிழ் சமூகத்தினரில் நானும் ஒருவன். நான் மக்கள் தொலைக்காட்சியில் விளம்பர மற்றும் மக்கள் தொடர்பு மேலாளராகப் பணிபுரிகிறேன். தங்களின் தமிழ்ப்பணி தொடரட்டும், வெல்லட்டும் என்று வாழ்த்தும் அதே வேளையில், ஒரு வேண்டுகோளையும் தங்கள் பரிசீலனைக்காக வைக்க விரும்புகிறேன்.

தங்கள் வலைதளத்தில் தற்போது இடம் பெற்றிருக்கும் யூ ட்யூப் படக்காட்சியான "வாழ்க தமிழ்மொழி" எனத் தொடங்கும் பாரதி கவிதையின் காட்சிவடிவம், எமது தொலைக்காட்சியின் தமிழ்த்தாய் வாழ்த்தாகும். இதைத் தங்கள் வலைமனையில் இடம்பெறச் செய்தமைக்கு மக்கள் தொலைக்காட்சி குடும்பத்தினரின் சார்பில் நன்றியைத் தெரிவித்துக் கொள்கிறேன். "தமிழ் நேஷன்" வழியாக உலகத்தமிழர்கள் பலரை சென்று சேர்வது குறித்து மகிழும் அதே வேளையில், அப்படக் காட்சிக்குக் கீழே மக்கள் தொலைக்காட்சியின் இலச்சினையும் இடம் பெற்றால் பொருத்தமாக இருக்கும் எனக் கருதுகிறோம். ஆகவே, இந்த வேண்டுகோளைத் தகுந்த முறையில் பரிசீலித்து உரிய ஆவன செய்வீர்கள் என நம்புகிறோம்.
Response by tamilnation.org Mikka Nanri. We have included your logo as suggested. We wish you well with your efforts with Makkal TV
From: Sheela Chetty, South Africa, 17 June 2008
Vannakam. You website is spectacular. Thank you! I live in South Africa and am a 5th generation Tamil from India. I would like to know if your website or perhaps another can give me a proper description of what a Tamil is? I was told that a true Tamilian is one who resides in a place where there is a temple. Is this true? Please enlighten me.

Response by tamilnation.org Many thanks for your comments. Mikka Nanri. It was also heart warming to hear from a '5th generation Tamil' from South Africa. It is perhaps true to say that where ever Tamils live, there is a temple near by - but that is not to say that those who live near temples are (or were) Tamils.. Today, there are temples built by Tamils in Australia, in the United Kingdom, in the United States - and in many other parts of the world. And many will agree with Prof Zvelbil's conclusion that Dravidian Temple architecture is one of the major contributions that the Tamil people have made to world civilisation. Said that the question as to who is a Tamil is a broader and deeper question and you may find the discussion at "Who is a Tamil" of interest. Definitions, it is said, come at the end of knowledge. That is another way of saying that all definitions are incomplete. To define, we reduce the whole into separate elements. But the whole is more than the sum of the separate parts. Arthur Koestler put it well in Janus : A Summing Up

"....it is of course perfectly legitimate, and in fact indispensable, for the scientist to try to analyse complex phenomena into their constituent elements - provided he remains conscious of the fact that in the course of the analyses something essential is always lost, because the whole is more than the sum of its parts, and its attributes as a whole are more complex than the attributes of its parts..."

Ludwig Wittgenstein said it bluntly in his Tractatus Logico-Philosophicus -

"...all the propositions of logic say the same thing, to wit nothing. To give the essence of a proposition means to give the essence of all description, and thus the essence of the world. The limits of my language mean the limits of my world..."

A story is told of Ludwig Wittgenstein (though we cannot vouch for its accuracy) that he would ask his students at Cambridge University to describe in words the smell of coffee. And as the students struggled in silence he would quote from his Tractatus Logico-Philosophicus - "..What can be shown, cannot be said. There are, indeed, things that cannot be put into words. They make themselves manifest."
From: Ahamed Roomy,Young Asia Television, Pelawatha, Batharamulla, Sri Lanka. [email protected] 17 June 2008
Dear Sir, Request for information regarding your article 'Foreign Aid & Sri Lanka's Military Expenditure' - I am an Assistant Producer of Young Asia Television a program which produce peace documenters in Sri Lanka. I would like to request you for information regarding about that article. I wish to do a documentary on that topic. Hope you will give your fullest support in providing necessary facts to make this a success.

Response by tamilnation.org We thank you for your interest. We regret that our remit does not extend to providing assistance of the kind that you have requested.
From: P Raghunandan, India 26 May 2008
Hello, Just dropped by. What a lovely site you have there. Very deep, and broad looking with various points of view and perspectives. I read parts of the site and was very impressed. Seriously though you have gone way beyond just Tamil Nation or Sri Lanka or Eelam. All those are probably (in my view) restricting the whole canvas.

I was born a Tamil (Tamil Nadu) and I have always wondered "Who is a Tamilian?" You see (as you have stated) there are Tamils all over the world - a diaspora.

Some speak a different Tamil to say the Madras Tamil. I met a youngster from Batticaloa who had come to Madras after 1983. I didn't understand a word of what he said and he didn't understand me! Both were supposedly speaking the same language. There are Tamils who cannot speak Tamil or read or write that language. So is it only the language that defines one? Or is it food? Costume? Music? Culture? All this is so varied and encompasses the globe. Tamils have been so adaptable and taken on the cultures, fragrances, hues of the lands they settled in. They have gone beyond narrow restrictive definitions and borne roots and flowered where ever they went. So maybe Tamils are a people of the world ... I met a couple with their children in a train journey in Tamil Nadu. They were from Denmark. He was originally a Hindu from Jaffna and she a Christian from Tamil Nadu. The children and the parents speak either in Danish or Tamil! No English. It was fascinating to watch how these different cultures had melded into forming their identity. Tamils cannot be bound by petty politicians' ways of thinking - isn't that wonderful for a diaspora?

Response by tamilnation.org Many thanks for your comments - and for having taken the trouble (and time) to write. We take on board your comment that

'seriously though you have gone way beyond just Tamil Nation or Sri Lanka or Eelam. All those are probably (in my view) restricting the whole canvas.'

Here, you may find the views expressed by Professor Murugesu Sivapalan, some four years ago of interest -

"...I can see a seamless transition between Tamil Nationalism, Tamil Globalism as enunciated in the Puranaanuru Poem "Yathum Ure Yavarum Kelir", and Tamil spiritualism. Tamil Nation website has once again raised the standards of journalism and debate to a higher plane - fighting for freedom for ourselves is on a par with treating all of the world's people as our brothers and sisters, and aiming to achieve salvation by personal meditation and sacrifice."

Again, we believe that Frantz Fannon was right when he declared that -

"...the building of a nation is of necessity accompanied by the discovery and encouragement of universalising values... It is at the heart of national consciousness that international consciousness lives and grows..."

We believe that a true trans nationalism will not come from a simple minded idealism which proclaims that 'the Tamils are a people of the world'. We are more than mindful that even those who may speak about the 'one world' (and decry divisions) continue to live their lives with seeming contentment in a world divided by nation states - 'one world' for the Tamils but 'our nation' for the American, the Canadian, the French, the British and so on. We cannot pretend to live in a 'one world' which has not yet arrived. However, that is not to say that we should not work toward the ideal of a 'one world' where the separate national identities of the peoples of the world will be transcended (but not merged) by a greater unity. And for us, the words of Mahatma Gandhi continue to strike a chord -

"...My goal is friendship with the world and I can combine the greatest love with the greatest opposition to wrong ... Through the realisation of freedom for India, I hope to realize and carry on the mission of the brotherhood of man..."

We believe that that which is fundamental is 'the realisation of freedom.' It is freedom that will secure that the interchange between peoples will be equal and free. "Fighting for freedom for ourselves is on a par with treating all of the world's people as our brothers and sisters, and aiming to achieve salvation by personal meditation and sacrifice". We believe that -

"A true transnationalism will not come by the suppression of one nation by another. A true transnationalism will come from nationalisms that have flowered and matured; from peoples who have grown from dependence to independence to inter-dependence. It is only the independent who may be inter-dependent. And to work for the flowering of the Tamil nation is to bring forward the emergence of a true trans nationalism. ...In the meantime, Tamils have no cause, to be apologetic about their togetherness as a people. As a people, we too have much to contribute to the rich fabric of the many nations of the world - and to world civilisation..."

There is perhaps one other comment that we would like to add. And that is in relation to your remark that 'Tamils cannot be bound by petty politicians ways of thinking'. We may want to be mindful that politicians do not come to us from the stratosphere. They are grown by us on the ground. Our leaders are more representative of us than we may sometimes care to admit. And Dee Hock, Founding CEO, Visa International was right when he declared -

"...In a very real sense, followers lead by choosing where to be led. Where an organizational community will be led is inseparable from the shared values and beliefs of its members..."
From: Parasakthy Sundharalingam, Australia, 26 May 2008
Re '

Politics not my cup of tea says US Ambassador Blake

' - The comments by

tamil

nation.

org

were powerful - so were the cartoons. People are going for movies - what a statement by a diplomat! May your service continue.
From: Oruvan, Kattankudi, Tamil Eelam, 21 May 2008
You are absolutely spot-on in your response sir, to 'Tactical Tremors'. The key word you have employed is "more to do." You wrote: "..the tactical tremors (re SARPSCO - the newly launched, the South Asia Regional Port Security Cooperative) have have MORE TO DO with China and its String of Pearls Strategy than with the LTTE". It doesn't however, rule out completely the Tamil Tigers and their potent strategic manoeuvres in the Tamil ocean. China's capability to establish a forward presence is unquestionable. The Imperium is very concerned about such moves. But any keen chess player would know not to discount the capability of a pawn check-mating the king or even a pawn having the ability to attack the queen and take her out of the game. More over, having battled through to the end of the other side, a pawn can choose to grow into a queen, rook, bishop or knight. Its not the size or the importance. Depending more to do with the move... Tiger moves with precision. Thanks for the splendid service rendered by Tamil Nation.
From: Thedum Manithan, Tamil Eelam, 25 April 2008
In your editorial comment on Peace and 'Getting to Yes' you make an excruciatingly truthful observation which has some how by passed the major intelligentsia.

"To label a conflict resolution as a 'peace process' may well cloud our thinking."

Well said! Norway has come under the cloud of the unknowing, in terms of bringing peace in its various forms to the hot spots of the world. No where in the world however, have these Nordic nerds managed to bring peace, let alone meaningful conflict resolution. I conclude by another quote for the benefit of the little man who is seeking honourable peace:

"At the outset, we may need to be mindful that to label a conflict resolution process as a 'peace process' may cloud our thinking. A 'peace process' suggests that somehow everything will be solved when 'peace' is secured. We all love peace. But peace comes in many different forms. We have the peace of the graveyard as well. If it was simply peace that the Tamil people wanted they may have been well advised to willingly submit to alien Sinhala rule - many years ago."

During the rounds of talks between Sri Lanka and Eelam, I was deeply troubled to watch even the well-advised Tamils forego the primacy of reason and to put all their trust on Norway - even to believe that Norway would manage to secure peace and even the separate state of Eelam. Very sorry state of political perceptions.

The process of peace, Prof Noam Chomsky seem to think, is designed to be duplicitous, and its objective is to serve the grand plan of the international players. Kosovo got its independence. You among others, quite rightly, were cautious in your comments. It was indeed a SUPERVISED independence. Many were of the mind that that could create a domino effect and eventually it would act as a catalyst and Eelam would be "given" its independence. The problem is we are yet to overcome our slavery mentality. We still believe that some one else is going to "give" us what we need. Bull shit!

We must fight for it, struggle for it - hell or high water. We must get the 'hell out of our mess'. We must do it! Faith is not just clinging on to some thing. It is about daring to beat the odds. Mikka Nandri.

Response by tamilnation.org '..If someone asks me when and how the struggle may end, I may say that, if the entire community manfully stands the test, the end will be near. If many of us fall back under storm and stress, the struggle will be prolonged. But I can boldly declare, and with certainty, that so long as there is even a handful of men true to their pledge, there can only be one end to the struggle, and that is victory...' Mahatma Gandhi's Pledge of Resistance in Transvaal, Africa, 1906
From:
Louise Coyle
, International Affairs Office, National University of Ireland, Galway 25 April 2008
The National University of Ireland, Galway is currently accepting applications for the International Scholarship Programme. The Programme is aimed at developing the capacity of outstanding individuals who can assume leadership roles in their fields of study and whose work will enhance the development of their own society.

The Scholarship provides recipients with �15,000 for living expenses and in addition covers the cost of tuition fees. This programme is open to applicants from Ethiopia, South Africa and Sri Lanka. Applications should be received before 9th May 2008.

The International Affairs Office is currently accepting applications. Further information regarding the NUI Galway International Scholarship Programme including the scholarship guidelines, application form, minimum entry requirements and list of approved courses can be downloaded at http://www.nuigalway.ie/international/fees/scholarships.html .

I look forward to your co-operation in promoting this programme to suitable applicants. Please do not hesitate to contact us for further information. Queries can be addressed to [email protected] Best wishes
From: Stephanie Rocke, National Thesis Register Manager, Musicological Society of Australia, 23 April 2008
Not a big deal, but I just thought you may like to be aware that you've listed Toge Sankichi's birth year as 1921 - its actually 1917 (see Richard H. Minear, "Translator's Introduction [to Poems of the Atomic Bomb by T�ge Sankichi]," in Hiroshima: Three Witnesses, ed. and trans. Richard H.Minear (Princeton: Princeton University Press, 1990), 277 and Robert Jay Lifton, Death in Life; Survivors of Hiroshima (New York: Random House, 1967), 441. I've been researching him as part of my analysis of Karl Jenkins' " The Armed Man: A Mass for Peace" which sets a portion of Toge's poem "Flames". Best Wishes.

Response by tamilnation.org Many thanks. We have made the necessary corrections in our Hiroshima & Nagasaki page.

From: Chandi Sinnathurai, Tamil Eelam, 18 April 2008
I found Sachi Sri Kantha's short recollection on the late Arthur C Clarke most interesting. The scanned snail-mail letter from Clarke, composed on a good old typewriter shows how things have changed. Sadly things are yet to change in Sri Lanka when it comes to the politicoes and politics. How true it is that in this day and age 'regular' postal letters from friends and loved ones are so very rare. We have to live now with 'wretched' text messages ("txt language") and e-mails. However, the swiftness of e-mail communication is a thing not to be despised. But the art form of splendid letter writing, with the fountain pen (not with the ball-point!) has gone with the wind.
From: Mohammed Ghazi, Musyab, Iraq-Babylon 10 April 2008
I am from Iraq. I am Ph.D student. My thesis relates to Iraqi Armed Conflicts and Humanitarian International Law. My research focus is on the armed conflicts in Iraq after 9 April 2003. I hope I can get your help to get sources related to this subject. With Best Regards

Response by tamilnation.org Regretfully, our remit does not extend to providing the type of assistance that you seek.
From: Stewart Sloan, Hong Kong, [[email protected] ], 8 April 2008
I am Scottish, living in Hong Kong and have worked for an human rights NGO for the past 4 years. I have been appalled at what I have read about the treatment of the Tamils in Sri Lanka and would like to become more deeply involved. I am aware that you have no reason to trust me but would be grateful if you would add me to your mailing list. I will gladly provide any information about myself that you might require. http://sloanbooks.blogspot.com

Response by tamilnation.org Many thanks for your interest. But we regret that we do not operate a mailing list.
From: Sundar Rajan, Chennai, 7 April 2008
Inspired

Hello Tamilnation..

tamizhan illidha nadu illai
tamizhannukku endur oru nadu illai



Very catchy phrase... I went through your site - it is good... keep it up.

From: Parasakthy Sundharalingam, Australia, 8 March 2008
Vanakkam. It was a pleasure to see Malaravan's writing in print though the contents brought tears as well as pride about our heroes' sacrifices. Though only nineteen years of age when he wrote his memoirs he had achieved true greatness. His diary will live in history like the diary of Anne Frank and Che Guevera's Motorcycle Diaries. Three years ago Mr. Yogaraja, a writer had mentioned about Malaravan in his essay about Maaveerars' writings in the 40th anniversary malar of 'Mallikai'' - a literary magazine from Ilangkai. The writer had analysed the writings of Malaimakal and Ambuli and mentioned about Malaravan's novel found among his belongings after his heroic death. Your publication is timely, the translation is good - sounds like original. The Tamil diaspora youth are sure to welcome this hero's story of dedication and sacrifice.

Response by tamilnation.org We agree. Malaravan's writing touches our hearts because it was written from the heart. The translation by N.Malathy retains the authenticity of the Tamil original and she is right to point out that "The book reveals a lot that has so far not been revealed in reports. The book speaks for itself about the conflict and will hopefully create an interest to learn more."
From: Soma Skanda, 7 March 2008
Sir, I would like to draw your attention towards links of two articles on the Aryan-Dravidian Question that appears on this page of your website. The two articles are one written by Mr.David Frawley and the other written by Mr.Rajaram.

I'm basically a student. I stumbled upon the said pages while trying to learn more on the Aryan-Dravidian question and further down the line, I happened to read a cover story in FRONTLINE on this aspect, and that too specifically is a critique about the work of the above said two authors in that area. So I thought it would be apt to draw your attention to it, so readers from now on will have another perspective on the issue in question.

Links to the Frontline Cover Story : The Indus Valley Decipherment Hoax - Michael Witzel and Steve Farmer, 13 October 2000; The direction of Harappan writing - Michael Witzel and Steve Farmer, 13 October 2000 and Hindutva and history - Romila Thapar, 13 October 2000

Another article about the Indus Script - Towards a scientific study of the Indus Script - Iravatham Mahadevan 4 February 2007

Thanks & Regards.

Response by tamilnation.org Many thanks for your interest. We have included the links in our Tamil Heritage page.
From: Dr. Dunton Phillips, Vancouver, Canada, 4 March 2007
Dear Editor: I have gone through your Website and I find that your website is a veritable Encylopaedia of Tamil History and News about your Very Ancient Tamil People. You and your helpers are doing a very useful work. I wish that the Sinhala leaders and their people may open their eyes and recognize your desire to be INDEPENDENT AND A SOVEREIGN NATION. It is not easy to become an independent Nation - I wish that all the Tamils get UNITED - there are plenty of Tamil Mercenaries working with Sinhala people - they are self-destructive and they live to fill their stomachs with the money they get from Sinhala government. I wish you all success in your work. You have the best website - call it - Tamil Encyclopaedia
From: Angel Sanna, 2 March 2008
Re Tamil literaure on the web, I can't believe you guys have done such a wonderful work. You know what - I and my brother wanted to make those books as e-copies as we lost much during the war. We even planned to earn some money, go to India, buy the publications without knowing that you guys had done a WONDERFUL job long time back.

Btw, I am doing mechatronic engineering year 2 now and my thambi just entered university.

I was bored yesterday and was just browsing the net and I found your website. I was so excited... You wont believe I was jumping, jumping, jumping and at one stage I thought I am going to die from excitement. What a wonderful job. I tried to copy and rename the pdf files but its taking time as the internet is very bad here.

My grand parents and the closest uncles parents (our grand parents too) were so good in Tamil. So, they read periya puranam, serap puranam, thevaram etc for us as we don't know the meanings (Porul) for those verses. Dad and uncle used to read all sort of books from comics to big literature. They introduced us to the Moscow publication's books, Palaniappa brothers publication's books, Manimegalai publication's books, Vanathi publication's books etc. We had a huge room with lots and lots of books which our grand parents and parents had read. We are the new generation and we used to read lot like 6 hrs a day. Parents didnt stop us as our average was 90+ in school. I came abroad to study and didnt bring any books.

I have missed the books these two years and really felt like I am a living corpse. Grand parents are not here to explain any more. So, now when I went thru it I found difficulties to understand those old puranams. Can you do a favour. You guys have done lot. Yet, when we become old we wont be good enough to explain to our new generation the verses. So, if you write the porul also it will be really helpful. I cant wait to go back home and beg our Tamil professors to do this work.

I studied in Jaffna btw. We had Tamil literature as 40% of the Tamil O/L paper. There we had some parts on serapuranam, nalavenpa, manimegalai kapiyam, manu neethi, cholan varalaru & etc. It was so hard for others but was easy for us coz of our grand parents. One grand pa was a Tamil pulavar. We also had Saiva Samayam subject where we studied about those nayanmars and thevarams. I am so glad to read them now. I dont know if there is a error in Sambanthan's thevaram. Will send you what is that when I receive a reply coz I am just wondering if you will get this mail.

Do you have all those pdf files in CD? We can't carry all the books and run to place to place. At least I can carry the CDs when we are running from place to place during the war.

I don't know how to acknowledge you guys. Are you in Madurai? If so, I can ask my lecturer - a well wisher from Madurai to find out how can I help you guys. He was asking me "Tell child what you want from India" all the time. I am going to make him do something for you guys. I also can help if I can do something on the computer with whatever knowledge I have. I was searching for Tamil books online for almost 3 yrs. I really don't know how I missed your website. I wish I found it earlier. I sent the link to all my cousins, uncles, friends even in a cookery website. They all excited over it too. I am sorry I can sit and write the whole day like this but I should not. I am overjoyed as I missed those books for ages.

Ok fine, pls let me know what I can do for you guys. Siru thuli peru vellam right. HATS OFF!!!!!!!!!!!!!!!!!!!! Neengal Anaivarum Needudi Valla Tamil Annai Thunai Purivaraga (May Tamil Annai Give Long Life For You Guys)

About the other parts of your website. You guys have a wonderful collection on Baratha Natyam. I did Baratha Natyam for 16 - 17 yrs. My first guru was Chitra Visveswaran & then 1.5 yrs Adayar Lakmanan sir. Then we went to Sri Lanka and followed from other teachers there. The dance articles are justified well and the page looks good. Can you focus a bit on "Justify" so the site will look better.. Thanks....

Response by tamilnation.org We must confess that we were somewhat overwhelmed by your comments. We thank you for sharing your excitement with us. My God Bless. Project Madurai itself is the work of a group of enthusiastic volunteers living in many parts of the globe and is led by Dr.K.Kalyansundram from Switzerland and Dr. Kumar Mallikarjunan from USA. If you would like to participate in the project in any way you may want to join the Project Madurai Yahoo Group or email Dr.Kalyanasundaram at <pmadurai AT gmail DOT com>. To mark the 10th Anniversary of the start of Project Madurai, a commemoration CD was made available for free distribution in February this year. The CD contains all Tamil electronic texts released by Project Madurai up to December 2007. The e-texts are made available in all three formats - TSCII, Unicode and PDF. If you let us have your postal address, we will be happy to send you a copy free of charge.
From: A Visitor from Australia, 27 February 2008
Vanakkam. Today's analysis in

tamil

nation.

org

should open the eyes of any one who cares about the suffering of fellow humans. The great educationist John Dewey while defining democracy said "democracy is concern for others"
. What an apt defnition!