Whats New Archive

- October
2008 -
"...அரிய சாதனைகள் செய்யப்படுவது வலிமையினால் அல்ல
- விடா முயற்சியினால்தான்..."
Week Ending: Saturday 25 October 2008
India & the Tamil Eelam Struggle for Freedom

from Indira to Rajiv to Manmohan - an amoral phenomenon
We won�t stop military cooperation with Lanka says Indian External Affairs Minister Pranab Mukherjee
�We have a very comprehensive relationship with Sri Lanka. In our anxiety to protect the civilians, we should not forget the strategic importance of this island to India's interests,... especially in view of attempts by countries like Pakistan and China to gain a strategic foothold in the island nation...Colombo had been told that India would 'look after your security requirements, provided you do not look around'. 'We cannot have a playground of international players in our backyard.' together with Comment by tamilnation.org : "It was after all Indian Foreign Secretary and National Security Adviser Dixit who described India's foreign policy in relation to the conflict in the island as amoral....And so today, Mr.Pranab Mukherjee declares with disarming franknessthat Sri Lanka has been told that New Delhi will extend military cooperation and also continue to train Sri Lanka forces provided that Sri Lanka does not 'look around' to Pakistan and China.... Many will see the current posturing (and ultimatums) by Jayalalitha and Karunanidhi in Tamil Nadu as no more than a drama on a platform provided by New Delhi so that New Delhi may coerce President Rajapakse (and his JVP allies) to move away from the China-Iran-Pakistan axis..." more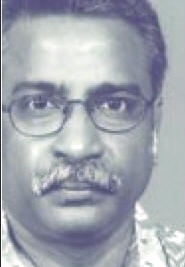 Change Course in Sri Lanka or Face Misfortune - M.S.S.Pandian
"Tamil Nadu had a history of demanding secession from the Indian Union. Yet, over time, it has chosen to integrate itself fully with the national mainstream. If New Delhi does not change course in its Sri Lankan policy, it may plant the seeds towards a reversal of such history. That will be India's misfortune". more
Tamil Nadu & Tamil Eelam Struggle for Freedom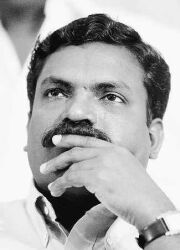 Thirumavalavan courts arrest in Tamil Nadu with thousands of cadres - and calls on India to stop proxy war
against Tamil Eelam
"In a state-wide railway blockade of a scale that has not been witnessed in recent years in Tamil Nadu, Viduthalai Chiruthaigal Katchi (VCK) President Thol. Thirumavalavan courted arrest Thursday 23 October morning with thousands of his cadres urging the Indian Government to stop the genocidal war against the Tamils within the next twenty-four hours. He said that the ongoing war in the island was "clearly a proxy war being waged by the Indian Government through the Sinhalese forces" and he urged upon New Delhi to put an end to it at the earliest." more
International Frame of the Tamil Eelam Freedom Struggle: India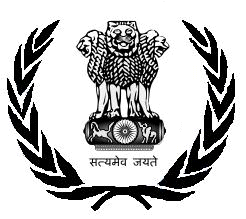 Presence of ex Deputy Director of RAW, Chandran, disturbs Sri Lanka, says Sinhala owned Sri Lanka Island
together with Comment by
tamil

nation.

org

"The words from Thirukural come to mind:
'Whatever may be said, whosoever may say it - to determine the truth of it, is wisdom'. And half truths are always more difficult to rebut than outright lies. In truth, the Sinhala owned Sri Lanka Island may be concerned not so much with Chandran's alleged

current

(and

unproven

) links to the LTTE but with the role that Chandran may be currently playing as an instrument of India's foreign policy - a foreign policy directed to wean and if necessary coerce President Rajapakse away from the China-Iran-Pakistan axis. And what better way to atttack the message than to attack the messenger as a 'double agent'. Incidentally, Chandran was one of two Deputy Directors of RAW who were assigned to engage with the delegations to the Thimpu Talks in Bhutan in 1985 and he has always displayed a steadfast commitment to further New Delhi's foreign policy objectives in the Indian Ocean region." more
Tamils: a Trans State Nation Living in Many Lands...
1. Director Cheran at Rameshwaram Protest by Tamil Artists & Writers... Comment by
tamil

nation.

org

- An essential speech which surfaces the underlying issues
that the people of Tamil Nadu need to face...
2.ஈழத்தமிழினத்தின் அவலமும் தாய்த்தமிழக எழுச்சியும் - குமுதம் இணையதள காணொளி...
3.Director Seeman at Rameshwaran Protest by Tamil Artists & Writers...
4. Karnataka - Karnataka Thamizhar Makkal Iyakkam Demonstrates against Genocide of Eelam Tamils - "Stop the genocidal State terrorist violence on Eelam Tamils - recognise the right of Eelam Tamils to self-determination and recognise Tamileelam.." more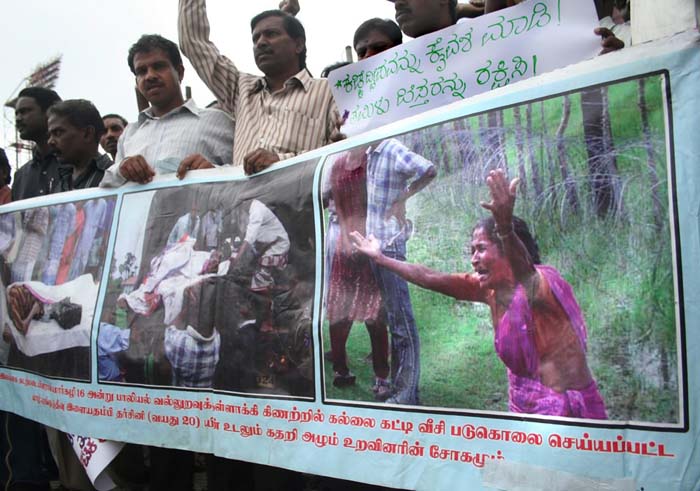 5
. Tamil Nadu Dravida Kazhagam Rally at Periyar Thidal -
பற்றி எரிகிறதே ஈழம்!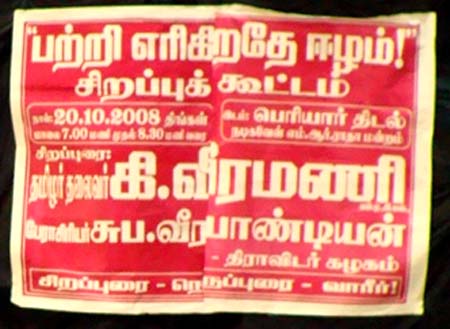 6.Tamil Nadu வைகோ - ஈழத்தில் நடப்பது என்ன? / அரங்கக் கூட்டம், ராஜா அண்ணாமலை மன்றம், சென்னை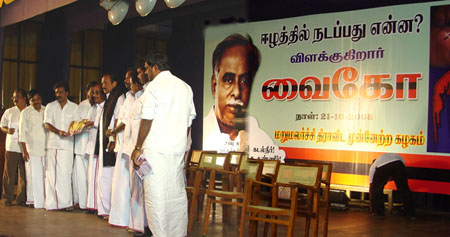 7.Tamil Nadu
தொழிலாளர் மக்களாட்சி, September 2008 "சிங்கள இனவெறி அரசின் கூலிப்படையாக இந்திய இராணுவம் - மார்க்சிய, லெனினிய, மாவோவிய, தமிழ் தேசிய அணிகளை நோக்கி காலத்தின் அறைகூவல்!" more
8.
Tamil Nadu
Makkal Jananayaka Ilainger Kazhagam, Chennai : Demonstrates in Support of Tamil Eelam - Remove Ban on LTTE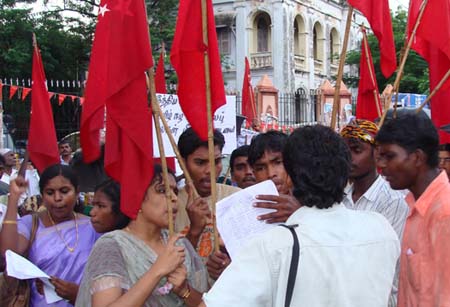 9. Switzerland

International Federation of Tamils, Geneva - Memorandum to Tamil Nadu All Party Meeting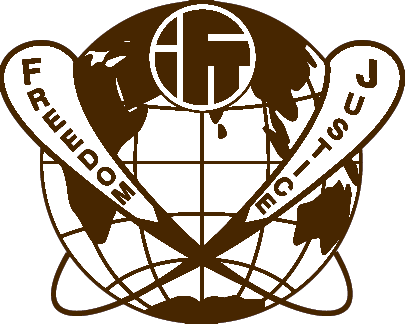 தமிழ்நாடு அரசினால் கூட்டப்படும் அனைததுக் கட்ச்சிக் கூட்டத்தின் கவனதத்திற்கு சமர்ப்பிக்கபட்ட மனு
"...சிங்கள தேசியவாத அரசு வீக்கமடைந்து வன்முறையும், பயங்கரவாதமும் ஒன்றுதிரண்டதாக உருவாகியுள்ளது. அந்தச் சிங்களக் கட்டமைப்பு தன்னைப் பலப்படுத்துவதற்காக சீனா, பாக்கிஸ்தான், ஈரான் என்ற நிரையில் பிராந்தியத்துடன் எதுவித தொடர்புகளுமற்ற சர்வதேச சக்திகளை அழைத்து வந்து பிராந்திய ஸ்திரத்தன்மைக்கு சவால்விடுத்து வருகின்றது. இது தமிழீழ மக்களின் பாதுகாப்புககும், இருப்புக்கும் பெரும்சவாலாக இருப்பதுடன், தமிழ்நாட்டினதும், இந்தியாவினதும் உண்மையான பாதுகாப்புக்கும் - நலன்களுக்கும் அச்சுறுத்தலானது..." more
Reflections
1."It is true that I have seen many painful scenes of havoc and of fine buildings and cottage homes blasted into rubble heaps of ruin; But it is just in those very places where the malice of the savage enemy has done its worst, and where the ordeal of the men, women and children has been most severe that I found their morale is most high and splendid." Winston Churchill 27April 1941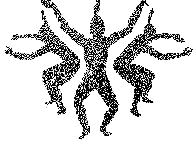 2. "'India loves to play all sides, and has always done that,' said Reva Bhalla, an analyst with the U.S. private intelligence firm Stratfor. 'They can cater to the Tamil politicians and benefit from the Tigers' military capability going down without taking too much political risk.' Underscoring India's dual-track approach to Sri Lanka, furious denials erupted from Colombo and New Delhi last month after two Indian radar technicians were injured in a Tiger assault on a Sri Lankan military base. Rajapaksa later said the men were providing after-sales service to radars India's Bharat Electronics sold to the military. India has also helped Sri Lanka intercept Tiger boats, which it considers a threat to national security..." C. Bryson Hull in India Rumbles over Sri Lanka war, but to what end?, 17 October 2008, Thomson Reuters [Comment by tamilnation.org But then, it is not only New Delhi that 'loves to play all sides' - and presumably, U.S. based intelligence firm Stratfor should know. See also Resolution of US Massachusetts House of Representatives Calling for the Restoration of the Separate Sovereign State of Tamil Eelam, June 1981]
Week Ending: Saturday 18 October 2008
Comments to include
K.Thiruselvam writes from Kuala Lumpur, Malaysia on the Sri Lankan Horror: "What I saw on television (Makkal TV) in the early morning hours (17 October 08) shook me to tears... Children in uniforms were each, seeking space to shelter. You could see, that even in calamity, the seniors helped lower the younger children into trenches...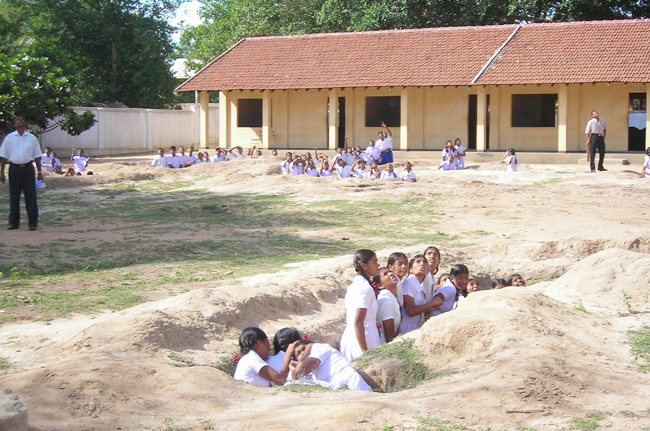 ...
The camera pans the scene to show the injured being carried away, dead people lying around, broken houses, sheds, dead cattle and the rise of white smoke from hit grounds. How aptly, the announcer added, where is the difference between cattle and men... I spent the entire day, upset but searching for 'international press medias' and e-mail addresses to submit the letter below to as many editors possible, 'Letters to the editor'. What I wanted was an awakening reminder, and international reading. Having found nothing, I 'tamed' the letter and e-mailed it to the local 2 newspapers. Outcome?!!!! It is only 4.30am, and I am awake (disturbed by the yesterday's 4 - 5 minutes news) and still searching. I found your site by chance. Hence this attached intro letter... " more
Tamils: a Trans State Nation
Tamil Nadu - Tamil Nadu Going Eelam Way?
including Boycott call hits work in Chennai High Court
" In the name of safe-guarding Sri Lanka's sovereignty, don't lose India's sovereignty and national integration" Vaiko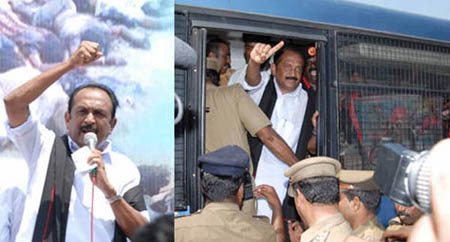 Natteri Adigal in Merina News, October 2008 ""...if the fictitious concept of placing �country�s interests above human rights, ethnic pride and identity� continues to be promoted for long, it will be a matter of time for India too to meet the fate of USSR or Yugoslavia or now Sri Lanka... In 1965, when Tamil Nadu faced the possibility of military action from a powerful New Delhi, C.N.Annadurai opted to abandon his demand for full autonomy for states under a lose confederation with one currency but multiple ethnic, cultural and national identities Today, Tamil Nadu appears headed for revolutionary political changes in a culmination of a combination of events: For one, the two main Dravidian political outfits � Dravida Munnetra Kazhagam (DMK), headed by three-time chief minister M Karunanidhi and All India Anna Dravida Munnetra Kazhagam (AIADMK), headed by former two-term CM Jayalalitha � are both reeling under overwhelming outrage among the Tamil population...The ground reality in Tamil Nadu is that almost every Tamil � belonging to whatever religion or strata � has a primary affinity to other Tamil-speaking people of whatever domicile or religion. .. Dravidian leaders, in their zeal to get on the right side of Delhi bosses, are seen to be conniving with New Delhi�s policy of aiding Sri Lankan government in exterminating Tamils...Developments in October will decide if New Delhi will be adding to the Kashmir imbroglio another hopeless embroilment in the South." more
Reflection
Tamils: a Trans State Nation - Tamil Nadu The Hindu Targeted in Tamil Nadu - Statement by N. Ram, Editor-in-Chief, The Hindu
Tamil National Forum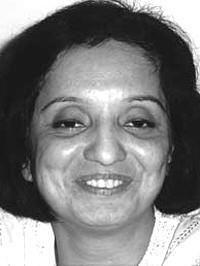 Sachi Sri Kantha writes from Japan On Malini Parthasarathy�s Malodorous Malady "Ms. Malini Parthasarathy, the high priestess of the House of Hindu, had added her tuppence worth sentiments on the recent outpouring for Eelam Tamils in Tamil Nadu, under the caption, �The dangers of Tamil chauvinism� (The Hindu, Oct.14, 2008). There is no mistake that she has been following the footsteps of her forbears, who valiantly sided with the administrative machinery of British colonialism against Mahatma Gandhi�s liberation movement for free India. The malodorous mischief mixed in Malini Parthasarathy�s commentary deserve some criticism..." together with

note by

tamil

nation.

org

"Many will regard Ms. Malini Parthasarathy's 'bold faced lie' that 'successive Indian governments since 1991' have upheld a 'sound policy decision' 'to stay out of Sri Lanka�s internal affairs' as simply a continuing reflection of the arrogance and stupidity of the House of Hindu - an arrogance and stupidity fuelled by its deep seated opposition to the struggle of the people of Tamil Eelam for freedom from alien Sinhala rule.." more
International Relations in the Age of Empire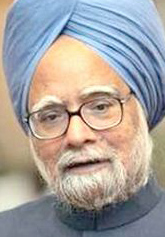 1
. Divisions on the Rise in India - Manmohan Singh together with
Comment by
tamil

nation.

org
"Indian Prime Minister Mr.Manmohan Singh is right to point out that divisions are on the rise in India. He is also right to say that this is not an accident. But
Mr. Manmohan Singh is wrong when he attributes the cause to evil forces conspiring to assault the 'composite culture' of India - a 'composite culture' created by English speaking Indians speaking to one another in English..." more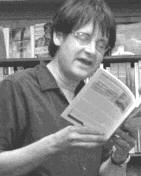 2. On Socialism for the Rich - John Bellamy Foster, 10 October 2008 "..As for the politics of nationalisation of banks in the US and UK, one should not confuse this - as is all too common - with socialism or even radicalism, unless one is talking about socialism for the rich... Marx said, in one of his ironic moments, that the only part of the national wealth that was held in common amongst all the people was the national debt. If the wealth is not shared, why should the public take on more debt, supporting the opulence at the top while the great majority of the people are seeing their basic conditions deteriorate?.." more
Reflection
தமிழ் ஈழம் மலரும்
- அது காலத்தின் கட்டாயம்"
Concluding part of Vaiko's Speech at Periyar Thidal, Chennai, 29 December 2005 - for full 9 part speech please see here
Revisited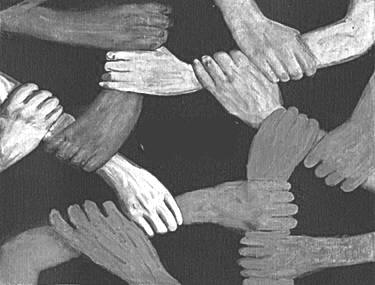 India & the Struggle for Tamil Eelam: Tamil Nation & the Unity of India - Nadesan Satyendra, February 2001 "...The break up of India, if it comes will not come from the efforts of tamilnation.org. It will come despite our efforts. It will come from a failure of political leaders in India to openly recognise that India is a multi national state - and recognise the enduring wisdom of the words of Pramatha Chaudhuri... The unity of India will not come simply by English speaking 'Indians' speaking to each other in English... (Again), the strength and unity of India lies not in the nuclear bomb, but in its peoples. Nuclear capability will not guarantee unity. The nuclear bomb did not prevent the disintegration of the Soviet Union and the emergence of the non-nuclear states of Latvia, Estonia and Georgia. There is a need to understand that a people's aspiration for equality and freedom is an energy which is in many ways more potent than that contained in a nuclear bomb... Those concerned to secure the unity of India will need to adopt a more 'principle centred' approach towards struggles for self determination in the Indian region.. ." more
Comments to include
நாட்டேரி அடிகள் writes from Tamil Nadu நான் ஆங்கில்த்தில் merinews.com இணைப்பக்கத்தில் எழுதிய Tamil Nadu Going Eelam Way? -I கட்டுரையை தங்கள் வலைப்பக்கத்தில் வெளியிட்டதிற்கு மிக்க ந்ன்றி. கட்டுரையின் இரண்டாம் பாகம் Tamil Nadu Going Eelam Way? - II பதிக்கப்பட்டுவிட்டது... இக்கட்டுரைகளைத் தமிழ்ப்படுத்தி வெளியிடுவது எதிரிகளாலும், இனவிரோதிகளாலும் உலகத்தமிழர்களைப் ப்ற்றி பரப்பப்பட்டுள்ள நச்சுக்கருத்துக்களையும் பொய்த் தகவல்களையும் (உலகத் தமிழர்களின் எண்ணத்தில் விதைக்கப்பட்டுள்ள தடுமாற்றங்களையும்கூட) முறியடைக்க உதவும் எனக் கருதுகிறேன். "தமிழ்நாட்டை 'தெற்கு காஷ்மீர'மாக்குவது இந்தியநலனுக்கு உகந்ததா?" எனத் தலைப்பிடலாம்.
Tamil National Forum
Caste & the Tamil Nation - Dalits, Brahmins & Non Brahmins to include
Sudalaimuthu Palaniappan
On the Unintended Influence of Janinism on the Development of Caste in Post Classical Tamil Society -
"..Like any other human being, the average Tamil also functions at the intersection of many overlapping identities. In spite of the persistence of a linguistic identity over two millennia, and a self-conscious Tamil nationalist political movement of the 20th century which argued against caste differences among Tamils, for many Tamils of today, caste is a significant, if not the primary, identity still. One of the results of this caste identity is that many Tamils who are members of the Scheduled Castes or Dalits feel alienated from the interests of the Tamil Nationalist movement." more
Week Ending: Saturday 11 October 2008
Tamils: a Trans State Nation - United Kingdom
Thousands of British Tamils Rally in London Parliament Square, 6 October 2008 "A large portion of the crowd were vociferous and chanted slogans such as "We want our soil" "We want Tamil Eelam" "Sri Lanka stop the bombing of Tamils" "Sri Lanka stop the killing of Tamils". People were spontaneously clapping and singing. Some cars hooted in support, when driving past." more
Sathyam Art Gallery: Tamil Eelam Freedom Struggle

Is anyone listening?
I have long dried my tears,
And the ashes I heaped upon my head
I have forgotten -
Show me a way out of these closing walls
Of my people's shame!
Is anyone, out there, listening ?
"War brings with it a particular social reality. Death, destruction and fear may prevail but so too does great courage and determined resistance. In war situations it is doubtful that anyone escapes without some effect on their perceptions of life. For some people, the particular social reality generated in wartime conditions should be captured as a documentary record of the particularity of those times. These records form part of the cultural heritage of humanity, for they seek to tell the world of a particular human condition " Voice of the Tigers, the Official Bulletin of the Liberation Tigers of Tamil Eelam, February 1990
Reflections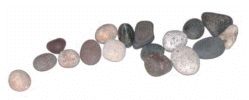 ".. today, the US and India may find common cause in 'weakening' the Tamil Eelam struggle for freedom (and the LTTE) - but weaken it in such a way that thereafter each of them may successfully jockey (against each other) for position and influence in the Indian Ocean region. The 'weakening' in this context means the isolation and annihilation of Velupillai Pirabakaran and securing an LTTE under a 'reformed' leadership. B Raman, Additional Secretary (retired), Cabinet Secretariat, Government of India, New Delhi, and, presently, Director, Institute for Topical Studies, Chennai, and distinguished fellow and convener, Observer Research Foundation, Chennai Chapter spelt out New Delhi's own 'legitimate' aspiration in 2005 -
" I have been repeatedly writing that the Sri Lankan Tamils need an LTTE minus Prabakaran and that if the LTTE throws him out and gives up terrorism, India and Sri Lanka should be prepared to do business with it. Without the protective role of the LTTE, the Tamils would be at the mercy of the Sinhalese chauvinists. Statesmanship demands that the Sri Lankan leaders should work for such a denouement through special gestures to the Tamils and the other leaders of the LTTE." South Asia Analysis Group, New Delhi, Paper No. 1217, January 10, 2005
Raman's concern to protect the Tamil people from Sinhala chauvinism would have been heart warming but for the grim reality of the New Delhi sponsored comic opera of the 1988 Provincial Councils which showed the extent of New Delhi's willingness to appease Sinhala chauvinism and sacrifice Tamil interests in the altar of its own strategic interests...
The political reality is that, on the one hand, the US is mindful that it was after all President Jayawardene's 'growing togetherness' with the US which led to New Delhi's support of the Tamil militant movement in the early 1980s. At that time the US kept its oars in Tamil waters with efforts such as hoisting the Eelam flag in the State of Massachusetts. Today, the same US continues to speak of the 'legitimate aspirations' of the Tamil people. On the other hand, New Delhi has no desire to lose its ability to play the 'Tamil card' to keep Sri Lanka in line in the years to come - even after the successful annihilation of Velupillai Pirabakaran and the weakening of the LTTE. And so New Delhi too proclaims ad nauseam that they are concerned to secure the 'legitimate aspirations' of the Tamil people. Additionally it builds its own network amongst dissident Tamils in Sri Lanka, in Tamil Nadu and abroad to propagate its interests. It is within the interstices of this international frame that the struggle of the people of Tamil Eelam to be free from alien Sinhala rule continues under conditions of excruciating agony and suffering . And it is this same international frame which Sinhala Sri Lanka seeks to use to continue its genocidal onslaught on the Tamil people...Given all this (and more) there is a clear need to expose to the scrutiny of the Tamil people (yes, the Tamil people and not some other people) the stated claim of the international community (including New Delhi and its agents in Tamil Nadu) that they seek the 'best solution in human rights terms' and explore the unstated interests which the stated claim is directed to cover up - and secure..." Black Pebbles & White Pebbles - Nadesan Satyendra
Tamils: a Trans State Nation: Australia

Remembering Thiyagi Theelepan in Melbourne, Australia அவுஸ்திரேலியா விக்ரோரியா மாநிலத்தில் மெல்பேர்ண் நகரில் கடந்த 4.10.08 சனிக்கிழமை மாலை 6.00 மணிக்கு, தியாகி திலீபன் நினைவெழுச்சி நிகழ்வு மிகச் சிறப்பாக நடைபெற்றது. இந்த நிகழ்வுக்கு மண்டபம் முழுவதும் நிரம்பும் அளவிற்குப் பெருந்திரளான மக்கள் கலந்து கொண்டனர். more
Tamil National Forum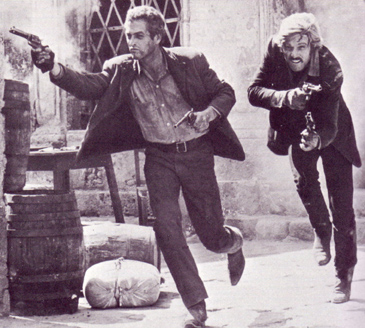 Sachi Sri Kantha writes from Japan - El Presidente's
Bumbling Butch Cassidy Act at the UN Podium
- "El President�s stupid UN act in speaking a few sentences in Tamil, coupled with the saddening news of Hollywood actor and humanist Paul Newman�s (1925-2008) death that followed, prompted me to reminisce on Paul Newman�s signature role as a bumbling Butch Cassidy in 1969. Paul Newman in his role as a comedian cheat delighted his fans with a fumbling act as a bank robber, pretending to speak Spanish to scare the customers and bank workers...President Rajapakse�s script writers should have told him, this Tamil proverb - படிக்கிறது தேவாரம், இடிக்கிறது சிவன் கோவில்..." more
International Tamil Conferences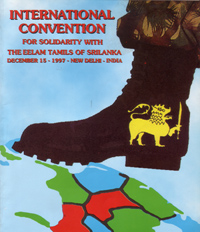 Revisited

- 11 Years Ago : International Convention for Solidarity with Eelam Tamils of Sri Lanka, New Delhi 1997
"As the convenor of this convention it was first proposed by me on the 24th May 1997 at a mass rally in Pondicherry. It is necessary for me to make this point in the first place even before welcoming you because the Government of India and its Home Minister have been trying to suggest that this convention is held here in New Delhi consequent upon the U.S.Government declaring LTTE as a Terrorist Organisation. The Home Minister has made such an observation in his letter addressed to me in which he had suggested me that I should not organise or participate in this convention. I had not expected the Government of India to behave in the manner in which it has..." George Fernandes M.P. President, All India Samata Party, on Conspiracy to suppress the truth more
Week Ending: Saturday 4 October 2008
Reflections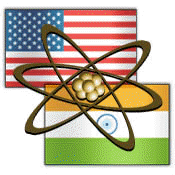 "..In the background of the Indo-US nuclear deal now going into 'overdrive', as well as the increasing economic co-operation and (most importantly) the joint military exercises and interoperability efforts and acquisitions made by India, there is a geopolitical notion: that the US is building India's military capacity in order to counter potential rivals China and Russia in the region... (But) Empires don't build great powers. They build clients and dependencies..." Empires Don't Build Rivals - Justin Podur
Tamils: a Trans State Nation
Reflections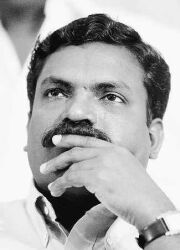 "I want a Tamil Government... I want a Tamil country... That country I dream of is coming up in Sri Lanka's Jaffna. I went there to salute that land.."
Dalit Panthers of India Leader T Tirumavalavan
, 2004

"..Tamils of Eelam must achieve success by continuing to pursue their policies courageously as they have been doing for the past 30 years... The Eelam Tamils must stand firm and attain their final goal.. the people of Tamil Nadu had made great achievements but they were dwarfed by those of the LTTE..." Bharathiraja, 2004

"...The struggle for Tamil Eelam rests in three fronts or battlefields. The first battlefield is in Tamil Eelam. There the struggle is progressing with lives being put on line. The second battlefield is in the Tamil Diaspora living in many lands. The third battlefield is in India. A change in the policy of the Indian government will depend on a change in the approach of Tamil Nadu political parties. A change in the approach of Tamil Nadu political parties will depend on change amongst the people of Tamil Nadu..." Suba Veerapandiyan, 2008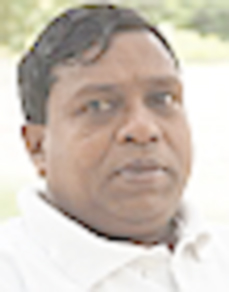 "...தமிழீழ மக்களுக்கான பலம் உலக அரசுகள் என்ற கட்டமைப்புக்குள் இருக்க முடியாது... தமிழீழ பிரச்சனையின் தீர்வுக்கான சர்வதேசப் பாதை சென்னை - புதுடில்லி- உலகம் என மட்டுமே அமைய முடியும். " தமிழீழ ஆய்வாளர் மு.திருநாவுக்கரசு 2007
Tamils - a Trans State Nation:
1. Tamils Rally in Tamil Nadu: Withdraw Military Aid to Sri Lanka - "இலங்கைப் போருக்கு நிரந்தர தீர்வு தமிழ் ஈழம் அமைவதே"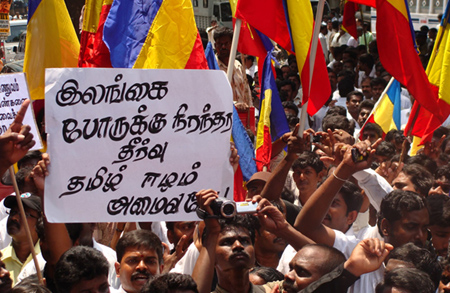 2. Australia -
School English Assignment in Sydney, Australia: 'Lyrics on Social Issues' - A Thirteen Year Old Tamil's
Poem
�The Struggle� - Senthan Sanchayan
"Suffering from war, the greatest sin,
Being deprived of Food, shelter, rights and medicine,
The Tamils face this tragedy day after day,
And there�s nothing really more, to say
But the struggle, keeps, going on,
And I�m explaining, it, through this song,
About the suffering and injustice which the Tamils face,
Caused by the Sri Lankan Government,
The Biggest Disgrace more
3. Canada - Canadian Tamil Youth Fast for Internally Displaced in Vanni
4. Norway - Tamils Fast in Oslo for internally displaced Tamil civilians in Vanni
International Relations in the Age of Empire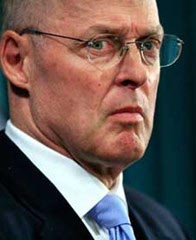 Understanding Politics & Wall Street - Who is Henry Paulson? - Tom Ely "...
Paulson, according to a celebratory 2006 BusinessWeek article entitled �Mr. Risk Goes to Washington,� was �one of the key architects of a more daring Wall Street, where securities firms are taking greater and greater chances in their pursuit of profits.� Under Paulson�s watch, that meant �taking on more debt: $100 billion in long-term debt in 2005, compared with about $20 billion in 1999. It means placing big bets on all sorts of exotic derivatives and other securities.� " more
Reflections
1. "No return to short-termism. No return to Tory boom and bust.. And it is precisely because we have taken the time and trouble to build the long term foundation for success, precisely because we have resisted short term lurches in policy, that we can today steer a course of stability at a time of uncertainty in the world economy without putting growth at risk...." UK Chancellor of the Exchequer Gordon Brown on Boom and Bust, Speech to Labour Party Conference, Eight Years ago in September 2000
2. "There is 'no clean solution' to the problem. The end is not in sight. I don't know how long it will take... Let's say there is a complete collapse. Does that mean the end of the world...the free market economy? No... From time to time you are going to get this kind of a problem... As an insurer, AIG was supposed to be a 'firewall' against the collapse of the financial system. But they also went into derivatives. Why not? Everyone was making money. This was a mania. Can such mania be tamed? Not likely. Human nature, greed, fear will always be there.' " Lee Kuan Yew at the Institute of Strategic Studies, London, 25 September 2008
3. "I believe that despite the enormous odds which exist, unflinching, unswerving, fierce intellectual determination, as citizens, to define real truth of our lives and our societies is a crucial obligation which devolves upon us all. It is in fact mandatory..." Art, Truth & Politics - Harold Pinter, Nobel Lecture, 2005
Tamil Armed Resistance & the Law

Three Views: One Truth - Proof by Induction? n=1, n=2, n=3...
"Where national memories are concerned, griefs are of more value than triumphs, for they impose duties, and require a common effort. A nation is therefore a large-scale solidarity, constituted by the feeling of the sacrifices that one has made in the past and of those that one is prepared to make in the future. "
Ernest Renan in What is a Nation
International Frame of Tamil Eelam Struggle for Freedom: United Kingdom
Tamil National Forum
Sara Ananthan writes from Australia on Toxic Assets & Globalised World "The German Finance Minister�s statement to the parliament, 'The world will never be the same again' implies that the world will have to accommodate additional financial power centres... Uncle Sam�s toxic diplomacy cum statecraft is also being outsourced on to the second most populous nation and the rest of the world is being asked to bear the ultimate cost... It appears as in the case of shrewd, Uncle Sam's toxic asset adoption policy where the toxic asset is being socialized to spare the pain on the perpetrators.." more