Contents
of Section
Eezham Tamils in Norway launch move for democratically elected council, 28 September 2009
Documentation of Norwegian Tamil mandate released
, 14 September 2009
Norwegian Tamil new LTTE leader?
, 12 August 2009
99 percent Norway Tamils aspire for Tamil Eelam, May 2009
Norway Tamils protest for Freedom in Tamil Eelam, April 2009
Tamils Fast in Oslo for internally displaced Tamil civilians in Vanni, 29 September 2008
Pongu Thamizh in Norway,
June 2008
Tamils of Tundra, Norway - an inspiring story of adaptation and integration, 2008
Tamils in Norway demonstrate in support of Struggle for Tamil Eelam, 29 May 2006
Norwegian Tamils March for Peace, 20 October 2005
Norwegian Tamils hold May Day in major cities of Norway, 1 May 2004
Norwegian Sponsored Peace Process
N
otam
Norway Tamil Sangam
Maveerar Naal, 2008
Maveerar Naal, 2007
Stavanger Tamil Youth
Norwegian Tamil Health Organisation
Norway Tamil Info
Norway Tamil
Norway Annai Poopathy Cultural Centre
Hinduism in Norway
Tamil Baptish Church, Norway
Tamil Documentary Project
Norwegian - Tamil Dictionary
Tamils - a Nation without a State


Norway - நோர்வே
- an estimated 8000 Tamils live in Norway -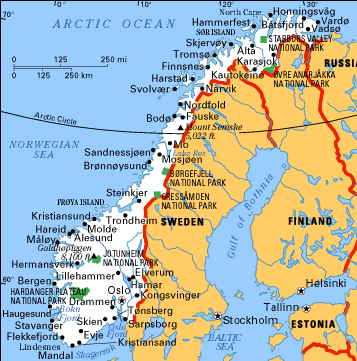 Nationalism turns all Tamils into family says
anthropologist, Stine Bruland S�rensen
Lorenz Khazaleh, 1 September 2009
English translation by Amanda Dominguez.
See original in Norwegian: Tamilsk nasjonalisme skaper hjem i Norge
The conflict in Sri Lanka has scattered parents, children, aunts, uncles, and cousins who used to lived together to diverse places in Europe, Asia, Canada, the United States, and Australia. The struggle for a Tamil nation helps the families create a new home for themselves in the diaspora, says Stine Bruland S�rensen in her Master's thesis. Nationalism turns all Tamils into family
---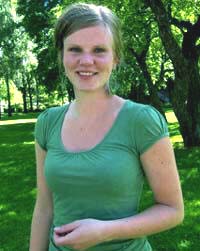 The anthropologist, Stine Bruland S�rensen, conducted eight months of fieldwork among politically engaged Tamil mothers and their families in Oslo.
- There is often a focus on youth in minority studies. There are a few studies that also focus on the parent generation, she says.

- It is important to learn more about the parents� experiences in order to understand both the familial situation, and that of the youth, she says. It is within the families that children and parents negotiate different values and life choices.

Stine Bruland S�rensen participated in the mothers� lives as much as possible. She learned to speak some Tamil, attended Tamil dance classes, and was present at many different events. She also traveled with two families on a pilgrimage to Lourdes, France. She lived with a Tamil family for some time, once for two months in a row. Gradually, she went from being a �the student� to an �adopted daughter.� One father joked, saying that he wish he had had one more son so that he could marry her to him.

- I tried to conduct fieldwork in the most traditional way possible, despite warnings to conduct fieldwork �at home� because it is difficult to gain access. But it was possible. It was actually the family who offered to let me live with them, she says.
Politically engaged mothers
The mothers she got to know are busy people. They live face- paced lives with little sleep. The struggle for Tamil Eelam demands time and energy. There are memorials for LTTE soldiers, song competitions, culture evenings, information exchanges, demonstrations and more, in addition to continuous political organizing with Tamils all over the world. The children attend Tamil school in Oslo every Saturday and Sunday. There, they receive instruction in their native language as well as in Tamil song, dance, and music.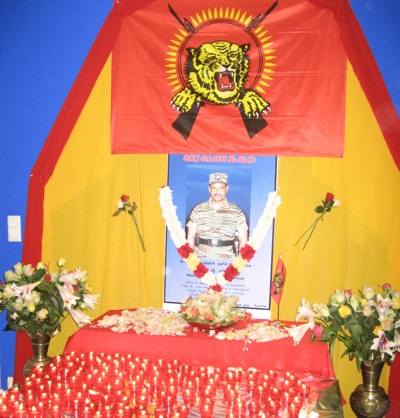 Memorial for a fallen LTTE soldier.
Photo: Stine Bruland S�rensen
- The mothers are incredibly politically engaged. Even though we also have a special kind of nationalism in Norway, their nationalist involvement and how they involve their children from a very young age is quite staggering. During one period, my primary informant, Marusha, did not sleep for more than five to six hours every day, in order to participate in all of the activities. The struggle for Tamil Eelam is a question of �life or death,� as she expressed it.

- Many parents are afraid that the Tamil culture will disappear and will not accept the disappearance of their � in their own words - ancient proud culture because the Sinhalese oppress them. They say that it is the diaspora�s responsibility to preserve their culture. And parents do this precisely by ensuring that the children receive education in the Tamil language and cultural heritage.
Code- switching between �Norwegian� and �Tamil� customs and practices
At the same time, the mothers also emphasize being active in Norwegian society and bring their children to soccer and handball games, attend meetings at the housing association and the parent�s association at the school, and sit on the board of the school band. They make sure that their children learn both Tamil and Norwegian customs and practices from childhood on, says the anthropologist.

- The mothers speak both Norwegian and Tamil to their children. They make both �Norwegian food� and �Tamil food� in order to fulfill the family�s food preferences. During Christmas, the family I lived with ate �ribbe�(traditional, Norwegian ribs). This type of so- called �code switching� between Norwegian and Tamil practices happens constantly.

Outside of the home, the families seek to maintain clear boundaries between what they consider to be Norwegian and Tamil, while at home, codes and contexts are mixed according to their own desires.

- Even here, mothers play important role in the family�s code- switching, while among other code- switchers, the home is often described as an arena where one code is used and the woman in the home is a central bearer of tradition. Thus, the Tamil mother seems to be more open to so- called hybridization than what has previously been observed among other code- switchers, she says.
Double lives = double time bind
- Many mothers say that they live a double life. Norwegian parents of small children already have a tight schedule, and Tamil families also have Tamil activities to attend. Meetings in Tamil associations, children�s participation in Tamil sports meets, song competitions, cultural events, demonstrations for the home struggle, and then Tamil school every Saturday and Sunday as well. Many parents described it as being almost a double time bind.

- And they manage to do it all?

- They manage it, but at an insane pace. Sometimes everything crashes. In my thesis, I describe an episode in which the family follows the children to a band competition in Holmestrand. The parents did not have time to wait for the awards ceremony, because they had to leave for a Tamil song competition in Oslo. When they were leaving, the children protested so much that the parents decided to turn around and go back to the event.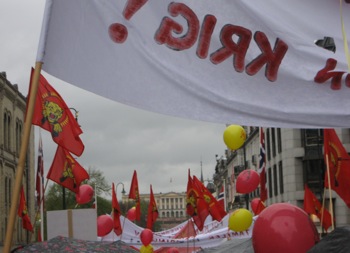 May 1st demonstration in Oslo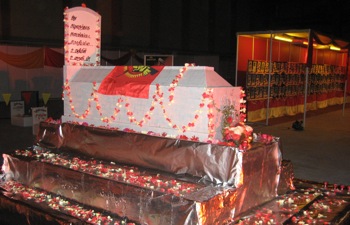 Great heroes� day� paying homage to fallen LTTE soldiers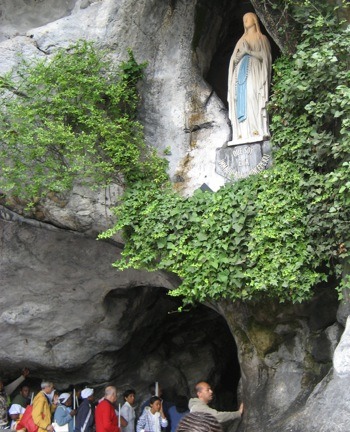 Lourdes � popular travel destination for Tamils
Photographs: Stine Bruland S�rensen
- Marusha related that she would have felt �outside the Tamils� if she did not participate in the song competition. Yet she also recognized her daughter�s need for belonging in turning and going back. In this way, Marusha had to negotiate her own sense of belonging with her daughter�s, between what is Norwegian and what is Tamil. Still, they also made it to the song competition, even though there was barely any time left to go home and change into saris and panjabis.

- It is precisely the change from �Norwegian� to �Tamil� clothing and vice versa that is always of key importance for the family members, and perhaps especially parents feel it is important for them to fit in in their �Norwegian� and �Tamil� communities. In this way, clothes are important in order to move between Norwegian and Tamil contexts, and they are also a way of demonstrating their belonging to these contexts.
Nationalism as kinship ideology
Having a sense of nationalism toward the home country is important to the mothers:
- Nationalism is, as the say, supposed to �make us strong and liberate our land and our Tamil people, in order to achieve our own home country.� Having a sense of nationalism toward the home country is an important part of a creating a home, in order to feel at home or settled in, It is vital for the parents to create a family history and continuity of their own life in the diaspora. Traditionally, a sense of belonging in the family has provided Tamils with a sense of belonging among relatives, village, and a place in the cosmos. Akam, or inclusion into these levels of belonging is considered to be the ideal that maintains the cosmological order and ensures a persons wellbeing. Being situated outside of these affiliations is thereby feared and considered to bring about tosam (loneliness) and puram (chaos).

- The family�s transnational context puts the individual in a vulnerable position. Here, the Tamil society in Oslo has an important function in that it largely compensates for the lost of physical proximity to family members. Nationalism connects family members who often live far away from each other. In addition, nationalism turns all Tamils into family. Differences in caste, religion, age, and socioeconomic background hardly make a difference as long as people support nationalism. I often heard LTTE�s motto, pulikalin takam tamililat tayakam (�The Thirst of The Tiger is the Motherland�).

The idea of Tamil Eelam as Tayakam, the motherland, is a key symbol in the Tamil nationalism. The LTTE leader, Prabhakaran (who was killed on May 17, 2009), stands out as the �God of the Motherland�, who will liberate the country.

- But nationalism is based on categories of exclusion. It�s not about creating a future together with the Sinhalese?

- Nationalism certainly strengthens the divisions between the Sinhalese and Tamils. Still, they say that the day they get Tamil Eelam, they will live side- by- side with the Sinhalese. They also say that the Sinhalese are their brothers and sisters, and it�s not the Sinhalese who are the enemy, but the Sinhalese state. Whether this will happen remains to be seen.
Praying for Tamil Eelam in Lourdes
According to the anthropologist, nationalism as a kinship ideology and religion is clearly expressed during the pilgrimages to Lourdes, France. There, Tamils pray and light candles for the nation, their own family, and the transnational family. The family and nation are symbolically gathered, which provides the feeling of symbolically gathering their physically dispersed affiliations, such that inclusion or akam is achieved.

- Tamils travel to Lourdes? They were Catholics?

- Both Hindus and Catholics travel there. There were a lot of Tamils in Lourdes. The fact that there were three Tamil hotels, three to four Tamil restaurants, a Tamil kebab shop, and Tamil masses illustrates that this is a popular destination for many of Europe�s Tamils. While in Lourdes, the families I traveled with met relatives and people from their original villages, but who now lived in Italy, England etc. Marusha explained that Jesus is a God just like many of the Hindu gods. On her shelf at home, she had a picture of Jesus next to the Hindu god Murukan. In Sri Lanka, there are Hindus, Buddhists, and Catholics, and they all visit each other�s temples in order to receive blessings.

- What was the occasion for the trip? Or do they travel there regularly?

- One family had traveled there twelve or thirteen times. They regularly make this trip. Once you pray for something, and the wish is fulfilled, then you have to travel back in order to give thanks. And once you are there, you can pray for new things that may be important to you in life. The family I went with made their first journey after their wedding. It is common for newlyweds to seek out a blessing for their marriage, and otherwise it is common to ask for a blessing when someone in the family is sick or someone wants to get into a program of study or a new job.
Stine Bruland S�rensen stresses that she was primarily conducting fieldwork among the politically engaged Tamils. Those who were not focused on the struggle for national independence lead a totally different life. Involvement in this struggle or a lack thereof constitutes the greatest difference in the daily life of the Tamils in Norway � regardless of religion, age, or class background.
- Obligatory question: What is cultural complexity?

- For my informants, cultural complexity has to do with all of the different, and sometimes conflicting, communities that the families relate to in order to feel at home. These include the majority Norwegian community, the Tamil community in Oslo, the transnational family where they have family members like sisters, brothers, and parents, in countries such as France, Germany, England, India, Australia, and Sri Lanka, along with involvement within and across country borders. When all of these relationships have consequences for the others, then we have a large degree of cultural complexity.

- Are there any topics that should receive more research focus?

- Transnational family ties are certainly worth examining more closely, also in relation to the majority population, not just the minorities. Most members of the majority population have one or more family members who live outside of Norway�s borders, or have married someone from another country. How people discover new ways of maintaining their familial ties even when there is a great physical distance is interesting. With regard to the Tamil diaspora in the aftermath of the defeat of the Tamil tigers and Prabhakaran�s death (who they considered to be a God), it would also be very interesting to examine both whether and possibly how familial ties to the home country have changed, as well as what consequences these events will have for individuals� identification.


---

Norway Tamils protest for Freedom in Tamil Eelam, April 2009
---

Tamils Fast in Oslo for internally displaced Tamil civilians in Vanni, 29 September 2008
"The defining moment for the International Community is right now, if it really wishes to establish its commitment to a principled approach towards Tamil aspirations in the island of Sri Lanka," declared a Norwegian Tamil representative on Tuesday, 29 September 2008 while concluding a fasting awareness campaign, held for more than 30 hours in front of the Norwegian Parliament in Oslo, focusing on the plight of 230,000 internally displaced Tamil civilians in Vanni.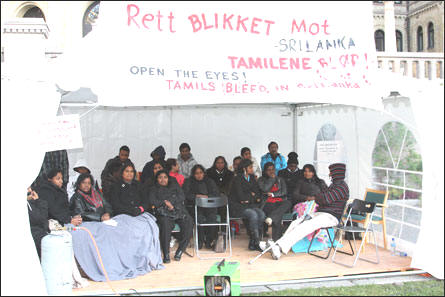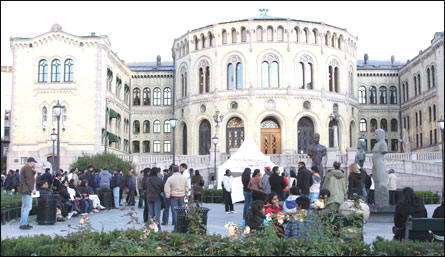 "One way of proving its commitment, including its neutrality, is by immediately pressurising the Sri Lankan government to allow the International NGOs and the UN agencies to be present with the civilians in the districts of Ki'linochchi and Mullaiththeevu", said Rooban Sivarajah, who represents the Norwegian Tamils Forum. He handed over an appeal to the leader of the Foreign Affairs Committee of the Norwegian Parliament, Olav Akselsen (Labour Party). Various Norwegian politicans and Tamil activists also addressed the gathering.

25 Tamils from various walks of life took part in a fasting campaign from 8:00 a.m. Monday to 3:00 p.m. Tuesday. Hundreds of Tamils showed up expressin solidarity with the participants. On Tuesday, delegations of diaspora Tamils in Oslo visited the the High Commission of India, and the embassies of the member states of the Co-Chairs for Sri Lankan Peace Process, the United States, European Union and Japan.
---

Tamils in Norway demonstrate in support of Struggle for Tamil Eelam, 29 May 2006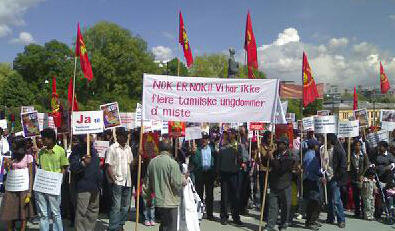 [see also Tamils demonstrate in Australia, Canada, France, Germany,
Switzerland, Netherlands, Sweden, Finland, Italy, United Kingdom, South Africa]
தமிழ் மக்கள் மீதான சிறிலங்கா அரச படைகளின் இனப்படுகொலைகள் நிறுத்தப்படவேண்டும், சிறிலங்கா அரச பயங்கரவாத மற்றும் மனித உரிமை மீறல் நடவடிக்கைகளை நோர்வே மற்றும் அனைத்துலக நாடுகள் கண்டிக்க வேண்டுமென்பதை வலியுறுத்தி நோர்வே வாழ் தமிழீழ மக்களின் மாபெரும் கண்டனப்பேரணி இன்று திங்கட்கிழமை நோர்வேத் தலைநகர் ஒஸ்லோவில் நடைபெற்றது.

நோர்வே நேரம் இன்று பிற்பகல் 2 மணிக்கு நோர்வே வெளியுறவு அமைச்சக முன்றலில் ஆரம்பமான கண்டனப் பேரணியில், 2,500-க்கும் மேற்பட்ட தமிழீழ மக்கள் கலந்து கொண்டு தாயகத்து உறவுகளின் விடுதலை வேணவாவின் உரிமைக்குரலாக, தமிழீழ மக்களின் தன்னாட்சி உரிமையின் எழுச்சிக் குரலாய் ஒலித்தனர்.
மூன்று தசாப்த காலங்களாக தமிழீழ மக்களின் விடுதலை என்ற உன்னத விடுதலைக்காக உறுதியோடு போராட்டத்தை முன்னெடுத்து வருகின்ற தமிழீழ விடுதலைப் புலிகளே தமிழீழ மக்களின் தேசியத்தலைமை என்ற யதார்த்தம் அனைத்துலக சமூகத்தினால் மதிப்பளிக்கப்படவேண்டும்.

தமிழர் பிரதிநிதிகள் மீது பயங்கரவாத முத்திரை குத்துவதன் மூலம் தமிழ்மக்களின் விடுதலை வேணவாவை தணிக்க முடியாது. தன்னாட்சியுரிமை ஏற்றுக்கொள்ளப்படாத அரைகுறைத் தீர்வைத் தமிழர் பால் திணிக்க முடியாது என்பதும் பேரணியில் வலியுறுத்தப்பட்டது.

ஒஸ்லோ மாநகரத்தில் இருந்து மட்டுமல்லாமல், புறநகர்ப்பகுதிகள் ஏனைய பிரதேசங்களிலிருந்தும் மக்கள் வருகை தந்திருந்தனர். சிறுவர்கள், மாணவர்கள், இளையோர்கள் பெரியவர்கள், தாய்மார்கள் என அகவை பேதமின்றி பெருந்திரளாய் அணிதிரண்டு பேரணிக்கு வந்திருந்தனர்.

விடுதலை நோக்கிய உறுதியின் வெளிப்பாட்டிற்கு உரைகல்லாய் அமைந்திருந்தது மக்கள் வெள்ளமும் அவர்களின் எழுச்சியும். பாடசாலை மற்றும் பணிநேரமாக இருந்த போதும் அவற்றையெல்லாம் ஒதுக்கி வைத்து இப்பேரணிக்குப் பலம் சேர்த்துள்ளனர் நோர்வே தமிழ் மக்கள்.

நோர்வே தமிழ் அமைப்புக்களின் ஒன்றியத்தின் இணைப்பாளரும் ஒஸ்லோ மாநகர சபை உறுப்பினருமாகிய பாலசிங்கம் யோகராஜா தலைமையிலான நோர்வே தமிழ் அமைப்புக்களின் ஒன்றியப் பிரதிநிதிகள் நோர்வே வெளியுறவு அமைச்சக அதிகாரிகளுடன் சந்திப்பொன்றினை மேற்கொண்டு, நிலைமைகளை விளக்கினர்.

அத்தோடு தமிழ் மக்களின் கோரிக்கைகள் அடங்கிய மனு வெளியுறவு அமைச்சகப் பிரதிநிதிகள் ஊடாக நோர்வேயின் தலைமை அமைச்சர் ஜென்ஸ் ஸ்தொல்த்தன்பர்க், வெளியுறவு அமைச்சர் யூணாஸ் ஸ்தோற மற்றும் சர்வதேச அபிவிருத்தி அமைச்சர் எரிக் சூல்கைம் ஆகியோருக்கு கையளிக்கப்பட்டது.

பெருந்திரளான தமிழ் மக்கள் பங்கேற்ற இப்பேரணியைத் தாம் பெரிய செய்தியாகவே நோக்குவதாகவும், இதுவிடயம் நோர்வே அரசாங்கத் தரப்பிற்கு தகுந்த முறையில் எடுத்துச் செல்லப்படும் என்றும் அவர்கள் உறுதியளித்திருந்தனர்.

பின்னராக நோர்வே வெளியுறவு அமைச்சக முன்றலில் இருந்து மக்கள் பேரணியாக நோர்வே நாடாளுமன்றத்தைச் சென்றடைந்தனர். நீண்ட நிரையாக அணிவகுத்து நகர்ந்த மக்கள், கோரிக்கைகளும் கண்டனங்களும் நோர்வேஜிய மொழியில் பொறிக்கப்பட்ட பதாகைகளையும் படுகொலை அவலங்களை எடுத்தியம்பும் ஒளிப்படங்களையும் தாஙகிச் சென்றனர்.

தமிழீழத் தேசியக்கொடிகள் மற்றும் தமிழீழத் தேசியத்தலைவரின் ஒளிப்படங்களையும் தாங்கிச்சென்ற மக்கள் 'புலிகளே தமிழர், தமிழரே புலிகள்" என்பதை நெஞ்சுறுதியுடன் வெளிப்படுத்தினர்.

நாடாளுமன்றத்தின் வெளியுறவுச் செயற்குழுத் தலைவர் ஊலாவ் அக்செல்சனிடமும் மனு கையளிக்கப்பட்டது. நாடாளுமன்றத்தின் முன்பாக மக்கள்திரள் கூடிநின்ற வளாகத்திற்கு வருகை தந்து ஊலாவ் அக்செல்சன் மனுவைப் பெற்றுக் கொண்டார்.

நோர்வேயின் இரண்டு பிரதான தொலைக்காட்சி நிறுவனங்கள் பேரணியைப் பதிவு செய்துள்ளன. நோர்வே அரச தொலைக்காட்சியான 'என்ஆர்கோ" தனது இணையத்தள செய்திப்பக்கத்தில் தமிழ்மக்களின் பேரணி தொடர்பான செய்தியை வெளியிட்டிருக்கின்றது.

'பயங்கரவாத முத்திரைகுத்தலுக்கெதிரான கண்டனப்பேரணி" என்ற தலைப்பில் தமிழ் மக்களின் தன்னாட்சியுரிமை மதிப்பளிக்கப்பட வேண்டுமென்பதை நோர்வே தமிழர்கள் வலியுறுத்துகின்றனர் என்று மேலும் அச்செய்திக் குறிப்பில் தெரிவிக்கப்பட்டிருக்கின்றமை குறிப்பிடத்தக்கதாகும்.
http://www.nrk.no/nyheter/innenriks/5697601.html

தமிழீழ மக்களின் தன்னாட்சியுரிமை,அவர்களின் நிரந்தர விடுதலை நோக்கிய உறுதியான பணிகளை புலம்பெயர் தமிழர்கள் இலக்கை எட்டும்வரை ஆற்றுவர் என்ற பெருத்த நம்பிக்கை மீண்டுமொருமுறை இவ் அணிதிரள்கை மூலம் மெய்ப்பிக்கப்பட்டுள்ளது என்றால் அது மிகையல்ல. (courtesy: www.tamilnaatham.com )
---

Norwegian Tamils March for Peace, 20 October 2005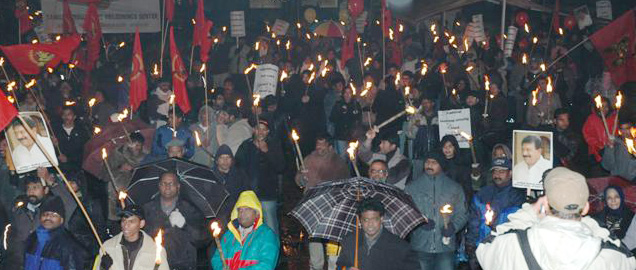 Norwegian Tamils hold May Day in major cities of Norway, 1 May 2004
About two thousand Tamils in Oslo gathered on saturday in their biggest May Day gathering in Oslo ever, carrying Tamil Eelam national flags and banners urging the international community to recognize the Tamil people's right to self-determination. Hundreds of Tamils in other major cities like Bergen and Stavanger also gathered for May Day, sources in Oslo said. The parade had some resemblance to the Pongu Thamil events (Tamil upsurge), with traditional Kavadi dance and music.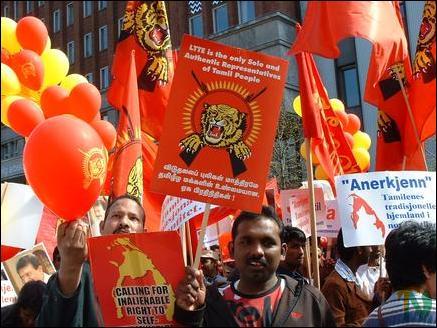 May Day Parade in Oslo, 2004
The Tamil Eelam national flag, placards displaying photos of the Liberation Tigers of Tamil Eelam leader, Mr. V. Pirapaharan, and placards with slogans "LTTE is the one and only representative of the Tamils" and "Recognize Tamils� right to self-determination" were carried by the participants in the parade, which started at Youngstorget in downtown Oslo and encircled through Karl Johans gt. and the Stortinget (Norwegian parliament) and ended around 14.00 p.m.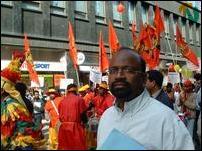 Mr. Yogarajah Balasingham, member of Oslo Municipal Council (AP)

"This is the longest parade of all immigrant communities here in Oslo. The participation of more than 2000 Tamils in Oslo expresses the unity and the political awareness of the Tamil community here," said Mr. Yogarajah Balasingham (Baskaran), the candidate elected to the Oslo Municipal council on Arbeider Parti (Labour Party) ticket last September.

"I also see this as an opportunity to express ourselves as immigrant workers and to organize around issues of vital importance to the immigrant working-class people,� said Mr. Balasingham.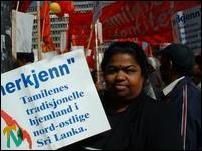 Mrs. P. Naventhirarajah, a participant in Oslo May Day Rally

"We must recognize and commemorate May Day not only for its historical significance, but also as a time to express our solidarity with our brethren in our traditional homeland by giving expression to the situation of the poorest of the poor on the ground," said Mrs. P. Naventhirarjah, a participant in the May Day rally.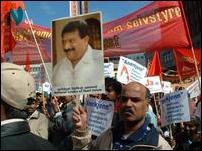 Mr. K. Vijayakumar, a participant in Oslo May Day Rally

""I have been to the homeland and am really disappointed to see the conditions of the Internally Displaced people in the North East. It is also disappointing to see the haste in returning rejected asylum seekers back to the North-East, which is one of the largest internally displaced community in the world today," said Mr. K. Vijayaraja, another participant in the rally.

"Though our struggle has received international attention due to the peace process facilitated by Norway for which we are thankful, we feel that the situation on the ground for Internally Displaced People (IDPs) is yet to improve, and this is really worrying" he said.

"We, the expatriate Tamils are convinced that it is only an interim administration properly administered by Tamils, as outlined in the ISGA proposals by the LTTE and which has received an overwhelming mandate in the last elections held in the North East, can safeguard the rights of the Tamil people." said Mr. S. Roopan, press contact of the Tamil Coordinating Committee (TCC) that organized the event in major cities of Norway.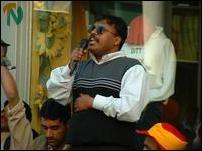 Mr. Kalaikkon, Director of LTTE's Navam Acadamy giving a speech in May Day 2004 in Oslo

"The parade concluded with the speech of Mr. Kalaikkon master, Director of the LTTE's Navam Acadamy, who was on an European visit from the homeland.

A new issue of the bi-annual Norwegian magazine titled Notam was also distributed in the May Day parade.

Meanwhile, in the western city of Bergen, more than one hundred Tamils took part in the May Day rally, sources said. Bergen is the second largest town in Norway, and about 400 Tamil families live in the town and its suburbs, the sources said.

Similar parades were also organized in other major cities Trondheim and Stavanger, sources said.

The May Day rally and procession in Norwegian cities was organized by the Norwegian Confederation of Trade Unions (LO) which has over 800,000 members. Various other international solidarity organizations also took part in the procession.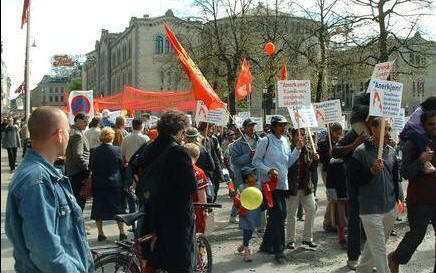 May Day parade in Oslo, 2004.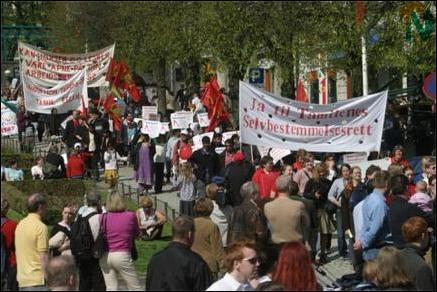 May Day parade 2004 in Bergen, Norway.



May Day parade in Bergen, 2004

.



May Day parade in Bergen, 2004

.



May Day Parade in Stavanger, 2004.




May Day parade in Trondheim, 2004.