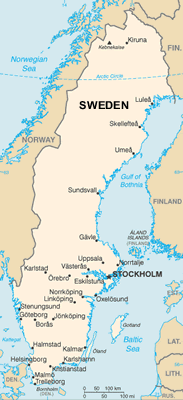 Sweden's foreign minister denied entry to Sri Lanka , 2009
SWETAM - Sweden Tamil Website
TRO, Sweden
Maveerar Naal, 200
8
Maveerar Naal, 2007
Swedish Hopes for Peace Efforts in Sri Lanka, 2006
Vipesan Paramanathan wins medal at Taekwondo Championship 2009 in Sweden
Sweden will not ban the LTTE, 2003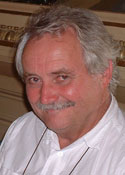 Professor Peter Schalk,
Uppsala University
Peter Schalk's main fields of research are ritual transmission of Buddhism in Sri Lanka, the religions of Fu Nan as state ideologies, the history of Buddhism among Tamils in Tamilakam and Ilam, Hinduism in western exile, and the religious expressions of social-economical conflicts in present South Asia. He has been engaged in Tamil Studies since the 1970s, and started his field work in Sri Lanka in 1970. He witnessed the founding of Yalppanam University in 1974, and has been closely connected to the exchange programme between Uppsala University and the University of Yalppanam (Jaffna) in Sri Lanka.
Caivam among Tamil Immigrants in Sweden
Swedish University Essays about Tamil Nadu
Tamils - a Nation without a State


Sweden - சுவீடன்
- an estimated 2000 Tamils live in Sweden -
---
Pongu Thamizh in Sweden - June 2008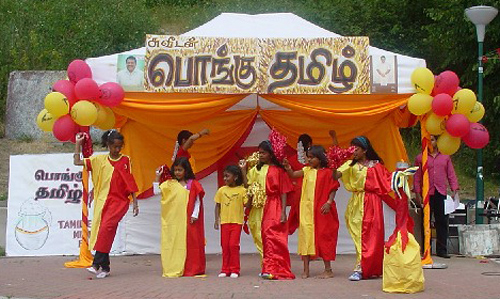 more...
Tamils in Sweden demonstrate in support of Struggle for Tamil Eelam, 29 May 2006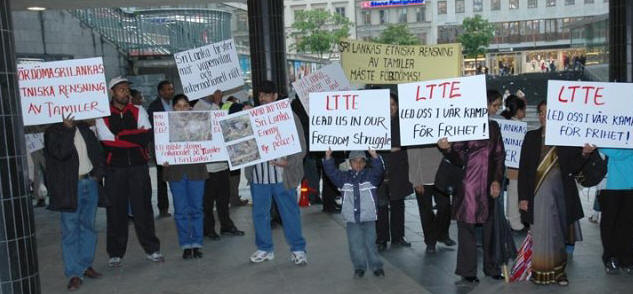 [see also Tamils demonstrate in Australia, Canada, France, Germany,
Switzerland, Netherlands, Norway, Finland, Italy, South Africa]
---
Maha Veerar Naal in Sweden, 27 November 2005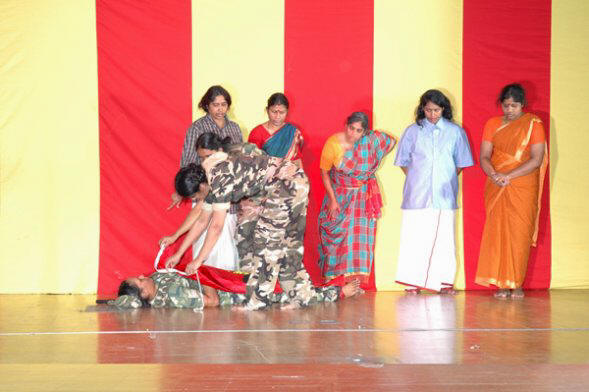 சுவீடனில் நடைபெற்ற மாவீரர் நாள் நிகழ்வின் படத்தொகுப்பு
Maha Veerar Naaal in Sweden, 27 November 2004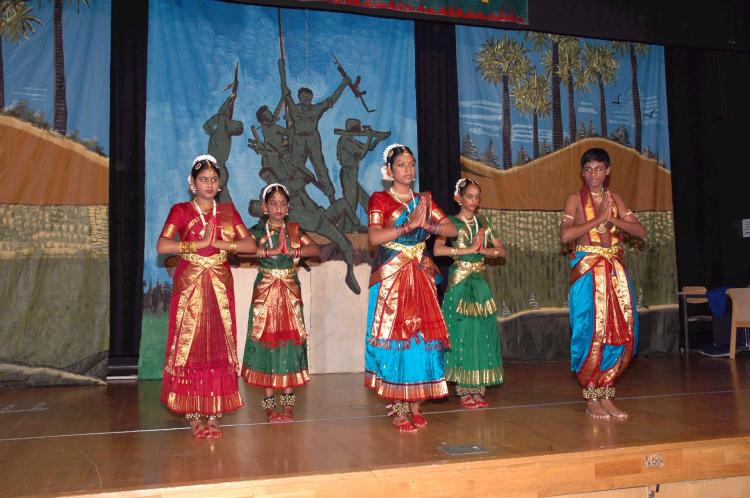 சுவீடனில் நடைபெற்ற மாவீரர் நாள் நிகழ்வின் படத்தொகுப்பு

Sweden's foreign minister denied entry to Sri Lanka as part of European cease-fire delegation, - Louise Nordstrom, 28 April 2009 -
Associated Press writers Karl Ritter in Stockholm, Constant Brand in Luxembourg, Ravi Nessman in Colombo and Angela Charlton in Paris contributed to this report.

STOCKHOLM - Sweden recalled its top diplomat in Sri Lanka on Tuesday after Foreign Minister Carl Bildt was blocked from joining a European delegation pressing for a cease-fire between the government and Tamil Tiger rebels.

Bildt had planned to visit Sri Lanka this week with British Foreign Secretary David Miliband and French counterpart Bernard Kouchner to appeal for an immediate cease-fire and to call for peace talks to end the quarter-century civil war. They got permission to enter, but Bildt was told he was welcome to visit in May instead.

"This is remarkable. You just don't act this way," Bildt told The Associated Press. He said he was not planning to accept the invitation to visit Sri Lanka in May.

Bildt, a former U.N. envoy to the Balkans, said he did not receive any explanation for the decision, which he called "not good" for relations between Sri Lanka and Sweden. He promptly recalled the Scandinavian country's charge d'affaires in Colombo for consultations.

The European Union also condemned Sri Lanka's move.

"I do think it is a grave mistake by the Sri Lankan government which, of course, will have repercussions in Europe and will influence further relations between the Sri Lankan government and European states," Czech Foreign Minister Karel Schwarzenberg told reporters in Luxembourg.

The Czechs currently hold the EU rotating presidency. Sweden takes over the six-month presidency in July.

Sri Lanka's ambassador to Sweden, R.P. Jayasooriya, denied that Bildt was refused entry. The Swede was asked to come at a later date because only Kouchner and Miliband were part of the scheduled visit on Wednesday, Jayasooriya told the AP.

"There is no refusal," he said. "Colombo has a lot of (visits by) ministers, and we cannot accommodate them all at the same time."

He suggested Sri Lanka would not retaliate for Sweden recalling its charge d'affaires. "There is no such thing. We are having a very close and cordial relationship with Sweden," he said.

In a statement, Sri Lanka's Foreign Ministry said the government was "wrongly accused" of preventing Bildt from visiting the country.

"It needs to be understood that in this instance there had been no formal prior consultations with the government of Sri Lanka with regard to the visit of the Swedish foreign minister," the statement said.

French Foreign Ministry spokesman Frederic Desagneaux said Kouchner and Miliband's visit would go ahead as planned, but added that Bildt had been included in the original travel plans.

"We are disappointed that Carl Bildt is not able to join David Miliband and Bernard Kouchner, as planned," Desagneaux said.

EU foreign ministers on Monday called for a cease-fire so the U.N. can coordinate evacuation of civilians caught in the war zone. The Sri Lankan government said it would immediately stop air strikes and artillery attacks but has rejected calls for a cease-fire.

According to the U.N., the conflict has cornered the rebels and tens of thousands of ethnic Tamil civilians on a small strip of land in the northeastern part of the country, killing nearly 6,500 civilians over the last three months.

Uppsala University Professor Peter Schalk, who specializes in Sri Lankan history, said Bildt's visit may have been stopped as a show of discontent with Sweden's perceived softness toward the Liberation Tigers of Tamil Eelam, listed as a terrorist group by the EU.

"It hasn't, like Britain and France, banned the showing of the Tiger flag, for example," Schalk said.

He said Sweden may also have been punished for supporting neighboring Norway's efforts to mediate in the conflict.

Earlier this month, Sri Lanka's government dropped Norway as a mediator, accusing Oslo of failing to protect its mission there from Tamil protesters. Sri Lankan Tamil expatriates have taken to the streets in European capitals over the past months to protest the military offensives and to demand a cease-fire.

---

Swedish Hopes for Peace Efforts in Sri Lanka
SR International Radio - 2 August 2006
The Swedish Foreign Ministry says it still has hopes of being part of future peace efforts in Sri Lanka ? despite the announced withdrawal of Swedish observers and the worsening conflict between government forces and Tamil Tiger guerrillas.

The withdrawal is the result of Tamil Tiger demands ? following the European Union decison to classify this as a terrorist organization.

Sweden says there is a risk that the delicate cease-fire treaty could be endangered if EU observers remain with the support of only one of the fueding parties.

But the ministry says it encourages the Tamil Tigers to reconsider its demands and that Sweden would be ready to send back its observer team.

---

Sweden will not ban the LTTE
Bandula Jayasekara in Stockholm
in the Sinhala owned Sri Lanka The Island - 3 July 2003
The Swedish government says that they would not do anything to stop any LTTE activities in Sweden, since it is important for them to keep contacts with both parties in the conflict in a neutral way, in order to promote the peace process. At an interview with 'The Island' in Stockholm, Hans Nicklasson, who holds the rank of minister at the Department for Asia and the Pacific at the South Asia Desk said that Sweden will not ban the LTTE and his government would continue to support the peace process in Sri Lanka. Nicklasson a senior diplomat at the Swedish Ministry of Foreign Affairs also attended the international donor conference held in Tokyo last month. The interview in full Following is a verbation report of the island interview.

Q: What is your government's policy on Sri Lanka?

We have had a close cooperation with Sri Lanka since the country became a sovereign state. We continue to support and cooperate with Sri Lanka. We signed in early April a new agreement to support for the next three years. That would be about for 35 million dollars in value term. As for the peace process that would be used according to the progress of the peace process. Of course if the peace process stops it would influence very much, the use of those monies.

Q: How do you look at the LTTE activities in Sweden? They seem to be operating some shops here?

I am not aware of any such shops. So, I don't see we have a policy on that. I don't see personally why we should close them. It is a free country even if they do exists.

Q: Any plans to ban the LTTE in Sweden?

We think it is important to keep contacts with both parties in this conflict in a neutral way. I don't think we will do anything to stop any LTTE activities. Because we need the contact in order to promote the peace process.

Q: Your government's views on the stalemate in the Sri Lankan peace process?

Apparently the LTTE has said that they want to go back to negotiations. We look upon it as a very positive sign.

Q: The LTTE says that there is too much international pressure. What are your views on that?

I have not heard that. I think the international pressure will be there. There is a great risk I think if the negotiations stop or get stalled the international interest for Sri Lanka will go away. As you know from the declaration in Tokyo most countries that pledged the 4.5 billion dollars say that it is on condition that peace negotiations go on. I think it is a big carrot for both parties. I think it should be a big carrot also for the LTTE because they would probably profit more than the government from all these pledges. Sweden will continue to support the peace process and we are going to support and take part in a Wilton Park conference that is planned for September here. It is not yet finalized and not a stable decision. The intention is to have this conference hopefully with the LTTE and the people from the government of Sri Lanka. It is not yet decided how the conference would be conducted since it would be handled by Wilton Park and we are just facilitating it. These conferences are international and are normally held in England but this time for some reason they wanted to have it here.

Q: How do you see the role of the Sri Lanka Monitoring Mission?

We look upon it as a positive thing because we are part of it and we decided only a month ago that we should increase by 50% our monitors from 8 to 12. Both parties in Sri Lanka also agree that the SLMM is an important aid in securing the peace.

Q: Many Sri Lankan see the Swedish as more independent and neural than the Norwegians. So, would you like to play a much more important role in the monitoring mission?

I don't think that we would ask for more influence. I think the Norwegians are doing an excellent job and we don't have any idea of taking over from them. They are excellent and they should continue.

Q: What made you send a low level delegation to the Tokyo donor conference?

It was simply because all the top-level people were engaged in other things during the time. We tried very much to get them go there. Unfortunately they had other priorities at the time.

Q: How much have you pledged to Sri Lanka and what other support would you extend to the island?

To start with we pledged 30 million Swedish kronors at the Oslo conference in November for immediate humanitarian work. Then we have this agreement as I told you before to support during the next three years and also through international organizations. I cannot tell you the total but it would be much more than that 35 million dollars.

Q: How would you monitor these funds, that it would go to the correct hands?

It is through SIDA. They are monitoring very closely what's happening.

Q: Newspaper reports in Stockholm say that Sri Lanka is among 23 countries, which taps telephones in Swedish embassies. Your comments.

Well I don't know about Sri Lanka exactly. It is normal in most diplomatic circles that tapping is a thing you would expect wherever you are. Sri Lanka would probably not be an exception.

Q: But, Sri Lanka's name is mentioned in the article?

Stories like this would go around. We have to accept that there are phone tapping and email tapping and whatever.

Q: Do you think that a friendly country like Sri Lanka would want to do that at the Swedish embassy in Colombo?

I wouldn't know that. I prefer not to comment on that.

---

Professor Peter Schalk,
Uppsala University
[see also The Revival of Martyr Cults among Ilavar - Peter Schalk, 1997 and
Resistance and Martyrdom in the Process of State Formation of Tamil Eelam, 1997]

Peter Schalk's main fields of research are ritual transmission of Buddhism in Sri Lanka, the religions of Fu Nan as state ideologies, the history of Buddhism among Tamils in Tamilakam and Ilam, Hinduism in western exile, and the religious expressions of social-economical conflicts in present South Asia. He has been engaged in Tamil Studies since the 1970s, and started his field work in Sri Lanka in 1970. He witnessed the founding of Yalppanam University in 1974, and has been closely connected to the exchange programme between Uppsala University and the University of Yalppanam (Jaffna) in Sri Lanka. This exchange programme was introduced in 1979 after the two VC's of the two universities signed an agreement of exchange. Due to the civil war the intensity decreased in the late 1990s, but it was again resumed after the ceasefire agreement in 2001. Several researchers and also the chief librarian of Yalppanam University have visited Uppsala since that.

The present research interests of Prof. Peter Schalk are:
• Buddhism among Tamils in Tamilakam and Ilam,
• European Images of South Asians
• Religious Expressions of Martial Conflicts in South Asia, and
• Traditional Buddhism and Hinduism in Lanka
In recent years Peter Schalk has worked on the following South Asia related research projects:

- A comparative study of religious expressions in intra- and inter-state (martial) conflicts in South Asia and Southeast Asia, an interdisciplinary research project within the fields of Cultural Anthropology, Sociology, Development Studies, History and Comparative Religion (i e History of Religions). The overall aim of this project is to focus on the general socio-economic and political conditions leading to (martial) conflicts in South Asia and Southeast Asia in relation to religious values, value systems and ideologies, including their transformation and re-transformation in the course of the conflict and reconciliation.

- Friend or foe? European xenologies of South Asians. European colonial xenologies focused a very specific, fundamental and burning problem: How to cope with cultural diversity, including religions, and all its threatening implications? European arguments go deeper than to contingent impressions of liking or disliking another culture. They refer ultimately to a positively or negatively evaluating conceptualization of cultural diversity per se. Schalk proposes a seemingly very limited project to begin with, a project that focuses Swedish relations to colonial Dutch Ceylon in the 17th and 18th centuries. The language competence needed for this small area alone, colonial Ceylon, is Sanskrit, Pali, Prakrit, Sinhala and Tamil. Many sources used for this study, are in Portuguese, Dutch, and German. Already at the initial stage of this project, other European countries than Sweden are involved in this study.

- Memory, Ritual and Armed Resistance. Research project about how members of the LTTE through commemorative rituals are recruited and mobilised to commit suicidal acts. In November 2004 Schalk received SEK 478 000 SEK for this project as a two-years grant (2005-06) from the Swedish Research Council. More information (in Swedish only).

In January 2004 Schalk published a book called "God as Remover of Obstacles. A Study of Caiva Soteriology among Ilam Tamil Refugees in Stockholm, Sweden" (Acta Universitatis Upsaliensis, Historia Religionum 23. Uppsala: AUU, 2004). It is distributed through the University Library Uppsala.
An International seminar on "Precept and Practice in Asian Buddhism" was held at Uppsala University 1-6 September 2004. Participants from China, UK, Sweden and above all Germany were attending. The seminar was organised by Arbeitskreis für asiatische Religionsgeschichte, Akar (Prof. Max Deeg, Dr. Oliver Freiberger and Dr. Christoph Kleine, in co-operation with Uppsala University (Prof. Peter Schalk). The papers presented will be published next year in Acta Universitatis Upsaliensis.

In August 2004 Peter Schalk received a SASNET Planning grant for an educational project with Jaffna (Yalppanam) University, called "Introduction of Modern Research Methods and Theories within the field of humanities in the University of Yalppanam." Dr. Schalk was, as mentioned above, connected to the University of Jaffna (Yalppanam) from 1970, and involved in students and teachers exchange. Due to the civil war in Sri Lanka Jaffna has however been cut off from the outside World for many years, and this is especially the case regarding studies in humanities. The planning grant was used by Schalk to spend time at Jaffna University during the Winter 2004/05, to give courses and lead seminars on all levels that initiate a change of the prevalent weaknesses. He also prepared the ground for Swedish students to go to Jaffna for language courses in Tamil and for studies in Shivaism.

The contacts at Yalppanam University has mainly been with the Dept. of Hindu Civilization; Dept. of Islamic and Christian Studies; the Tamil Department (including epigraphical Tamil); and the Dept. of History and Archaeology.

In December 2007, Prof. Schalk published a monograph titled "Die Lehre der Befreiungstiger Tamililams von der Selbstvernichtung durch göttliche Askese: Vorlage der Quelle ÜBERLEGUNGEN DES ANFÜHRERS" about the nationalism/patriotism of Veluppillai Pirapakaran, leader of the LTTE, based on the collection of his sayings known as talaivarin cintanaikal 'Reflections of the Leader', and some of his speeches. The introduction is in German. It focuses on the concept of tiyakam 'abandonment (of life)', sometimes rendered as martyrdom or heroic death. Then follows the Tamil text but transliterated. Finally follow Schalk's complete translations of this text into German, English, and Swedish. A translation into Sinhala is added, produced by Anonymous. The readers of Sinhala can now for the first time study the authentic words of Veluppillai Pirapakaran in their mother tongue. The work, financed by the Swedish Research Council (Vetenskapsrådet), has done in co-operation with professor Alvapillai Veluppillai. The manuscript was closed in September 2007. The work is published as e-book only and can be downloaded free of charge from the database at Uppsala University chapter by chapter. There are six. Please go to http://publications.uu.se/abstract.xsql?dbid=8404.

Alvapillai Veluppillai is Professor Emeritus in Tamil from the University of Yalppanam, Sri Lanka. During the period 1990-2000 he was connected to Uppsala University as a researcher on Tamil literature and religion, and he received an Honorary Doctorate there in 1995. He is now living in America.

In the Fall 2005 Dr Pushparatnam visited Uppsala University for six months. He is a professional archaeologist specialising on the Tamil area in South India and Ilam (Lanka), holding a senior lecturer's post at Yalppanam University. His coming to Uppsala was part of the exchange programme between Uppsala and Yalppnam that started in 1989. In Uppsala, he is worked together also with the Dept. of Archaeology, where a team of young archaeologists from the island already works. The task of Dr Pushparatnam has been to document the earliest religious artefacts found by him during two decades of excavations in the Tamil area of Ilam. His work will be a contribution to our knowledge about the earliest forms of Tamil Caivam (Sivaism) and Tamil Pauttam (Buddhism) in Ilam.