Tamils - a Nation without a State


Manipur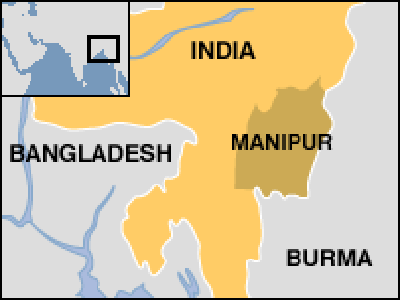 Moreh town of Manipur is a settlement of Tamils and Keralites. Most of them are refugees from Burma. They have introduced Idli and Dosa, the famous snack dishes of South Indians to the Meiteis and tribals. The men dress in lungi and shirt. Office goers wear pants and shirts. The women wear sari and blouse. They are all Hindus and a few Christians may also be there. Moreh Tamils are all Hindus and have established several temples of Kali, Durga and Shiva in the town. They also celebrate their festivals with great pomp and show. Hindi or Urdu is a common language for them.
---
Tamil pride and Prabhakaran at India-Myanmar border
Hindol Sengupta, Indo-Asian News Service, 29 November 2004

from Moreh (India-Myanmar border post) -

His six-year-old son is a fighter, says G. Kalaivannan, and so he has named him Prabhakaran.

This naming, after the leader of Sri Lanka's Tamil Tigers Velupillai Prabhakaran fighting for a Tamil homeland in the island nation, says Kalaivannan, reminds him of his own home - found and lost.

"My grandfather went to Burma many, many years ago, I don't even know how long ago," says Kalaivannan, who is among the more than 500 Tamil families in Moreh in the northeastern state of Manipur, calling Myanmar by its old name. "My father was a boy then. I was born in Burma but then we were all thrown out. My father decided we cannot go back to Tamil Nadu, we needed to be near Burma, so if not inside Burma we'd be just across the border," says the man who runs a shop selling cotton pillows and blankets.

And so like many others, Kalaivannan's family settled in this small border town around 110 km from Manipur capital after Myanmar's military government threw foreigners out in the 1960s.

Today, the Tamils of Moreh -- about 5,000 of the 10-15,000 population of the town -- dominates trade in this bustling hamlet made almost entirely of huts on two sides of the main road that leads to the India-Myanmar border.

They keep alive their identity by among other things a big club and a common love for Prabhakaran.

"He is a pillar of strength," says Tulsi Raj of the guerrilla leader who rules over his Liberation Tigers of Tamil Eelam (LTTE) from jungle hideouts in Sri Lanka.

"We draw inspiration from him," adds Raj, the father of two daughters who runs a grocery shop.

"Of course that does not mean we fight and kill like him but it means we remain close to our home - Burma."

Sitting at the Sunrise Club, a dizzying kitschy maze of peacock green cushions embroidered in cheap golden thread against sky blue walls, 51-year-old Arullpa talks of how Moreh's Tamils maintained a twin identity.

"We are Indians now but we cannot forget our Burma days. We are proud to be Tamils, even prouder that we grew up in Burma, that beautiful, beautiful land."

That's why Arullpa is teaching his granddaughter Rita her first words of Burmese (now called Myanmarese like in the name of the country).

"The older generation all speak fluent Burmese and we want to pass on that tradition," says Arullpa, sitting beneath a row of photographs from Mahatma Gandhi to Stalin, the Hindu goddess Durga and an image of a roaring tiger, the LTTE insignia.

"They should never forget that the wonderful land that their fathers and mothers once lived in, lies just a stone's throw away."

That's why, as India's engagement grows with Myanmar, Moreh's Tamil are cheering the efforts every step of the way. India recently laid out the red carpet for Myanmar head of state General Than Shwe and is one of the country's biggest trading partners.

Bilateral trade between the countries has grown from $287 million in 1999-2000 to $428 million in 2001-02. The amount was $424 million in 2002-03.

"It's the coming together of the two countries most dear to us," says Kalaivannan. "Who knows one day we might even be able to return to Burma."