Tamils - a Nation without a State


Reunion
- estimated 120,000 Tamils
(including second language speakers) live in Reunion -
---
Reunion Tamils stage Sit In to protest against genocide of Tamils in Sri Lanka - 21 February 2009
A sit in was organized to support Tamils of Sri Lanka by Reunion Island 's TAMIL SANGAM presided by Dr.Shanmugam. hundreds of tamilians and non tamilians protested against the programmed genocide of Tamilians of Sri Lanka. A banner written in French said "Halt to the genocide of Tamils in Sri lanka" photos of the atrocities commited on civilians by Sri Lankan army were displayed. Local Tamil girls read a French poem written by a child victim of the war.The president of Tamil Sangam denounced the apathy of the international community and asked the intervention on India and the United Nations to stop the killings.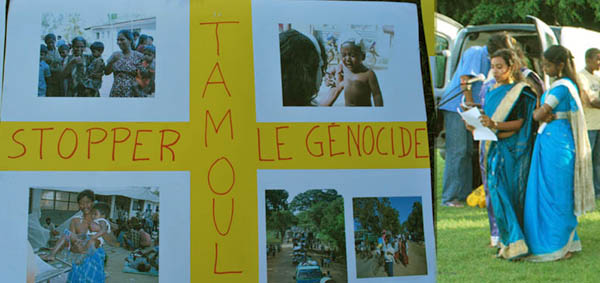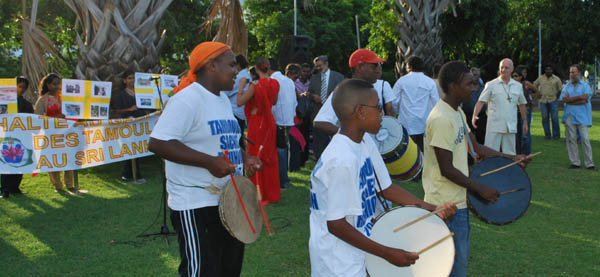 ---
Indentured immigration and social accommodation in La R�union
- Christian Ghasarian, Center for South Asia Studies, University of California-Berkeley
Tamils in the Diaspora are living in various places among which the French Island of La R�union in the Indian Ocean. Settled in this relatively isolated Island since the second part of the last century, Tamils have developed some patterns of behavior that are not quite those of their ancestors from Tamil Nadu nor those of the other inhabitants of La R�union. Anthropological investigations nevertheless show that despite a strong policy of acculturation and assimilation led by the French administration on the populations transferred to the Island, people of Tamil origin have managed to maintain, in an adapted manner, most of their ancestral conceptions and practices. An examination at some of these conceptions and practices allows to catch a glance at the strengths and adaptive resources of the Tamil culture. more
"..Most fire walkers in French-speaking Reunion are Tamil. Their ancestors were the first to arrive from India to work on the island, located east of Madagascar, as cane laborers. Life at that time was difficult, but their adherence to the practices of their religion and culture kept them strong and united. Still today, this spirit of respect for ancestral tradition binds them together in a land where they are�as they have always been�very much in the minority among the 750,000 people in this Overseas Department (state) of France..."