Tamils - a Nation without a State


Kerala
an estimated 750,000 Tamils live in Kerala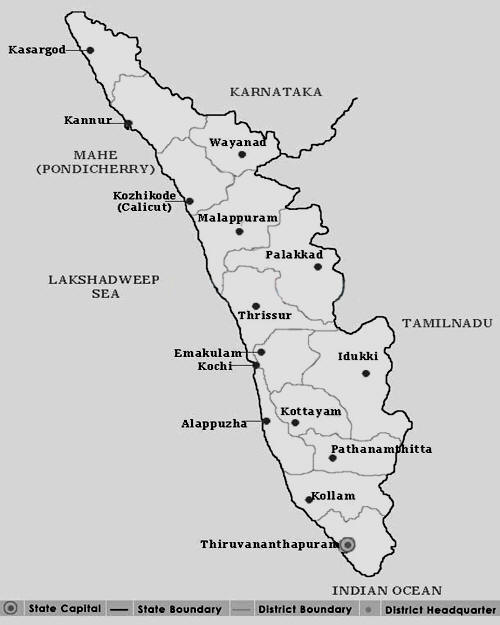 ---




Kerala is a state located in southwestern India. Neighbouring states include Karnataka to the north and Tamil Nadu to the south and east, and the Arabian sea is to the west. Major cities include the state capital of Thiruvananthapuram, Kochi and Kozhikode. Malayalam is the principal spoken language,

A 3rd-century-BC rock inscription by emperor Asoka the Great attests to a Keralaputra. Around 1 BC the region was ruled by the Chera Dynasty, which traded with the Greeks, Romans and Arabs.
The Tamil Chera dynasty, Ays and the Pandyan Kingdom were the traditional rulers of Kerala whose patriarchal dynasties ruled until the 14th century AD.
Pliny the Elder who visited Kerala in the first century AC reported in his book Natural History (Pliny) that the Northern Kerala was ruled by the Chera Kings while the southern Kerala was ruled by King Pandion of Madura(the Pandyan Kingdom) who had the capital at Nelcynda with port at Porakkad (Ambalapuzha).
The Dravidian Villavar tribe which established the Chera Kingdom were Patriarchal in descendency. Ay kings ruled southern Kerala. The Later Chera Kingdom otherwise called the Kulasekhara dynasty was founded by King Kulasekhara Alwar who is considered as a Vaishnavaite saint.
After the repeated attacks of Rashtrakutas in the end of first millennium the Northernmost portions of Kerala, Matriarchal Naga dynasties appeared in North Kerala at Ezhimalai. later Chera Dynasty came to an end weakened by the Rashtrakuta and Chola invaders.
Feudal Namboothiri Brahmin and Nair city-states subsequently gained control of the region. Kolla Varsham or Malayalam Era, which is assumed to have been established by King Udaya Marthanda Varma, King of Kollam, in 825 AD, serves as the official calendar of Kerala. Early contact with Europeans gave way to struggles between colonial and native interests. Kerala state was created on 1 November 1956 via the States Reorganisation Act which merged the former state of Travancore-Cochin, Malabar district of the former Madras State, and Kasaragod taluk of Dakshina Kannada.

---
Kerala is new sanctuary for fleeing Lankan Tamils
P Jayaram in Colombo, 14 April 2009

More and more Sri Lankan Tamils, fleeing their homes in the civil war ravaged Jaffna peninsula, are heading for a new haven overseas, the southern Indian state of Kerala.

Over 1,500 Jaffna Tamils have already bought property in different parts of the state, particularly in Thiruvananthapuram, Kozhikode and Palakkad districts and settled there permanently.

Only about 40 per cent of them have bought real estate legally, taking advantage of the government's loose definition of a non-resident Indian, or NRI. The definition includes all people of Indian origin.

But a majority of the migrants have bought property with forged certificates like that of birth and marriage.

''My aunt said she had to spend Rs 25,000 as bribes to officials to get these documents and there was no problem,'' said one Tamil.

Kerala's natural beauty, its high literacy rate and the Malayali's close cultural affinity to the Jaffna Tamils, despite their language difference, have all made the state an attractive destination for the Sri Lankan Tamils.

With the Lanka's conflict showing no sign of ending, the influx would continue, they added.

Earlier, Tamil Nadu was the main destination for the island's Tamils. Hundreds of thousands fled the state in the wake of the worst anti-Tamil riots in Lanka in July 1983.

However, the outpouring of sympathy and goodwill for the refugees did not last long and public mood in the state took an about turn following the assassination of Rajiv Gandhi by a Liberation Tigers of Tamil Eelam suicide bomber.

''The people in Tamil Nadu feel that we are all Tigers, the police and the intelligence agencies have also been harassing those settled in the state,'' said one source.

The movement to Kerala started around 1990. Though earlier attempts by various Tamil militant groups to enlist the support of the Malayalis for their separatist campaign received hardly any support, many Sri Lankan Tamils found the state ideal for living.

Some Tamil leaders, like assassinated Eelam People's Revolutionary Liberation Front leader K Padmanabha, had taken up residence in Kerala for security reasons and also because they felt vulnerable to attacks by the LTTE in Tamil Nadu due to the political patronage the Tigers enjoyed there.

In fact, Padmanabha and about 20 of his associates were massacred in Madras while he was on his way back to Thiruvananthapuram from Delhi to join his family.

Padmanabha's successor, K Premachandran, has also lived in Kerala with his family. ''We very much liked the place. Compared to Madras, Thiruvananthapuram is smaller and cleaner. Apart from the language, the food, social customs, culture, everything is like ours,'' he said.

The social interaction between the Jaffna Tamils and the Keralites has already resulted in matrimonial alliances.

With most of the Jaffna families having one or more members in the Western countries, mostly as refugees, the high land prices in Kerala have not dissuaded them from moving into the state. UNI