CONTENTS
OF THIS SECTION
Anna�s Birth Centennial Anthology
- Sachi Sri Kantha
, 2009
Anna the Genius - G.V.K.Aasaan, September/October 2008
Some Sayings - மாற்றான் தோட்டத்து மல்லிகையிலும் மணமுண்டு more
Annamalai University Convocation Address - Tamilnadu Chief Minister C.N.Annadurai, 1967
On Constitution Amendment & Dravidastan, 1963
Two Dogs and Hindi - A Tale from the Speeches of C. N. Annadurai
Aringnar Anna on Name Change of Madras State to Tamil Nadu, May 1963
பேரறிஞர் அண்ணா - Biography at Government of Tamil Nadu
A.P.Janarthanam, M.P. on C.N.Annadurai at the 5th International Tamil Conference 1981
C.N.Annathurai - A Biography by M.Karunanithi
Kalaignar Karunanidhi Kavithanjali to Anna, at Anna's Funeral, February 1969
அண்ணாதுரை மறைவின்போது - T. ஜெயகாந்தன்
Annadurai's Legacy lives in Eelam - Sachi Sri Kantha, 19 September 2000
C.N. Annadurai: worthy son of an ancient heritage - M.K.Eelaventan, March 2005
Letter and spirit - A.R. Venkatachalapathy, April 2008
On 96th Birth Anniversary
- R. Kannan, 15 September 2005 "..Today is the 96th birth anniversary of Anna. His sense of mission, his simplicity, compassion, and talents may seem outmoded. But so long as human values remain a worthy goal, his legacy will be relevant..." more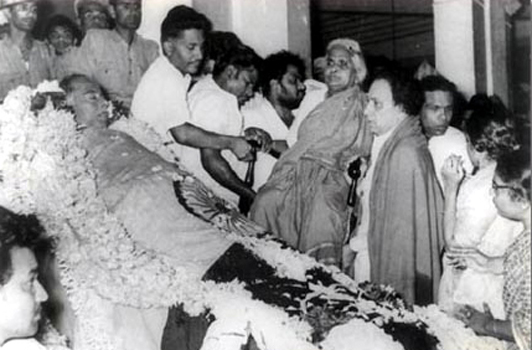 MGR at Annadurai Funeral

Kalaingnar Karunanidhi's Kavithaanjali on the death of Peraringnar Anna

Annathurai at Thiruch Maha Nadu

Arignar Anna Golden Speech at SivajiTV
On Epic Poet Kambar and the Kamba Rasam polemic of polymath Anna - Sachi Sri Kantha, 15 September 2007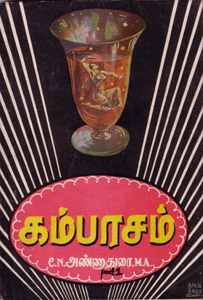 Doctor Anna Parimalam on Arignar Anna...
கடமை
கண்ணியம்
கட்டுப்பாடு
தெளிவு
துணிவு
கனிவு
எதையும் தாங்கும் இதயம்
நகைச்சுவை
மறப்போம் மன்னிப்போம்
வாழ்க வசவாளர்
மாற்றான் தோட்டத்து மல்லிகைக்கும் மணம்
உண்டு
மனிதநேய நிகழ்ச்சிகள்
தொலைநோக்குகள்
வரைந்த ஓவியங்கள்
சுவையான சம்பவங்கள்
C.N. Annadurai - Selected Literary Works
அறிஞர் அண்ணாவின் படைப்புகள்
இரும்பு முள்வேலி
ரங்கோன் ராதா
சொல்லாதது
Annadurai as Others Saw Him...
Anna Era � Professor C.D.Rajeswaran
Anaa - Simplicity and Splendour � C.Ramachandran
Annadurai's Political Wisdom -�G.R.Damodaran, Ex-Principal. PSG College of Technology
Annadurai's School of Oratoryu -T.Chengalvarayan
Annadurai - a Gentleman Chief Minister -T.R.Ramanujam,Dy. Commissioner of Police(Retd)
Anna - the Creative Genius � Dr.V.C.Kulandaiswamy, Ex-Vice-Chancellor, Anna University
Anna - the Man
- V.N.Swami
Anna's Golden Heart - A.P.Janarthanam
Economic Ideas of Arignar Anna
- Dr. Vedagiri Shanmugasundaram
Anna � A Kansas Memory
- Albert B. FRANKLIN
The Son who Named his Mother - R.Nallarasu
Anna - My Elder Brother - A.P.Janardhanam. M.A.
On Anna
- A.S.Venu "The Guinness Book of records has it that the funeral of �Anna� was attended by the largest number of people in the world. I was closely associated with him from 1936 to 1969.."
The Impact of Anna on TamilNadu Politics
- S.Vijayan
Anna - the Walking Encyclopaedia
- B.Appuraj, District Chairman
Anna
- M.S.Venkatachalam, M.A.,B.L., - Translator -
Part I
- Part II
The Versatility of Anna � Dr.R.E.Asher, University of Edinburgh, Scotland
On Anna - S.G.Manvalaramanujam
- Former V.C., Annamalai University "It is appropriate that the speeches and writings of the wonder-man of the South who made political history in the brief span of there decades as the author, and builder of a reformist part-political and social-should be made known to a much larger reading public. His political and reformist speech were made mostly in his native tongue of Tamil in which developed a new style of oratory and eloquence � a style pleasing and captivating to the masses � a new style now characteristic of the party and his followers. It is gratifying that these Tamil speeches will rendered into English but it is no easy task to bring out his easy flow and the alliterative character of his speeches."
Annadurai Breathes Wisdom and Statesmanship - E.K.Ramaswami
Moscow Mob Parade - Anna's First Article in English, 1933
PEOPLE'S POET - Arignar Anna's first English Speech in All India Radio
A
rignar Anna
Books, video and audio cassettes on Annadurai's works released
, 29 December 2005
Relating to leadership in the Tamil nationalist movement: C.N. Annadurai in person-centred propaganda - Pamela Price, University of Oslo
C.N.Annadurai at Wikipedia
CN Annadurai Home at Wikimap
One Hundred Tamils of the 20th Century

C.N.Annadurai - காஞ்சீபுரம் நடராஜன் அண்ணாதுரை
மனித மேம்பாடே என் இயக்கம்! தோழமையே என் மேடை!
கடமை கண்ணியம் கட்டுப்பாடு தெளிவு துணிவு கனிவு

15 September 1909 - 3 February 1969


C.N.Annadurai - Memorial in Chennai


Perarijnar Annadurai on Independence - "It is we who make the nation"

"India is a continent; it should be divided into a number of countries. The continent of Europe has 32 independent countries. No one argues that it should be a single country ruled by a single government. Similarly there is no need for India to be under a single government... Aryan influence increases within a single country called India. Welfare of the other races is crushed under Aryan rule. Uniting different races (nations) under a single country leads to rebellions and troubles. In order to prevent such troubles and bloodshed in India, we should divide India according to racial (national) lines now... Even during the days of the emperors Ashoka, Kanishkar, Samudra Gupta and Akbar, India was not a single country.

If India is divided into many countries, each country could develop its economy according to its circumstances. It would also put an end to one region robbing the resources of another. All races (nations) can achieve equality only if each race (nation) has its own country and government. We fear the thought of one race (nation) living under the rule of another. This fear gives birth to violent rebellion. It is necessary to divide India racially (nationally) to prevent such violent revolutions. The reason one race (nation) has not choked another race (nation) to death in India so far is the British guns. When the British leave, India will become a killing field [unless it is divided into different countries on racial (national) basis]." Annadurai at the Dravidar Kazagam State Conference in Tiruchi in the 1940s (Translated from Tamil to English by Thanjai Nalankilli) Tamil Tribune

"If Anna's Dravidian nationalism has to be counted as a failure, then the Gandhian, Rooseveltian and Leninist-Stalinist ideals also have met the same fate in their places of origin. However, Gandhian ideals were picked up by Martin Luther King Jr. in America and these led to advancement of civil rights for Blacks in the 1960s. The liberal-democratic ideals of Roosevelt got rooted (however imperfectly) and supplanted the existing feudalistic social arrangement in Japan. Even the Leninist-Stalinist ideals found roots in Cuba under the leadership of Fidel Castro in 1959 and is still not supplanted, despite aggressive bullying by Yankee capitalism. Similarly, though Anna's ideology of a 'separate state for Tamils' became a lost cause in India, it did become a rallying cry for the younger generation of Eelam Tamils in mid-1970s. Thus, Anna's legacy lives in Eelam." Annadurai's Legacy lives in Eelam - Sachi Sri Kantha

"உலகெங்கும் தமிழன் பரந்து வாழ்ந்தாலும்.. தமிழீழத்திலேதான் தனியரசு உருவாகும் வரலாற்றுப் புறநிலை தோன்றியுள்ளது..." Velupillai Pirabaharan

[see also For Province Read Nation, Pramatha Chaudhuri, 1920 "It is not a bad thing to try and weld many into one but to jumble them all up is dangerous, because the only way we can do that is by force. If you say that this does not apply to India, the reply is that if self determination is not suited to us, then it is not suited at all to Europe. No people in Europe are as different, one from another, as our people. There is not that much difference between England and Holland as there is between Madras and Bengal. Even France and Germany are not that far apart. If some of our politicians shudder at the mention of provincial patriotism, it is because their beliefs smack of narrow national selfishness."]

Annadurai Commemoration Stamp

"ANNA" as he was endearingly called by millions of Tamilians, was born at Kancheepyram, in a lower middle calss family, on 15th September 1909.

After completing his education in the Pachaiappa's High School, Kancheepuram, he joined the Pachiappa's College, Madras from which he graduated. Even as student, he had reputed action for oratory in Tamil and English, and a flair for journalism. He was the editor of the "Bala BHarati" and later the "Nava YUvan", Tamil weeklies published in Madras. He also served as Sub-Editor of the "Justice", an English daily and was on the editorial staff of the "Viduthalai", Tamil weekly of Erode, published by Periyar E.V.Ramaswami Naicker, leader of the Dravida Kazhagam.

In 1942,Thiru C.N. Annadurai started his own weekly, the Dravida Nadu, and developed a distinct style of his own. He also edited the Tamil weekly "Kanchi", He was as fluent, scholarly and versatile in English as in Tamil. In 1957, he started an English weekly, the "Homeland" and in 1966 founded another weekly, the "Homerule".

He wrote stories. He was considered to be the doyenamong dialogue-writer, renowned for his catchy and flowery descriptive passanges and conversational pieces. He also acted on the stage.

As an orator, few could equal Thiru Annadurai. He could whip up the emotions of vast audiences, and could also pacify agitated crowds. He made full use of this gift in the interests it was a mammoth crowd that thronged the sands of Madras beach to hear him in Tamil, or a select audience pressing to get seats in the front rows of a public hall bound for hours by his oratory which abounded in wit, sarcasm and humour.

Thiru Annadurai had a genius for oraganisation. Along with Periyar, he was responsible for the consolidation of the Justice Party, later renamed as the Dravida Kazhagam split and the majority followed Thiru Annadurai who founded the Dravida Munnetra Kazhagam. In 1957, the Dravida Munnetra Kazhagam contested the General Elections, Thiru Annadurai contested from the Kancheepuram constituency and won with a large majority.

His speeches on the floor of the House as Leader of the D.M.K. Legislature Party had a great impact. In February 1967, he was elected to the Lok Sabha from the South Madras Parliamentary Constutuency and subsequently to the Madras Legislative Council from the Madras Local Authoritis Constituency in April 1967.

In the Fourth General Elections held in February1967, the D.M.K. under the able leadership of Thiru Annadurai succeeded in capturingall the seats in Parliment for which it had fielded candidates.

Thiru Annadurai was elected leader of the D.M.K. Legislature Party and became the Chief Minister of Tamil Nadu. During the two years of his Chief Ministership he earned universal respect, and his sobriety, simplicity and sincerity won the esteem and affection of all.

He had the interests of the common man at heart and he was a friend of the poor and the working classes, and his 'rupee-a-measure of rice scheme' was one of the measures which bore testimony to this. His interest in, and love for, Tamil and Tamil literature was high-lighted by the great success of the World Tamil Conference held in Madras in February 1968.

He proceeded on a world tour as an invitee of the Yale University's Chubb Fellowship Programme and was also a guest of the State Department in the U.S.A. in April-May 1968. He was awarded the Chubb Fellowship at Yale University, being the first non-American to receive this honour.



Anna at Yale University

Thiru C.N. Annadurai passed away in the early hours of 3rd February 1969. With his passing, the country has lost a great patriot and leader. On the First Anniversary of his passing, the Posts & Telegraphs Department feels privileged to bring out a special stamp as a tribute to his memory.

| | | |
| --- | --- | --- |
| Stamp Issue Date | : | 03/02/1970 |
| Postage Stamp Dinomination | : | 0.20 |
| Postal Stamp Serial Number | : | 0607 |

Philatelic Stamp Description
:
The design of the stamp is vertical and depicts autographed portrait of Tiru C. N. Annadurai.
Stamp Currency
:
P
Stamp Type
:
COMMEMORATIVE
Stamp Language
:
English
Stamp Overall Size
:
3.91 x 2.9
Postal Stamp Print Size
:
3.56 x 2.5 cms.
Number of Stamps Per Sheet
:
35
Stamp Perforations
:
13 x 13
Postal Stamp Shape
:
Vertical
Postage Stamp Paper
:
Unwatermarked adhesive stamp paper
Indian Stamp Process
:
Photogravure
Number of stamps printed
:
35,00,000
Stamp Printed At
:
India Security Press
Indian Stamp's Color
:
Maltese Blue and Red Purple

Some Sayings...

" தனக்கென ஆடா தகைமைத்த தோகையும்,
தனக்கென வாழாத் தகைமைத்த அண்ணணும்" - Kannadasan

Onre Kulam Oruvane Devan
ஒன்றே குலம், ஓருவனே தேவன்

Kathiyai Theettathey, buthiyai Theettu
கத்தியை தீட்டாதே, புத்தியைத்தீட்டு

Kadamai, Kanniyam. Kattuppadu, Thelivi, Thunivu, Kanivu
கடமை கண்ணியம் கட்டுப்பாடு தெளிவு துணிவு கனிவு

Maatran Thottathu Malligayilum manam undu
மாற்றான் தோட்டத்து மல்லிகையிலும் மணமுண்டு

Ventha punnil velai paichatheer
வெந்த புண்ணில் வேலை பாய்ச்சாதீர்

Satta Sabayil Thappu Thalangal podatheer
சட்ட சபையில் தப்பு தாலங்கள் போடாதீர்

Banumathi onrum padi thaanda pathini alla, naanum mutrum thurantha munivanum alla.
பானுமதி ஒன்றும் படிதாண்டா பத்தினி அல்ல, நானும் முற்றும் துறந்த முனிவனுமல்ல

Thedi chelvathillai, naadi vanthaal viduvathillai.
தேடிச் செல்வதில்லை, நாடி வந்தால் விடுவதில்லை

Olimayamana Ethirkalam kangalukku therikirathu
ஒளிமயமான எதிர்காலம் கண்களுக்கு தெரிகிறது

�இந்த நாட்டிலே நம்மவர் வீடு கட்டுவர், அதிலே பல அறைகளும் அமைப்பர். மாட்டுக்கொட்டகை ஒரு பால், பொக்கிஷ அறை ஒருபால், சமையலறை மற்றொருபால் . . . மற்றெதை மறக்கினும் ஆண்டவனுக்குப் பூசை செய்ய அறை அமைக்க மட்டும் மறவார்; ஆனால் அறிவூட்டும் ஏடுகள் நிறைந்த படிப்பறையைப் பற்றிய பகற்கனவும் காணார். படிப்பறை மிகவும் முக்கியமானது. அவசியமானது. அலட்சியப்படுத்தக் கூடியதன்று. ஆயினும் அது அவர்தம் சிந்தனையில் தோன்றாது�

�எனக்கோ 'எதையும் தாங்கும் இதயம் வேண்டும்' என்ற கவிதை மனப்பாடம்� தம்பிக்கு கடிதம் 24.07.1960

�சட்டியில் காய்கறி வேகுகிறது. அடுப்பின் வெப்பத்தை சட்டி தாங்கிக் கொண்டு வேண்டிய வெப்பத்தை மட்டும் கொடுத்து, காய்கறி வேகுகிறது. தலைவன் சட்டியைப் போன்றவன். எதையும் தாங்க வேண்டும்.� கைதி எண் 6342, 14.03.1964.

" கழகத்தின் சார்பில் எடுக்கப்படும் எந்த முடிவும் நான் என்னிச்சையாகவோ எனக்கு ஏற்படக்கூடிய விருப்பு வெறுப்பினை மட்டும் கணக்கிட்டோ மேற்கொள்வதில்லை என்றாலும் எனக்கென்று ஏதேனும் ஒரு விருப்பம் எழுகின்றது என்றால் அதை நிறைவேற்றிவைக்கும் விருப்பம் கழத்தினர் சிலருக்கு இருப்பதில்லை என்பதை பல சந்தர்ப்பங்களில் நான் உணர்ந்து வருகிறேன். உணர்ந்து என்ன பயன்? காரணம் என்ன என்று ஆராய்வதிலேதான் என்ன பயன்? நிலமை இவ்விதம், அவ்வளவுதான்." தம்பிக்கு கடிதம், 15.11.1964.

Two Dogs and Hindi - A Tale from the Speeches of C. N. Annadurai

" A man had two dogs - a big one and a small one. He wanted his dogs to go in and out of the house freely without him having to keep the house door open all the time. So he built two "trap doors" - one big trap door for the big dog and one small for the small dog. Neighbours who saw these two doors laughed at him and called him an idiot. Why put a big door and a small door? All that was needed was the big door. Both the big and the small dog could use it!

Indian government's arguments for making Hindi the official or link language of India are as ridiculous as the need for a big door and a small door for the big dog and the small dog. Indian government agrees that English is needed for communication with the world, and every school in India teaches English after the fifth grade. Then the Indian government says that all of us should know Hindi also in order to communicate amongst ourselves within India. I ask, "Since every school in India teaches English, why can't it be our link language? Why do Tamils have to study English for communication with the world and Hindi for communications within India? Do we need a big door for the big dog and a small door for the small dog? I say, let the small dog use the big door too!" more

பேரறிஞர் அண்ணா

- Biography at Government of Tamil Nadu

எளிய குடும்பத்தில் பிறந்து, நல்ல மாணவராக, ஆற்றல் மிக்க பேச்சாளராக, சிறந்த பத்திரிக்கை ஆசிரியராக, நல்ல நூலாசிரியராக , நாடக ஆசிரியராக, நாடக நடிகராக, ஒரு பேரியக்கத்தின் தலைவராக, பண்பட்ட அரசியல்வாதியாக, நாடு போற்றிய முதலமைச்சராக, ஓங்கு புகழ் பெற்றவர் பேரறிஞர் அண்ணா அவர்கள்.

திராவிட நாடு, ஹோம் லேண்ட், காஞ்சி, ஜஸ்டிஸ், குடியரசு, நம்நாடு, பாலபாரதி, நவயுகா, ஹோம் ரூல், போன்ற பத்திரிகைகளின் ஆசிரியராக விளங்கியவர். சிங்கப்பூர், மலேசியா, தாய்லாந்து, ஹாங்காங், கம்போடியா, ஜப்பான், அமெரிக்கா, ஆகிய நாடுகளில் பயணம் மேற்கொண்டவர். விலைவாசி உயர்வு எதிர்ப்பு மறியல் போராட்டம், மும்முனைப் போராட்டம், கட்டாய இந்தி பதினேழாவது மொழிப் பிரிவு சட்ட நகல் எரிப்புப் போராட்டம் என பல போராட்டங்களில் ஈடுபட்டு சிறை சென்றவர்.

1967ஆம் ஆண்டு முதல் 1969 வரை தமிழ்நாட்டின் முதலமைச்சராக இருந்த காலத்தில் சென்னை மாநிலத்தை தமிழ்நாடு என்று அழைக்க, அரசியல் சட்டத்தில் உரிய திருத்தம் செய்ய வகை செய்தவர். சீரும் சிறப்புமாக இரண்டாம் உலகத் தமிழ் மாநாட்டை சென்னையில் நடத்திக் காட்டியவர். தாய்மொழி தமிழ், உலக மொழி ஆங்கிலம் ஆகிய இருமொழித் தீர்மானத்தை சட்டப் பேரவையில் நிறைவேற்றச் செய்தவர். கலப்புத் திருமணத்திற்கு சட்ட அங்கீகாரம் அளித்தவர். மேடைப் பேச்சுக்கு இலக்கணம் வகுத்தவர். அரசியல் நாகரிகத்தைக் கடைபிடித்தவர். தமிழ், தமிழர், தமிழ்நாடு உயரவும், இளைஞர்கள் எழுச்சி பெறவும், தூங்கிக் கிடந்த தமிழர்களைத் தட்டியெழுப்பி விழிப்புணர்ச்சி ஊட்டவும், காலமெல்லாம் தம் எழுத்துக்களைப் பயன்படுத்தியவர்.

பேரறிஞர் அண்ணாவின் புகழுக்குப் பெருமை சேர்க்கும் வகையில் அவர் வாழ்ந்த காஞ்சிபுரம் இல்லம் நினைவு இல்லமாகவும், சென்னை மெரினா கடற்கரையில் சந்தனப்பெட்டியில் உறங்கிக் கொண்டிருக்கும் அவரது உடல் பேரறிஞர் அண்ணா நினைவிடமாகவும், வேலூரில் உள்ள அரசு திரையரங்கம் அண்ணா கலை அரங்கம் என பெயர் சூட்டப்பட்டும் போற்றிப் பாதுகாக்கப்பட்டு வருகின்றது.


Anna Memorial, Marina Beach, Chennai

A.P.Janarthanam, M.P. on C.N.Annadurai at the 5th International Tamil Conference 1981

From 1934 to 1968 Dr. C. N. Annadurai, with his niagaral flow, alliterative style, devastating arguments, ardent championship of Tamil Renaissance, was the darling orator of Tamilnadu. As the lieutenant of Periyar E.V.Ramasamy, he ceaselessly worked for the establishment of a casteless, classless society.

His Tamil Professor in Pachaiappa's College, Mosur Kandasami Mudaliar, by a skilful presentation of choice passages from the Sangam literature, instilled in him an ardent desire to study the masters from Tholkappiyar to Maraimalai Adigal. Anna, with his admirable insight, keen perception and penetrating analysis, grasped the glories of Poompuhar, the early sea-faring saga of the Tamils, the heroic deeds of Cheran Senguttuvan, the magnanimity of Kumanan, the heroines of Agam, the heroes in Puram, the craze in Rome and Egypt for the pearls and ' ahil ' of Tamilagam and the great influence wielded by poets like Kapilar and Avvaiyar.

Anna was very much moved by the pathetic plight to which his great people had been reduced. The heroes of Purananuru considered it rank cowardice to even bat their eyelids on seeing an oncoming spear. The Tamils of Anna's days withdrew at the mere sight of a cat crossing their path ! The sangam poets depicted the valour of Tamil warriors who never bowed down to the foes. The Tamils in Anna's days prostrated before alien godmen who mumbled in an alien tongue.

The conquerors of the Sangam age had been reduced to coolies who were the victims of leeches in plantations. Young Anna was determined to instil a sense of self respect into his people. He became an ardent exponent of a twentieth century Mohenjadaro.

In 1934, he met Periyar in Tiruppur and was completely won over by the Socrates of the South. From thereon, Anna wielded his powerful tongue and pen to disseminate the ideas of Periyar.

Anna's Tamil writings and speeches, and his espousal of the cause of a fallen people, completely captivated the younger generation. His influence will last as long as Tamil lives. As the architect of Dravidian destinies, as the statesman who impressed Pandit Nehru with his maturity and sobriety, as the affectionate elder brother with the big heart, as the ideal chief minister who bled for the lowliest of the low, as the ambassador of Tamil good-will to Yale, and as the finest flower of Tamil culture, loved by the Tamils everywhere, he will take rank in history as the great savant from Kanchee.

As Anna distilled the essence of pure Tamil literature into his heady wine of eloquence, I was his close admirer from 1937. By his lucid presentation, superb marshalling of facts, packing punch in well chosen epithets, coining apt statements which have enriched Tamil, by telling sayings which have gained wide currency, by shafts of humour which sparked off salvoes of applause, by the sweet resonance and timbre in his voice, Anna mesmirised the Tamils. Those who came to scoff remained to listen. Even his opponents tried to imitate his alliterative style which still sets the pattern for all orators in Tamil. Periyar's steel became shimmering Kanchi silk in Anna's speeches.

Anna took Tamil, enslaved in the tomes of jawbreaking, puritan scholars to the Tamil masses, and created a great urge for good, chaste simple Tamil. Anna made Tamil sweet to ears that were attuned to English. Tamil slowly replaced English. The Tamils were made conscious of their great heritage. Tamil oratory, drama, writing and films secured patronage. Anna made the Tamil youth firebrand champions of social reform. Anna attracted, shaped and moulded a gallant band of writers and orators.

Anna addressed the Tamil Writers' Association in the early forties. Eminent writers like Va. Ra. were thrilled by his eloquence. Anna's lectures to college literary societies .... drew praise from the presiding Tamil Professors. Anna's vivid portrayal of the classics, rationalist emphasis and praise of great scholors like Maraimalai Adigal, won him batches of dedicated youngsters.

Anna mastered Kambaramayana. He held that Kamban had extolled Rama to the detriment of the Tamils. On this fiery issue he debated with two great scholars, Sollin Selvar Sethu pillai and Navalar S.S. Bharathiar. As the able lieutenant of Periyar, he countered the arguments of great scholors like Thiru V. Ka.

In the first Anti-Hindi movement in 1938, Anna fought along with great Tamil scholors. In jail, he studied thoroughly "Abhidhana Chinthamani ", the inimitable encyclopaedia.

Anna's contributions to Tamil, as a writer, are voluminous. Two theses, one on his dramas, by Dr. R. Janarthanam, and the other by Dr. Sethu, on his short stories, have come out. Many theses are bound to follow. Foreign scholors like Dr. Asher of Edinburgh have made a deep study of Anna's works. Dr. M. S. Udayamurthy and Dr. Muthu Chidambaram have popularised Anna in America.

Anna's journalistic writings have been spear-heads in the spread of Periyar's ideas, moulders of opinion in support of the Dravidian renaissance, magnetic in attracting the youth to the battle for mother-tongue. As editor of " Viduthalai" and "Kudi Arasu ", Anna wrote reviews, editorials, articles, satires and short tories. As a young lad of thirty, under the direct guidance of the lion-hearted Periyar, Anna lashed out against the monopolists and reactionaries. He challenged the old order, lambasted the charlatans and exposed their political myopia. This was in the 30's.

In 1942, Anna launched his weekly, " Dravida Nadu ". As I was Anna's affectionate younger brother, I used to go to Kanchee often. I was just 22, a fiery orator, petted and patted by Anna. I saw Anna writing far into the night, sheet after sheet, in his round hand, without any correction, myself picking them up one by one, eagerly lapping up the contents. By studying his weekly, intoxicated by his radical speeches, I used to purchase 10 or 12 copies of " Dravida Nadu " in my town and distribute them to students urging themto read through the contents, hoping to convert them to the movement.

College students steadily became avid readers of "Dravida Nadu". Even the opponents stealthily lapped up his " Roman Queens ". Anna gave a rich fare. Dravidian glories were depicted. The call to reason by quoting Valluvar, Vallalar and Vemana, had very good effect. The very titles were breathtaking. " Beautiful statute-minus the head ", " Rinsing with Tiger's milk ", " Amery's Akbar Puja ", " The Bat's predicament ", so on.

Lampoons, satirical hits, Kambarasam doses, racy editorials, references to Emile Zola, Walt Whitman, Abraham Lincoln, Angelina, Lenin and Stalin, all made the weekly the most sought after, the most quoted and the proudest possession of the Dravidian dynamos.

Later Anna had his weekly "Kanchee". That weekly had, as its main attraction, his letters to his younger brothers (Thambikku). These letters were his clarion-call, observations on current affairs, penpictures of the leading personalities of the day, replies to attacks from Periyar, Kamaraj and other parties.

Anna's special articles during Pongal were poetic in their conceptions, cameos of Tamil valour, gems of the ideal scenes of the days of Kerikala and Raja Raja.

Anna encouraged young writers - Comrades Vanan, Dasarathan, Kalaignar Karunanidhi, Arangannal, Thillai Villalan, Radhamanalan, Ezhathu Adigal and Kanchi Kalyanasundaram - all scintillating stars in the Anna galaxy! Anna had great respect and admiration for Bharathidasan, the ace poet of his movement. He presented him with a purse in 1946 and often quoted him.Anna was very magnanimous even to opponents. He readily recognised the talents of Va. Ra., Khandekar, comrade Jeevanandam and Ma. Po. Si.

So, from 1934 to 1968, Anna was the Voltaire of the Dravidian movement, the Ingersoll of the self-respect movement.

Anna's contributions to oratory and journalism are outstanding. People used to purchase tickets for his special meetings, travel hundreds of miles, walk 10 to 12 miles, to hear him. Anna usually came very late. Normally he spoke for 40, 45 minutes. But from first to last, he held the people spell bound, moving them to heights of feeling, producing peals of laughter, mesmerising them with his matchless eloquence. It is very moving, even now, to hear Anna's voice, in tapes. Easily he is the best orator Tamilnad has produced. He took Tamil to the masses and enthroned it in Fort St. George. His crowning act was the naming of the then Madras State as " Tamilnadu ".

Bound volumes of his Weekly are trend-setters, models, an inspiration for generations to come. They are the thoughts of our Garibaldi, whose golden heart would shine through the ages.

Anna's contributions to Tamil as film, script, story, dialogue writer are substantial. Anna, in order to popularise his ideals, utilised these media very effectively. His first drama " Chandrodayam " was thematic. He formed a troupe in Kanchi in his "Dravidanadu " office and gave roles to his comrades C. V. Rajagopal, K. Subramaniam and Ezhathu Adigal. He took the leading role of Dorairaj himself. His " Nallathambi " and " Velaikkari " were fine film hits. " Velaikkari " and 'One Night" with K. R. Ramasami in the lead were staged in Thanjavur for many months. Anna's dialogues were so superb, telling, magnetic and effective that Kalki Krishnamoorthy compared them to Shaw and Ibsen.

Anna's great historical drama, " Shivaji's Hindu Raj " was sensational. It pinpointed the dominance of Kaka bhatta, the Varanasi Priest over Sivaji, the great ruler. Anna as Kakabhatta and Mr. V. C. Ganesan as Shivaji, held the audiences spell-bound. Anna's dialogues in "Sorgavasal" exposed the machinations of the Hindu Rasputins. In 'Needhi Devan Mayakkam' Anna's cross-examination of mythological heroes is breath-taking. Anna's camp was proud of cine actors like M. G. R., Sivaji Ganesan, S. S. Rajendran, K. R. Ramasami and D. V. Narayanasami.

As chief minister, Anna convened the World Tamil Conference in 1968. Anna's address to the delegates was very moving. Anna's versatile genius enthroned Tamil in the hearts of the Tamil people the world over. Participants of the Fifth World Tamil Conference will remember him with gratitude.

A Biography of C.N.Annadurai by M.Karunanithi
Conjeevaram Natarajan Annadurai, endearingly called �Anna� (elder brother), was born on 15 September 1909 in a Hindu lower middle class family of the weaver community at Kancheepuram, the famous city of temples near Madras. Her father Natarajan was a handloom weaver. His mother�s name was Bangaru Ammal. Her younger sister Rajamani Ammal was the foster-mother of Annadurai. She brought him up and educated him from the elementary school to the College. In 1930, while still a student, he married Rani who came from a suburb of Madras. The couple had no offspring and Annadurai later adopted the four grandsons of his elder sister.

Annadurai had his early education at the Panchiyappa�s High School at Kancheepuram and completed his School Final in 1929. He had to break his studies for a while on account of financial difficulties and worked as a clerk in the Local Municipal Office. He later joined the Panchaiyappa�s College, Madras, and passed the Intermediate Examination in 1931. Continuing his studies in the same College he obtained his B. A. Honours and then M. A. degree in Econimics and Politics (1934).

After his M. A. he worked as a teacher in a Panchaiyappa School for nearly a year, and then turned to journalism and politics which became his principal field interest in later life.

In his early life he was associated with the South Indian Liberal Federation, the organisation of the non-Brahmins, founded in 1917 by Sir P. Theagaraya and Dr. T. M. Nair. It was popularly known as the Justice Party after the name of the Party�s English daily. Annadurai served as sub-editor of the Justice. As an active member of the Justice Party, he was opposed to the Congress Party. During this period he once contested the election to the Madras City Corporation but lost.

Annadurai was deeply interested in the conditions of the poor and the down-trodden and organised small labour unions. In this field he was greatly influenced by two Communist leaders, M. Singaravelu and C. Basudev. He first met the iconoclast and agitator Periyar E. V. Ramaswamy in 1934 at Tiruppur (Coimbatore District) at a Youth Conference and was immediately attracted to him. Even after the parting of ways starting of the DMK in 1949, Annadurai continued to be magnanimous enough to acknowledge openly that the leader whom he met early in his life was his one and only leader.

As a stormy petrel of the Justice Party, Annadurai was arrested during the first Rajaji Ministry for taking part in the anti-Hindi campaigns. After release he became the editor of the Viduthalai under the aegis of Periyar at Erod. He was also associated with the Tamil weekly Kudi Arusu. In 1942 he started his own weekly, the Daviddnadu, and developed a distinct style of his own. In 1949 he assumed the editorship of a Tamil daily, the Malai Mani, started to propagate the cause of the Dravidian Progressive Federation (DMK).

He also edited till 1967 another Tamil weekly, the Kanchi. Annadurai was a good writer in English as well. In 1957 he started an English weekly, the Homeland, which continued for a few years. In 1966 he founded another English weekly, the Home Rule.

Annadurai had great interest in literature also, and early made his mark as a playwright and writer of short stories. Social reform and championing the cause of he exploited class were the principal themes of his stories and plays.

By slow degrees and relentless efforts Periyar and Annadurai provided a mass-base for the Justice Party which had been confined to a small class till then. They infused the party with radical ideas. Their efforts were crowned with success at the Confederation of the Party held at Salem in 1944, when the Party was renamed as Dravida Kazhagam (Dravidian Federation). At the same time the party dropped its pro-British attitude. These changes attracted the student community and soon the party came to have a wider following. Particularly among the young.

Though a follower of Periyar, Annadurai did not hesitate to differ with him sharply when the occasion arose. Periyar essentially a separatist, and when independence came, he wanted 15th August to be declared a day of mourning for the Dravidians. Annadurai, on the other hand, was keep on preserving national unity, although fighting for the due rights of the Dravidians within the national political framework. The split came in September 1949 when the majority of the Dravida Kazhagam under Annadurai�s leadership started the Dravida Munnetra Kazhagam (Dravidian Progressive Federation).

The DMK conducted agitational campaigns against the Congress rule in Madras, Hindi domination and spiralling of prices. The party soon became a formidable political force in Madras, and in 1957 secured a sizable number of seats in the Madras Legislative Assembly. In 1962 Annadurai was elected to the Rajya Sabha where he strongly opposed the imposition of Hindi as the sole official language of the Union. In 1965 he led the Anti-Hindi agitation in Madras. In the 1967 General Election the DMK Party obtained an absolute majority in the Madras Legislature and formed the first DMK Government, with Annadurai as the Chief Minister.

As chief Minister for about two years Annadurai showed great statesmanship and did much not only to introduce needed reforms in Madras but also to make the voice of South India heard and appreciated at seat of the Central Power. He was never against the political unity of India but he insisted that the unity would be best preserved by granting the greatest amount of autonomy to the States.

In 1965 and again in 1968 he travelled widely in Asia, Europe and America. In September 1968 he went to America again for medical treatment. He had cancerous growth in the gullet. He underwent two surgical operations in America and India which could not cure him. He breathed his last in the midnight of February 2-3, 1969. The mortal remains were laid to rest under the Marina sands.

Annadurai had his roots deep in the land of his birth and its culture. He was always dressed in simple South Indian style and presented a picture of tenderness. He was austere and quiet, but strong and dynamic when occasion needed. He had contempt for ceremonials and superstitions but was tolerant to other men�s views. A statesman and a scholar, a litterateur and a social reformer, a mass leader and a friend of poor, Anna will be ever remembered specially as the maker of the new Tamilnadu.
Aringnar Anna on Name Change of Madras State to Tamil Nadu, May 1963

[Debate in Rajya Sabha in May 1963. DMK Founder Aringnar Anna ultimately changed the name of Madras State as Tamil Nadu and fulfilled the centuries old desire of the Tamil Nation on his becoming the Chief Minister of Tamil Nadu in 1967. In 1963 he spoke in Parliament on the question of renaming Tamil Nadu. Courtesy: Dravida Peravai]

Annadurai -

Mr. Vice Chairman, I am rarely in full agreement with my friend Mr.Bhupesh Gupta, but today I rise to support him whole-heartedly, fully and sincerely. The only weakness of the Bill is that it is a non-official one. I would have liked an official Bill to be brought forward for this very necessary and very simple thing that would have satisfied millions of Tamilians in Tamil Nadu.

Many arguments that were advanced against the Bill brought forward are perhaps more due to the colour of the mover rather than the arguments advanced for its support. One Honorable Member was saying that he was not moving a Bill, which the Madras State has asked him to move. I regret very much that sometimes it becomes necessary to explain some rudimentary principles.

The Madras Government will never ask a non-official Bill to be brought forward on its behalf. If the state government wants the Bill to be brought forward, there are the state representatives in this Assembly and they would have brought it forward, and therefore, to say that the Bill cannot be supported just because the Madras Government has not asked Mr.Gupta to bring the Bill shows that their only argument to fight against the Bill is that their party or their State Government has not instructed them to act in this way.

I can well understand the political tremor in their hearts, but that is no argument against this Bill. The arguments advanced by the sponsors of the Bill for renaming Madras as Tamil Nadu have not been answered by any one of the speakers who spoke about it.

Sheel Badra Yajee: I have answered it.

Anna: I cannot understand- I very rarely understand- your language and, therefore, I do not know whether there is logic or not but I would say that some of the arguments advanced were not proper. One Honorable Member was saying that there are Telugu knowing people in Tamil Nadu, Malayalam and Kanarese speaking people and, therefore, to name Madras as Tamil Nadu will create a sort of tremor in their hearts.

May I inform this House, through you, Sir, that all these arguments were advanced and shattered in my part of the country. All these arguments did not stand the onslaught of reason and logic. For the sake of informing this House I may inform you Sir, that on 24th February 1961 the Leader of the House in the state assembly stood up to say that he was accepting part of the non official resolution brought forward not by the DMK or any other political party which is considered to be inimical to Congress, but by a PSP [Praja Socialist Party]Member.

That PSP member brought forward a non official resolution for renaming Madras as Tamil Nadu and it was discussed many days and finally the then Finance Minister and the Leader of the House Mr.C.Subramaniam, stood up to say that he was accepting a part or the spirit of the resolution and added that thereafter all publications of the Madras government would appear in the name of Tamil Nadu Government.

It is in such a way that all publications in Tamil in the Tamil Nadu government are being printed and published. As a matter of fact, after making the historic declaration on the floor of the Madras assembly on 24 th February, the very next day the Finance Minister had to present his budget and in presenting the budget, the opening words of the Finance Minister were: " In consonance with the declaration made yesterday, I am now presenting to budget for Tamil Nadu."

Therefore all the arguments that Telugu speaking, the Malayalam speaking, and the Kanarese speaking people will be up against this change in name fall to ground because part of this has been accepted by the Government.

The part relating to the amendment of Constitution, the word Madras to be deleted and the word Tamil Nadu to be inserted was not accepted.

Therefore, even the Government much less by the Madras Congress leaders cannot accommodate the sentimental arguments advanced. Sir, I am really surprised to see how ill informed my Hon. friends are, those who advanced arguments against the Bill. One Hon. Member stated here that Kollegal is in Tamil Nadu. That Hon. Member unfortunately not present in the House at present. I may tell them and his friends may tell him, that Kollegal today is part of Mysore. It has been taken away from the composite State of Madras and after the formation of linguistic states, has gone to Mysore.

If my Hon. friend is so ill informed about Kollegal, I am not surprised at his arguments that nowhere in Tamil literature does the word Tamil Nadu occur. A politician who cannot understand that Kollegal does not form part of Tamil Nadu cannot be expected to be conversant with Tamil literature. For the edification of the House and for his own edification, I will point out the names of certain books wherein the word Tamil Nadu is to be found.

These are books written 1800 or 2000 years ago. I am reading the name in Tamil but the Hon. Member who made this allegation is a Tamilian Congressman and he can understand and the Hon. Deputy Minister who will be making the reply. She being also a Tamilian may tell him. The names of Paripaadal, Pathitrupathu and more popular names of Silapathigaram and Manimegalai.

These are all Tamil classics written more than 1000 years ago and in Paripaadal it is stated " Thandamizh veli Thamizh Naatu agamellam" which means Tamil Nadu that is surrounded by sweet Tamil on all three sides. In Pathitrupathu, a classic written about 1800 years it is stated "Imizh kadal veli Thamizhagam" meaning Tamil Nadu which has got sea as boundary.

In Silapathigaram it is stated "Then Thamizh nannadu" meaning good Tamil Nadu and in Manimegalai it is stated"Sambutheevinul Tamizhaga marungil " Tamil Nadu which is called Sambutheevu.

If my Hon. Members would like to have more popular illustrations I would like to refer them to the poems of Poet Kamban and Sekkilar both of whom have definitely used the word Tamil Nadu. It was only afterwards that there were three kingdoms, the Cheranadu, The Cholanadu and the Pandyanadu. Tamil Nadu is to be found in the classics of Tamil. It is not that there is poverty of ideas in the classics.

It only shows that my Hon. friend does not spend much thought or time over the Tamil classics. I may point out for the edification of this House that when the Congress government in Tamil Nadu purchased the Jaipur Palace at Ooty known as Aranmore Palace they immediately renamed the Palace as Thamizhagam.

I am pointing this out to say that the Congress there is trying to assuage our feelings, is trying to carry Tamil Nadu people along with them by saying they have renamed the Aranmore Palace as Thamizhagam, that they are publishing all the Tamil manifestos as Tamil Nadu Government publications, that only for international correspondence they want the name "Madras".

They are not prepared to amend the Constitution. If the arguments advanced by some of the Tamil Nadu Congress people were to be read by the Chief Minister of Madras, he would turn around and say "You too Brutus". All the arguments advanced for not renaming it falls flat on the ground because even the Congress Government there does not approve of these arguments.

Another particular issue was raised here that the Bill is being brought forward only as a publicity stunt of the Communist party. Why don't we appreciate the Communist Party for its sense of political expediency? Are not all political parties interested in getting political publicity? Is publicity a heinous crime? Why do you publish reports and books on Five-year plans? Is that not publicity done at public cost? Yet you accuse other political parties saying that this is publicity.

But let me tell this House through you, that even though you defeat the Bill, he has gained that publicity. You are not going to rob him anymore of that publicity. When he comes to Tamil Nadu he can conveniently face Tamilians and say, "I pleaded for you but it is the ruling party that let you down." Therefore you have unawares walked into Mr.Gupta's snare. I would have appreciated if the ruling party had approached Mr.Bhupesh Gupta and stated, "Do not bring in this non-official Bill, we ourselves are interested in it, we will bring it forward."

Then Mr.Santhanam pointed out that we have an uphill task in retaining Madras, we had to fight with so many people and we retained Madras. I can claim some amount of credit in that fight and when I was in the thick of that fight, I did not find Mr.Santhanam by my side.

Akbar Ali Khan: At the cost of Andhra

Anna: With the consent of the Andhras, I can say that. That is because the present government there is providing even today, in the border areas, measures for safeguarding Telugu culture and for imparting Telugu language. Therefore though Madras has been taken by Tamilians, we have no enmity with the Andhras.

But my friend Santhanam was saying that it was such an uphill task, retaining Madras that we would like to keep Madras. This is not a question of keeping Madras or giving it up. This is the question of keeping Madras in Tamilnadu and renaming the state as Tamil Nadu. Madras, after all is the capital city of Tamil Nadu, as Ahamadabad happens to be the capital city of Gujarat, as Chandigrah happens to be the capital city of Punjab.

If this logic of naming the state after the name of capital city is to be followed, Kerala should be renamed Trivandrum, Andhra is to renamed Hyderabad, Punjab is to be renamed Chandigarh and Gujarat to be renamed Ahamadabad.

Bhubesh Gupta: And Bengal should be renamed Calcutta.

Anna: My government, my Congress government in Madras is interested in bilingualism. That is because its head Government is interested to have two names for everything, India that is Bharat, Jana Gana Mana and Vandhe Madaram. They always want to keep two blocks.

Take something from here, take something from there. So the Madras government is having Tamil Nadu for the consumption of Tamilians and Madras for all India consumption.

It is a very awkward word "duplicity". And that is why my friend Mr.Bhupesh Gupta was saying that some of the congress people talk in one way there and talk in another way here. No Congress can face a Tamilian audience and say that the name Madras should be retained. I challenge it.

T.S.Pattabhiraman {Madras}: We have faced it during the agitation of Tamil Arasu Kazhagam and my friend knows it. What he is saying is complete travesty of facts.

Anna: I know how Pattabhiraman faces agitation. I wont say it. Let us not face each other as Congress and DMK. Let us face the Tamilian public on this single sanctified issue of renaming the state and if you carry along with you 51 percent of the people I am prepared to bow my head before you. This is not a party issue at all. The renaming of Madras as Tamil Nadu has been accepted by the Communist Party, by the DMK, by the PSP and you will be surprised, by the Madras branch of Swatantra Party too. Therefore all parties are one in this issue of renaming Madras as Tamil Nadu.

T.S.Pattabhiraman: None of them put it in their election manifesto.

Anna: I would present a copy of the DMK election manifesto to him tomorrow. I am sure Pattabhiraman knows Tamil. This issue has been an issue for more than 10 to 15 years. He was saying that only Tamil Arasu Kazhagam was fighting for it. It is true partially because it was only the Tamil Arasu Kazhagam that started an agitation for it, but all other political parties were immensely intimately interested in this issue.

They have printed it in their manifestos, in their political speeches and no District Conference of DMK took place without passing this resolution of renaming Madras as Tamil Nadu. Therefore it is not simply on the spur of the moment that I am pleading for it. My sorrow is that my friend Mr.Bhupesh Gupta had stolen the thunder from me by sponsoring this Bill. But for that, I would like to present before this House that this has been an issue all along in Tamil Nadu.

And they have not answered Mr.Bhupesh Gupta; What do you loose by renaming Madras as Tamil Nadu? Nobody has answered that.

N.M.Lingam [Madras] Anyway what do you gain by renaming it as Tamil Nadu?

Anna: What do I gain? What have you gained by renaming Parliament as Lok Sabha? What have you gained by renaming Council of States as Rajya Sabha? What have you gained by renaming President as Rastrapathi? Therefore I say what do you loose? This is important because if you were to loose something precious, we would not press for it. If you do not loose something fundamental, we will press for it.

The other point was raised, what do you gain? We gain satisfaction sentimentally; we gain satisfaction that an ancient name is inculcated in the hearts of millions and scores of millions of people. Is that not enough compensation for the small trouble of changing the name? Therefore all the arguments that have been advanced have been shattered.

They have advanced an apologetic argument saying that if the State government had come forward with this, we would have accepted this. And they are perfectly aware of the composition of the State legislature where the Congress party is in a majority. Would you ask the Congress member in Madras State legislature to vote for such a bill if it were to come there, without party whip? No

T.S.Pattabhiraman: Your party members could have brought forward a resolution in the House and changed the name. Why have you not done it for past seven or eight years?

Anna: I am coming to that. When we present such a bill to the Madras legislature, they say that if you want to rename, an amendment to the constitution is necessary and an amendment of the Constitution is possible only when you go to Parliament.

T.S.Pattabhiraman: I am saying a resolution, not a Bill. A resolution can be made.

Anna: I may say for the information of the Hon. Member that we pressed this point during the discussion on the non-official Bill of PSP. In fact we even staged a walk out. The DMK and Communist party joined together in the walk out. That is our numerical position there. When the non-official resolution was discussed in the Madras assembly we pressed for the constitutional amendment and the only explanation offered to us was that it was only possible at the level of Parliament. And when we come to Parliament we are asked to go back to the state legislature. We are asked to go to Parliament because you are entrenched in both places not because your logic is sound but simply because you are entrenched in both places.

G.Rajagopalan [Madras] We are entrenched because the people vote for us. It has been discussed even during elections. There had been fasts by certain members and one person even lost his life after fasting. Even after that we won elections. That shows the people still want as it is- not for the satisfaction of some politicians who want a slogan.

Anna: Madam Deputy Chairman, I am very glad that the discussion is becoming very interesting. But I may say for the information of the House that DMK has nothing to do with fasting. The fasting was undertaken by a non-party man, in fact a relative of the Chief minister of Madras Mr.Sankaralinga [Nadar}. And to say that in spite of fasting you have not changed shows how human you are. Therefore the question was discussed there. We were asked to go to Parliament. When we come to Parliament we are again sent back to legislature. In both places the answer is as my Hon. friend had stated, " The people had voted for us". Well that is a fact, a tragic fact, and a black fact that ought to be seen.

G.Rajagopalan: In spite of you tragedy is still there

T.S.Pattabhiraman: He says tragedy will be permanent. The tragedy of Congress getting a majority at every election will be a permanent feature and we are prepared to accommodate you.

Anna: Madam Deputy Chairman my friend was saying that this tragedy is going to be permanent. Woe to the country and to the people. That is all what I can say. But I would like to press this point that a Constitution amendment can be thought of and made only through Parliament. That is why we have approached The Parliament. If any amendment is brought forward on this or any suggestion is given that it should be circulated to gather public opinion, we take up that challenge. I do not ask you to take this as an election issue. Do not be afraid of that.

[Interruptions]

We are not making it an election issue. This is an issue to be taken to the people for getting their consent or otherwise. That is not going to affect your offices. Nobody thinks about that. You may remain there. This is not a question of analysis of our different parties. This is a question wherein a particular issue has to be referred to the public. Are you prepared for that? That is what we ask. You are not prepared for that and that is why I say

N.M.Anwar [Madras] Madam on a point of information I have got the highest respect and regard for my good friend Mr.annadurai. But will he kindly explain what there is in retaining the name Madras that has got such worldwide publicity? How is he going to meet that point of view? Where is the difficulty in retaining this worldwide name of Madras?

[Interruptions]

Anna: The only point in answer to the Hon. member Mr.Anwar is this. What we gain is our sentimental satisfaction and status of our ancient land. If in Madras we change the name of China Bazaar into Nethaji Subhas Chandra Road nothing is changed in the street but something is changed in our thinking, in our soul, in our fibre. That is why we are pressing for it. Not because we think that keeping Madras will be wrong.

N.M.Anwar: My question is not that. We agree that there is something good in calling it Tamil Nadu. But what is your allergy to Madras, which has got a worldwide publicity.

Anna: My allergy is if Madras is used as name of the state, you confuse the capital with the state. Madras is the name of the capital city. Tamil Nadu is the name that ought to be given to the state. There ought to be a distinction between the name of the state and its capital, and therefore, I whole-heartedly support the Bill brought forward and I would commend it to the House.

On 96th Birth Anniversary - R. Kannan, Heads Civil Affairs with the U.N. Peacekeeping Force in Cyprus, Courtesy Hindu, 15 September 2005
Today is the 96th birth anniversary of Anna. His sense of mission, his simplicity, compassion, and talents may seem outmoded. But so long as human values remain a worthy goal, his legacy will be relevant.

THE NIGHT of March 5, 1967, C.N. Annadurai, known better by his diminutive `Anna' or elder brother, remained sleepless. There was reason to be excited. He was to be sworn in Chief Minister of Madras State the next day. But it was not his Dravida Munnetra Kazhagam's flush of victory against the Congress Goliath that kept him in that state. Anna explained: "I was wide awake through the break of dawn. I visualised huts, the faces of those in search of food and those waiting in queues, with their legs aching, before ration shops. I kept wondering how I could remedy the situation. I could not fall asleep."

Anna opted for public life over a potential career to serve. Office, Anna soon realised, was also a sentence. Only 20 days into his new job, he wrote dolefully: "I am already tired of my new ministerial status filled with mirthless laughter, contacts devoid of context and insipid conversations." He wondered how Congressmen had spent 20 years in this state.

Let us be clear. Anna was neither antipathetic to power as an instrument nor averse to the Machiavellian machinations that politicking entailed. In fact, he parted company with his mentor E.V. Ramasamy (Periyar) in pursuit of power. He possessed great equanimity and a vision.

In his four decades of public life, Anna espoused social justice, regional autonomy, and the interests of Tamils and Tamil Nadu. As party leader, he felt secure unlike many others in similar positions. While nurturing talent and leadership within the party, he remained faithful to democratic precepts � staying clear of nominating an heir even when he was afflicted with a serious illness. In the end, the party witnessed an organic choice in the election of `Kalaignar' M. Karunanidhi.

The DMK was Anna's family. Partymen or thambis (younger brothers) found their Anna at once awesome and accessible. The thambis and their families began to internalise Anna's successes and defeats as their own, even as their elder brother instilled self-esteem and Tamil nationalist pride in them. Anna treated all thambis with equal affection although he showed great judgment and foresight in tapping their potential. He thus invited the genial `Navalar' V.R. Nedunchezian, an Annamalai University graduate, to take over from him as party general secretary. Early on, a multifaceted Mr. Karunanidhi attracted Anna's attention for his organisational and other abilities. Anna also skilfully utilised the services of the charismatic actor, `Makkal Thilagam' (the people's darling) M.G. Ramachandran.

To one hailing from a modest family background, a backward class scholarship brought a college education in Madras. Drawn to public service and the non-Brahmin ferment, Anna resigned his job as schoolteacher and spurned other offers and suggestions of employment. Anna's gifted oratory and �lan in both Tamil and English marked him out quickly. Together with Periyar, he espoused rationalism, social justice, and an independent south India (Dravida Nadu). A more mellowed Anna, secular to the core, later described himself as a Hindu sans the sacred ash, a Christian minus the holy cross, and a Muslim without the prayer cap. He was also to give up the Dravida Nadu demand, although he had seen separation as a panacea and believed that Pakistan's emergence would have a domino effect.

Barely 40 years old, Anna had founded the DMK in 1949. The young leader beckoned `thazhntha Tamizhagam' (the fallen Tamil nation) to rise to its former splendour through his dazzling powers of oratory and writing. Anna's plays, Chandrodayam (Moonrise), Oar Iravu (One night) � Anna literally wrote it overnight � Velaikkari (Servant Maid), Sorgavasal (The entrance to paradise) and Needhi Devan Mayakkam (The Judge's dilemma), heralded a new era of social introspection and revolutionised an entertainment industry long captive to epics and legends. His script was no less scintillating.

The poet, Bharatidasan, and the nationalist journalist, Kalki Krishnamurthy, aptly called Anna Arignar (scholar) with the latter comparing him with playwright George Bernard Shaw. As Anna's genius enlisted actors N.S. Krishnan, K.R. Ramasamy, Sivaji V.C. Ganesan, D.V. Narayanasamy, S.S. Rajendran and M.G. Ramachandran in the party's service, the organisation grew in strength. It finally captured power in a span of just 18 years.

But how has Anna's legacy fared since? Institutionally, social justice � Anna's main plank � remains strong. The unanimous demand from political parties for legislation to undo the effects of the recent apex court judgment on affirmative action in self-financing colleges is a classic case. In practice, however, the sense of alienation of the Adi Dravidas (Dalits) in Tamil Nadu and also elsewhere appears to have accentuated. While the intermediary communities and individual Dalits have shown social mobility, a cross-section of them seems to feel excluded despite the Dravidian parties' casteless and social welfare moorings. The emergence of caste-based and exclusive Dalit organisations is testimony that Anna's vision of inclusiveness has not been fully realised. Some parties seem to have reacted by installing the depressed classes and women in senior positions. Institutional arrangements notwithstanding, it is time to de-emphasise caste-based politics and vigorously promote social reform.

Cooperation and opposition

Ironically, the proliferation of regional parties has achieved little in securing more power for the States. In Anna's native Tamil Nadu, the Congress remains permanently emaciated. The Dravidian parties, which between themselves have a two-thirds share of the popular vote, remain the largest players. Despite their long stint in power and their significant roles in coalition governments at the Centre, their influence is yet to fully translate into the State's gains. Anna's political philosophy of "opposition if necessary and cooperation where possible" is eminently worth recall.

In retrospect, Anna's Dravida Nadu demand might be interpreted as a carefully preserved negotiating position for regional autonomy leading to a more equitable distribution of power, wealth, and resources between the Centre and the States. Regretfully, however, the Sarkaria Commission recommendations on Centre-State relations continue to gather dust even as regional parties concentrate on power-sharing at the Centre. Compare this with Anna's disinterested response to Congress leader P. G. Karuthiruman � the latter wondered about Anna's reaction in the wake of speculation that his Government might face punitive action for excluding Hindi from government schools as part of the DMK's two-language formula. Anna's response was that he would tender his resignation and leave as happily as when he had taken office. Today education remains on the concurrent list (since its transfer in 1976 from the States' list, a post-Anna development). Is anyone seriously interested in getting it back to the State list?

Language was an important issue during Anna's time. Some might argue it remains crucial even today. It is important to note that Anna himself had an open mind on the question, asking only for a home-grown solution over a period of time. He wanted all `regional languages' to have the status of national languages. This is yet to become a reality.

Apart from practicalities, concerns about the quality of education, governance, and integration remain. It is surely a matter of satisfaction that civil servants who did their exams in the `regional languages' have proved just as able and committed as has anyone else. Anna would have treated the question of language as a personal one, leaving the choice in the individual's hands. Besides, globalisation and the Internet revolution seem to have taken the political sting out of the language issue.

Thirtysix years on, Anna appears ubiquitous in Tamil Nadu. His statues abound even as thousands of streets and hundreds of institutions and buildings proclaim his name, thanks to the efforts of those claiming his legacy. Yet Anna remains at best a symbol. His individual thambis and thangais (younger sisters) are a generally prosperous lot. The elder brother, however, might have found a large majority of them otherwise poor. Anna's sense of mission, his simplicity, compassion, and talents may look outmoded. But so long as human values remain a worthy goal, his legacy will be relevant � he cared not for those who could help themselves, but for those who needed help.

Anna�s Birth Centennial Anthology � Part 1: Poet Kannadasan�s Lament - Sachi Sri Kantha, 3 February 2009 [see also Part 2: Panruti Ramachandran�s Essay and Part 3:

Anna in the Dock

and

Part 4:

Anna at Rajya Sabha

on Dravidstan & Secession

]


Annadurai Funeral Procession 3 February 1969

---

That polymath Conjeepuram Natarajan Annadurai (Anna, 1909-1969) had been badly served by the infighting of his beloved thambis (lieutenants) is a curse to befall the Tamils. One usurped the reins of DMK, by back-stabbing the designated heir apparent. Another one, peeved by the power and stronghold of the usurper, then left the party founded by Anna, and established his own party, tagging to it Anna�s name as a moniker. A few others, like poet Kannadasan (1927-1981), who had parted company with Anna while he was alive, occasionally lamented on the magnanimity of Anna. This being the birth centenary year of Anna and the 60th anniversary year of the founding of DMK by him, I bring to limelight some items and issues that have eluded the Anna scholars.

Poet Kannadasan�s Lament

I begin this Anna�s birth centennial anthology series, with Kannadasan�s lament on the last days of Anna, and what he had watched first hand. This material appears in the volume 2 of Kannadasan�s posthumously published autobiography Mana Vaasam (1988) in Tamil. I have translated into English, the chapter 28, entitled �Ithu Thaan Jathakam� (This is the Horoscope, pp. 192-197). Kannadasan had modestly addressed himself in third person singular in Tamil, �Avan� (He). Kannadasan�s passing reference to �another person� in this memoir is self-explanatory and refers to the current Tamil Nadu chief minister Karunanidhi.

�Anna wanted to see him, but he had rejected it. Later, he thought about it for long. �He had been friendly with him. We also loved him. Whatever the reason, he wants to see me when he is down. If I reject this, it will be an ingratitude�. After thinking long, he picked up the phone; called Anna, the chief minister.

I�ll come to see him that night itself. Anna�s assistant Mr. Gajendran who received the message on phone had scheduled the time. That night, he with R.S. Pandian and two more friends, visited with Anna at his house in Nungambakkam. Expecting him that night, Anna had relieved his security that night.

When he went in, Anna was struggling to eat the white protein of one egg, while coughing repeatedly. Anna asked him, �How are you? Are all your kids keeping fine.�

�We are all fine. How are you Anna?� he asked.

He said: �Nothing had get set up�, while coughing. For half an hour, he sat in front of Anna. Anna couldn�t speak. Mr. Arangannal came nearby to talk. Anna looked at his face and sighed �Go � Go�. After a while, Anna looked at him and said, �Still not feeling well. Can you come tomorrow evening?�

�OK Anna�, he left. Returning home, he wrote a letter in his Kaditham paper, �God, Please help Anna�. In that letter, he wrote, �His life with cough is full of complexities. Doctors have lost the ability to save Anna. Hereafter, only God can save Anna�.

Next evening, he heard that Anna had been admitted to Adaiyar Hospital. Anna never bothered about diseases and ill health. Until then, he never took any pills; not a single injection. Operation in America couldn�t help. If death was the endpoint for that disease, his body could have been cared like a flower without shredding it.

In this country, treatments that increase the pains are numerous. Is Adaiyar Hospital the Lord�s House? It�s merely a place of rest, but cannot protect the soul.

He realized that Anna is nearing death. More than him, another person got the message clearly. He called that person and complained, �What you�ll have done?�

That person responded, �What can we do? He doesn�t listen to any of us.�

If the temple head priest falls ill, his prot�g� will break coconut to Lord Yama!...like that.

He couldn�t doubt that some were anxiously awaiting for Anna�s death. All the bigwigs of DMK from Tamil Nadu landed at Adaiyar Hospital. Even near Anna�s head-board, this camp-grouping scene occurred.

In the party, Anna was No. 1; Nedunchezhiyan was No.2 among the ranking leaders. After Anna�s death, this ranking was to be disrupted.

Whether Navalar [Nedunchezhiyan] realized it or not, he clearly grasped it. Only he could know the horoscopes of some bigwigs of Kazhagam. Even Anna had felt this. He wished that nobody would disturb his peace. Doesn�t he know that there are folks who thank God for the disease that had crippled him? But there were many who really dripped blood tears for Anna�s misfortune.�

It is to the credit of Kannadasan that ,while he was alive he had accurately anticipated the misfortunes of DMK party in the post-Anna phase. To quote Kannadasan again,

�That Anna had died fell on his ears like a loud thud then. Unexpectedly such a tremendous gathering wailed and convulsed. His last journey was attended by millions who thronged to Madras. Right or wrong, he wrote an elegy �Anna�s Long Journey� in his Thenral journal. Even the meaning of its title, he could grasp only after a long time.

Anna had rested near the Bengal seabeach. None of the doctors cannot need him thereafter. Then only, the history turned. The younger sibling killing the elder to gain the crown � the son killing the father to rule � These stories of Nawabs recurred in the DMK�s second part.

Knowingly or unknowingly, MGR had supported Karunanidhi. That MGR was siding with Karunanidhi made it easy for the latter to gain an upper hand. Thus, rejecting Nedunchezhiyan�s claim and making Karunanidhi the leader came to be an easy task.

In those days, Karunanidhi met MGR in morning and afternoon. Party�s MLA�s met and Karunanidhi was chosen as the leader. Navalar and Madhavan cried and complained at Anna�s tomb. Before the tomb�s moisture dried, it appeared that the party may split in two. But, Karunanidhi with his shrewd skills saved the split then.

Karunanidhi�s horoscope had lucky streaks then. After he became the chief minister, the Congress Party came to split.�

For comparison, I provide Karunanidhi�s version on how he succeeded Anna as the DMK leader in 1969 from his autobiography, Nenjukku Neethi (vol.1, 1985, 2nd ed., pp. 751-752). Here is its English translation:

�To follow the Indian Constitutional rules and tradition, within half an hour of Anna�s death, a new temporary cabinet took oaths at the Governor�s Mansion in Guinty. Navalar (Nedunchezhiyan) became the temporary chief minister. Other ministers took oaths for their respective ministeries.

Next, to form a permanent cabinet, a meeting of DMK MLAs� was held on Feb.10, 1969 to select the DMK leader of the legislative assembly. Late minister A. Govindasamy presided that session. Following the election, to the reporters awaiting outside, Navalar announced that �Mr. M. Karunanidhi was elected unanimously as the leader of DMK MLAs.� That evening itself, I took oaths as the chief minister of Tamil Nadu at the Governor�s Mansion in Guinty.�

Kindly make note that the events and the roles played by MGR and Nedunchezhiyan as described by Kannadasan, does not appear in Karunanidhi�s version.

Mohana Muhari and a Musical Glimpse of Anna

The following anecdote, I had recorded as a brief feature in a note that appeared in the Sudar(Colombo) magazine in Oct. 1980. Unfortunately, I cannot recollect the original source of this authentic anecdote, mentioned in my note of Oct. 1980. And I also don�t have a copy of my Sudar note with me now to verify the original source. I have no doubt that it�s an authentic story, since as a fan of Karnatic music, I enjoyed its appeal as it featured one of my favorite singers Chidambaram S. Jayaraman, a brother-in-law of Karunanidhi.

Jayaraman�s inimitable tremolo voice is well known to Tamils, for its scintillating nuances and resonance. His enunciation of Tamil words had a mystic charm and grace. He even had a title Tamil Isai Chittar (Tamil Music Mystic). Though his voice can amply depict any mood, Jayaraman was considered as an exponent in eliciting profound pathos. His countless Tamil movie songs of 1940s and 1950s, that remain popular even now, attest to this fact. Since he was considered as a DMK pillar, in those days Jayaraman was not permitted to give music concerts in Ceylon. If memory serves, Jayaraman visited Colombo in 1968 at the invitation of then Ceylon Broadcasting Corporation�s ghatam artist Guruvayoor K.K.Atchuthan master merely as a �tourist�, but was not allowed to give concerts!

Mohanam and Muhari are two well known ragas in the Karnatic Music lexicon and have entered the Tamil language as separate idioms. While Mohanam represents the joy mood, Muhari symbolizes the pathos. Once Anna taught of a caption �Mohana Muhari� for one of his columns. Just being practical minded, he requested to hum the ascension notes of Mohana raga and decension notes of Muhari raga, to Chidambaram Jayaraman, who was nearby. Jayaraman, was astounded when he hummed the ascension-decension notes of the two ragas in a combinatorial mode. Anna had created a new raga � Mohana Muhari, not recorded in the Karnatic Music lexicon. Jayaraman then pleaded to Anna in banter, �Anna � you better limit your range to oratory, prose and drama. Just leave the music to us. If not, you�ll make us starve.� That banter of Chidambaram Jayaraman � a master singer, stage-movie actor and a music director of repute � was Anna�s pleasure to enjoy.

Anna�s Point-Pedro Connection

That atheist and social reformer E.V. Ramasamy Naicker (1879-1973) was Anna�s mentor is well known to many. But, before Naicker, Anna had a theist mentor and beneficiary at college is not that well known. Anna was a student at the Pachiyappa�s College, Chennai, from 1928 to 1933. The principal of Pachiyappa�s College at that time was one K. Chinnatambi Pillai (1860 - ?). About this principal, little is known or remembered now, though he might have played the Socrates role to Anna�s Plato. But that Chinnatambi Pillai was from Point Pedro has been recorded. I learnt about this educationist, from a short entry in S. Arumugam�s collection, A Dictionary of Biography of Ceylon Tamils (London, 1996, p. 38). It is as follows:

�K. Chinnatambi Pillai, an uncle of S. Nadarasar, university lecturer, Colombo, was from Puloly, Point Pedro. He proceeded to Madras, for higher studies, on completion of which he became a teacher at Christian College, Madras. Eventually he rose to be principal of Pachiappa�s College, Madras. It is said he encouraged and helped C.N. Annadurai to continue with his studies, when he was in difficulties at college.�

From a website dedicated to Anna (http://arignaranna.info/), a few descriptions appear about principal Chinnatambi Pillai. One contemporary teacher at the college in late 1920s, C. Ramachandran, had noted that �Mr. C. Chinnatambi Pillai, was the Principal with sacred ash and sandal wood paste displayed prominently on his forehead.�

Another teacher named Prof. Krishnamurthy had recollected: �I still remember the school principal�s reference to Anna: �This youth has a bright future. He will be the leader of hundreds of thousands of folks, and he will revolutionize this land���

As the story goes, Anna had passed the intermediate exam in first class. The principal Chinnatamby Pillai wished to have Anna enrolled in the B.A. honours class. But due to limited family means, Anna wished to enroll in the ordinary B.A. class and graduate in two years, to take some kind of a job to support his family. A three year study was needed to complete the B.A. honours degree. The principal influenced Anna�s mind positively with the allure that he would make special provisions for Anna�s free education and thus made Anna to complete the B.A. honours degree. That the well-meaning timely assist of mentor Chinnatamby Pillai was a gift that changed young Anna�s career cannot be doubted. Observers could note that the brand of atheism adopted and popularized by Anna in the late 1930s and 1940s differed from that of his political mentor Periyar, by a degree or two. This variance can be attributed to the influence of Anna�s theist mentor Chinnatambi Pillai at Pachaiyappa College.

Anna the Genius - G.V.K.Aasaan, Modern Rationalist, September/ October 2008

The birth centenary year, 2008-2009, of one of the greatest Tamil leaders of modern history commences on 15th September, the day and month on which in 1909 Chinna Kaanchipuram Natarajan Annadurai was born.

Chinna Kaanchipuram is part of Kaanchipuram, the capital of Pallava Kings, the ancient seat of learning, a place where Jainism and Buddhism, and then Saivism and Vaishnavism contended to gain supremacy.

Parents

Natarajan and Bangaru Ammal, father and mother of C.N.Annadurai, belonged to a lower middle class family engaged traditionally in spinning and weaving. While in the elementary school, he used to attend to the simple jobs connected with this occupation. As a student of the local high school, he voluntarily learned tailoring in the spare time. Among the members of his family, his maternal aunt (younger sister of his mother) Rajamani, fondly called �Thotha�, had the greatest influence on the growing boy.

In the college

As a student of Pachaiyappa�s college, Madras (now Chennai) C.N.Annadurai finished with distinction his Intermediate course , and then M.A. in economics in 1935. While in college he married Rani Ammal in 1930.

While in college he took part in debates and won prizes in the inter-collegiate oratorical contests. He served as the Secretary to the College Union and as the Chairman of the College Economics Association.

Fresh from college

Before going to Chennai for college studies, Annadurai worked for some time as clerk in the Kaanchipuram Municipality in 1927. After obtaining M.A. degree, he worked for about a year as teacher in the Govindu Naicker School in 1935.

C.N.Annadurai edited Bala Bharathi and later Nava Yuvan, Tamil weeklies published from Madras. He also served as a sub-editor of Justice, English daily of South Indian Liberal Federation (Justice Party), under the aegis of the Raja Saheb Bobbili, the then Chief Minister of the (composite) Madras State.

In the meanwhile Anna had taken part in labour union activities; he contested the Madras Corporation election from Peddunaickenpet as Justice Party candidate and lost in 1935. In the elections to the Provincial Legislative Assembly held in1937 under the 1935 India Act, he campaigned for the Raja of Bobbili along with P.Balasubramaniam and T.A.V.Nathan.

Became Periyar�s disciple

The spark of idealism in young Anna made him an admirer of the Self-Respect Movement of Periyar E.V.Ramasamy. He joined the Self-Respect Youth League in 1930. He met his mentor for the first time in 1935 at a conference in Tirupur, a textile centre between Coimbatore and Erode. Anna had just finished his formal collegiate education. Periyar enquired him of his future plans. Anna expressed his wish to enter public service. Periyar was very much impressed by this attitude of Anna. While unveiling the portrait of Anna, along with those of Dr. B.R.Ambedkar and Pandit Jawaharlal Nehru, on the occasion of the inauguration of Forum of Thought, at Vada Kovai in Coimbatore on 2nd September 1970, Periyar referred to this rare attitude and said: �At a time when educated persons were seeking the security and comfort, prestige and authority of the life of bureaucrats, Anna wanted to serve the common people. When the popularity of Congress party was rising, he came forward to propagate the ideals of Self-Respect, racial dignity and the principles of rationalism. He swam against the current. Being a genius he succeeded in his efforts to a great extend.�

Anna was coming closer to Periyar from 1937. He presided over the Thuraiyur Self-Respect Conference (Thuraiyur is 50 km north of Tiruchirappalli). When C.Rajagopalachari, the then Chief Minister of Madras State, made the study of Hindi compulsory in the high schools, the people of Tamil Nadu opposed it cutting across party differences. They raised the slogan Tamil Nadu for Tamils. Periyar spearheaded the agitation against this attempt of linguistic imperialism and cultural domination. Anna participated in the agitation leading a team of volunteers, and was imprisoned for four months. This happened in 1938 and in the same year he became the editor of Viduthalai, the Tamil Daily that Periyar was publishing from Erode. He was also on the editorial staff of the weekly, Kudi Arasu. He became the Secretary of Justice Party in 1939. In the next year, the Justice Party conference was held in Tiruvarur. Anna seconded a resolution that demanded Dravida Naadu for Dravidians.

In 1942, Anna founded and edited his own Tamil weekly Dravida Nadu, publishing it from his native town Kanchipuram. This he continued to edit for more than twenty years. He also edited the following during the various stages in his life: Malai Mani, Tamil daily, Nam Naadu, Tamil daily, Kaanchi, Tamil weekly, Home Rule, English weekly, Homeland, English weekly.

His reputation rises high

In 1943-44, two events of the same nature took place in Anna�s life, marking a take off stage in his reputation, specially among the educated youth and the students. He participated in two public debates against two great Tamil scholars, and came out successful in both, justifying his point of view. �Should the Ramayanam of Kamban and Periya Puranam be burnt?� was the subject of the debate. The Tamil scholars were admirers of the two works as great literary creations. But Anna, following Periyar�s policy, wanted them to be destroyed as they degraded and enslaved the Tamils to alien culture, made the common people crippled in outlook and superstitions in practice. The first open debate took place at Law College Chennai, on 9th Feb., 1943 and the second one at Sevvaipet, Salem on 14th March 1944. Prof. R.P.Sethupillai in Chennai and Naavalar S.Somasundara Bharatiar in Salem took the stand against Anna in the debate. In both the debates Anna established incontrovertibly that the Tamil literature based on principles of Hinduism would be injurious to the distinct culture and the Self-Respect of the Tamil people.

So far he had been known as C.N.Annadurai or C.N.A. or Anna. From now on he was popularly known as Arignar Anna. Arignar means genius in Tamil.

The impact of Anna�s speeches and writings

Arignar Anna was a keen and sympathetic observer of the social life around. He read widely and thought deeply. He used his unique oratorical skills to propagate and explain his point of view with telling effect. Even as a writer he established a style of his own. His writings and speeches were marked by euphony and alliteration. He used simple and interesting metaphors, similes and analogies to make his ideas and arguments interesting and convincing. His essays, editorials, short stories, humorous skits, novels and plays, whether polemical or pensive, became very popular, and the readers, particularly the youth, eagerly waited for the arrival of the periodicals that carried his writings, and the books he had authored. Reading them avidly and listening to his interesting and instructive talks, the common people felt their horizon widening and they imbibed the spirit of renaissance and self-respect. Several thousands gave up their faith in traditional gods and began to ridicule the ludicrous behaviour of deities, described in Vedas, Ithihasas (epics), Puranas (mythologies) and other �holy� Sastras (scriptures).

Demands and cinemas

Besides being a commanding orator and a charming writer, Anna was also a fascinating actor. People thronged in thousands to see him acting in his own dramas like Chandrothayam and Sivaji Kanda Indu Rajyam (The Hindu Raj founded by Sivaji). His plays - Nalla Thambi, Oer Iravu, Velaikkari and Sorggavaasal - were filmed after independence in 1947, and they became very popular cinemas. Popular stage and cine actors who stood by Anna in early years were D.V.Narayanasamy, K.R.Ramasamy, N.S.Krishnan and S.S.Rajendran. Sivaji Ganesan left him in 1950s and M.G.Ramachandran joined DMK at about the same period.The stage plays and films extended the propagation of the ideas and ideals of socio-economic changes, intellectual emancipation, rationalism etc among several lakhs of people and also made Anna a very popular leader of Self-respect movement, next only to Periyar.

A new demand

While Periyar�s Self-respect movement fought primarily against birth-based social oppression and exploitation under Varna-Jaathi (caste system), sanctioned and sanctified by vedic principle and the Hindu religion, a very important political measure, inimical to the Tamils as a nation or race, was introduced in 1938 by C.Rajagopalachari (Rajaji) in the form of compulsory study of Hindi language in the High school classes of composite Madras province of which he was the Chief Minister for about two years between 1937 and 1939, heading the Congress ministry that came to power under the 1935 Government of India Act. The non-Hindi speaking people naturally felt that they would become second-class citizens and their distinct culture and other interests would come under the domination of north Indians. So cutting across the divisions of caste, creed, parties etc., the people of Tamil Nadu raised the demand : �Tamil Nadu for Tamils� from 1937-38. As the composite Madras province of those days consisted of parts of Andhra Pradesh, Karnataka and Kerala, the slogan �Tamil Nadu for Tamils� got transformed into �Dravida Nadu for Dravidians� after 1940.

After the reorganisation of States on linguistic lines in 1956, Periyar explained that his demand for Dravida Nadu meant thereafter only for Tamil Nadu. His demand for a sovereign state was prompted primarily by the fact that the combination of the Brahmin and the north Indian capitalists (Bania) stood in the way of bring about social equality and promoting social justice.

Arignar Anna conceived Dravida Nadu as a federation of four southern states that have geographical contiguity as well as linguistic and racial affinity - Tamil Nadu of Tamils, Andhra Pradesh of Telugus, Karnataka of Kannadigas and Kerala of Malayalis. But after Chinese invasion in 1962, he gave up the demand for such a sovereign federation, and emphasised the need for state autonomy and linguistic equality as basic requirements to make Indian federation a perfect one.

But our consideration of one particular political aspect, namely the demand for Dravida Nadu, has made us deviate from the chronological sequence in Anna�s life. Let us resume it.

In December 1938, when Periyar was in prison for participating in agitation against imposition of Hindi, he was elected the President of the South Indian Liberal Federation (Justice Party). Anna, who was editing, Viduthalai, the Tamil Daily, from 1939, was elected the Secretary of the Justice Party in 1939. He seconded the resolution � Dravida Nadu for Dravidians� at the August 1940 Provincial conference of the Justice Party in Tiruvarur.

During Second World War, Periyar permitted his Viduthalai to be utilised by the British Government as an organ of propaganda to fight against Italian Fascism, German Nazism and Japanese militarism. So Anna published his own weekly Dravida Nadu from Kancheepuram from 1942. In 1943, his social drama Chandrodayam was staged, he himself acting the role of the hero, Durairaj.

Dravidar Kazhagam


The year 1944 marked a turning point in the history of Tamil Nadu. It was in that year on 27th August the Justice Party and the Self-respect Movement merged as one organisation known as Dravidar Kazhagam under the leadership of Periyar by a famous resolution moved by Anna in the Provincial conference of the Justice Party in Salem. Though the resolution stood in the name of �Annadurai�, the prime mover or the real force behind the move was Periyar. And Anna fully shared his views.

Anna became the General Secretary of Dravidar Kazhagam

Justice Party was started in 1916 by great stalwarts Sir Pitty Theogarayar, Dr.T.M.Nair and Dr.C.Natesanar to work for the upliftment of the non-Brahmin community. Well known leaders like Sir A.Ramasami Mudaliar, Sir K.V.Reddi Naidu, Sir.R.K.Shanmugam Chettiar, Sir P.T.Rajan, Raja of Panagal P.Ramarayaningar, Sir A.P.Patro, S.Muthiah Mudaliar, O. Thanikachalam Chettiar, W.P.A. Soundarapandian, Sir A.T.Pannirselvam, Ramachandran Servai etc., guided the party and served the common people by implementing several socio-economic measures, and by doing justice to various communities. The Justice Party was in power in the composite Madras State from 1921 to 1937, except for an year in 1927. Though incorruptible as administrators and politicians, the leaders who rose to some position at a later stage clamoured for offices and titles. Moreover, the influential among them were aristocrats - Zamindars, big landlords and business men. All these factors alienated the Justice Party leaders from the ordinary people.

The main resolution at the 1944 conference also demanded that the members of newly named Dravidar Kazhagam should not hold any office of power in the government, nor should they either accept or retain the titles conferred by the government. The old guards who formed the elite section in the party were dissatisfied with this decision. They claimed that they constituted the �real� or �original� South Indian Liberal Federation (SILF) popularly known as Justice Party. But they could not function effectively.

Social change

In the meanwhile Periyar and Anna were able to build up Dravidar Kazhagam as a broad-based dynamic movement mainly with the support of the socially deprived poor and the lower middle class youth. The movement fought against social degradation and inequality by eradicating caste and supestitious beliefs that perpetuated the social evils and disabilities. It sought to promote social justice and basic transformation on egalitarian lines, through intellectual awakening and the pressure exerted on the rulers by citizens imbued with the spirit of Self-respect. In place of Justice Party�s flag with maroon colour having the emblem of balance (scales), the DK had designed a new flag - with a red circle in the middle surrounded by black. The black background represented the feeling of sorrow of Dravidians caused by the condition of their social and religious degradation for several centuries. The red circle stood for their awakening and determined efforts to get rid of beliefs, traditions, institutions, practices, customs, habits etc. that deprive them of their rights, self-respect, hope, freedom, equality and peaceful progress.

Independence

Though Anna closely followed the footsteps of Periyar, he differed from Periyar�s assessment of India�s attainment of independence in 1947. He welcomed the event whereas Periyar called August 15 a day of mourning. Anna viewed the issue in the following manner: The Dravidians were exploited by three sections of people: the Brahmins, the Banias and the British. Of the three, the British imperialists were going away. So it was a day of rejoicing to that extent. But Periyar took a different stand: The Britishers were transferring their power to the combination of Brahmins and Banias (the north Indian business people). The role of the Brahmin-Bania combination will be worse than that of the British. Though the Britishers exploited India economically, there was scope for the promotion of Social Justice (communal representation), and enlightened outlook through the spread of modern knowledge. But the Brahmin-Bania domination will perpetuate social oppression, economic exploitation and the return of the obscurantist religious values, principles and traditions. This would hinder the march of progress and might even put the clock back - that was Periyar�s apprehension.

Inspite of such differences, Anna continued to be the General Secretary of Dravidar Kazhagam. He took part in the agitation against Hindi imposition once again in 1948 and was imprisoned on that account. Periyar arranged for a special conference of the movement at Erode on 23rd and 24th October 1948. Anna presided over the conference, and he was taken in a grand procession seated in a chariot while Periyar came walking with other functionaries. It was in this conference that Periyar hinted of handing over the responsibility of running the movement to Anna.

Moves away from Periyar

But that was not to be. Perhaps Anna and his associates had decided to enter into electoral politics to capture power which could be utilised to bring about the desired social transformation. It was Periyar�s experience that politics would corrupt most of the politicians. It could not be relied upon to eradicate caste, a well-entrenched social evil safeguarded by the Brahminical upper castes with the backing of Hindu religious sentiments, principles and philosophy. So he wanted Dravidar Kazhagam to grow as a determined and disciplined non-political movement of dedicated activists, powerful enough to pressure the government to follow on enlightened, just and egalitarian policy particularly in socio-cultural sphere. As no such unique movement had been formed anywhere in the country, he wanted to safeguard the one he had founded, and the property he had secured for its functioning. When he felt Anna and his admirers were leaning towards direct involvement in politics, he came to the conclusion that they would fritter away the mental and material strength of the movement. So to keep the movement and its property intact, he married in 1949 Maniammaiyar, a trusted colleague who had been attending to his personal needs and helping him in the activities of the movement. This was an arrangement in public interest. But Anna and his followers made a big issue of the difference between their ages - Periyar was 70 and Maniammaiyar 30 in 1949. They quit DK and formed DMK, Dravida Munnetra Kazhagam. Anna became its General Secretary. It was inaugurated at Robinson Park, Royapuram, Chennai, on 17th September 1949.

Functioning of a political party

Besides socio-cultural issues, the DMK began to pay attention to political and economic problems from the beginning. In the initial stages the party highlighted that the South was neglected and the North favoured in developmental projects. Huge hydro-electric projects, dams, large-scale industries etc were started in the north India while the southern part received only a step-motherly treatment. While carrying out such propaganda, Anna also encouraged the cadres to help the poor handloom weavers by directly taking up the sales of unsold cloth.

In 1950 he was sent to prison at Tiruchirappalli for publishing his Tamil book, Ariya Maayai (Aryan allure). Periyar was also imprisoned in the same jail at the same period for his book Pon Mozhikal (Golden sayings).

Constitution amended

The DMK agitated for the continuation of the Communal Government Order. Periyar had taken the initiative for the agitation when the Communal G.O. of the then Madras province was declared null and void by the Madras High Court as well as the Supreme Court in 1950. It is this agitation that ultimately led the first Constitutional Amendment in 1951. Clause 4 was added to Article 15, safeguarding laws making reservations in the professional, educational institutions in the States. In the first general elections conducted in free India on the basis of adult franchise in 1952, DMK supported the independent candidates or those belonging to small parties who subscribed to the policies of this party. With the support of DMK, 44 candidates were elected to the then Composite Madras State Assembly and eight to the Parliament.

Agitation

In 1953, Anna directed the DMK to undertake a three pronged agitation: against the Prime Minister Nehru for using language of disparagement with reference to leaders of Tamil Nadu, against the Chief Minister, C.Rajagopalachari for introducing a new educational system that indirectly encouraged traditional caste-based occupations (Kula Kalvi Thittam), and finally demanding the renaming of Dalmiyapuram as Kallakkudi, its original name, because the name Dalmiyapuram symbolised north Indian domination. Anna was sentenced to three months imprisonment in this agitation.

Election

When the second provincial conference of DMK was held at Tiruchirappalli in May 1956, Anna stepped down from the General Secretaryship of the party, and Naavalar Nedunchezhian was elected to that top position. (The first DMK provincial conference was held in Madras in 1951 and Anna presided over it.) The Tiruchirappalli conference decided to contest free India�s second general elections to be held in 1957, the DMK secured 15 Assembly seats and two parliamentary seats. Anna was elected from his home constituency, Kanchipuram as an MLA.

In 1959, a DMK councillor was elected the Mayor of Madras (now Chennai) a major political victory. In recognition of Kalaignar M.Karunanidhi�s hard work to make this significant victory possible, Anna presented him a ring in a function organised to celebrate historic occasion.

In view of continued threat to impose Hindi, the DMK held a massive open-air conference against Hindi imposition at Kodambakkam, Chennai in August 1960. Anna presided over it. He gave black flags to leading functionaries, to be shown to the President of India during his tour in the state. As a response to these awakened activities, Prime Minister, Nehru assured in the floor of Parliament that English would continue to be the official language of India, as long as non-Hindi speaking people desire. D.M.K. gave up the plan of showing black flags. Anyhow, Anna appealed to the Union Government to bring about a constitutional amendment incorporating the assurance.

Anna faced a major challenge to his leadership in 1961. E.V.K.Sampath, a nephew of Periyar and a founder member of DMK was dissatisfied with Anna�s style of functioning, quit the party and formed Tamil National Party on 19 April 1961. But the third State Conference of DMK held in Madurai in July 1961 showed that the party�s strength was growing in a big way inspite of Sampath�s opposition. (The TNP merged with Congress in July 1964.)

Though Anna was defeated in the 1962 General Elections in his home constituency, his party won 50 seats in the State Assembly, a result that stunned the tradition-bound politicians of India. Anna became a member of Rajya Sabha in April 1962 and delivered his famous maiden speech on first May.

Anna was imprisoned for 10 weeks in Vellore prison for leading an agitation against rise in price level in 1962. In 1963 he was again imprisoned for six months for opposing the imposition of Hindi. He was jailed for a few days for observing the Republic Day (26 Jan, 1965) as a day of mourning. He appealed to the students to stop their anti-Hindi agitation on 9th February the same year.

Anna formed a strategic coalition to fight the Indian Congress Party in the February 1967 General Elections, joining hands with C.Rajagopalachari of Swatantra Party, Quid-i-milleth Ismail Sahib of All India Muslim League, CPI(M) etc. The DMK secured absolute majority in the State Assembly and formed the ministry on 06-03-1967 with Anna as Chief Minister. He changed the name of Madras State as Tamil Nadu, put an end to three language formula and introduced two language formula as the basic policy of Tamil Nadu, and enacted a law making Self-respect marriages retrospectively lawful.

Anna made arrangement to supply rice for Rupee one per measure. It was during the period of his Chief Ministership, the Second World Tamil Conference was conducted on a grand scale on 3rd January 1968. Anna was responsible for the Tamil Nadu government to issue an order for the removal of the pictures of gods and religious symbols from public offices and buildings.

Anna was afflicted with cancer and he could not be cured of the disease inspite of best medical care. He passed away on 3rd February 1969, mounred by several crores of Tamil people. He propagated values of self-respect, racial dignity, linguistic and social equality, socialism, secularism and democracy. He sincerely followed and implemented those values and principles when in power. This was the greatness of Arignar Anna.
List of Literary Works of C.N. Annadurai at tamilelibrary

Annavin kalvic cintanaikal
Tokuppaciriyar R. Thyagarajan
Chennai, Annai Nilaiyam [1969]

Annavin kavitaikal
Chennai : Pumpukar Piracuram Piras, 1981

Annavin arukataikal. [1969]

Annavin cirukataikal. [1969]
Chennai : Manivacakar Patippakam, 1996

Annavin navamanikal. [1968]

Annavin collaram. [1968]

Annavin muttukkuviyal. [1969]

Annavin natakankal. [1971]

Anpu valkkai
Cennai: Ke. Ar. Narayanan, 1958, 1967

Aranilaiyankal
Cennai: Marumalarcci Nul Nilaiyam, 1949.

Arappor
Tirucci : Tiravitap Pannai, 1951. Series title: SAMP early 20th-century Indian books project ; item 41192.

Arinar Anna Conna kutti kataikal 100
Cennai: Potu Metaip Patippakam, 1970., 3rd Ed.

Ariyamayai
Tirucci: Tiravitap Pannai, 1948., 3rd Ed.

Anna speaks at the Rajya Sabha, 1962-66
edited by S. Ramachandran
Bombay : Orient Longmans, 1975

Annavin pattamalippu vila uraikal
patippaciriyar A.Ki. Murthi.
Tancavur : Anna Veliyittillam, 1981

Annavin pattamalippu vi_la uraikal
patippaciriyar A. Ki. Murthi
Tancavur : Anna Veliyittillam, 1981; Series title: Anna veliyitu ; 8.

Annavin camutayap puratci
Chennai : Apirami Publications, 1985

Antik kalampakam
Chennai : Parati Patippakam, 1986

Aringar Annavin uvamaikal konta colloviyam tokuttavar Pon. Ku. Kotantapani
Ce_n_nai : Apirami Paplikesans, 1986-1987.
Arinar Anna conna nuru nakaiccuvaik kataikal. [1970]

Arinar Annavin cinnac cinna malarkal
Chennai : Parati Patippakam, 1986.

Ariyamalai. [1969]

Ariyamayai
Tiruccirappalli, Tiravitappannai [1969]

Aruvatai
Chennai: Pumpukar Patippakam, 1989.

Assembly speeches of Anna
editor-in-chief, A. K. Moorthy ; associate editor, G. Sankaran ;
with a foreword by S. G. Manavala Ramanujam
Thanjavur : Anna Pub. House, 1975.

Atiyapatam
Chennai : Pumpukar Patippakam, 1988.

Camatarmam. [1962]

Camukacevaki Carupala
Chennai : Parati Patippakam, 1988

Cantiramokan : Civaji kanta Intu rajyam
Chennai: Pumpukar Piracuram Piras, 1980.

Cantirotayam : A_rinar Anna Turairajaka-Mayentira_naka natikkum natakam
Kancipuram : Cukumara_n Patippakam, 1978.

Cintanaic cirpi cinkara velar
Cennai: Min Pitippor Cankam, 1949., 1st Ed.

Ciru kataikal
Tirucci: Tiravitap Pannai, 1947.
Tirucci, Tiravitappannai [1969].

C. N. Annaturai M. A. arriya corpolivu
Trichy: Chandravilas Pinjrapole Press, 1945.

Corkkavacal
Maturai: Vi. Cuppurayalu Nayutu Piras, 19xx, 1st ed

Cenkarumpu
Chennai: Pumpukar Patippakam, 1988.

Cevva_lai
Chennai: Pumpukar Piracuram Piras, 1980.

Convocation addresses of Anna
editor-in-chief, A. K. Moorthy ; associate editor, G. Sankaran ;
with a foreword by S. G. Manavala Ramanujam. Rev. ed.
Thanjavur : Anna Pub. House, 1975. Series title: Anna's literature. Series title: Oratorical series ; 2.

Cumar Cuppaiya
Chennai: Parati Patippakam, 1986

E, talnta Tamilakame
Chennai, Muttami_l Nilaiyam]; vi_rpa_nai urimai: Pari Nilaiyam [1968].

Ellorum innattu ma_n_nar. [1971]

En valvu
Chennai : Pumpukar Patippakam, 1988

Ettu natkal
Chennai : Parati Patippakam, 1986.

Ennaig kavarnta puttakankal
Cennai: Marumalarcci Nul Nilaiyam, 1949.
Cennai: Muttamil Nilaiyam, 1949., 1st Ed.

Felicitation addresses of Anna
editor-in-chief, A. K. Moorthy ; associate editor, G. Sankaran ;
with a foreword by S. G. Manavala Ramanujam
Thanjavur : Anna Pub. House, 1975. Series title: Anna's literature. Series title: Oratorical series ; 3.

Inaugural and presidential addresses of Anna
editor-in-chief, A. K. Moorthy, associate editor, G. Sankaran ;
with a foreword by S. G. Manavala Ramanujam.
Thanjavur : Anna Pub. House, 1975.
Series title: Anna's literature : Oratorical series ; 4. Series title: Oratorical series

Inpa oli
Chennai: Pumpukar Piracuram Piras, 1980.

Inpat tiravitam
Chennai: Pumpukar Patippakam, 1989

Irajya Capaiyil arignar Anna. [1969]

Iru paramparaikal
Chennai: Pumpukar Piracuram Piras, 1980.

Irumparam
Chennai : Pumpukar, 1981

Irumpu mulveli
Chennai : Pumpukar Piracuram Piras, 1980.

Ito tiravitar tantai
Bangalore: Puratcik Kavi Panimanai, 19xx

Jamin inam olippu
Tirucci: Tiravitap Pannai, 1948.

Jepamalai
Kancipuram: Parimalap Patippakam, 19xx

Kamparacam

Karpanaiccittiram
Tirucci: Tiravitap Pannai, 1947., 1st Ed.
Tirucci: Tiravitap Pannai, 1968., 5th Ed.

Kolkaiyil kulappamen?
Cennai: Tamilnatu Puttaka Nilaiyam, 1961., 1st Ed

Kumarikkottam
Tirucci: Tiravitap Pannai, 1951., 4th Ed

Kaiti en 6342 : Araciyal Catta Molip pirivin 17 avatu Pirivaip potu itattil koluttum arapporil arumatat tantaai perruc Cennaiyir ciraiyirunta Annavin anupavankalum cintanaikalum
Chennai: Pari Nilaiyam, 1980.
Kalinkarani. [1969]

Kancipurattu tertal rakaciyam
Chennai, Tayarippu: A_npu Nilaiyam [1962]

Kannayirattin ulakam
Chennai: Pumpukar Piracuram Piras, 1980

Kanni vitavaiyana katai
Chennai : Pmpukar, 1982.
Kapotipurakkatal. [1969]

Karpanaiccittiram. [1969]

Katal joti
Chennai: Pari Nilaiyam, 1978

Katampam. [1967]

Katavul tantippar!
Chennai: Parati Patippakam, 1986.
Katavul tantippar mutaliya kataivativa karuttoviyankal. [1968]

Komalattin kopam
Chennai: Pumpukar, 1982.
Kumarikkottam. [1969]

Kumastavin pen
Chennai, Anpu Nilaiyam [1967].
Manamakkalukku
Cennai: Arivulakap Pannai, 1955., 1st ed.

Maji katavulkal
Chennai: Pari Nilaiyam, 1953.
Series title: SAMP early 20th-century Indian books project ; item 40226.

Makkal tirppu
Chennai: Pumpukar Patippakam, 1987.

Malai
Chennai: Pumpukar Patippakam, 1989.

Mukkani. [1962].

Mutalamaiccar arinar Annavin Annamalaip perurai. [1968]

Nam
Series title: SAMP early 20th-century Indian books project ; item 41196.
Tirucci: Tiravitap Pannai, 1951., 1st Ed.


Namatu mulakkam
Cennai: Tajmahal Patippakam, 1953, 1st Ed.

Natum etum
Cennai: Manavar Patippakam, 1947.

Nanparkalukku Anna
Chennai : Parati Patippakam, 1987

Nilaiyum ninaippum
Tiruccirappalli, Tiravitappannai [1969]

Nitipati vakkilanar
Chennai : Pumpukar Patippakam, 1989

Nititevan mayakkam
Chennai : Pumpukar Piracuram Piras, 1980

Or iravu
Cennai: Pari Nilaiyam, 1954., 1st Ed.

Occasional speeches of Anna
editor-in-chief, A. K. Moorthy, associate editor, G. Sankaran ;
with a foreword by S. G. Manavala Ramanujam
Thanjavur : Anna Pub. House, 1975. Series title: Anna's literature. Series title: Oratorical series ; 5.

Paratam
Chennai: Pumpukar Patippakam, 1989.

Parvati. [1967]

Pavaiyin payanam
Chennai : Pumpukar Patippakam, 1989

Piti campal
Chennai: Pumpukar Piracuram, 1980

Pittalai alla, ponnetan!
Chennai: Pumpukar Piracuram Piras, 1980

"Pon vilanku"
Kancipuram : Ma_ru Malarccip Patippakam, 1953. Series title: SAMP early 20th-century Indian books project ; item 41198

Ponmolikal. [1972].
Post-office socialism,
Bombay, Bombay D.M.K. [1964]

Punnakai. [1967].
Panattottam
Tirucci: Tiravitap Pannai, 1949.

Purana matankal
Cennai: Valluvar Pannai, 1952., 1st Ed.

Radio talks of Anna
editor-in-chief, A. K. Moorthy ; associate editor,
G. Sankaran ; with a foreword by S. G. Manavalaramanujam. 1st ed.
Thanjavur : Anna Pub. House, 1975.
Series title: Anna's literature. Series title: Oratorical series ; 6

Romapuri ranikal. [1969]

Tamilakam
Cennai: Arivu Manram, 1952. 1st Ed.

Tiravitar nilai
Cennai: Manavar patippakam, 19xx,

1858 - 1948
Pondicherry: Nayiru Nurpatippakam, 1948.

Tamilarin marumalarcci
Chennai, Muttami_l Nilaiyam]; Virpanai Urimai: Pari Nilaiyam [1968]

Tampikku Annavi_n katitankal
Chennai : Pari Nilaiyam, 1979-

Tevalilaikal
Chennai : Pumpukar Patippakam, 1989

Tirumpippar : natakat tokuppu
Chennai: Pumpukar Patippakam, 1989

Tolamaiya? virotama? : Annavin corpolivukal
tokuttavar Anpuppalamni

Ce_n_nai : Apirami Paplikesa_ns, 1985

Ulakap periyar Kanti
Tirucci : Tiravitap Pannai, 1948
Series title: SAMP early 20th-century Indian books project ; item 43991

Ulakapperiyar Kanti. [1969]

Vantikkaran makan. [1969]

Varnasramam
Tirucci : Tiravitap Pannai, 1949
Series: SAMP early 20th-century Indian books project ; item 41199

Velaikkari
Chennai: Pumpukar Piracuram Piras, 1980

Yar ketka mutiyum?
Chennai: Pumpukar Patippakam, 1989

Carittiram pataitta oru "camaniyar" : Pera_ringar Anna pavalavila malar
Madras : Anaittintiya Anna Ti. Mu. Kalaka Perarinar Anna Arakkattalai, 1985]

Kavingar Kanta Anna. [1969]

அறிஞர் அண்ணாவின் படைப்புகள்

கட்டுரைகள்

1 ரோமாபுரி ராணிகள் 1942
2 புத்தர் புன்னகை 1942
3 இந்து மதமும் தமிபுரும் 1942
4 களிமண்ணும் கையுமாக 1943
5 பூதேவர் புலம்பல் 1943
6 பூதேவர் பிரதாபம் 1943
7 ஊரார் உரையாடல் 1943
8 கம்பரசம் 1943
9 ஆரிய மாயை 1943
10 வர்ணா�ரமம் ஒழிக 1943
11 விடுதலைப் போர் (திராவிடர் கழகம்) 1944
12 கட்சியில் கடவுள் மதம் 1944
13 திராவிடரும் கடவுளாரும் 1944
14 கடவுள் விளக்கம் 1944
15 நிக்கோல�தீர்ப்பு 1945
16 தேவலீலைகள் 1945
17 அமெரிக்காவில் ஒரு பாரதிதாசன் 1945
18 வில்லவன் கோதை விருந்து 1945
19 சிவலோகவாசிகள் 1945
20 பெரியப்புராணப் புதையல் 1945
21 வால்டேர் வீசிய வெடிகுண்டு 1945
22 மாற்றானின் மல்லிகைத் தோட்டம் 1945
23 கோடு உயர்ந்தது குன்றம் தாழ்ந்தது 1946
24 புராணம் போதைதரும் லேகியம் 1946
25 காமவேள் நடனசாலையில் கற்பூரக்கடை 1946
26 எரியிட்டார் என் செய்தீர் 1946
27 விதைக்காது விளையும் கழநி 1946
28 சிந்தனைச் சிற்பி சிங்காரவேலர் 1946
29 பணத்தோட்டம் 1946
30 இலட்சிய வரலாறு (மரணசாசனம்) 1946
31 காண்டேர்கார் 1946
32 பயங்கரப்பாதை 1946
33 இயற்கை ஓர் அழகிய விதவை 1947
34 1858-1948 (விசித்ர வினா) 1947
35 லேபிள் வேண்டாம் 1947
36 இதுவா தமிழர் சமயம் 1947
37 அக்ரகாரத்தில் ஓர் அதிசயமனிதர் 1947
38 படமும் பாடமும் 1947
39 ஏழைப்பங்காளன் எமிலிஜோலா 1947
40 ஏழை எரிமலை 1947
41 ஆக�ட் பதினைந்து 1947
42 இப்படைத் தோற்கின் எப்படை ஜெயிக்கும் 1947
43 பாரதி பாதை 1947
44 எண்ணிப்பார் கோபியாமல் 1947
45 ரயிலேறி ராமே�வரம் போவதும் 1947
46 உலகப்பெரியார் காந்தி 1948
47 ஆதென்ஸ் நகரில் அன்றொருநாள் 1948
48 அறப்போர் 1948
49 சர்க்கார் விடுமுறை நாட்கள் 1948
50 சைவ வைணவ மத போதனை 1948
51 சீனா சிவப்பாகிறது 1948
52 படகாட்சிகளில் பரமன் 1949
53 ஆதித்தன் கனவு படமல்ல - பாடம் 1949
54 திருக்குறள் ஒரு திருப்பணி 1949
55 செக்கோ�லோவோகியா 1949
56 பெண்ணினம் பேசுகிறது 1949
57 மூடநம்பிக்கை 1949
58 வெட்கப்படுகிறோம், வேதனைப்படுகிறோம், விரட்டப்படுகிறோம் 1949
59 மாஜிக் கடவுள்கள் 1949
60 கடவுள் விஷயம் 1949
61 இந்தியும் தமிழ் மகனும் 1950
62 பிருந்தாவனம் முன்ஷி திட்டம் 1950
63 இருளில் ஒளி 1951
64 வாழ்க வசவாளர்கள் 1951
65 தாயகமே! தாயே! 1952
67 பொன்னொளி 1953
68 மக்கள்தீர்ப்பு மகத்தான பாடம் 1954
69 நாட்டின் நாயகர்கள் 1956
70 அரோகரா, கோவிந்தா 1956
71 படமும், பாடமும் 1957
72 ஆயிரம் கோடி 1960
73 அன்பின் பிணைப்பு நாம் கண்ட இயக்கம் 1960
74 எல்லோரும் இந்நாட்டு மன்னர் 1960
75 அந்திக் கலம்பகம் 1960
76 பூச்சுவேலை கடன்பட்டு 1961
77 பைங்கிளிக்குப் பாலூட்டும் செந்தாமரையாள் 1961
78 பூங்காவில் புலவர் 1962
79 இருளகல 1962
80 நண்பர்கள் கேட்பதற்கு 1962
81 மழு ஏந்திய மங்கை 1963
82 காணாமல் போன கப்பல் 1963
83 குடியாட்சி கோமான் 1965
84 மொழியும் வாழ்க்கை வழியும் 1966
85 கார்டுனாயனம் 1967
86 அவன் கேட்பது வாழ்வு 1967

புதினங்கள்
என் வாழ்வு (அ) வீங்கிய உதடு 1940
கலிங்கராணி 1942
ரங்கோன் ராதா 1943
பார்வதி க்ஷ.ஹ 1944
தசாவதாரம் 1945

நாடகங்கள்
சந்திரோதயம் 1943
சிவாஜி கண்ட இந்து இராச்சியம் 1945
வேலைக்காரி 1946
ஓர் இரவு 1946
நீதிதேவன் மயக்கம் 1947
நல்லதம்பி 1949
காதல்ஜோதி 1953
சொர்க்கவாசல் 1954
பாவையின் பயணம் 1956
கண்ணாயிரத்தின் உலகம் 1966
ரொட்டித்துண்டு 1967
இன்ப ஒளி 1968

குறும் புதினங்கள்

கபோதிபுரத்துக் காதல் 1939
கோமளத்தின் கோபம் 1939
சிங்களச் சீமாட்டி 1939
குமாஸ்தாவின் பெண்தான் 1942
குமரிக்கோட்டம் 1946
பிடிசாம்பல் 1947
மக்கள் தீர்ப்பு 1950
திருமலை கண்ட திவ்யஜோதி 1952
தஞ்சை வீழ்ச்சி 1953
பவழ ப�பம் 1954
சந்திரோதயம் 1955
அரசாண்ட ஆண்டி 1955
மக்கள்கரமும் மன்னன்சிரமும் 1955
எட்டு நாட்கள் 1955
புதிய பொலிவு 1956
ஒளியூரில் ஓமகுண்டம் 1956
கடைசீக் களவு 1957
இதயம் இரும்பானால் 1960
இரத்தம் பொங்கிய இருபது ஆண்டுகள் 1963
தழும்புகள் 1965
வண்டிக்காரன் மகன் 1966
இரும்பு முள்வேலி 1966
அப்போதே சொன்னேன் 1968

Photo Gallery


C.N.Annadurai with M.Karunanidhi and M.G.Ramachandran


C.N.Annadurai with M.G.Ramachandran


C.N.Annadurai with M.Karunanidhi and M.G.Ramachandran
at unveiling of Statue of Kalaivanar N.S.Krishnan


C.N.Annadurai with C.Rajagopalachari


Annadurai Memorial at Thirunelveli


Tamil Nadu Chief Minister Karunanidhi garlanding statute of C.N.Annadurai in Chennai on 15 September 2000




Anna Cabinet


Anna in Singapore




| | |
| --- | --- |
| | |
| Annadurai - Vaiko | Annadurai - M.K.Stalin |

Annadurai -
Chief Minister, Puducherry
Annadurai - Jayalalitha