30 August 2005 Reflections
14 years ago.... "... to seek a permanent peace within the framework of Sri Lanka's unitary Constitution is to display the ignorance of the foolish or the deceit of a knave. The armed resistance of the Tamil people arose as a result of a continuing oppression, by a permanent Sinhala majority, within the confines of a unitary Constitutional frame. It is farcical to believe that a 'political settlement' within the same unitary frame will resolve the conflict. It will not. Dominance by the permanent Sinhala majority will continue - and so will the conflict. Indeed, the recent pronouncements of the contenders for power in Colombo serve to expose the extent of the cancerous growth of the dominant Sinhala Buddhist mythology in Sri Lanka's body politic..." Nadesan Satyendra in No White Flag in Tamil Eelam, November 1991
29 August 2005 Caste & the Tamil Nation - Brahmins, Non Brahmins & Dalits to include
Adheedhan Ravikumar writes from Pondicherry

on Iyothee Thass & The Politics of Naming "...On 3 September, Prime Minister Manmohan Singh is all set to inaugurate National Center for Siddha Research in Chennai. The research centre was originally to be named after Pandit C. Iyothee Thass (1845-1914), a renowned practitioner of the Siddha form of native Tamil medicine, and also a pioneer of the Tamil Dalit movement. However, the name of Iyothee Thass has been dropped. Iyothee Thass is perhaps one among the several Dalit icons whose names have been blacked out by mainstream history. .."
more
27August 2005 Conflict Resolution: Sri Lanka - Tamil Eelam -Norwegian Peace Initiative to include
1. M.R. Narayan Swamy (IANS), reports from New Delhi in the Hindustan Times - Western diplomats must boycott LTTE, says Colombo [comment by

tamil

nation.org: Some may conclude that it is not simply Sri Lanka's new Foreign Minister but, more importantly, New Delhi which wants Western Diplomats to boycott the LTTE so that New Delhi may secure its own strategic interests of excluding extra territorial powers from the Indian region - see
Tracking New Delhi's Pursuit of its Strategic Interests...
]
2. India & Sri Lanka Opposition agree on Peace Process
says P.K.Balachandran in Hindustan Times "...According to sources, the Indian leaders expressed concern about the "over internationalisation" of the Sri Lankan peace process. ... New Delhi is said to be unhappy with the performance of the "co-chair" of the June 2003 Tokyo Aid Lanka conference. The co-chair (US, EU, Japan and Norway) have arrogated to themselves a role not assigned to them. They style themselves as the "international community" and strut about as the "co-chair of the Sri Lankan peace process". India feels that they have been pampering the LTTE a bit too much and have been ineffective..." more
25 August 2005 Tamil Language & Literature: Lyric Writers - Vaali - Revised
24 August 2005 Tamil National Forum to include
23 August 2005 India & the Struggle for Tamil Eelam - An Amoral Role to include
A Tribute to a Friend - Ashok Mehta in the Pioneer "...(Sri Lanka Government TV Channel) Rupavahini showed no British or American at the state funeral (for Lakshman Kadirgamar), though the representatives of these governments were doubtless present. Seated on President Kumaratunga's right was Prime Minister Rajapakse. On her left was Indian Defence Minister Pranab Mukherjee and next to him, Foreign Minister Natwar Singh. India's representation was a clear message to the LTTE as well as the international community of Delhi's solidarity with Colombo...(Kadirgamar) was for active intervention by India during the standoff at the strategic Elephant Pass in 2000, the turning point in the battle for the north by Sri Lankan security forces..." more
23 August 2005 Reflections
"...No government's condemnation of terrorism is credible if it cannot show itself to be open to change by non violent dissent...But instead .. any kind of mass political mobilization or organization is being bought off, or broken, or simply ignored...The message this sends is disturbing and dangerous: If you seek to air a public grievance, violence is more effective than non violence...It's time to recognize that no amount of nuclear weapons or full-spectrum dominance or daisy cutters or spurious governing councils and loyal jirgas can buy peace at the cost of justice. The urge for hegemony and preponderance by some will be matched with greater intensity by the longing for dignity and justice by others..."
Arundhati Roy
more
23 August 2005 Revisited 20 Years after Collapse of theThimpu Talks in August 1985 - Thimpu Declaration - The Path of Reason, - "Two nations may agree to live together by force of reason. They cannot be compelled to live together by force of arms" more
22 August 2005 Tamil National Forum
1.Sachi Sri Kantha writes from Japan -
The Spin and Swing of RAW Orchestra
" It doesn't take even ten seconds for Tamil music fans, to identify the characteristic voices of star performers like M.S.Subbulakshmi, Madurai Mani Iyer, Chidambaram Jayaraman and Sirkali Govindarajan. The tonal markers of sweetness, swing and lilt of each such musician's voice are too distinct, unless one is tone deaf. Similarly, for the past 15-20 years, it doesn't take even a minute for Eelam watchers, to check out when the infamous Research and Analysis Wing of India [RAW] Orchestra sings...Now, within a span of two days[August 20-22], we notice, three singers providing a chorus line for the RAW-inspired performance. The message of their song is nothing but "Bring on Karuna to the Center". .." more
2. Sanmugam Sabesan writes from Australia - பஞ்சமா பாதகங்கள் - (அல்லது, ஐந்து மகா அநியாயங்கள்)
"'சிறிலங்காவின் சட்டம், சிறிலங்காவின் நீதி, சிறிலங்காவின் அரசியல் யாப்பு, சிறிலங்காவின் ஜனநாயக வழிமுறை, சிறிலங்காவின் ஆளும் சிங்களத் தலைமைகள் - இந்த ஐந்து சக்திகளும் தமிழினத்திற்குப் 'பஞ்ச மா பாதகங்களைப்' புரிந்து வருகின்றன."
21 August 2005 Conflict Resolution: Sri Lanka - Tamil Eelam to include
Somawansa Amarasinghe, Leader of the Sinhala Janatha Vimukthi Peramuna - On Lakshman Kadirgamar & the Peace Process "...We stood for administrative decentralization, he stood for federalism. We said how in Sri Lanka's context, federalism and separatism were entwined. He did not necessarily agree, but was eager to hear what we said. He considered them reasoned arguments... The LTTE has been guilty of all the crimes over which the

western powers

, the "

International Community

", has been campaigning against ...The LTTE should not be given visas by these countries. The JVP hopes to hold a major demonstration in London and in capitals of other countries for democracy and against the LTTE. We are asking Britain to deport Mr. Balasingham... If the LTTE resorts to war...we must prepare for self-defence. ..The international community must support us in that legitimate self- defence..." more
19 August 2005 Comments & About Us to include
K.M.Saravan
from USA "I don't know where this marvellous site is hosted from, who is hosting, who is contributing...and so on. But, this is a GREAT effort of all times and we Tamilians owe you many thanks, for every soul that has participated in this magnificent effort. I'm running out of words because English isn't that rich as Tamil. I have always been proud of being a Tamilian, but surfing this site re-kindled and refreshed my belongingness. This is an absolute evidence of Tamil richness and oneness. Thank you all from my heart's depth. Love you all."
18 August 2005 Reflections
"Small states survive only in the interstices created by the major powers. International relations is not a love affair; nor is it a seminar where wit and logic must prevail. Even the most brilliant insight of a small country can be safely ignored if inconvenient. But even the silliest idea of a large country must be taken seriously because of the damage a large country can do." Bilahari Kausikan, Singapore Second Permanent Secretary to Foreign Ministry
17 August 2005 Comments & About Us to include
Priya Swaminathan, MTV Networks, New York USA
"....Dear Tamil Nation, I am writing with regards to a documentary series about youth in conflict zones that I am producing for MTV Networks. The series, conceived as "60 minutes" for the MTV generation, will focus in on economic, social, political, and environmental conflicts that effect our audience's peers around the world. Having traveled to the Tamil Eelam in February with a team of physicians, I wanted to produce an episode for the series about the conflict in Sri Lanka. It is with regards to this show that I am reaching out to you..." more
அறிமுகம் - London தமிழன்
16 August 2005 Tamil National Forum
1. V.Thangavelu writes from Canada Assassination of Lakshman Kadirgamar
"...It is widely claimed that the demise of Kadirgamar, a great patriot, an icon of a united Sri Lanka and a true national leader, is a set-back for the fragile peace processes. We disagree with such perception since Kadirgamar both by his words and actions acted against a peaceful resolution of the National conflict. When ever there was a sign of sympathy for the Tamil cause in foreign countries, Kadirgamar always condemned it 'as a clear interference in the internal affairs of Sri Lanka.' ..."
more
2. Sachi Sri Kantha writes from Japan Farewell to Lakshman Kadirgamar
"Sontha Sahotharangal Thunpathil Saathal Kandum
Sinthai Irankaaradi - KiLLiye
Semmai maranthar-adi."
சொந்த சகோதரர்கள் துன்பத்திற் சாதல் கண்டும்
சிந்தை இரங்கா ரடீ! - கிளியே!
செம்மை மறந்தா ரடீ! more
3. Sanmugam Sabesan writes from Australia தி(ஒ)ரு லக்ஷ்மன் கதிர்காமரின்,'ஒரு தனி மனிதச்சாவு' ஒரு பதிவு
"..இன்று இந்தத் தனி மனிதச்சாவைப் பூரண அரச மரியாதைகளுடன் அடையாளப் படுத்துகின்ற சிங்களப் பேரினவாதம் நாளை லக்ஷ்மன் கதிர்காமரை முழுமையாக மறந்து போய் விடும். ஆனால் சிங்களப் பேரினவாதத்தின் மேன்மைக்குத் தன் சேவையை அர்ப்பணித்த திரு லக்ஷ்மன் கதிர்காமர் அவர்களை ஈழத்தமிழினம் என்றுமே மறக்காது!.." more
15 August 2005 Reflections to include
"Deniable Operations...According to the purest tenets of international law it is an act of war for one country unilaterally to order its armed troops across the borders of another... In time of notional peace, United States deniable operations are planned and executed solely by the CIA. They must be approved by the President... Deniable activities are always dangerous, even when they go undetected. When compromised they will occasionally provoke the target into acts of violent retaliation..." - Mark Lloyd in Special Forces -The Changing Face of Warfare
12 August 2005 One Hundred Tamils of the 20th Century to include
Thiagi Subramania Sivam
சிங்கம் போன்ற கம்பீரமும், கணீரென்ற குரலும் சுப்பிரமணிய சிவாவின் அடையாளங்கள். "We know already that Sivanar fell a victim to leprosy when he was condemned to imprisonment for 10 years in 1908 and was sent to Salem jail. Since leprosy was regarded as a contagious disease, the British government ordered him not to travel by rail. Therefore, Siva went round the whole Tamilnadu on foot though his whole body was covered with sores. On account of poverty he had often to suffer from hunger and starvation..." more
9 August 2005 Tamil National Forum Sanmugam Sabesan writes from Australia - சுயநிர்ணய உரிமையும், சுதுமலைப் பிரகடனமும்
"...தாயகம், தேசியம், தன்னாட்சி என்பவற்றின் அடிப்படையில் தமிழ் மக்களின் சுயநிர்ணய உரிமையானது அங்கீகரிக்கப்பட வேண்டும். இச்சுயநிர்ணய உரிமையானது அங்கீகரிக்கப்படாமல் போனால் நாம் பிரிந்து சென்று தனியரசை அமைக்க வேண்டி நேரிடும். தமிழீழத் தேசியத் தலைவர் இந்தக் கருத்தை பன்னெடுங் காலமாகவே வலியுறுத்தி வந்துள்ளார்..." more
8 August 2005 Tamil Language & Literature - Puthumaippiththan - புதுமைப்பித்தன் to include Selected Short Stories
6 August 2005 The Day the Hiroshima Bomb was dropped, 60 years ago Reflections - The Worst Terror Attack in History
1.
Arthur Koestler
in Prologue
to Janus: A Summing Up " ..as the devices of nuclear warfare become more potent and easier to make, their spreading to young and immature as well as old and arrogant nations becomes inevitable, and global control of their manufacture impracticable. ..One might compare the situation to a gathering of delinquent youths locked in a room full of inflammable material who are given a box of matches - with the pious warning not to use it.."
2. Dr Harold Agnew - Scientist, on Observation Plane, Hiroshima"...I was part of a great undertaking......My honest feeling at the time was that they (the Japs) deserved it, and as far as I am concerned that is still how I feel today... there are no innocent civilians in war, everyone is doing something, contributing to the war effort.... I am proud to have been part of it..." more
5 August 2005 International Relations in the Age of Empire to include
India's Project Seabird and the Indian Ocean's Balance of Power
"...New Delhi is not simply a partner of China or the United States: India is emerging as a major power that follows its own grand strategy in order to enhance its power and interests... Not only is U.S. "unipolar" hegemony in the Indian Ocean facing a challenge, but the strategic triad U.S.-Western Europe-Japan, which has ruled the international political economy for the past few decades, is now also under question..."
more
4 August 2005 Human Rights, Humanitarian Law & the Tamil Nation to include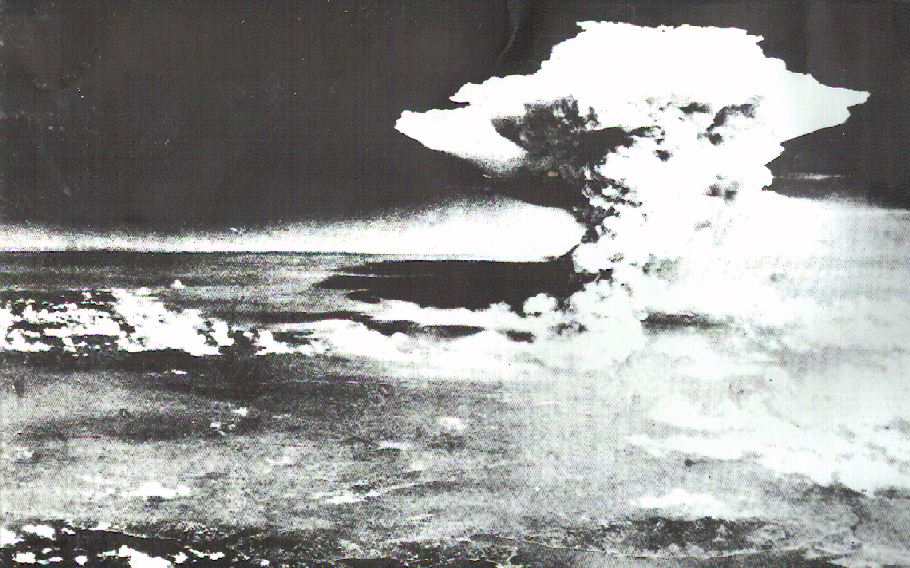 Hiroshima & Nagasaki - the Worst Terror Attack in History
"August 6 and August 9 will mark the 60th anniversaries of the US atomic-bomb attacks on the Japanese cities of Hiroshima and Nagasaki. .. General Dwight Eisenhower.. stated bluntly in a 1963 Newsweek interview that "the Japanese were ready to surrender and it wasn't necessary to hit them with that awful thing".."
"How could I ever forget that flash of light!
In a moment thirty thousand people ceased to be
The cries of fifty thousand killed
Through yellow smoke whirling into light
Buildings split, bridges collapsed
Crowded trams burnt as they rolled about
Hiroshima, all full of boundless heaps of embers" - Toge Sankichi: Hibakusha (A-bomb survivor)
1 August 2005 Reflections to include
1."...To make one feel sympathy with the throbbing of the human heart all over the world, with its revolt against age-long injustice, with its attempts at working out new forms of life - this should be the chief duty of a revolutionary paper. It is hope, not despair, which makes successful revolutions..." more
2. "..The power of government - whatever weapons it possesses, whatever money it has at its disposal -- is fragile. When it loses its legitimacy in the eyes of its people, its days are numbered... The history of social change is the history of millions of actions, small and large, coming together at certain points in history and creating a power which governments cannot suppress. .." Howard Zinn
1 August 2005 New Delhi & the Tamil Struggle - An Amoral Role to include
Sri Lanka: Taking Stock of L.T.T.E -
Colonel (Retd) R. Hariharan, formerly of the Intelligence Corps of the Indian Army & Head of Intelligence of the Indian Peacekeeping Force (1987-90) in Sri Lanka - together with Comment by
tamil

nation.

org
1 August 2005 Tamil National Forum - Sanmugam Sabesan writes from Australia நேரம் நெருங்குகின்றது!"சமாதானத்தின் பெயரால் ஓர் இனமக்கள் தொடர்ந்தும் ஒடுக்கப்பட்டு அவர்களது உரிமைகள் மறுக்கப்பட்ட வருவது நீதியாகாது." [together with English Translation]