Liberation Tigers of Tamil Eelam
Anita Pratap on 'Lessons to be learnt from the rout of the LTTE'

31 May 2009

Comment by tamilnation.org Et Tu Anita Pratap! Anita Pratap has unburdened herself in The Week (31 May 2009) on the 'lessons to be learned from the rout of the LTTE'. Yes, Anita Pratap is right to say that there are lessons to be learnt from the rout of the LTTE. One lesson is that -

"...Where national memories are concerned, griefs are of more value than triumphs, for they impose duties, and require a common effort. A nation is therefore a large-scale solidarity, constituted by the feeling of the sacrifices that one has made in the past and of those that one is prepared to make in the future... " What is a Nation? (Qu'est-ce qu'une nation?)Ernest Renan, Lecture at Sorbonne, 11 March 1882

Another lesson that the Tamils have been taught is that though power may flow through the barrel of the gun, the problem with war will always remain with the victor.

"..The problem with war is always with the 'victor', because he (or she) has demonstrated that superior force pays - and, sooner rather than later, there will be those who will rise to show that they have learnt well the lesson that was taught..." Nadesan Satyendra in Conflict Resolution in an Asymmetric Multi Lateral World, 10 May 2004

Yes, there are many more lessons that the Tamil people will need to learn from the military defeat of the LTTE - and the Tamil people living not only in Tamil Eelam but in many lands and across distant seas will learn. But they do not need lectures on that score from the Anita Prataps of the world.

Be that as it may, Anita Pratap has taught the Tamil people some lessons of her own. Anita Pratap who years ago served as CNN South Asian Bureau Chief, and who clearly valued her access to Velupillai Prabhakaran when he was alive, has taught the Tamil people the truth of something which Robert Parry said in 2003 -

"...The notion of a "liberal" national news media is one of the most enduring and influential political myths... Some concessions are made to the broader professional standards of journalism, such as the principles of objectivity and fairness. But media owners historically have enforced their political views and other preferences by installing senior editors whose careers depend on delivering a news product that fits with the owner's prejudices. Mid-level editors and reporters who stray too far from the prescribed path can expect to be demoted or fired. Editorial employees intuitively understand the career risks of going beyond the boundaries..." Robert Parry in Price of the 'Liberal Media' Myth, 2003

Anita Pratap has taught the Tamil people that the so called 'liberal media' is a political myth. She has taught the Tamil people that their freedom does not lie in the hands of editorial employees of the 'liberal media' who 'intuitively understand the career risks of going beyond the boundaries'. She has taught the Tamil people that it is a vain dream to suppose that what other nations have won by suffering and tears of blood, they will accomplish without terrible sacrifices, merely by spending the ink of the journalist.

"...It is a vain dream to suppose that what other nations have won by struggle and battle, by suffering and tears of blood, we shall be allowed to accomplish easily, without terrible sacrifices, merely by spending the ink of the journalist..." Sri Aurobindo

It was less than an year ago in July 2008, Anita Pratap declared -

"... Prabhakaran is a patient man. I have never seen him waste his time. His brain is at all times actively and ceaselessly engaged with the issues that concern the struggle.In todays world if there is one freedom movement which is totally disciplined and which is loyal to and trusts its leadership it is the Liberation Tigers alone. I have the belief that I will one day go to Ilankai, meet with Prabhakaran and write the history of his life... "

It was less than a month ago on 3 May 2009 that Anita Pratap waxed eloquent -

".. I am certain he (Prabhakarn) is neither frightened nor desperate...He is very clear in his mind - he is fighting to liberate his people. For that principle he lives. For that principle he fights. And for that principle he is willing to die. Victories and defeats come and go. Territories are lost and won. Cadres die, comrades betray. But to his dying breath, he will remain true to Eelam...Prabhakaran has lost wars before. He had created a de facto Tamil Eelam with its own army, police, courts and taxation system not once, but several times in the past-only to have it all smashed and wiped out. And he had to start all over again. At 54, Prabhakaran still has enough grit to start again and continue for another 20 years. ""

Today, 27 days later, she speaks of 'the cosmic and personal lessons to be learnt' from the rout of the LTTE!

"There are also cosmic and personal lessons to be learnt. Prabhakaran died on May 17, as the Congress was celebrating its Lok Sabha election victory that is credited to Sonia and Rahul Gandhi. This is divine retribution for Prabhakaran, who killed Rajiv Gandhi. Rajiv had his critics, but he was a decent man who simply didn't deserve his brutal death. The timing of events proves the triumph of democratically and non-violently vanquishing one's enemies-in stark contrast to Prabhakaran's vengeful tactics. "

Anita Pratap's recourse to the divine metaphor may be understandable - understandable, that is, as an instance of career driven journalese. But the ways of the divine are not always understood by mere mortals. Many Tamils may take the view that the killing of Rajiv Gandhi was itself a divine retribution for the war crimes committed by the Indian Peace Keeping Force under his command in 1987 -

"..the Indian Army came here, massacred innocent Tamil civilians, raped our women and plundered our valuables. The acronym IPKF will always stand for Indian People Killing Force where we are concerned. We will one day erect a memorial in the heart of Jaffna town, in the centre of Hospital Road, in memory of all the innocent civilians - ranging in age from the very old past 80 to young children massacred by the IPKF and to the women who were raped." IPKF - Innocent People Killing Force, Dr. T. Somasekaram

Tamil civilians killed by the IPKF... Dr A. Sivapathasuntheram, Dr M.K. Ganesharatnam, Dr Parimelalahar, Mrs Vadivelu, Mrs Leelawathie, Mrs Sivapakiam, Mrs Ramanathan, Mr Shanmugalingam, Mr Kanagalingam, Mr Krishnarajah, Mr Selvarajah, R. Duraiswamy (SLAS) Retd. Secretary, Ministry of Local Government. M. Duraiwswamy Retd. Staff Officer Bank of Ceylon, Mr. S. Sivasubramaniam, retired Director of Irrigation, Mrs. Sivasubramaniam, his retired teacher wife and their only son, Prof. P. Chandrasekeram, University of Jaffna, Dr R.W. Crossette Thambiah, Dr Selvaratnam Former DMO Maskeliya, Dr S. Pararajasingham J.M.O, L.F.M. Samuel Rtd. Teacher (St. Thomas College, Mt. Lavinia & Royal College), K.J. Sambanthar Retd. DLO & Asst. Land Commissioner, Jaffna, Mrs S. Sivanandaraja (mother), Mohanraj (son) Technical Officer, Irrigation .Dept, Mrs Kishnam, Mrs M. Sebastiampillai, Mrs N.R. Thuriappa, Mrs V. Ruthiralingam, C.S. Aaron, A. Subramanium Attorney at Law, Mr & Mrs Pancharatnam, Rtd. Teachers, K. Navaratnam Rtd. Divisional Supdt. of Post Offices, S. Nadarajah, Formerly SLBC, Tamil Service, P. Arooran , M. Nadaraja, S. Rasanayagam Rtd. Credit Controller CCC Ltd., Mrs M. Weerasegaram Pillai, (Mother), Pillai Yasotha Weerasegaram (Daughter), Mrs S. Thanapalasingham (Mother) Miss N. Thanapalasingham (Daughter) S. Kulasegerampillai, Retd. Station Master, Mrs M. Arumugam (sister of Senator S.Nadesan), Mrs R. Gnanamuttu , A. Candappu Rtd. State Officer, S. Selvaranee, S. Shanmugasuntharam, Electrician, Jaffna Municipal Council, S. Thambiah, (father of T. Sabaratnam), Mrs. Thambimuttu, Kannan Iyer, . Mr. V. Subramaniam, 60 yrs Vithanai Lane, Mrs. Illayaperumal Umaranee, 29 yrs; Mr. A. Illayaperumal, 70 yrs; Mrs. R. Pushparani, 45 yrs; Mast. R. Javanaraj, 11 yrs; Mast. A. Sundereswaran, 11 yrs; Mr. S. Ganeshalingam, 35 yrs; Miss. Ganeshalingam Sashi, 11/2 yrs; Mrs. Airtham Umadevi, 26 yrs; Mr. A. Ramachandran, 41 yrs; Mr. K. Sivanesarajah, 36 yrs; Mr. P. Ranjithamumar, 25 yrs; Mr. N. Raveenthiran, 32 yrs; Mr. K. Mahenthirarajah, 49 yrs; Mr. K. Velummylum, 42 yrs; Mr. R. Nadarajah, 62 yrs ; Mr. V. Arulsothy, 28 yrs ; Mrs. Kandasamy Sivapackiam, 45 yrs, Palavi; Mr. R. Rasaratnam, 34 yrs, Sivankovilandy,; Mr. K. Thangarasa, 60 yrs, Palavi Colony;; Mr. B. Premraj, 22 yrs, Theeruvil Lane;; Mr. S. Umasankar, I9 yrs, Kadduvalavu Lane;; Mr. T. Ravichandran, 28 yrs, Kadduvalavu Lane;; Mr. S. Mylvaganam, 55 yrs, Oorany; Mr. T. Nagadas, 28 yrs, Kadduvalavu Lane;; Mr. B. Mahenthirarasa, 16 yrs, Vembady Lane;; Mr. R. Navaratnam, 29 yrs, Oodakarai Lane;; Mr. S. Thambithurai, 62 yrs, Sivaguru Vidyalaya; Mast. Nagalingam Piruntha, 14 yrs, Navalady; Mr. Arulsothy Ravennthiran, 17 yrs; Mr. Arulpiragasam Swanathas, 18 yrs, A.G.A. Lane; Mrs. Selvaratnam Sivamany, 35 yrs, Colony; Mrs. P.V. Krishnavathana, 35 yrs, Udayamanal;; Mr. K. Shanmugavadivel, 36 yts, Kadduvalavu lane; Mr. Kuddipavun, 30 yrs; Mr. S. Amuthan Markandu, 29 Yrs, Vithanai Lane;; Mrs. Eswaramoorthy Rajaledchumy, 26 yrs; Mast. Aathy Arunasalam paramsothy, 17 yrs; Mrs. Nadarajah Nallamuthu, 70 yrs, Vevil Lane;; Mr. P. Shamugalingam, 43 yrs; Mr. Kumaravel Selvanathavel, 19 yrs; Mr. Pooniah Kalidas , 25 yrs; Mr. N. Panugopal, 23 yrs; Mr. Wijeratnam Muraleetharan, 20 yrs, Colony; Mr. Sothilingam Rameshkumar, I8 yrs; Mr. Ponnuthurai Rasenthiram, 23 yrs, Aathikovilady; Mr. Velummylum Selvachandran, 26 yrs, Kotiyal; Mr. K. Rajasekaran, 20 yrs; Mr. S. Durairaja, 59 yrs; Mr. Sakthivel, 23 yrs; Mr. T. Sivakumar, 19 yrs; Mr. T. Jeyamohan, 16 yrs; Mr. A. Parasar, 18 yrs; Mr. T. Sambasivam, I8 yrs; Mr. S. Perinbam, 18, yrs,; Mr. C. Yogarajah, 18 yrs; Mr. P. Sathiyarupan, 23 yrs; Mr. S. Sivalingam, 49 yrs; Mr. N. Nagarajah,; Mr. N. Sivakumar, 18 yrs; Mr. A. Mathivanan, I7 yrs; Mr. S. Balachandramoorthy, 31 yrs... and thousands more...

"...as an Indian I feel ashamed that under the Indo Sri Lanka agreement, our forces are fighting with Tamils whom they went to protect...I believe that the Indian Government had betrayed its own culture and ethics...The guilt, therefore, rests entirely on those who sent them to do this dastardly business of fighting in Sri Lanka against our Tamil brothers and sisters..." India's former Foreign Secretary, A.P.Venkateshwaran, speaking in London in April 1988

Unlike India's former Foreign Secretary, A.P.Venkateshwaran, it seems that Anita Pratap has no feelings of shame. For Mr.Venkateshwaran, the guilt for the actions of the IPKF rested entirely on those who sent the IPKF to do this 'dastardly business of fighting in Sri Lanka against our Tamil brothers and sisters'. For Anita Pratap, Mr.Rajiv Gandhi, the Commander in Chief who sent the IPKF to do this 'dastardly business' was a 'decent man'.

And then, from the divine, Anita Pratap descends to the 'personal level' and pop psychology and speaks patronisingly of Prabhakaran's failure to learn the lesson that 'compromise is not opportunism but the art of survival' -

"... the lesson to be learnt at the personal level is that inflexibility is a fatal flaw. Compromise is not opportunism, but the art of survival. Prabhakaran had four reasonable chances for a peaceful settlement-in 1987 with India, in 1990 with R. Premadasa, in 1994 with Chandrika Kumaratunga and in 2003 with Ranil Wickramasinghe through the Norway-brokered peace process."

Inflexibility is a fatal flaw. Compromise is not opportunism. It is an art form. And survival is an art. George Orwell could not have put it better in 1984. It may be that survival as an art form is something which Anita Pratap is well qualified to talk about. But she errs in extending her life experience to those who, unlike her, have been willing to put their lives on line in a struggle to win freedom for their people. She herself may hopefully gain - at the personal level - by learning some lessons from the lives of those who were inflexible in their commitment to freedom and who were not concerned with surviving without freedom - persons such as Baghat Singh, Subhas Chandra Bose and Velupillai Prabhakaran himself.

''..It is our duty to pay for our liberty with our own blood. The freedom that we shall win through our sacrifice and exertions, we shall be able to preserve with our own strength.... Freedom is not given, it is taken.. One individual may die for an idea; but that idea will, after his death, incarnate itself in a thousand lives. That is how the wheel of evolution moves on and the ideas and dreams of one nation are bequeathed to the next......' Netaji Subhas Chandra Bose'

"...Subhash Chandra Bose's life was a beacon to me, lighting up the path I should follow. His disciplined life and his total commitment and dedication to the cause of his country's freedom deeply impressed me and served as my guiding light..." Velupillai Prabhakaran, 'How I Became a Freedom Fighter', April 1994

Anita Pratap may then learn that those who die for freedom do not die - they survive in the hearts and minds of millions. That perhaps is the ultimate 'art of survival'.

வாழ்ந்தவர் கோடி மறைந்தவர் கோடி
மக்களின் மனதில் நிற்பவர் யார்
மாபெரும் வீரர் மானம் காப்போர்
சரித்திரம் தனிலே நிற்க்கின்றார் - Kaviarasu Kannadasan

" When there are many men without honor, there are always others who bear in themselves the honor of many men. These are the men who rebel with great force against those who steal the people's freedom, that is to say, against those who steal honor itself. In those men thousands more are contained, an entire people is contained, human dignity is contained .." Fidel Castro

Be that as it may, let us examine the four so called 'reasonable chances for a peaceful settlement' which Anita Pratap says that Prabhakaran (the 'patient man' with a 'clear mind') should have taken so the struggle may survive. We will not take too much time.

Anita Pratap would have us believe that the 1987 Indo Sri Lanka Accord and the comic opera reforms of the 13th Amendment was a 'reasonable' settlement that Prabhakaran should have welcomed. She would have us believe that the Tamil Eelam struggle for freedom would have survived by accepting a Sinhala Provincial Governor appointed by a Sinhala President to rule the Tamil homeland.

"...The blunt reality is that those who proclaim that the 13th Amendment is intended to share power between the Tamil people and the Sinhala people, are, to use a colloquialism, 'trying to pull a fast one' on the Tamil people. Under the 13th Amendment power will continue to reside in a Sinhala dominated Central government, within the frame of an unitary constitution. The 13th Amendment is intended to secure a constitutional frame which will enable a Sinhala majority to manage the Tamil people more effectively than before. It has created Provincial Ministers who will not exercise executive power but who will have executive power exercised 'through' them!. At the same time it has created a Provincial Governor appointed by the Sinhala President who will exercise executive power in respect of provincial matters - a Provincial Governor who is also the administrative head of the provincial public service and who has control of the Provincial Finance Fund. And the 13th Amendment has created a Provincial Council without control of planning, without control of the provincial budget, without control of police and public order within the province, without control of disposition of state land within the province, without control of higher education and whose remaining meagre legislative powers are subject to the over riding will of the Central Parliament. Finally, the provisions of the Provincial Councils Act itself may be amended from time to time by a simple majority of members present and voting in Parliament" 13th Amendment to Sri Lanka Constitution - Devolution or Comic Opera?, 1988

Anita Pratap would have use believe that there was a reasonable chance for a peaceful settlement in 1990 with President R. Premadasa which Prabhakaran should have grabbed. The words of Bradman Weerakone, Adviser to President Premadasa give the lie direct to Anita Pratap -

"...There was also the practical problem (in 1990) of how free elections could be held at all in the North East even if the North East Provincial Council was dissolved but this was never a matter of serious discussion between the two parties. Why were these critical political issues left to drift and not addressed in the decisive and speedy manner that was one of Premadasa's characteristics? I am now increasingly inclined to the view that he simply did not want to do so. ...His (President Premadasa's) ... option could have been straight out of Machiavelli or more likely Kautilya. That was that after the IPKF was out of the country he would turn the refreshed and renewed Sri Lankan forces on the weak LTTE, rout them completely, eliminate Prabhakaran and reestablish law and order, good governance, peace and prosperity over the North East and the whole of Sri Lanka. I am inclined to think that in his final grand design this last option would have been very appealing..." A report by Bradman Weerakone, Adviser to Sri Lanka President Premadasa on Sri Lanka - LTTE Talks: 1989/90

Anita Pratap would have us believe that there was a reasonable chance for a peaceful settlement in 1994 with President Chandrika Kumaratunga who declared with disarming frankness in August 1995 about the knowedge base she had acquired as a student in Paris -

"I have studied and acquired considerable knowledge on guerrilla warfare when I was a student in Paris, and we knew how they would behave. We conducted talks on the basis that the LTTE would not agree to any peaceful settlement and lay down arms." President Kumaratunga in Sri Lanka Sunday Times, on 20 August 1995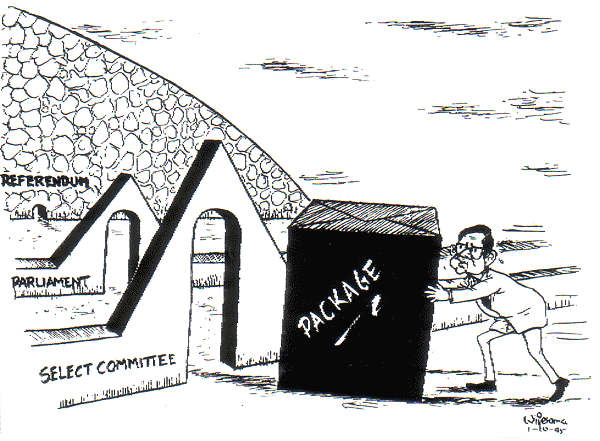 Anita Pratap would have us believe that there was a reasonable chance for a peaceful settlement in 2003 with Ranil Wickramasinghe through the Norway-brokered peace process.

"...The Norwegian special envoy Erik Solheim arrived in Sri Lanka on 8 March 20004 and held discussions with the President, Prime Minister and the LTTE. Although he expressed optimism, there are grave doubts about the peace process. If UNF wins the election, it may not be able to take forward the peace process and introduce constitutional reforms, with a hostile President still in power. If the UPFA succeeds, it will be saddled with the JVP which is opposed to federalism, devolution and even negotiations with the LTTE. ... At the root of the problem lies the power struggle between the two major (Sinhala) political parties, without the cooperation of which, the peace process is doomed. Observers say that the international community has not concentrated on this issue and has so far failed to bring sufficient pressure on these parties to enter into a sustainable bipartisan agreement." British Refugee Sri Lanka Project Briefing 1 April 2004

"...The Janatha Vimukthi Peramuna (JVP), the Sinhala extreme nationalist party, Thursday said it would firmly oppose Sri Lankan President Mr. Mahinda Rajapakse seeking assistance from the Norwegian Government to facilitate in the peace process between the Liberation Tigers of Tamil Eelam (LTTE) and the Government of Sri Lanka (GoSL). Mr. Somawanse Amarasinghe, the leader of the JVP reiterated his party's position at a press briefing held at the National Library auditorium in Colombo..." Don't seek Norwegian assistance, JVP tells Rajapakse

Today, Anita Pratap appears to see a tension-free Sri Lanka with Sinhala dancers celebrating LTTE's defeat as the picture which illustrates her article in The Week suggests -

The obscenity of the 'celebration' seems to have escaped Anita Pratap who makes no reference what ever to the genocidal war waged by the Rajapaksa regime with hundreds of thousands of Tamils languishing in concentration camps. Anita Pratap is silent on the terrible crimes perpetrated on the people of Tamil Eelam by the murderous Rajapaksa regime.

She is silent on Sri Lanka's hidden massacre of more than 20,000 Tamil civilians.

Instead, she chooses to see the present as 'a historic opportunity for President Rajapaksa to not only show pragmatism, but Solomon-like wisdom.' She is happy to bow down to the ignoble, the complacent, the comfortable, the wealthy and uncompassionate.

"...All too often, those who edit our media - our 'alternative' media included - are happy to bow down to the ignoble, the complacent, the comfortable, the wealthy and uncompassionate ... It is not virtuous, or even amoral, to remain silent while terrible crimes are perpetrated in our name - sometimes to be silent is to lie." David Edwards in 'The Difficult Art of Telling the Truth

Having ignored the terrible crimes perpetrated by the murderous Rajapaksa regime and having called upon this same murderous regime to display Solomon-like wisdom, Anita Pratap will have us believe that it is the 'patient', 'clear minded' Prabhakaran, who has -

"..brought untold suffering to the Tamils, whose rights he sought to champion. A whole generation of Sri Lankans-both Tamils and Sinhalese-paid a high price. History will probably neither forget nor forgive Prabhakaran..."

Anita Pratap should not be surprised if a question arises in Tamil minds.Was her 'belief that she will one day go to Ilankai, meet with Prabhakaran and write the history of his life' based on her assessment that Prabhakaran had 'brought untold suffering to the Tamils'? Or is it that deprived of the opportunity of 'meeting with Prabhakaran and writing the history of his life', Anita Pratap has now taken to predicting what history will say.

But Anita Pratap is right about one thing. She is right to say that history will not forget Velupillai Prabhakaran. Velupillai Prabhakaran will be remembered long afterwards the likes of Anita Pratap have been forgotten and remain in the dustbin of history. Velupillai Prabhakaran will be remembered in the same way that Subhas Chandra Bose is remembered - because as it was for Bose, so it was for Velupillai Prabhakaran - the struggle for freedom was his life and he gave his life in that struggle for the freedom of his people.
---
Lessons to be learnt from the rout of the LTTE
- Anita Pratap, 31 May 2009 in The Week
There are lessons to be learnt from the rout of the LTTE. These lessons span the entire spectrum-from cosmic justice, international geopolitics and national agendas to character flaws.
The first and foremost lesson is that Sri Lanka's victory symbolises the crystallisation of a New World Order. This is a paradigm shift. We have moved from a unipolar world of American dominance to a bipolar world where China has emerged as the rival pole, independent, non-judgmental and unconcerned about the universal values that the US and Europe stood for-democracy, freedom and human rights.
China's world order is underlined by its non-ideological, pragmatic, no-holds-barred support to a strategic or economic ally's regime stability. Unlike the bipolar world of the Cold War when the US and the USSR were the two poles, the 21st century bipolar world is different in that it also represents what Fareed Zakaria calls the 'Rise of the Rest'. The superpowers in each region-Russia, India, South Africa and Brazil-will have a dominant role to play in their spheres. But this is not a multi-polar world, which implies several equal powers. This is, what I would call, a "New World Pecking Order". Not quite Peking, but Pecking. China is predominant among the Rising Rest, not surpassing, but already almost an effective counter to the US and Europe.
Prabhakaran is the first iconic victim of this tectonic shift in world affairs. China's economic power is well established. Its political emergence on the world stage has been demonstrated by the LTTE's catastrophic defeat. Simply put, Sri Lanka succeeded in destroying the LTTE at great civilian cost thanks to China's whole-hearted military and financial aid. The fulcrum of China's backing to Sri Lanka lies in its construction of a port in Hambantota. Experts say what is a commercial venture could become a strategic Chinese naval base in the Indian Ocean. China has virtually encircled South Asia by establishing ports in Pakistan's Gwadar and Myanmar's Kyauk Phyu. Some feel threatened while others argue that China is merely securing its energy and raw material supply routes to maintain its growth momentum.
Sri Lanka was able to vanquish the Tigers also due to India's tacit support, which included providing training and logistical support such as naval surveillance to cut off Tigers' weapons supply. There were two motives: India wanted to be rid of the LTTE and, second, India could not sit back and surrender Sri Lanka into China's embrace. The only way to exert leverage with the government was to help its war effort and influence its outcome. Against the combined military might of Sri Lanka, India and China, the LTTE was hopelessly outclassed.
Tamils seethe against the impotence of the international community. But this is an oxymoron. It is neither international nor is it a monolithic community. It refers basically to the west and the UN. Sri Lanka could defy Barack Obama, Europe and the UN because of China's backing and India's stance. Vidar Helgesen, a former Norwegian deputy foreign minister, wrote in a brilliant policy paper on the Sri Lankan war: "Access was denied, insistence on respect for humanitarian law was ignored, calls for a political process rejected and western political and diplomatic representatives lambasted in the process. We have seen similar tendencies elsewhere-Sudan, Zimbabwe, Burma-but possibly nowhere as systematic and blatant as in Sri Lanka." The common backer in these other rogue nations is China. They have been able to get away scot-free because China, as a member of the P5, has blocked all western attempts to punish these nations for their cruelty towards their own citizens.
But the trouble is, the west is neither credible nor seen as an honest broker. George W. Bush ensured that. Undemocratic tactics, human rights violations and civilian casualties have marked western interventions in Africa, Latin America and Asia, but most vividly in recent invasions in Iraq and Afghanistan. So it is highly hypocritical for the west to lecture Sri Lanka. China couldn't care less for liberal values. It interferes without moral posturing.
But this China-inspired New World Pecking Order can have grave repercussions: brutal dictatorships in strategically located countries or nations blessed with natural resources that China covets can terrorise their citizens-especially minorities and dissenters-with impunity. This can lead to much evil. Life and liberty of innocents cannot be bartered by ruling elites for economic gain or political stability. There is thus a dire need for international efforts to coax China into the fold of universal values.
The national priority for Sri Lanka now is to rehabilitate the Tamils and build a just, inclusive society. This is a historic opportunity for President Rajapaksa to not only show pragmatism, but Solomon-like wisdom. If he does so, Sri Lanka can finally hope to achieve its rightful destiny as an island of beauty, stability and prosperity.
For India, the challenge is to bring Sri Lanka firmly back into its own orbit, thus limiting China's and Pakistan's influence in the island. Reluctant to provoke China at any cost, India has been taciturn (some would say pussyfooted) about China's incursions into Myanmar, Pakistan and Sri Lanka. But time has come for a more robust-not muscular-foreign policy. India is a regional superpower. Unlike Russia or China, India believes in universal values. This makes India a much more stable and comforting ally to the US and Europe than Russia or China can ever hope to be.
There are also cosmic and personal lessons to be learnt. Prabhakaran died on May 17, as the Congress was celebrating its Lok Sabha election victory that is credited to Sonia and Rahul Gandhi. This is divine retribution for Prabhakaran, who killed Rajiv Gandhi. Rajiv had his critics, but he was a decent man who simply didn't deserve his brutal death. The timing of events proves the triumph of democratically and non-violently vanquishing one's enemies-in stark contrast to Prabhakaran's vengeful tactics.
And finally, the lesson to be learnt at the personal level is that inflexibility is a fatal flaw. Compromise is not opportunism, but the art of survival. Prabhakaran had four reasonable chances for a peaceful settlement-in 1987 with India, in 1990 with R. Premadasa, in 1994 with Chandrika Kumaratunga and in 2003 with Ranil Wickramasinghe through the Norway-brokered peace process.
But Prabhakaran was uncompromising about Eelam. In the final analysis, he not only failed in his mission, but brought untold suffering to the Tamils, whose rights he sought to champion. A whole generation of Sri Lankans-both Tamils and Sinhalese-paid a high price. History will probably neither forget nor forgive Prabhakaran.