Sri Lanka's President Mahinda Rajapakse's war crimes in Vaharai: artillery attack on refugee camps kills 34 Tamil women, children and civilians and wounds hundreds on 9/10 December 2006
[TamilNet, 09 December 2006, 10 December 2006]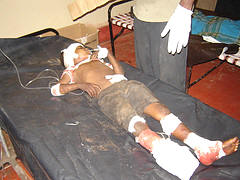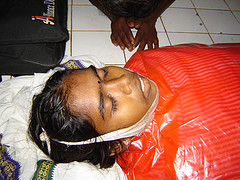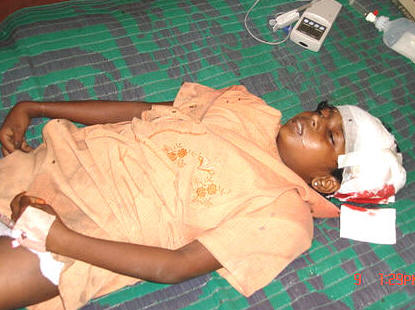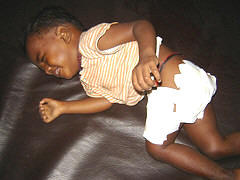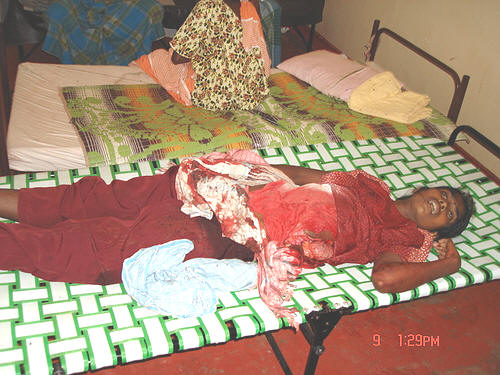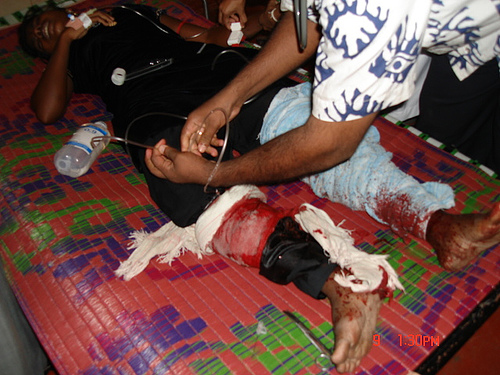 [Additional Protocol I, Geneva Conventions of 12 August 1949 - Article 51 Protection of the Civilian population

1. The civilian population and individual civilians shall enjoy general protection against dangers arising from military operations. To give effect to this protection, the following rules, which are additional to other applicable rules of international law, shall be observed in all circumstances.

2. The civilian population as such, as well as individual civilians, shall not be the object of attack. Acts or threats of violence the primary purpose of which is to spread terror among the civilian population are prohibited.

3. Civilians shall enjoy the protection afforded by this section, unless and for such time as they take a direct part in hostilities.

4. Indiscriminate attacks are prohibited. Indiscriminate attacks are:
(a) those which are not directed at a specific military objective;
(b) those which employ a method or means of combat which cannot be directed at a specific military objective; or
(c) those which employ a method or means of combat the effects of which cannot be limited as required by this Protocol;
and consequently, in each such case, are of a nature to strike military objectives and civilians or civilian objects without distinction.

5. Among others, the following types of attacks are to be considered as indiscriminate:
(a) an attack by bombardment by any methods or means which treats as a single military objective a number of clearly separated and distinct military objectives located in a city, town, village or other area containing a similar concentration of civilians or civilian objects;
and
(b) an attack which may be expected to cause incidental loss of civilian life, injury to civilians, damage to civilian objects, or a combination thereof, which would be excessive in relation to the concrete and direct military advantage anticipated.

6. Attacks against the civilian population or civilians by way of reprisals are prohibited.]

---
On 9 December 2006, at least 15 Tamil civilians, including a 6-month-old baby, were killed and 41 wounded when SLA troopers fired artillery shells towards camps of Internally Displaced Persons (IDPs) in Vammivedduvan and Palchenai, in Vaharai. The parents of the baby killed in artillery barrage were admitted to Vaharai hospital. Nine dead bodies, 5 male and 4 female victims, were brought to hospital, according to doctor M. Varathan at Vaharai hospital. Ten of 26 patients, including children from 3-years to 15, admitted to the hospital were in a critical state. Many more were feared wounded. The SLA has refused access to ambulances from Batticaloa to transport wounded out of Vaharai. ICRC was ready to help, but the SLA has refused access to ambulances, medical sources at Vaharai said. Heavy artillery fire, that also reached sea, blocked the medical personnel to engage in boat transport. 15 wounded civilians were rushed to Thileepan medical service at Kathiraveli. Fleeing refugees said dead bodies were being buried as people were fleeing from artillery fire.
Thirteen refugees, including a 4-year-old child, were wounded when Sri Lanka Army fired artillery shells hit a school in Paalchenai, 8 km north of Vaharai Saturday, around 11:20 a.m., as SLA intensified a ground offensive from Eachilampattu, via A15 trunk road towards Verugal, 15 km northwest of Vakarai amid indiscriminate artillery barrage. Nine wounded refugees from the school where IDP families were staying, were rushed to Vaharai hospital, medical sources said. Heavy fighting was reported between Liberation Tigers and the Sri Lanka Army at Eachilamapattu. Tens of thousands of Tamil civilians were displaced from Trincomalee district to Vaharai when Sri Lanka Army launched a major offensive on Sampoor. Sri Lanka Monitoring Mission has been denied access to the area by Colombo.
On 10 December 2006, 19 internally displaced people, whohad fled artillery bombing in Palchenai and Vammivedduvan in Vahrai region to Kandalady Government School, were killed and more than 25 wounded when Sri Lanka Army fired artillery shells hit the school Sunday morning, according to LTTE's Military Spokesman Irasiah Ilanthirayan. Sri Lanka Navy gunboats were also engaged in firing shells towards densely populated refugee camps as Sri Lankan forces opened a new front towards Panichchankerni Sunday morning.
Meanwhile, a Tamil Rehabilitation Organisation official in Vaharai told TamilNet all the five refugee camps in Vaharai were being targeted by artillery shelling forcing all civilians to flee. Mr. Moorthy, TRO's coordinator in Vaharai further said more than 7000 civilians were gathered at the hospital site in Vaharai Sunday morning as TRO volunteers buried six civilian's bodies brought from Kandalay IDP camp area. Meanwhle, a female patients of the 10 critically wounded among the 26 patients admitted at Vaharai hospital following artillery barrage on two refugee camps Saturday, succumbed to her wounds as the hospital was refused permission by the military to transport the critically wounded to Valaichenai hospital through Mankerny SLA camp. IDPs killed in Kandalady were buried without legal procedures as indiscriminate shelling continued.