INDICTMENT AGAINST SRI LANKA
The Charge is Ethnic Cleansing
SRI LANKA AIRFORCE
BOMBS SCHOOLS IN JAFFNA
- November/December 1993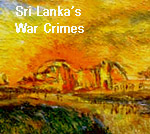 On Friday, 26 November Sri Lanka Airforce jet dropped two bombs at Kalasalai Road in Thirunelvely. The houses of Sivapatham and Vijayaratnam were badly damaged.
Immediately after this attack the supersonic jet targeted the Sri Ramakrishna Saratha Ladies College in Kokuvil. The Vice Principal of the school , Mrs. T.Sri Pathmanathan, a teacher and some students, six in all, were injured. The Science laboratory was damaged.
The Principal of the college told reporters that when the sound of the plane was heard, the teachers and children rushed out of the school building to take shelter underneath nearby trees. The teachers and students who were the last to rush out were injured.
On Thursday 30 December 1993, Sri Lanka Air Force planes attacked Drieberg's College in Chavakacheri which is the oldest English School in Thenmaradachy. The Principal's office and a number of other school buildings were badly damaged.
At about 11 a.m. on Friday, 7 January 1994, a Sri Lankan helicopter fired many rounds from 50 calibre guns on the Atchuvely Maha Vidyalayam. The school was in session at the time of the attack. As the helicopter launched its attack, there was pandemonium - students and teachers ran to find shelter. Many of the school buildings were damaged. A bullet pierced the leg of a GCE (0/L) girl student named M.Rameenarani. She was taken to the Jaffna Hospital.(Network, published by the International Federation of Tamils, January 1994)