Selected Writings by Sachi Sri Kantha
Anna's Birth Centennial Anthology – Part 1:
Poet Kannadasan's Lament
3 February 2009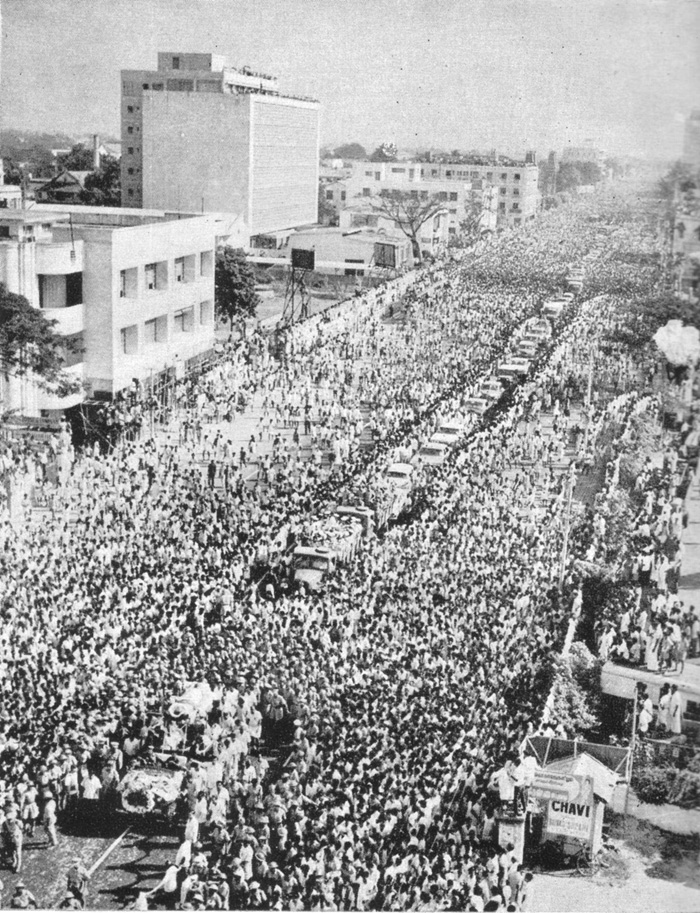 Annadurai Funeral Procession 3 February 1969
[see also C.N.Annadurai - காஞ்சீபுரம் நடராஜன் அண்ணாதுரை
- One Hundred Tamils of 20th Century]
---
That polymath Conjeepuram Natarajan Annadurai (Anna, 1909-1969) had been badly served by the infighting of his beloved thambis (lieutenants) is a curse to befall the Tamils. One usurped the reins of DMK, by back-stabbing the designated heir apparent. Another one, peeved by the power and stronghold of the usurper, then left the party founded by Anna, and established his own party, tagging to it Anna's name as a moniker. A few others, like poet Kannadadasan (1927-1981), who had parted company with Anna while he was alive, occasionally lamented on the magnanimity of Anna. This being the birth centenary year of Anna and the 60th anniversary year of the founding of DMK by him, I bring to limelight some items and issues that have eluded the Anna scholars.
Poet Kannadasan's Lament
I begin this Anna's birth centennial anthology series, with Kannadasan's lament on the last days of Anna, and what he had watched first hand. This material appears in the volume 2 of Kannadasan's posthumously published autobiography Mana Vaasam (1988) in Tamil. I have translated into English, the chapter 28, entitled 'Ithu Thaan Jathakam' (This is the Horoscope, pp. 192-197). Kannadasan had modestly addressed himself in third person singular in Tamil, 'Avan' (He). Kannadasan's passing reference to 'another person' in this memoir is self-explanatory and refers to the current Tamil Nadu chief minister Karunanidhi.
"Anna wanted to see him, but he had rejected it. Later, he thought about it for long. 'He had been friendly with him. We also loved him. Whatever the reason, he wants to see me when he is down. If I reject this, it will be an ingratitude'. After thinking long, he picked up the phone; called Anna, the chief minister.
I'll come to see him that night itself. Anna's assistant Mr. Gajendran who received the message on phone had scheduled the time. That night, he with R.S. Pandian and two more friends, visited with Anna at his house in Nungambakkam. Expecting him that night, Anna had relieved his security that night.
When he went in, Anna was struggling to eat the white protein of one egg, while coughing repeatedly. Anna asked him, 'How are you? Are all your kids keeping fine.'
'We are all fine. How are you Anna?' he asked.
He said: 'Nothing had get set up', while coughing. For half an hour, he sat in front of Anna. Anna couldn't speak. Mr. Arangannal came nearby to talk. Anna looked at his face and sighed 'Go – Go'. After a while, Anna looked at him and said, 'Still not feeling well. Can you come tomorrow evening?'
'OK Anna', he left. Returning home, he wrote a letter in his Kaditham paper, 'God, Please help Anna'. In that letter, he wrote, 'His life with cough is full of complexities. Doctors have lost the ability to save Anna. Hereafter, only God can save Anna'.
Next evening, he heard that Anna had been admitted to Adaiyar Hospital. Anna never bothered about diseases and ill health. Until then, he never took any pills; not a single injection. Operation in America couldn't help. If death was the endpoint for that disease, his body could have been cared like a flower without shredding it.
In this country, treatments that increase the pains are numerous. Is Adaiyar Hospital the Lord's House? It's merely a place of rest, but cannot protect the soul.
He realized that Anna is nearing death. More than him, another person got the message clearly. He called that person and complained, 'What you'll have done?'
That person responded, 'What can we do? He doesn't listen to any of us.'
If the temple head priest falls ill, his protégé will break coconut to Lord Yama!...like that.
He couldn't doubt that some were anxiously awaiting for Anna's death. All the bigwigs of DMK from Tamil Nadu landed at Adaiyar Hospital. Even near Anna's head-board, this camp-grouping scene occurred.
In the party, Anna was No. 1; Nedunchezhiyan was No.2 among the ranking leaders. After Anna's death, this ranking was to be disrupted.
Whether Navalar [Nedunchezhiyan] realized it or not, he clearly grasped it. Only he could know the horoscopes of some bigwigs of Kazhagam. Even Anna had felt this. He wished that nobody would disturb his peace. Doesn't he know that there are folks who thank God for the disease that had crippled him? But there were many who really dripped blood tears for Anna's misfortune."
It is to the credit of Kannadasan that ,while he was alive he had accurately anticipated the misfortunes of DMK party in the post-Anna phase. To quote Kannadasan again,
"That Anna had died fell on his ears like a loud thud then. Unexpectedly such a tremendous gathering wailed and convulsed. His last journey was attended by millions who thronged to Madras. Right or wrong, he wrote an elegy 'Anna's Long Journey' in his Thenral journal. Even the meaning of its title, he could grasp only after a long time.
Anna had rested near the Bengal seabeach. None of the doctors cannot need him thereafter. Then only, the history turned. The younger sibling killing the elder to gain the crown – the son killing the father to rule – These stories of Nawabs recurred in the DMK's second part.
Knowingly or unknowingly, MGR had supported Karunanidhi. That MGR was siding with Karunanidhi made it easy for the latter to gain an upper hand. Thus, rejecting Nedunchezhiyan's claim and making Karunanidhi the leader came to be an easy task.
In those days, Karunanidhi met MGR in morning and afternoon. Party's MLA's met and Karunanidhi was chosen as the leader. Navalar and Madhavan cried and complained at Anna's tomb. Before the tomb's moisture dried, it appeared that the party may split in two. But, Karunanidhi with his shrewd skills saved the split then.
Karunanidhi's horoscope had lucky streaks then. After he became the chief minister, the Congress Party came to split."
For comparison, I provide Karunanidhi's version on how he succeeded Anna as the DMK leader in 1969 from his autobiography, Nenjukku Neethi (vol.1, 1985, 2nd ed., pp. 751-752). Here is its English translation:
"To follow the Indian Constitutional rules and tradition, within half an hour of Anna's death, a new temporary cabinet took oaths at the Governor's Mansion in Guinty. Navalar (Nedunchezhiyan) became the temporary chief minister. Other ministers took oaths for their respective ministeries.
Next, to form a permanent cabinet, a meeting of DMK MLAs' was held on Feb.10, 1969 to select the DMK leader of the legislative assembly. Late minister A. Govindasamy presided that session. Following the election, to the reporters awaiting outside, Navalar announced that 'Mr. M. Karunanidhi was elected unanimously as the leader of DMK MLAs.' That evening itself, I took oaths as the chief minister of Tamil Nadu at the Governor's Mansion in Guinty."
Kindly make note that the events and the roles played by MGR and Nedunchezhiyan as described by Kannadasan, does not appear in Karunanidhi's version.
Mohana Muhari and a Musical Glimpse of Anna
The following anecdote, I had recorded as a brief feature in a note that appeared in the Sudar(Colombo) magazine in Oct. 1980. Unfortunately, I cannot recollect the original source of this authentic anecdote, mentioned in my note of Oct. 1980. And I also don't have a copy of my Sudar note with me now to verify the original source.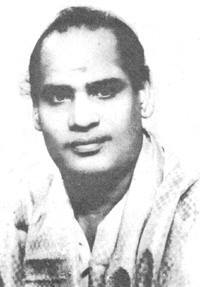 I have no doubt that it's an authentic story, since as a fan of Karnatic music, I enjoyed its appeal as it featured one of my favorite singers Chidambaram S. Jayaraman, a brother-in-law of Karunanidhi.
Jayaraman's inimitable tremolo voice is well known to Tamils, for its scintillating nuances and resonance. His enunciation of Tamil words had a mystic charm and grace. He even had a title Tamil Isai Chittar (Tamil Music Mystic). Though his voice can amply depict any mood, Jayaraman was considered as an exponent in eliciting profound pathos. His countless Tamil movie songs of 1940s and 1950s, that remain popular even now, attest to this fact. Since he was considered as a DMK pillar, in those days Jayaraman was not permitted to give music concerts in Ceylon. If memory serves, Jayaraman visited Colombo in 1968 at the invitation of then Ceylon Broadcasting Corporation's ghatam artist Guruvayoor K.K.Atchuthan master merely as a 'tourist', but was not allowed to give concerts!
Mohanam and Muhari are two well known ragas in the Karnatic Music lexicon and have entered the Tamil language as separate idioms. While Mohanam represents the joy mood, Muhari symbolizes the pathos. Once Anna taught of a caption 'Mohana Muhari' for one of his columns. Just being practical minded, he requested to hum the ascension notes of Mohana raga and decension notes of Muhari raga, to Chidambaram Jayaraman, who was nearby. Jayaraman, was astounded when he hummed the ascension-decension notes of the two ragas in a combinatorial mode. Anna had created a new raga – Mohana Muhari, not recorded in the Karnatic Music lexicon. Jayaraman then pleaded to Anna in banter, 'Anna – you better limit your range to oratory, prose and drama. Just leave the music to us. If not, you'll make us starve.' That banter of Chidambaram Jayaraman – a master singer, stage-movie actor and a music director of repute – was Anna's pleasure to enjoy.
Anna's Point-Pedro Connection
That atheist and social reformer E.V. Ramasamy Naicker (1879-1973) was Anna's mentor is well known to many. But, before Naicker, Anna had a theist mentor and beneficiary at college is not that well known. Anna was a student at the Pachiyappa's College, Chennai, from 1928 to 1933. The principal of Pachiyappa's College at that time was one K. Chinnatambi Pillai (1860 - ?). About this principal, little is known or remembered now, though he might have played the Socrates role to Anna's Plato. But that Chinnatambi Pillai was from Point Pedro has been recorded. I learnt about this educationist, from a short entry in S. Arumugam's collection, A Dictionary of Biography of Ceylon Tamils (London, 1996, p. 38). It is as follows:
"K. Chinnatambi Pillai, an uncle of S. Nadarasar, university lecturer, Colombo, was from Puloly, Point Pedro. He proceeded to Madras, for higher studies, on completion of which he became a teacher at Christian College, Madras. Eventually he rose to be principal of Pachiappa's College, Madras. It is said he encouraged and helped C.N. Annadurai to continue with his studies, when he was in difficulties at college."
From a website dedicated to Anna (http://arignaranna.info/), a few descriptions appear about principal Chinnatambi Pillai. One contemporary teacher at the college in late 1920s, C. Ramachandran, had noted that "Mr. C. Chinnatambi Pillai, was the Principal with sacred ash and sandal wood paste displayed prominently on his forehead."
Another teacher named Prof. Krishnamurthy had recollected: "I still remember the school principal's reference to Anna: 'This youth has a bright future. He will be the leader of hundreds of thousands of folks, and he will revolutionize this land…'"
As the story goes, Anna had passed the intermediate exam in first class. The principal Chinnatamby Pillai wished to have Anna enrolled in the B.A. honours class. But due to limited family means, Anna wished to enroll in the ordinary B.A. class and graduate in two years, to take some kind of a job to support his family. A three year study was needed to complete the B.A. honours degree. The principal influenced Anna's mind positively with the allure that he would make special provisions for Anna's free education and thus made Anna to complete the B.A. honours degree. That the well-meaning timely assist of mentor Chinnatamby Pillai was a gift that changed young Anna's career cannot be doubted. Observers could note that the brand of atheism adopted and popularized by Anna in the late 1930s and 1940s differed from that of his political mentor Periyar, by a degree or two. This variance can be attributed to the influence of Anna's theist mentor Chinnatambi Pillai at Pachaiyappa College.