I was quite intrigued by Prof. Bertram Bastiampillai's article titled "Aaland's Autonomy: an Example to Sri Lanka" [Northeastern Herald - August 2006], and I am not sure if this is the best example for Sri Lanka to adopt.
Let us first look at what Aland has.
Background: Aland (or Aaland) is one of the six provinces of Finland. It is the tiniest of them all (No. 6 in the map), with a population of a mere 26,000 people (2005 est.). Finland's population is 5.3 million strong. The people of Aland are Swedish speaking, whereas the other five provinces are Finnish speakers.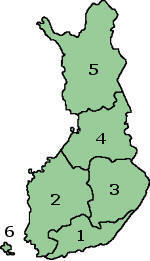 Both Finnish (spoken by 95% of Finland people) and Swedish (5%) are official languages of Finland, despite such vast numerical inequality.
Aland enjoys a special status among Finland's six provinces. It has an elected 30 member parliament (called Lagting) that has control over all its internal affairs. Aland has its own police force, its own national flag, postage stamps, etc., and is an independent member of an organization of Nordic countries (Nordic Council). Aland province is totally demilitarized (it doesn't have its own army, and Finland's army is prohibited from being stationed there). Its population is also exempt from Finland's compulsory military service. The other five provinces have no such privileges – not even their own parliaments.
Wow! A tiny province with a mere 0.5% of the population of a country enjoying such autonomous status!
Sri Lanka: The reason why I think this will not work in Sri Lanka has to do with the powers vested in the Central Government of Finland.
The 200-member Parliament of Finland (called Eduskunta) is the supreme authority in Finland. It has absolute power to enact any law it pleases, even alter the constitution, and also override the President of the country. Its Acts are not subject to judicial review. In spite of such enormous concentration of powers, things have worked well so far, especially in terms of Aland autonomy. This is because the supreme parliament of Finland has chosen not to infringe on the autonomy of Aland. The 200 member Finnish parliament has only one representative from Aland. It has been said that, "In the course of the 20th century, the Finnish sovereignty has been perceived as benevolent, and even beneficial (to the Alanders)".
Now, contrast this with the performance of the Sri Lanka government (GOSL), which is also endowed with similar powers. I do not need resubmit the lengthy history of the numerous legislative and executive actions of the Sri Lanka government against the Tamils, to make my point. But, the fact that the GOSL has not only used powers in its 'legal' armamentaria against the Tamils, but also found 'loop-holes' in the then existing laws to do harm to Tamil interests, requires emphasis.
The Citizenship Acts (1948 and 1949) to disenfranchise a million Tamils were drafted cleverly to circumvent the then existing constitutional prohibition (Section 26) against such laws. Everyone knows that these Acts were targeted against a section of the Tamils, but the way it was crafted was enough to pass legal muster. Sinhala Only act (1956) violated the same constitutional prohibition even more brazenly, but when it faced legal challenges, the Government of Sri Lanka changed the constitution! The constitution was changed to fit the law!!
I can go on, but the point is, if the central government of Sri Lanka, as it is currently constituted, is kept intact, no amount of autonomy for the northeast will bring satisfaction.
Better examples…
If we must look for examples (indeed we must, to gain greater knowledge on the subject), there are others. The Bosnia-Herzegovina arrangement, for example, is a better one.
The Bosnia-Herzegovina constitution (1 December 1995) created three governmental bodies - A Central Government called 'Bosnia and Herzegovina', and two Regional Governments: 'the Federation of Bosnia and Herzegovina' and 'the Republika Srpska'.
The role of the central government in this arrangement is very limited. Article III Para 1 of its constitution limits the role of the central government to TEN subjects, such as 'foreign policy', 'foreign trade policy', 'customs policy', etc. See endnote below for a complete list[i].
The rest of the governing powers are vested in the Regional Governments. These are powers over the internal matters of each region. This separation of duties of the central and the regional governments is absolute. In fact, this concept is enshrined in the constitution. Article III Para 3 (a) reads:
"All governmental functions and powers not expressly assigned in this Constitution to the institutions of Bosnia and Herzegovina (central government) shall be those of the Entities (regional governments)". [Insertion of parentheses is mine].
There are other safeguards in this constitution to prevent hegemony of one group over the other, but for the sake of brevity I shall refrain from the details.
Bosnia & Herzegovina and Finland, which are similar in population size (4.5 million vs. 5.3 million), have two different arrangements for their diverse ethnic constituents, and we should ask why. The government of Finland which has vast powers, with which it could have abused its tiny minority (0.5% of its population), chose to be 'benevolent' and 'beneficial'. Bosnians, Serbs and Croats, on the other hand, killed each other on a massive scale, just for 'hegemonic powers'.
Which type of arrangement would be better for Sri Lanka?
[i] Constitution of Bosnia and Herzegovina: Article III: Responsibilities of and Relations Between The Institutions of Bosnia and Herzegovina And the Entities - Paragraph 1 Responsibilities of the Institutions of Bosnia and Herzegovina

The following matters are the responsibility of the institutions of Bosnia and Herzegovina:
(a) Foreign policy.
(b) Foreign trade policy.
(c) Customs policy.
(d) Monetary policy as provided in Article VII.
(e) Finances of the institutions and for the international obligations of Bosnia and Herzegovina.
(f) Immigration, refugee, and asylum policy and regulation.
(g) International and inter-Entity criminal law enforcement, including relations with Interpol.
(h) Establishment and operation of common and international communications facilities.
(i) Regulation of inter-Entity transportation.
(j) Air traffic control.
---