CONTENTS
OF THIS SECTION

மாவீரர் சுமந்த கனவுகளில் ஒரு தேசம் தெரிகின்றது...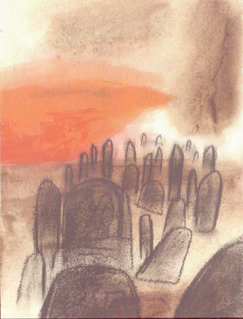 Maveerar Naal
- A Painting by Maruthu
at Sathyam Art Gallery
"உங்கள் உடல்கள்
சாய்ந்ததால்,
எங்கள் தலைகள்
நிமிர்ந்தன..
இன்று..
நாங்கள் வெறும்
கவிதை பாடிக் கொண்டிருக்கிறோம்..
நீங்களோ.. காவியமாகி விட்டீர்கள்.." -
ManNin Maintharkal - A poem by Raj Swarnan
"Because you gave your lives,
We continue to live...
Because your bodies have fallen,
We stand perpendicular...
Today...
We...
We are simply singing poems
You...
You have become the song itself...
The time will come...
When your dreams,
Your dreams for the freedom of your people,
Will become an enduring reality...
The time will come..."
Children of Our Soil - English version by Nadesan Satyendra
" சாவு
என்னை எதிர்பார்த்திருக்கிறது
என்றான் கோழை; சாவை
நான் எதிர்பாக்கிறேன்
என்றான் வீரன்..." ஓ! மாவீரர்களே! - உண்ர்ச்சிக் கவிஞர் காசி ஆனந்தன்... ஓ! மாவீரர்களே!
"என்னால் கவிதை எழுத முடியவில்லை..." சுப வீரபாண்டியன்
Maaveerar Naal - மாவீரர் நாள் 2008
27 November 2008
- in many lands & across distant seas...
Australia - Belgium - Canada - Denmark - Finland - France - Germany - Italy - Malaysia - Netherlands - New Zealand - Norway - Scotland - South Africa - Sweden - Switzerland - Tamil Nadu - United Kingdom - United States

[see also Maveerar Naal 2008 Address by Velupillai Pirabakaran,Leader of Tamil Eelam "..The Sinhala nation refuses to acknowledge the historic homeland of the Tamils. In such a situation, how will it offer a just solution to our people? As the freedom movement of the people of Tamil Eelam we will never, ever allow Sinhala occupation or Sinhala domination of our homeland. Whatever challenges confront us, whatever contingencies we encounter, whatever forces stand on our path, we will still continue with our struggle for the freedom of the Tamil people. On the path shown by history, at the command of the circumstances of today, (வரலாறு விட்ட வழியில், காலம் இட்ட கட்டளைப்படி) we will continue with our struggle till alien Sinhala occupation of our land is removed. At this historic juncture, I would request Tamils, in whatever part of the globe that they may live, to raise their voices, firmly and with determination, in support of the freedom struggle of their brothers and sisters in Tamil Eelam. I urge them from my heart to strengthen the hands of our freedom movement and I ask (உரிமையோடு கேட்டுக்கொள்கிறேன்) that they continue to extend their contribution and help..." more]
Australia
Belgium

Canada

Denmark

Finland

France

Germany

Italy

Malaysia

Netherlands

New Zealand

Norway

Scotland

South Africa

Sweden

Switzerland

Tamil Nadu

United Kingdom


USA


more