Sri Lanka Bombs Killinochchi Civilian Centre &
Demonstrates to the Tamil people
that 'Political Power Flows from the Barrel of the Gun'
10 September 2008
Humanitarian Law of Armed Conflict? What Humanitarian Law?
Comment by tamilnation.org See also "As Patrick Buchanan points out, candidate Obama has absolutely no exit strategy from Afghanistan other than a presumed military victory. He utterly fails to understand the axiom of the guerilla strategy: the guerilla wins if he fails to lose. For the guerilla it is not about winning pitched battles, it is about continuing the fight... Anatol Lieven of King's College (London) puts it aptly. Afghanistan is 'becoming a sort of surreal hunting estate, in which the U.S. and NATO breed the very terrorists they then track down.' Candidates Obama and McCain promise more of the same carnage packaged as change." Understanding Barack Obama - Marc Herold. 31 August 2008
---
Tamilnet Report 10 September 2008
Sri Lanka Air Force (SLAF) Kfir bombers attacked Killinochchi town Wednesday around 7:00 a.m., wounding a 90-year-old man and a 11-year-old boy and causing damage to 23 houses. A 23-year-old pregnant mother was to be operated due to fetal death, caused by the bombardment and a 1-year-old child was admitted in fainted state, medical sources said. The attack has taken place at the heart of the town where NGO offices, residences, civilian facilities and other offices are located. The Sri Lankan bombers fired 16 bombs and deployed lethal air bursts, causing wide destruction. NGO office of Seva Lanka and a store of OXFAM are located 100 meters from the attack site.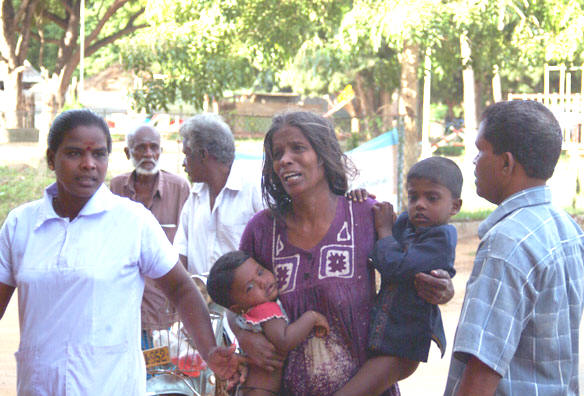 A mother, being displaced by the attack, explains her story to the fellow residents
A young mother lost her unborn baby after being hit by a stone from the blast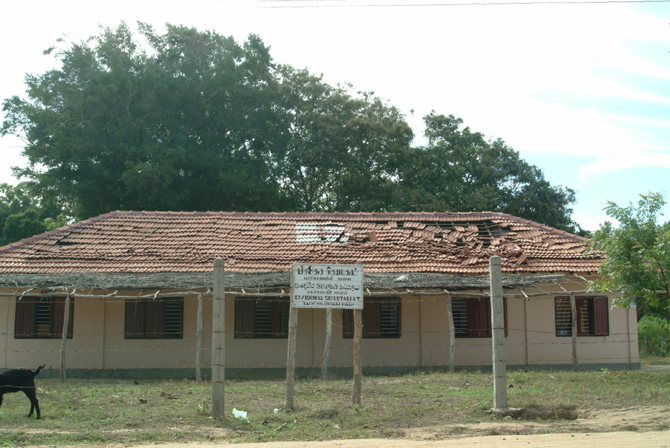 Pachchilaippa'l'li Divisional Secretariat damaged in SLAF attack.
Pachilaippa'l'li Divisional Secretariat, which had re-located to the town from Pazhai due to SLA shelling, also sustained damage. Ki'iinochchi District Secretariat (GA's office) is situated about 700 meters near the locality. A day care centre for children, Tha'lirka'l, located 75 meter close to the site of the indiscriminate air-strike, narrowly escaped damage. There were no children at Tha'lirka'l at the time of the attack. Many civilians had taken refuge in bunkers during the air-strike, 2 km north of Ki'linochchi hospital.
A pregnant woman, Rega Logeswaran, who was rushed to Ki'linochchi hospital after a stone hit her abdomen, was being operated as doctors confirmed fetal death. The young mother was being transferred to Vavuniyaa hospital. A one-year-old child, Vasanthan Chudarnilavan, was admitted to the hospital in fainted state.
The wounded elderly man was identified as Murukan Thampu and the boy, a student of Kanakapuram Viththiyaalayam, as Aananthanesan Kajarooban, according to medical sources at Mallaavi hospital, which recently relocated to the old building of the Ki'linochchi hospital.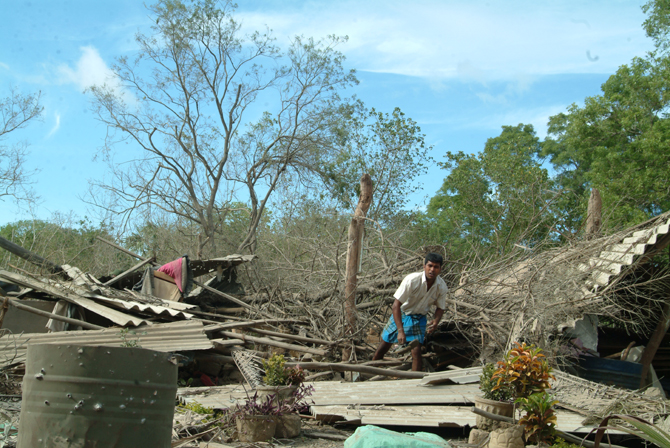 3 of the 23 houses were completely destroyed. 9 houses were severely damaged.
The SLAF bombardment on Ki'linohchci comes after Gotabhaya Rajapaksa, the Sri Lankan Defence Secretary and the brother of SL President, publicly threatening the foreign NGOs to leave LTTE controlled region of Vanni, which is overcrowded with displaced people, and a day after the devastating LTTE attack on Sri Lankan forces Vanni HQ.
Meanwhile, the SLA has closed the Omanthai exit point in Vavuniyaa, on Tuesday, after the LTTE attack SF Vanni HQ, which is located in Vavuniyaa town.
Ambulances from Ki'linochchi hospital were not allowed to cross the gateway. 31 patients from the hospital were awaiting to be transported to Vavuniyaa hospital, according to the DMO of the hospital on Tuesday.