Home > Tamils - a Trans State Nation > Struggle for Tamil Eelam > Indictment against Sri Lanka > Sri Lanka's Genocidal War '95 to 01: Introduction & Index > the Record Speaks...
INDICTMENT AGAINST SRI LANKA
Sri Lanka's Genocidal War - '95 to '01
Impunity exposes extent of Sri Lanka Government support for murder and torture
The US based Human Rights Watch reported in January 1999: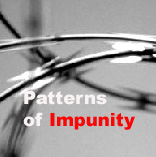 "The year (1998)...saw the first severe punishment of government personnel for human rights violations in the course of the conflict (a gang rape, disappearance and multiple murder that resulted in the death penalty). But the vast majority of outstanding cases many involving extrajudicial killings by security forces remained unresolved, and new violations continued...

Official efforts to account for tens of thousands of persons disappeared at the hands of the security forces continued. As it promised in 1997, the Sri Lankan government made public the reports of three regional commissions of inquiry into some 16,742 reported disappearances dating back to 1988. In July, a new commission with island wide jurisdiction was appointed to investigate and report on about 11,000 complaints left uninvestigated by these earlier commissions.
In July, the Civil Rights Movement of Sri Lanka criticised the governments failure to appoint a similar commission to investigate the 600 or more reported disappearances in the Jaffna area after government forces took control of the former LTTE stronghold in mid-19 96 or to address the many disappearances of Tamils in eastern Sri Lanka from 1984-1988.
Prosecution of the crimes uncovered in these and other inquiries has been a halting process, although charges have been filed against a number of government personnel.
In the first criminal prosecution of its type, on July 3 the Colombo High Court sentenced to death six soldiers and a reserve policeman found guilty of the September 1996 murders of Jaffna schoolgirl Krishanthy Kumarasamy and her mother, teenage brother and neighbour. Five of the accused were also convicted of the rape of Krishanty, and three were found guilty of abduction. Like many Tamil civilians disappeared in security force operations, Krishanthy was abducted from a military checkpoint; her family members and neighbour who attempted to find her were taken from the same checkpoint later that day.

In a related matter, in July after Rajapakse Jayasinghe, a soldier convicted in the Kumarasamy case, claimed that he knew the location of a mass grave containing up to 400 bodies killed and buried by the security forces, the Sri Lankan government ordered police investigations. Three months later, there had been little progress into this or other investigations into reported mass graves.
Human rights defenders, concerned about impartiality, called on the Human Rights Commission (HRC) to undertake an independent investigation with the help of international forensic experts, but although an HRC official had planned to travel to Jaffna in October to begin recording testimony from families of the disappeared, his trip was postponed, and there were no exhumations.
In several prominent human rights cases before the courts, security personnel accused of gross violations remained on active duty, including eight army officers charged in relation to the disappearances of at least twenty-five teenagers in Embilipitiya between August 1, 1989 and January 30, 1990.

No progress was made in reopening the notorious Bolgoda Lake case despite government vows in 1997 to expedite it. The case implicated twenty-two Special Task Force (STF) commandos in the 1995 murders of twenty-three Tamil youths whose bodies were found floating in bodies of water near Colombo. The suspects were released on bail in 1996 and resumed their duties.....
Sri Lanka's pervasive climate of impunity was a source of concern for both the U.N. Working Group on Disappearances and Special Rapporteur on Extrajudicial, Summary or Arbitrary Executions Bacre Waly Ndaiye. In March 1998, the U.N. released the report of Ndaiyes 1997 visit to Sri Lanka. The report expressed concern over the governments failure to bring to justice those responsible for the country's almost ubiquitous extrajudicial killings and noted a troubling disconnection between apparent awareness of human rights issues at the top level of the armed forces and abusive practices on the ground. Ndaiye called for a negotiated settlement to the conflict, possibly with U.N. assistance; and advocated improvements in security force training and discipline, strengthening the Human Rights Commission, revising emergency regulations to bring them in line with international norms, and establishing mechanisms to combat ethnic discrimination......"
---

Contact Information

350 Fifth Avenue, 34th Floor New York, NY 10118-3299 USA
Tel: (212) 290-4700, Fax: (212) 736-1300
[email protected]

33 Islington High Street, N1 9LH London, UK
Tel: (171) 713-1995, Fax: (171) 713-1800
[email protected]