Home > Tamils - a Trans State Nation > Struggle for Tamil Eelam > Indictment against Sri Lanka > Sri Lanka's Genocidal War '95 to 01: Introduction & Index > the Record Speaks...
INDICTMENT AGAINST SRI LANKA
Sri Lanka's Genocidal War - '95 to '01
Sri Lanka uses Tamils as human shields...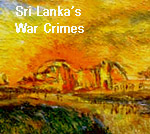 " Sri Lanka is using civilians as a human shield for transporting troops and materials to and from the war zone, a Tamil parliamentarian alleged on Saturday.
``The government thinks security personnel may have more cover if they are transported with civilians in the same ship or aircraft. It is a highly irresponsible practice and unacceptable to us,'' said Neelan Thiruchelvam of the moderate Tamil United Liberation Front (TULF)....
His allegation came a day after a Sea Tiger attack near Mullaithivu sank a navy Dvora-class gunboat that was providing escort to the government transport ship Lanka Muditha. Sources said the ship was carrying troops and civilians from Kankesanthurai in Jaffna to Trincomalee.
The sinking of the Dvora was a clear warning to the government that the LTTE considers the Lanka Muditha a legitimate military target because it ferries security personnel. The state-run Sri Lanka Broadcasting Corporation quoted the military spokesman on Saturday saying that the attack was aimed at the Lanka Muditha and alleged that the LTTE was now hitting out at civilians. He made no mention of the soldiers on board the ship, giving credence to fears that the military is deliberately using civilians to protect troops in transit.
An angered international aid worker said the government's policy of lumping soldiers and civilians in one category for transport was an "invitation'' to the Tigers to attack. "When civilians die in such attacks, the government calculates it stands to gain because it can then score a couple of propaganda points over the LTTE,'' he said.
Thiruchelvam said it was "highly inappropriate'' in the light of recent tragedies for the government to compromise the safety of civilians even if it was facing practical constraints in transportation." (Courtesy: Indian Express, Monday, November 2, 1998)
see also: Sinhala Army compels Tamil civilians to act as human mine detectors