Home > Tamils - a Trans State Nation > Struggle for Tamil Eelam > Indictment against Sri Lanka > Sri Lanka's Genocidal War '95 to 01: Introduction & Index > the Record Speaks...
INDICTMENT AGAINST SRI LANKA
Sri Lanka's Genocidal War - '95 to '01
Disease kills in Kilinochchi - and restrictions on food and medicine continue to affect the Vanni population...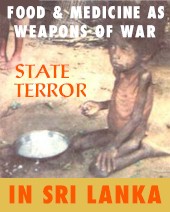 "Eleven people died in Kilinochchi hospital in February as a result of malaria and septicaemia. Reports say 19,300 people were treated at the hospital in February, including 3,900 for malaria. On 15 March, a child named Paranjothy Tharsan died of septicaemia.
Restrictions on food and medicine continue to affect the Vanni population. Government officers say 50% of the medicines to the Vanni for the first quarter of 2000 are still lying in Vavuniya. Some goods provided by UNICEF and local NGOs were allowed into the Vanni on 25 March, including 7,500 mats, 1,000 lamps, soap, sports equipment and 16,000 student exercise books. These had been lying in Vavuniya warehouses for the last ten months.
Although there are 400 lorries in the Vanni, the Army allows only 120 lorries to carry food. The Northern Province Heavy Vehicles Union officers say that lorry owners have not been paid Rs 2.2 million for carrying food to Tiger-held Vanni. On 25 March, government officers in Vavuniya had arranged to send fuel to hospitals in the Vanni. The military at the Ramya House checkpoint denied permission for fuel lorries to proceed, but two lorryloads of malathion insecticide were allowed.
Vanni MP S Adaikalanathan told Parliament in early March that although the Defence Ministry has allowed transport of fertilisers to the Vanni, the military often denies permission. Farmers say that the lack of fuel and fertiliser is badly affecting agriculture.
A new rule introduced in early March says that government officers and students who pass the Eeratperiyakulam Army checkpoint into Vavuniya must possess a special permit. From 13 March, details of bus passengers such as names, addresses and the reasons for travel are being registered at this checkpoint. Such procedure already exists for passengers by train to southern areas. The Army say the new measure was introduced following bomb attacks in Colombo."
(British Refugee Council, Sri Lanka Monitor, March 2000)