For centuries our Tamil ancestors have contributed significantly in various modes to perpetuate the Tamil heritage. But, in one aspect, I have come to believe that they have blundered outrageously. This relates to creating and maintaining proper written records, and passing these records to their descendants. Various reasons can be attributed to such a failure. These include,
(1) the emphasis on the tradition of oral/aural transmission of knowledge in preference to written transmission,
(2) false modesty,
(3) ever persisting poverty of traditional scholars and lack of adequate patronage from the rulers and
(4) a lackadaisical attitude to the relevance and importance of archival preservation.
Also not to be discounted was the real or apparent fear of persecution from the rulers who were least interested in Tamil heritage. Nearly five centuries of European colonialism with their emphasis on Christian missionary activities also contributed significantly to this Tamil malaise of non-maintenance of written records.
In late 1990s, Prof.A.Jeyaratnam Wilson sent me a query relating to how many notable Tamil names (and associated biographical sketches) I can collect among those who lived in the 19th century Ceylon – apart from Arumuga Navalar and Ponnambalam brothers. However I tried, I couldn't provide him with a list which barely touched 20! Lets ignore the 19th century. It is of some concern to me that comparatively speaking (to those belonging to Anglo-Saxon or Japanese heritage), even the available "written information" we have on the notable Eelam Tamils who lived with us in the 20th century, has been spotty. And whatever that exists are being destroyed (intentionally either by the nearest kin of such notables for safety reasons or by enemy activity) or discarded inadvertently (again by the nearest kin following the death of such notables). I had mentioned "written information", which need not have been published. Unpublished "written information" (such as letters, diaries, reports, lecture notes, handwritten or typed manuscripts) are being lost for social historians for want of space and inattention of caring minds.
In this regard, I mention here that thirty years ago, at the K.V.G.de Silvas bookstore (Bambalapitiya branch, Colombo), I bought a small book (only 96 pages) from the bargain bin for two rupees. It was indeed a bargain for me then, since it was a Who's Who' compilation entitled 'I.A.T.R. Who's Who', which was issued during the First International Conference Seminar of Tamil Studies, held in Kuala Lumpur in April (16-23), 1966. Ten years later, it had landed in Colombo via an obscure route. My guess was that, this book copy should have been in the possession of one Tamil delegate from Ceylon who personally attended the First International Tamil Conference Seminar in 1966, and had been subsequently discarded from his/her bookshelf as a house cleaning exercise.
From my young days, I have been a collector of biographical information (especially those supplemented with facial photos, complete date of births and dates of deaths – when appropriate) of Tamil personalities, and this 'Who's Who' compilation did provide some basic information for some of the multi-talented personalities who also distinguished themselves as Men of Letters. Included in the Indian delegates list were some names I could then recognize immediately; 'Pan-mozhi Pulavar' K.Appadurai, distinguished stage actor Avvai T.K.Shanmugam, Kamban aficionado Karaikudi Sa.Ganesan, litterateur M.Varadarajan, Dravidian Front leader and orator V.R.Nedunchezhiyan, and folklorist N.Vanamamalai.
Prelude
The penultimate pages of this book provide the details about the establishment of the International Association of Tamil Research (IATR) in New Delhi in 1964. It states,
"This Association was founded on January 7, 1964 on the occasion of the XXVI International Congress of Orientalists. At the inaugural meeting held in New Delhi there were about sixty scholars from fifteen countries. The signatures of some of those who attended the inaugural meeting are given below and in the next page."
The signature imprints of 26 scholars, who gathered for this "Special meeting of scholars in Tamil Studies", were as follows:
1. Rev.Fr.S.Rajamanickam, St.Xavier's College, Tirunelveli

2. Dr.Kamil Zvelebil, Praha

3.Prof.T.Burrow, [University of] Oxford

4. Dr.K.Mahadeva Sastri, [affiliation illegible]

5. X.S.Thani Nayagam, University of Malaya

6. V.I.Subramaniam, University of Kerala, Trivandrum

7. Harold S.Powers, University of Pennsylvania, Philadelphia

8.A.K.Ramanujan, University of Chicago

9. Charles T.Feuyuesi, University of Madras

10. K.P.Ratnam, University of Malaya

11. F.B.J.Kuiper, University of Leiden

12. Saalai Ilanthiraian, University of Delhi

13. Ilam Kanakasoundari, University of Delhi

14. Charlotte Vaudeville, EFEO [Ecole Fdrancaise d'Extreme Orient], Paris

15. J.Filliozat, College de France, Paris

16. Prof.A.Chidambaranatha Chettiar, University of Madras

17. M.R.Jambunathan, [affiliation illegible]

18. Prof.K.Kanapathipillai, University of Ceylon, Peradeniya

19. K.Arumugham, University of Delhi

20. R.Shanmugam, University of Delhi

21. S.Shankar Raju, University of Madras

22. T.P.Meenakshisundaran, Annamalai University

23. R.E.Asher, University of London

24. M.Varadarajan, University of Madras

25. M.A.Dorai Rangaswamy, University of Madras

26. R.Parthasarathi, University of Delhi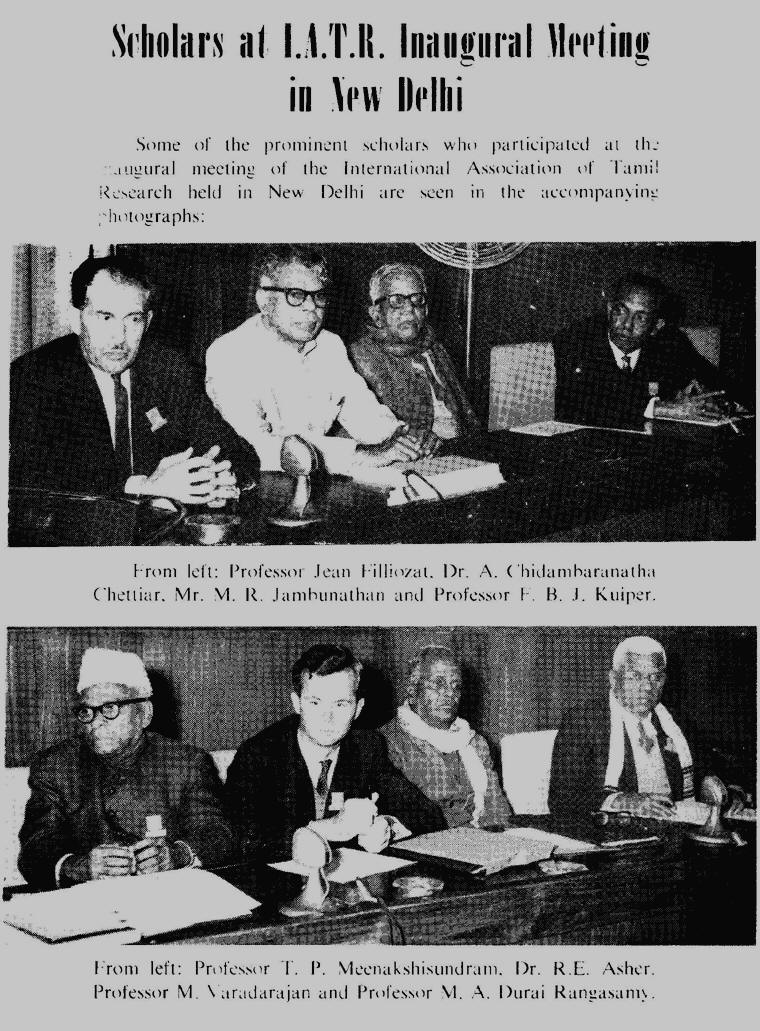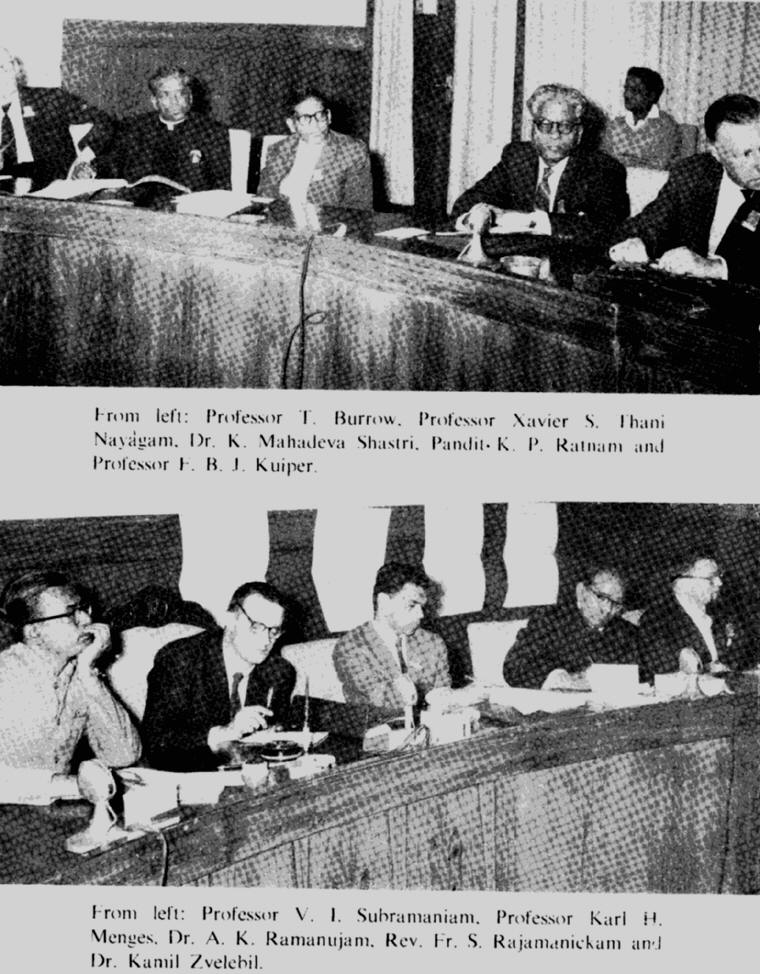 I may not be wrong that Kuala Lumpur in 1966 which hosted the First International Tamil Conference Seminar was fortunate to have quite a few Eelam Tamil academics (then affiliated to the University of Malaya) there, who took an active interest in organizing the First International Tamil Conference Seminar. The leader was Fr.Xavier Thani Nayagam. He was ably supported by Pundit K.P.Ratnam, Prof.C.J.Eliezer and Prof.S.Arasaratnam. Their endeavor also received the essential sponsorship of two prominent Tamils (V.T.Sambanthan, Minister of Works, Posts and Telecommunications, and V.Manickavasagam, Minister of Labour) who were then in the Cabinet of then Malaysian Prime Minister Tunku Abdul Rahman. The then Chief Minister of Madras State and Congress Party stalwart, M.Bhaktavatsalam, attended this First International Conference as an Indian delegate and accepted the request to host the Second International Conference in Madras. Since the Congress Party in the then Madras State was defeated in the 1967 general election, the onus to host the Second International Conference fell on the shoulders of the ruling DMK party headed by C.N.Annadurai (Anna).
Post-lude
The Second International Conference held in January 1968, with its multi-faceted cultural shows and participation of Tamil masses turned out to be a well-earned 'coronation' for Anna, the Chief Minister and Tamil polymath, whose nearly 35 year stellar record as a populariser of Tamil language and Tamil literature (in oratory, social criticism, journalism, stage acting, script writing and cinema) remains unparalleled. It also turned out to be an unannounced valediction of Anna, as he succumbed to esophageal cancer in February 1969.
In 1970, Fr.Thani Nayagam with the able support of French Dravidologist Prof.Jean Filliozat was able to stage the Third International Conference in Paris, as an academic, brain-storming seminar session. Until the end of the Third International Conferences, the biennial routine of conference scheduling without any distortion. Then politicians and their sycophants began to poke their nose in the conference scheduling. As a result, the Fourth International Conference, scheduled to be held in Jaffna got delayed. Despite the political obstacles, Fr.Thani Nayagam successfully guided the Fourth International Conference in Jaffna in January 1974, with the energetic leadership and coordination provided by Prof.S.Vithiananthan and his junior colleagues of Eelam.
The Fifth International Conference was originally scheduled for January 1980 and was postponed since the then ruling AIADMK party-led government in the Tamil Nadu state was dissolved by Indira Gandhi. It was re-scheduled to be held in June 1980, but had to be postponed again, as the Tamil Nadu State election intervened. AIADMK party led by charismatic MGR, returned to power, and eventually staged the twice-postponed Fifth International Conference successfully in Madurai in January 1981. Like the Second (1968) Conference which turned out to be Anna's coronation, the Fifth (1981) Conference turned out to be MGR's coronation. But this was not to the liking of M.Karunanidhi, the DMK party leader and MGR's then leading political opponent. To show his spite against MGR, the Madurai Conference was "boycotted" by Karunanidhi and his DMK party.
Attending this Madurai Conference as one of the Sri Lankan delegates, I heard a mouthful from some of the AIADMK party supporters, who only had contempt for Karunanidhi's pique. While enjoying the festivities produced by the AIADMK party-sponsored Conference, the MGR fans ridiculed Karunanidhi for his oxymoronic "boycott". Their logic was simple. If Karunanidhi was really sincere about his passion for Tamil literature and heritage and if he was indeed a Tamilian, why he couldn't bother to travel from Madras to Madurai and take part in the celebration of Tamil culture, when so many foreigners have traveled all the way from distant corners of the world?
Fr.Thani Nayagam, the Tamil scholar who was the chief inspirational spirit for the first four International Tamil Conference Seminars, was physically missing in Madurai. He had passed away in September 1980; and in a typical 'fashion statement of Tamils of the 20th century', he was honored with a statue at the Madurai Tamil Conference. And that was the end of it. It is unfortunate that the IATR lost its moorings following the death of Fr.Thani Nayagam. It went into a long hibernation and seems to have become comatose. From what I perceive (If I'm wrong here, I wish to be corrected by those who currently have any affiliations to the original IATR), IATR seems to exist only in letter head, with hardly any vibrancy or life which it showed for nearly ten years from 1964 to 1974. This indeed is rather pathetic. How long we have to wait for another Fr.Thani Nayagam to show up?