Democracy Continues, Sri Lanka Style...
Sri Lanka para military holds Tamil Members of Parliament as hostages and threatens MPs from voting against President Rajapakse's budget
[see also The President of the Inter-Parliamentary Union (IPU), M. Pier Ferdinando Casini calls for the Release of Family Members of three Sri Lanka MPs, Geneva, 13 December 2007
European Union Condemns Abduction, 13 December 2007
Tamil Members of Parliament threatened against voting on second reading of budget , 18 November 2007]

"...The progressive destruction of the political process in Sri Lanka has led to both domestic and international tolerance of an enormous amount of violence by the government (regardless of party affiliation) against its citizens. Increasingly, it seems that the government of Sri Lanka is accountable to no one - not its citizens, and not its foreign counterparts who rubber-stamped the recent parliamentary elections. In Sri Lanka's current political climate, power seems to be determined by the number of thugs a given politician has at his/her disposal..." Sri Lanka's Elections 2000: Fear and Intimidation Rule the Day - An Observer's Report - Laura Gross

"I suggest let the government get rid of Karuna, a liability and work with Pillayan and his men who are more popular in the east than Karuna," Rajasingham had proposed. The President according to the minutes then makes a damning comment. States the minutes sent by Rajasingham on Rajapakse's response; "HE (His Excellency) said that he will take up the matter with his defence people and do the needful." The Karuna Affair - Sonali Samarasinghe in the Sunday Leader, 11 November 2007

"Sri Lanka has in President Rajapakse a strong leader who can use his very considerable political skills and the trust that his supporters repose in him to help fashion the southern consensus that has eluded previous governments." Sri Lanka has in President Rajapakse a strong leader" - U.S. Ambassador Robert Blake, 1 March 2007

---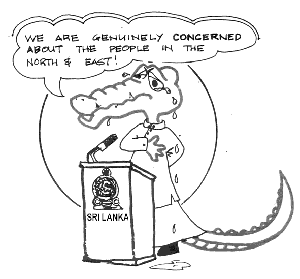 Sri Lanka backed paramilitary Pillayan Group on Tuesday 11 December 2007 abducted the brother of Batticaloa district Tamil National Alliance MP P. Ariyanethran, P. Sriskandaseya, 54, secretary of TNA MP K. Thangeswari, Ira Nagalingam and the son-in-law of TNA MP S. Jeyanandamoorthy's sister, Arunasalam Sivapalan, 28.
The paramilitary has warned the family members of the three abducted victims that the TNA MPs should refrain from voting against the Budget of Sri Lankan president Mahinda Rajapaksa, on Friday , if they wished to see them live on Saturday.
The secretary of Ms. Thangeswari, Mr. Nagalingam is a retired government official. Jeyanandamoorthy MP's family relative Arunasalam Sivapalan is a father of one. Mr. P. Sriskandaseya, an elder brother of Ariyanethran MP, is a Village Officer (GSO) and father of four. All the three victims have been abducted in Batticaloa city on Tuesday.

During the Budget voting last time, on November 19, the son-in-law of TNA MP T. Kangasabai was abducted by Pillayan Group. The victim was released by the paramilitary Pillayan Group after the voting. All the three TNA MPs except Mr. Kanagasabai had participated in the last voting.
---
It is Just a Few Animals that Run the Farm - S. Jayahanthan, 24 April 2007.... "It is clear that this President is a dictator and a ruthless one at that. As the Defence Minister, he is definitely responsible for the extra judicial killings. The country has never experienced such corrupt deals and wastage of public funds like during these 15 months under the Rajapakse government" - former Port Development Minister Sripathi Sooriyarachchi, in a recent interview to the Sunday Leader.This comes from a horse's mouth but not one that runs the farm. The Sri Lankan state is not run by President Mahinda Rajapakse and the Parliament but instead by President Mahinda Rajapakse and his two brothers, Gothabaya and Basil. It is like a farm having been taken over by the animals from human beings with the humans ejected and now standing in the periphery. It reminds one of George Orwell's classic, Animal Farm written in 1945." more

---
The President of the Inter-Parliamentary Union (IPU), M. Pier Ferdinando Casini Calls for the Release of Family Members of three Sri Lanka MPs, Geneva, 13 December 200

The President of the Inter-Parliamentary Union (IPU), M. Pier Ferdinando Casini, has expressed deep concern at the reported abduction of family members of three Tamil National Alliance members of the parliament of Sri Lanka to pressure them into refraining from voting against the budget.

President Casini recalled that kidnapping is illegal everywhere, and urged those responsible for the act to release the hostages immediately. He also called on the Government of Sri Lanka to do everything within its power to ensure that the parliamentarians concerned can freely exercise their mandate and cast their vote as they see fit without fearing for the safety of their families. Otherwise, democracy itself would suffer a severe blow.

Established in 1889 and with Headquarters in Geneva, Switzerland, the IPU - the oldest multilateral political organization in the world - currently brings together 146 affiliated national parliaments and seven associated regional assemblies. The world organization of parliaments also has an Office in New York, which acts as its Permanent Observer to the United Nations.

Contacts:

Ms. Luisa Ballin, IPU Information Officer. Tel.: +41 22 919 41 16; e-mail: [email protected] or [email protected]

Ms. Ingeborg Schwarz, Manager, IPU Human Rights Programme, Tel.: +41 22 919 41 42, e-mail:

[email protected]

. Mr. Rogier Huizenga, Programme Officer. Tel.: +41 22 919 41 24, e-mail:

[email protected]

.

IPU website: www.ipu.org
---