Black Air Tiger attack on Colombo's Air Force HQ, Air Base

TamilNet, Friday, 20 February 2009
---
The LTTE Friday claimed two aircraft of Black Air Tiger mission diving into Sri Lanka Air Force (SLAF) Headquarters in Colombo and into the SLAF base at Katunayaka, carrying out successful air raids. The Tigers also released photograph of the two Black Air Tigers, Col. Roopan and Lt. Col. Siriththiran with LTTE leader Velupillai Pirapaharan before embarking on their mission.

Both the Tamileelam Air Force (TAF) pilots have earlier been decorated with Blue Tiger award for having carried out successful air raids on enemy targets, according to a news release issued by the LTTE.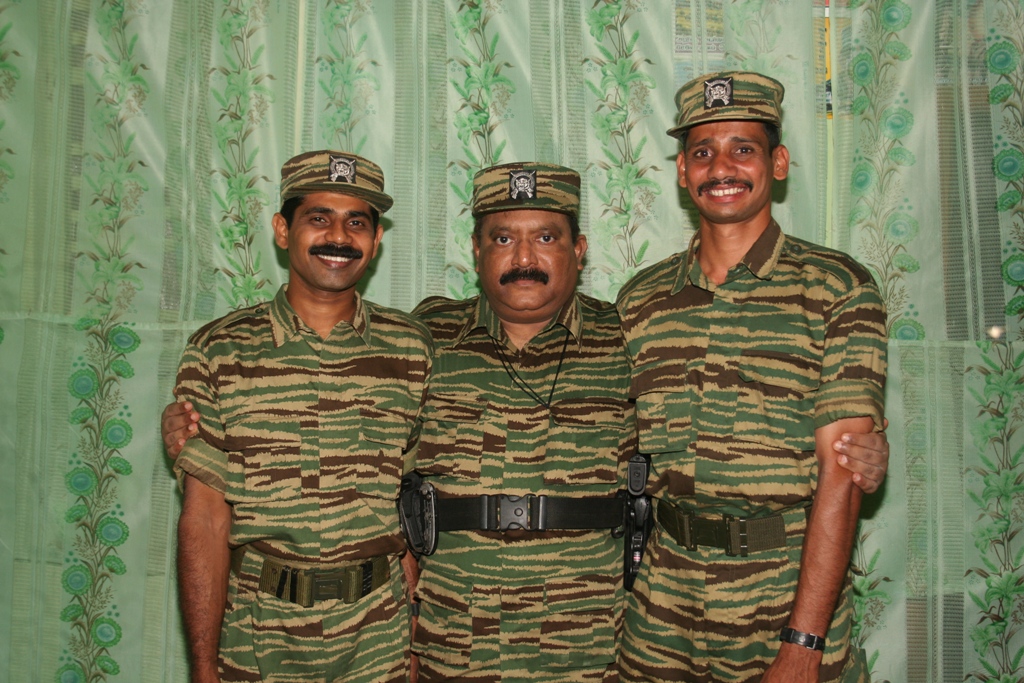 Two LTTE aircrafts hit two Sri Lanka Air Force (SLAF) installations in Colombo, the Slave Island area where the SLAF Headquarters is located and the SLAF base at Katunayake between 9:20 and 9:45 p.m. Friday.
47 persons, including Sri Lanka Air Force (SLAF) airmen, were rushed to hospital from Slave Island. Several of the wounded have sustained serious injuries, the sources said. Two of them succumbed to their injuries. At least 6 persons were wounded inside Katunayake airbase. Two of the aircrafts have come down on their targets, according to available details from Colombo.

Video footage made available to media in Colombo, displaying the wreckage of the aircraft that came down in Katunayake, showed a dead pilot in Tiger uniform, media sources in Colombo said.
The building of Inland Revenue Department, located in front of the SLAF HQ, was on fire following the attack, according to military sources in Colombo. Tension prevailed in the city, which was in dark for more than an hour. Thousands of tracer bullets were fired from all the corners of the city, including the Katunaykae International Airport.

Power supply was cut off and anti aircraft fire was reported from several sentry posts in Colombo city Friday night around 9:30 following reports of Tiger aircraft being spotted over Vavuniyaa. Sri Lanka Air Force (SLAF) fighter jets were flying over the coastal area north of Colombo. Power cut was also reported in Jaffna.