130 SLA killed, 450 wounded in 3 days in Mukamaalai
[TamilNet, Thursday, 20 November 2008, 15:45 GMT]
---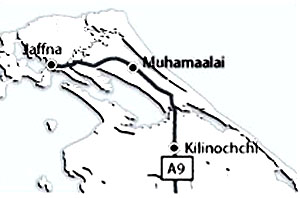 At least 130 Sri Lanka Army (SLA) soldiers lost their lives and more than 450 wounded in the offensive push within the last 3 days in Ki'laali and Mukamaalai fronts, according to a reliable Sri Lankan military source. 29 SLA soldiers lost their lives sustaining sniper fire, the source said and added several soldiers were killed while they were trapped in Tiger minefield. The LTTE is yet to release details on the fighting in Northern Front.

The SLA soldiers who were sent on offensive mission into the no-go zone in Ki'laali and Mukamaalai were trained for a 'do-or-die mission,' the source claimed hinting that the SLA soldiers of divisions 53 and 55 were under tremendous pressure from Jaffna command of the SLA as the Sri Lankan Vanni SF HQ was set ready to link up with the Jaffna peninsula from Poonakari.

Meanwhile, Mangala Samaraweera, the leader of the SLFP-M wing said Thursday that 200 SLA soldiers were killed on Tuesday alone and more than 700 had sustained wounds in the recent fighting in various fronts in Vanni.

"I know that by last Tuesday, 235 injured soldiers were brought to Colombo National Hospital. It was reported that 85 were brought to Kalubowila, 90 to Jayawardenepura and more than 300 to the military hospital. Also, the bodies of more than 200 brave sons of this country were brought to Jayaratne Funeral Directors," he said.

He summoned the second press briefing at the office of newly created "Defence Bureau" launched by him to "enlighten the people with true information from the battle front."

The Sri Lankan government led by Mahinda Rajapakse has been blocking true information from the battle field to reach the people of South and is creating an illusion in their minds that the government is at the verge of victory against the LTTE, Mangala Samaraweera said at a press conference on Thursday.

Samaraweera, who held the portfolio of the Foreign Ministry under Mahinda Rajapaksa soon after the latter assumed power said this was not the first time the SLA captured Pooneryn (Poonakari).

He said the government has been preparing for ceasefire due to the pressure of the Indian government. Rajapaksa has been waiting for suitable time to declare ceasefire. "I firmly say that the current parliament will be dissolved after December 9. Several personalities are to quit the government," he further said.

Mr. Samaraweera has been the leader of the breakaway group of the Sri Lanka Freedom Party (SLFP), main constituent of the United Peoples Freedom Alliance (UPFA) and holds seat in the current parliament and sits with the opposition. He voted against the 2009 budget when it was put to vote after second reading last week.