Sea Tigers raid Sri Lanka Navy camp close to Jaffna city
[ TamilNet, Wednesday, 28 May 2008]
---
Liberation Tigers of Tamileelam (LTTE) Sea Tigers naval wing launched a raid in the early hours of Thursday on the Sri Lanka Navy camp located at Chiruththeevu islet, close to Ma'ndaitheevu island and Jaffna city, LTTE officials in Vanni told TamilNet.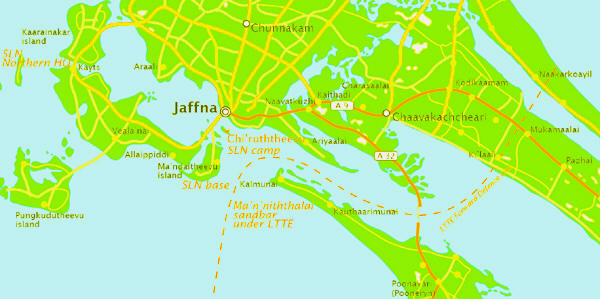 At least 13 Sri Lanka Navy personnel were killed and many sailors wounded in the raid carried out by a special marine wing of the Sea Tigers, the Tiger officials said adding that they have seized weapons including a 50-caliber machine gun, a mortar, two LMGs and military equipments including a radar from the strategic SLN camp situated at the islet facing Jaffna. 3 SLN bodies were also recovered by the Tigers and they identified one sailor.
The raid was launched at 1:25 a.m. and the camp was brought under the LTTE control at 2:00 a.m. One 50 caliber machine gun, one radar equipment, one RPD LMG, one AK LMG, one 60 mm mortar, one 40 mm Rocket Launcher, four T-56 type-2 assault rifles were seized by the Sea Tigers.

141 shells for 60 mm mortar, 06 rockets for 40 mm Rocket Launcher, 930 rounds for 50 caliber machine gun, 430 linked 50 caliber rounds, an extra barrel for the 50 caliber gun, extra barrel for RPD LMG, 795 rounds for RPD LMG, and 1,380 linked 7.62 mm rounds were among the ammunitions. 10 masks, a solar panel with battery and a binocular were among the accessories seized by the Tigers.

Three dead bodies of the Sri Lanka Navy sailors were recovered by the Tigers. There were no LTTE casualties in the operation, the Tigers said adding that their marines safely returned to their base in Vanni mainland after destroying the SLN camp.

The LTTE, on Thursday morning, displayed the weapons and military equipments seized in the attack to media in Vanni.

The Tigers also identified one of the SLN sailor killed in action as Ranasingha Aaarachchige Saman Pushpa Kumara from Bangalavaththa with Sri Lankan national identity card number 841912462 V.