United States &
Tamil EELAM Freedom Struggle
US Pacific Fleet Commander meets Sri Lanka Defence Secretary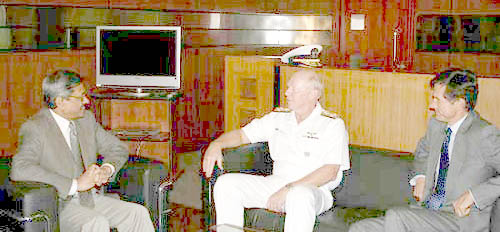 Sri Lanka Ministry of Defence, 17 January 2008
[see also 1. U.S. Military Assistance to Sri Lanka Continues, 8 November 2007 and 2.Peace & Surveillance: US gifts Coast Guard Surveillance Vessel, USS Courageous to Sri Lanka 30 March 2005]
---
States Pacific Fleet Commander Admiral Robert F. Willard today (January 17) met Defence Secretary Gotabaya Rajapaksa at the Ministry of Defence, Colombo. He was accompanied by Commander of the Navy Vice Admiral Wasantha Karannagoda, US ambassador Robert Blake and a high-level U.S. Navy delegation.
The discussion between Defence Secretary Rajapaksa and Admiral Willard focused on strengthening the bilateral relations between defence establishments of the two countries.

Admiral Robert F. Willard is the commander of the world's larges naval command encompassing 100 million square miles and approximately 178 ships, 1500 aircraft and 160,000 sailors, Marines and civilians. He assumed command of the U.S. Pacific Fleet in May 2007. During his career, Admiral Willard had commanded the amphibious flagship, USS Tripoli and the aircraft carrier, USS Abraham Lincoln. Also, he was as an F-14 aviator, who had served in a variety of fighter squadrons and aircraft carriers and commanded the Screaming Eagles of Fighter squadron 51 (VF -51).

---
Full text of the press release issued by the U.S. Embassy in Colombo

U.S. Pacific Fleet Commander Visits Sri Lanka to Review Maritime Cooperation

Colombo, January 18, 2008: Admiral Robert F. Willard, Commander of the U.S. Pacific Fleet, visited Sri Lanka January 17-18 as part of a regional trip to south Asia to meet with his naval counterparts. Admiral Willard reviewed ongoing maritime cooperation, including naval training and exchanges, between the United States and Sri Lanka. In Colombo, he met with senior military officials and called on President Rajapaksa. In addition, he visited Trincomalee to discuss U.S.-Sri Lankan cooperation against LTTE terrorism. Admiral Willard reaffirmed the support of the United States to Sri Lanka in defending against terrorist activity through cooperation on maritime security. He noted that improvements in human rights protection could lead to enhanced cooperation.

Comment by by tamilnation.org