[see also Sinhala Colonisation of Tamil Homeland ]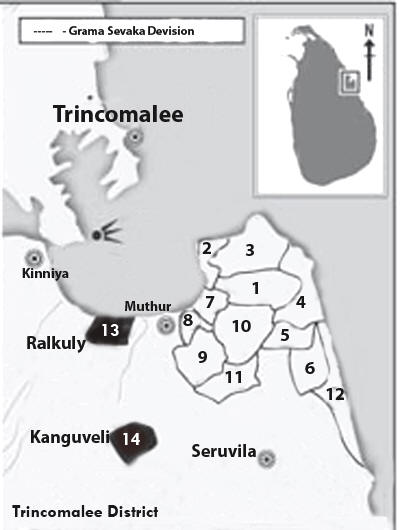 On 30 May 2007, the Government of Sri Lanka gazetted Regulation No. 2 of 2007 in Government Gazette Extraordinary No: 1499/25 which declared Muthur-East / Sampoor a High Security Zone (HSZ) (see map alongside).
What exactly is this HSZ? HSZs are vast areas of land in the Tamil homeland that have beenconfiscated by the Sri Lankan military over the last three decades after evicting the Tamils who had been living there for many generations. These are used by the Sri Lankan military, and the GoSL refers to them as HSZs. These areas are more accurately called military zones (MZ). These MZs have been the cause of great insecurity - not security - for the Tamil people, but are referred to by the GoSL by the very oxymoronic phrase "High Security Zones."
The latest declaration of an MZ in Mutur-East in the Trincomalee district, mentioned above, will confiscate private land from the Tamils who were displaced from their homes by indiscriminate shelling and bombing in late 2006. This confiscation of lands is taking place while the owners are languishing in refugee camps in appalling conditions. Thousands of Tamil families, who have been historical inhabitants of several ancient Tamil villages in this area of Muthur, will be affected by this latest declaration.
It is very revealing to note the census statistics taken in 1881 for this newly declared MZ. This MZ area was then known as Kottiarpattu AGA Division. According to the 1881 statistics, there were 3027 Tamils, 1673 Muslims, 38 Veddas, 13 people of European descent and 11 Sinhalese in this MZ. There can be no doubt that this area is a Tamil/Muslim area. Despite this historic inhabitation by Tamils, even the Members of parliament for this area were not consulted before making the MZ declaration.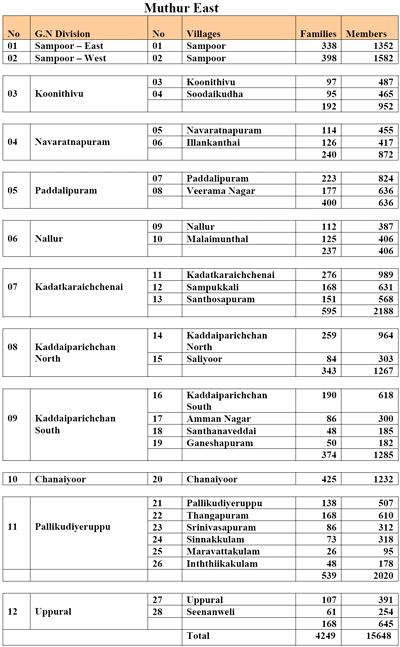 The declared MZ in Muthur-East covers half of the present Muthur Divisional Secretariat, which is 179.4 square kilometers in territory. Thus the confiscated area covers 90 square kilometers, which is a very large area. The GS divisions within the declared MZ and the population from these divisions are listed in the Table above.
This area includes 19 schools, including the leading school for this area, the Chenaiyoor Central College. There are 18 Hindu temples and one Methodist church. The area has 88 water tanks that are used for irrigating farmlands and grazing land for livestock. About 2000 hectares of such land are owned by the people. [1 hectare = 0.01 square kilometers] There are many fishing villages in which people depend on fishing as their main livelihood. Two hospitals, Sampur Hospital and Paddalipuram Hospital, are situated in these newly declared MZ.
Details of Schools
1. T/ Chenaiyoor Central College
2. T/ Sampoor Maha Vid.
3. T/ Sampoor Sri Murugan Vid.
4. T/ Pallikudiyiruppu Kalaimagal Hindu College
5. T/ Kaddaiparichchan Vipulananda Vid.
6. T/ Kadaikaraichchani GTMS
7. T/ Koonithivu Navalar Vid.
8. T/ Soodikudha Bharathi Vid.
9. T/ Illakkanthai GTMS
10. T/ Paddalipuram GTMS
11. T/ Nallur GTMS
12. T/ Malaimuthal Malaimagal Vid.
13. T/ Amman Nagar Ambal Vid.
14. T/ Santhanaveddai Inharan Vid.
15. T/ Sinnakulam GTMS
16. T/ Santhosapuram Sivasakthy Vid.
17. T/ Thangapuram Sri Ganesha Vid.
18. T/ Uppural Sivasakthy Vid.
19. T/ Seenanveli Athavan Vid.

Details of Temples
1. Sampoor Sri Pathirakali Ambal Kovil
2. Chenaiyoor Varnakula Vinayakar Kovil.
3. Chenaiyoor Sri Nagammal
4. Sampoor Pilliyar Kovil
5. Sampoor Nagathampiran Kovil
6. Kaddaiparichchan Katpaha Vinayakar Kovil
7. Koonithuvu Veda Pathirakali Kovil
8. Koonithuvu Pilliyar Kovil
9. Soodaikudha Mari Amman Kovil
10. Kaddkkaraichenai Pilliyar Kovil
11. Kaddaikaraichenai Paththini Amman Kovil
12. Amman Nagar Amman Kovil
13. Pallikudiyeruppu Pillaiyar Kovil
14. Thanganagar Nagathampiran Kovil
15. Malaimunthal Malaineeli Amman Kovil
16. Malaimunthal Sri Murugan Kovil
17. Nallur Pilliyar Kovil
18. Illakanthai Vairavar Kovil
19.Methodist Church - Paddalipuram

Irrigation tanks (main)
1. Paddalipuram Kulam - Paddalipuram Division
2. Ilakkanthai - Navarathinapuram Division
3. Sinnakkulam - Pallikudiyiruppu south Division
4. Maravedda kulam – Pallikudiyiruppu south Division
5. Iththikulam – Pallikudiyiruppu south Division
6. Veeramanakar Kulam – Paddalipuram Division

Such MZ declarations over the last three decades are a much ignored phenomenon. Their sociological effects in the Tamil homeland have not received adequate attention.
Land confiscations through MZ declarations have created more than 300,000 long term refugees. The statistics in the Table below gives some idea of the loss people have suffered through these MZ declarations. People lose their homes and their possessions, agricultural and grazing land, coconut tree estates, fruit trees, other trees that sustain the nutritional needs of the people, and coastlines used for fishing which for many is their livelihood. The violation of children's rights caused by the MZ displacement is yet another dimension. Many schools that fall inside the MZs are permanently lost to the children.
The Mutur-East MZ declaration swells these already existing statistics.