Aerial attack on Padahuthurai, 14 civilians killed, 35 wounded - "a crime against humanity" says Bishop of Mannar Diocese, Rt Rev Rayappu Joseph
[TamilNet, Tuesday, 02 January 2007]
"One may wonder whether this indiscriminate killings of innocent people is the will of God. Man was created by God to live in peace, happiness and freedom. Denying freedom to anyone cannot be the will of God. To survive in this world one has to be strong. We must learn to strengthen ourselves in unity and face any hardships to gain our freedom. Let us pledge ourselves to fight for our freedom and happiness as we pay our deepest love and respect for the innocent lives robbed so cruelly," Rev. Fr. James Pathinathar in his address at the funeral of the Padahuthurai victims of Sri Lanka's crime against humanity

---
Sri Lanka Air Force bombers Tuesday morning bombed more than 25 houses, killing at least 14 civilians, including 6 children, and seriously wounding 35 civilians at the coastal hamlet of Padahuthurai in Iluppaikadavai, 24 km northwest of Mannar town. Medical staff at two local hospitals in the area, Mulankavil and Pallamadu, were struggling to transport the seriously wounded, as an ambulance rushed from Mannar hospital, was blocked by Sri Lanka Army soldiers manning the Uyilankulam entry point.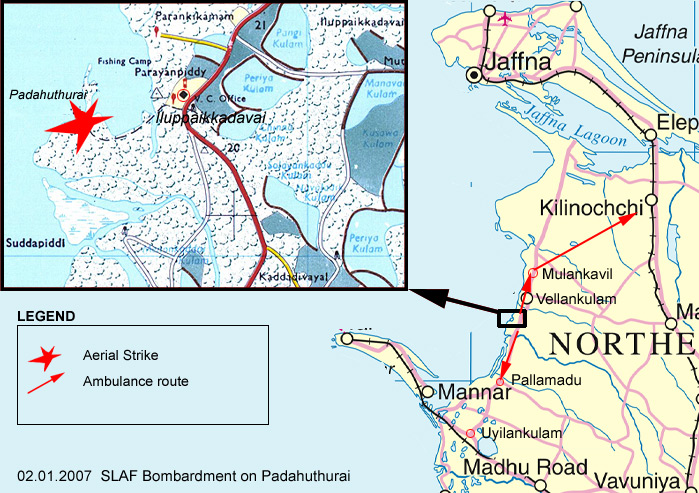 Only one house remained in the fishing village where 34 houses and huts, flattened in the carpet-bombardment, were ablaze, eyewitnesses said. Four Kfir bombers attacked the Padahuthurai village, located in LTTE controlled Iluppaikadavai GS division in Manthai West, around 9:35 a.m.

Five dead bodies, including 3 children below age 7, a pregnant woman and her husband, were at the mortuary of Mulankavil hospital. A child of the couple was also killed and a child wounded, medical sources at the hospital said.Many of the wounded were being transferred to Kilinochchi, located 50 km northeast.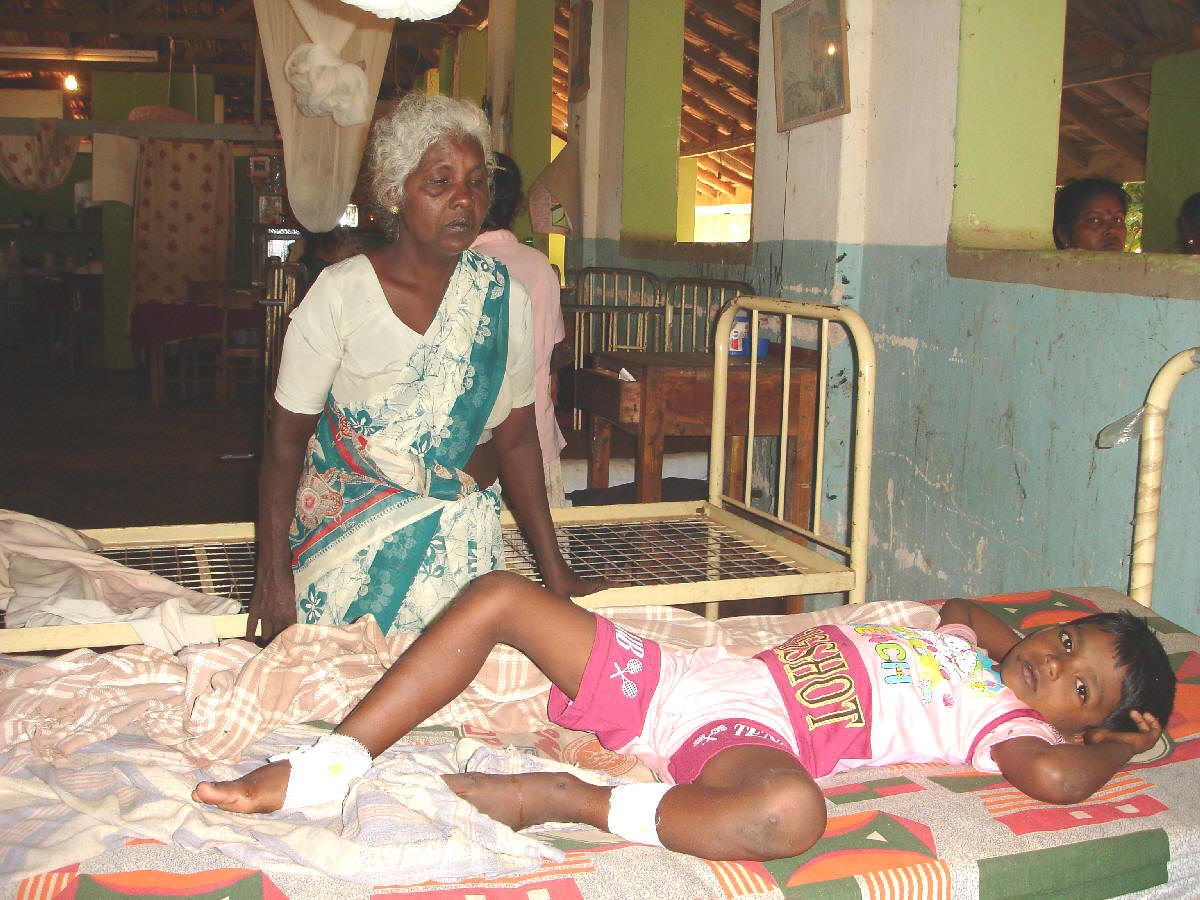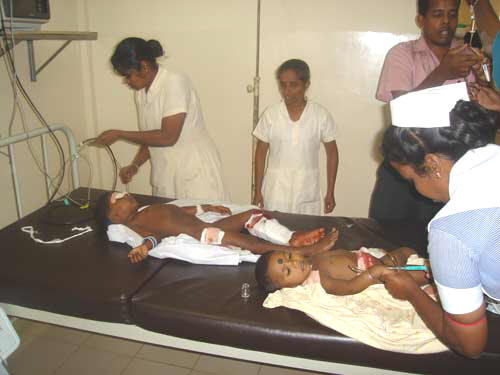 Wounded children rushed to Kilinochchi hospital
There is no LTTE military installation in the fishing village, entirely flattened in the carnage, according to wounded civilians at the hospital.Details from other hospitals are yet to emerge.

The Bishop of Mannar Diocese, Rt Rev Rayappu Joseph, who visited Padahuthurai hamlet, which was completely destroyed by indiscriminate aerial bombardment by the Sri Lanka Air Force Tuesday morning, has condemned the bombardment and said the attack had destroyed the settlement of the Internally Displaced persons. There was no military installation of the LTTE in the area, the Bishop told media. The Bishop, calling the bombardment "a crime against humanity," urged the International Community to send independent observers to NorthEast. Death toll has risen to 15, including 7 children below age nine , a pregnant woman, her child and husband.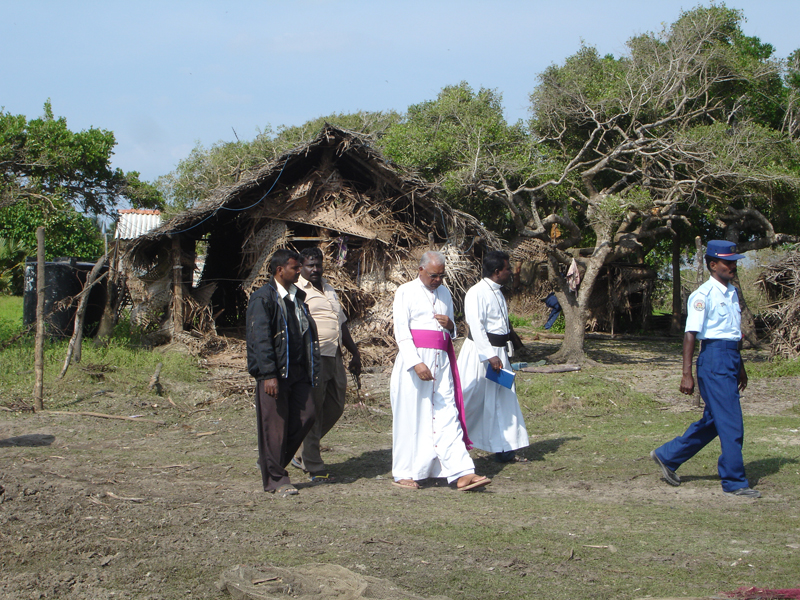 13 victims of the bombardment were identified Tuesday night: Anthonipillai Rasakumari, 52, a mother, Anthonipillai Kutti, 26, Anthonipillai Velastin, 30, a mother and her husband Kugan, their 2-years-old son Dayalan, 4-years-old daughter Dayalini, and 1-year-old baby boy of their relative, I. Madusan, V. Tharsini, 8, Jhomson, 9, Vinosan, 6, Uthayakumar, 55, V. Vijitha, 28, and Kili, 32.

The Bishop, while addresing the media in Tamil, condemned the Sri Lankan military for telling a "barefaced lie," that the airstrike had hit a LTTE military installation.

Bishop of Mannar, Rt Rev Rayappu Joseph, visited Padahuthurai within 4 hours of the attack. ICRC officials visited the attack site after the Bishop and the SLMM is expected to visit the site Wednesday.

"Such an open lie hurts us even further than the gruesome attack itself," Bishop Rayappu said. "There is no hostile military presence [of the Tigers] in this area. These are innocent civilians who have been living here since 1995. These are people who were driven from Navanthurai in Jaffna by the atrocities of Sri Lankan forces.They were leading a simple life barely enough to survive with basic livelihood of small scale fishing on a day to day basis in the shallow waters." "I have known these people for years."

Sri Lanka Army blocked ambulances from Mannar from crossing Uyilankulam entry point to transport the wounded civilians. Critically wounded victims were transported to Mulankavil and from there to Kilinochchi located 50 km northeast of Illuppaikkadavai (geographic distance). The road distance is around 80 km.

There is even not a single boat-yard in the vicinity, the Bishop explained that the hamlet was a peaceful place of refuge for the IDPs who were settled there.

Looking at the headless bodies of women and children the Bishop said the only term he could only characterize the attack as an act of "state-terror."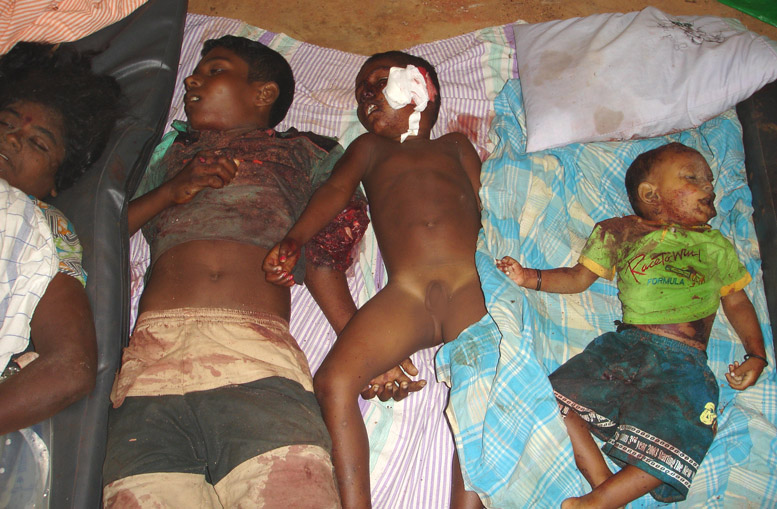 Dead children in Mulankavil hospital morgue.
"Innocent civilians are being killed on a daily basis in the East. A big scale war is thrust upon the people of the East. Many civilians are dying there. Also here in Mannar district, we have witnessed the inhumane act of violence," Bishop Rayappu said.

"It is high time that the international community realizes the state of affairs here and send a team of observers who can tell the truth to the world.The international community should censure the Sri Lankan Government for the indiscriminate and terrible violence" he said.

"One should realize the objective of an attack of this magnitude in a purely civilian area where there is no Tiger camp or hostile activity," he repeated.

Most of the 231 persons of 46 famililies were living in 35 huts. The entire hamlet is destroyed, the Village Service Officer (Grama Sevakar) of Iluppaikadavai, Sinnathurai Vijayendran, who was also at the site told TamilNet.

Most of the civilians living in the hamlet were displaced civilians from Navanthurai and the surrounding coastal villages from Jaffna. They were displaced in 1995, Mr. Vijayendran said.

A child admitted at Kilinochchi hospital, succumbed to the wounds Tuesday night.3 children, a pregnant woman and her husband, were pronounced dead at Mulankavil hospital.Two ambulances were rushed from Kilinochchi to Iluppaikadavai. Six severely wounded children were among the ten wounded, brought to Kilinochchi hospital, in the first ambulance.

At least 14 bombs were dropped, each targeting two huts. One did not explode. Many of the huts were completely destroyed. Only a single house, built using concrete, partly survived, a Tamileelam Police official inspecting the site explained.

Bishop Rayappu, after returning to Mannar, wrote a letter to the Sri Lankan President Mahinda Rajapakse and issued the copy of the letter to media Wednesday:
02.01.2007
His Excellency Mr. Mahinda Rajapakse,
President of the Social Republic of Sri Lanka,
Colombo.

Your Excellency,

Aerial bombing that took place at Padahu Thurai near ILLUPAIKADAVAI, in the un-cleared area of the District of Mannar at 9.35 am Today the 02nd of January, 2007.

Three Kefir bombers aided by an aircraft that is said to be supplying information to them, had been bombing the above small settlement of displaced people consisting of 35 families from Navanthurai, Jaffna. This aerial bombing took place today the 2nd of January, 2007 at 9.35 in the morning. I saw 12 spots where the bombs had struck and two of these bombs remain unexploded. The area of this attack is just within a radius of 100 meters close to the sea shores. This settlement consisted of 35 Catholic families who were all very poor fisher-folk. There is a Catholic church on this very spot in clear sight. They were living in small cadjan sheds. The Parish priest of this locality in the person of Fr. P. Arulnathan OMI and most of the priests and religious working in this area are very familiar with this location, the people and their day to day life.

I visited this very spot today at 12.45 Noon and the ICRC came there fifteen minutes later. Tomorrow morning i.e. on the third of January 2007, the SLMM is expected to visit this locality. After listening to the people and to the priests and religious working in the area and from my personal inspection, I wish to convey to you that there were no LTTE bunkers nor could we see any sign of their camps nor any individual residence of possible LTTE cadre in or in the vicinity of this area. This attack is clearly on a civilian target which, as far as I had witnessed, has blown to pieces 13 innocent civilians on the very dawn of the New Year 2007. It is feared that many more of the wounded would succumb to their injuries.

I, in the presence of the Catholic priest of this area saw eight civilian bodies of the above tragedy at the Pallamadhu hospital out of whom three were children of 2, 6 & 11 years old. They were all limbless and three of them headless. The parish Priest of this area had seen five bodies of civilians known to him who succumbed to death at Mulankavil hospital, this morning. I was told by the Doctor of the Pallamadhu hospital that more than 35 wounded people had been dispatched to Mulankavil hospital and from there, nearly 25 serious cases had been sent to Kilinochchi hospital most of whom are, I was told children and women. A good number of these may not survive, I was told by a doctor. There were no LTTE killed in this incident except one who was on leave and had come in civil, minutes before the attack to this place to pay New Year visit to his mother-in-law, as I came to know from my inquires.


UN deeply concerned at civilian casualties in Sri Lankan bombardment
[TamilNet, Wednesday, 03 January 2007, 06:52 GMT]
United Nations Assistant Secretary-General for Humanitarian Affairs Margareta Wahlström, in a statement issued Tuesday, said the aerial bombardment on Iluppaikadavai in Liberation Tigers of Tamil Eelam controlled Mannar district, by the Sri Lanka Air Force, killing civilians including children, was a "source of deepest concern." The United Nations Office for the Coordination of Humanitarian Affairs (OCHA) also remained concerned about deteriorating livelihoods on the Jaffna Peninsula in northern Sri Lanka as well as all those who have been displaced in the country, the statement said.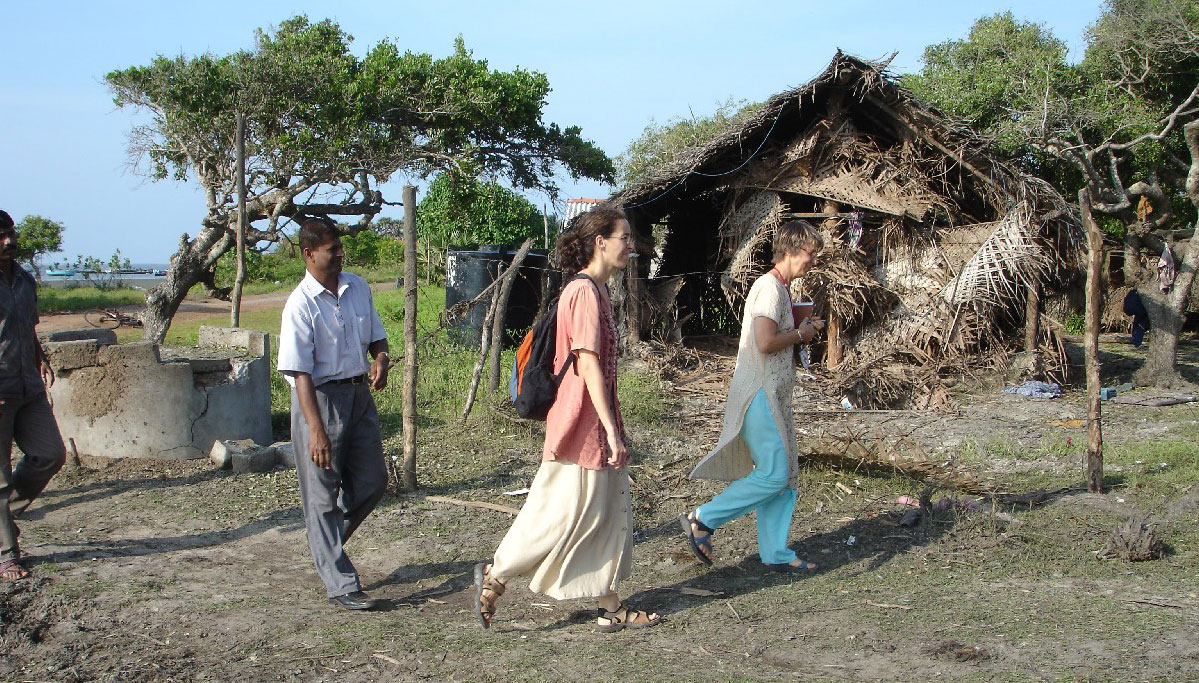 ICRC officials are inspecting the bombed village.
Full text of the Press Release issued by the United Nations Office for the Coordination of Humanitarian Affairs
UNITED NATIONS CONCERNED BY CIVILIAN DEATHS IN SRI LANKA

(New York: 2 January 2007): At least 14 civilians, including children, were killed this morning in north-western Sri Lanka during the aerial bombardment of the coastal village of Illupaikadavai, in Mannar District by the Sri Lankan Air Force. At least 35 additional civilian casualties have also been reported.

Some 3,000 civilians have been killed in the conflict between the Government of Sri Lanka and the Liberation Tigers of Tamil Eelam (LTTE) since the resumption of armed hostilities in 2006, bringing the total number killed since the start of the conflict to 67,000.

"Sri Lankans continue to suffer deeply due to this conflict, and today's loss of life is a source of deepest concern," said Margareta Wahlström, United Nations Assistant Secretary-General for Humanitarian Affairs and Acting Emergency Relief Coordinator. "It is imperative that both sides to the conflict take all measures to fulfil their obligations under international law to protect civilians in this conflict; we have too often seen them fall short in this duty."

The village of Illupaikadavai is in Manthai West, an area of Mannar District controlled by the Liberation Tigers of Tamil Eelam (LTTE) and in which more than 4,000 displaced Sri Lankans have sought shelter from the conflict since early 2006.

More than half a million Sri Lankans are displaced throughout the country -- nearly 213,000 of them newly displaced since the resumption of armed conflict in 2006. Additionally, 120,000 to 140,000 people remain displaced following the devastating 26 December 2004 Indian Ocean tsunami, which ravaged northern and western coastal areas of Sri Lanka, and nearly 315,000 remain displaced since previous stages of the conflict.

The United Nations calls once more for a cessation of hostilities between the Government of Sri Lanka and the Liberation Tigers of Tamil Eelam (LTTE) and resumption of the peace process, and recalls the responsibility of all parties to the conflict to protect civilians and uphold international human rights and humanitarian law.

The United Nations Office for the Coordination of Humanitarian Affairs (OCHA) also remains concerned about deteriorating livelihoods on the Jaffna Peninsula in northern Sri Lanka -- home to more than 500,000 civilians -- as well as all those who have been displaced in the country. Limited access by land to the peninsula has impeded the population from receiving sufficient food, medicine and other essential supplies since August 2006. The Government of Sri Lanka has recently committed to improve the supply by sea and local distribution networks.

Remains of Padahuthurai victims laid to rest
[TamilNet, Friday, 05 January 2007, 01:02 GMT]

Hundreds of civilians, religious leaders and civil representatives bade farewell to 13 of the 16 civilian victims killed Tuesday in Sri Lanka Air Force (SLAF) bombardment at the Mother Velankanni Church at Nochchikuda, Wednesday, sources in Mannar said.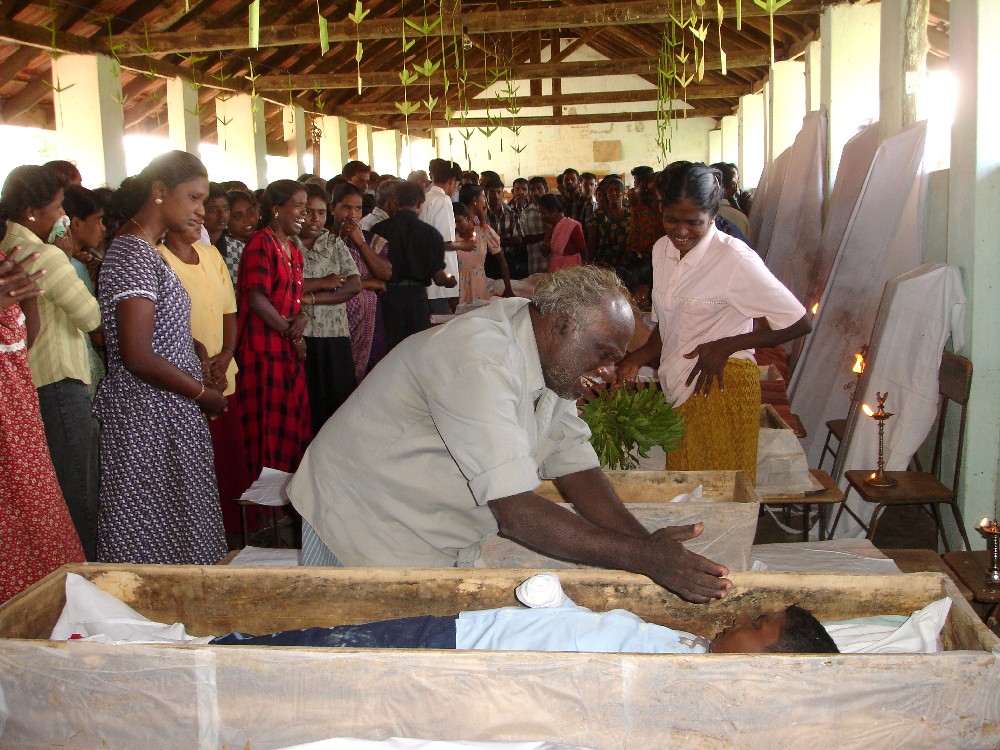 The remains were kept at the Government School at Illuppaikkadavai and taken in procession to Mulankavil town Wednesday morning. The caskets were brought to Mother Velankanni Church for funeral service and laid to rest at Nochchikudah burial site Wednesday noon.

Rev. Fr. M. X. Karunaratnam, Chairperson of the North East Secretariat of Human Rights (NESoHR), and Rev. Fr. James Pathinathar addressed the mourners at the church. Liberation Tigers Deputy Political Head, S. Thangan, also took part in the funeral service.
"One may wonder whether this indiscriminate killings of innocent people is the will of God. Man was created by God to live in peace, happiness and freedom. Denying freedom to anyone cannot be the will of God. To survive in this world one has to be strong. We must learn to strengthen ourselves in unity and face any hardships to gain our freedom. Let us pledge ourselves to fight for our freedom and happiness as we pay our deepest love and respect for the innocent lives robbed so cruelly," said Rev. Fr. James Pathinathar in his address.
S. Thangan said that the Padahuthurai killings of innocent civilians is another action by Colombo that exposes the agenda of ethnic cleansing of Tamils in strategic areas in northeast by the present government and its armed forces.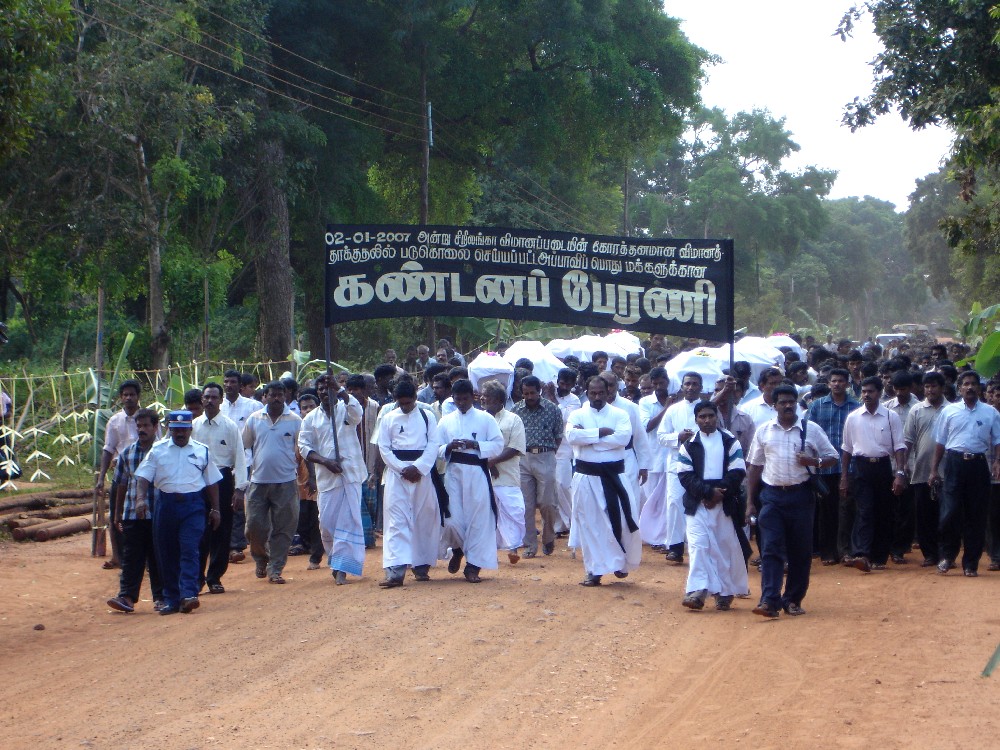 NESoHR's letter to UN
In a letter sent to the Secretary General of the United Nation on Wednesday, Rev. Fr. M. X. Karunaratnam, Chairperson of the North East Secretariat of Human Rights, said Padahuthurai was a sheltering hamlet for refugees from Navanthurai Jaffna who fled due to Sri Lanka military atrocities in the mid nintees. As the former Parish Priest in Navanthurai Fr Karunaratnam used to visit Padahuthurai often to attend to the livelihood needs and to human rights matters, the letter said.