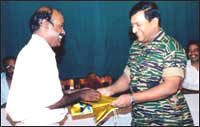 Pon. Ganeshamoorthy who was killed Friday, 4 August 2006, was a well known literary figure, author, long time freedom activist and ardent campaigner for the independence of Tamil Eelam. He was the General Manager of Peoples Bank, Kankesanturai Branch and was on his way to work when he was killed. His killers are alleged to be Intelligence operatives of the Sri Lanka Army (SLA).

"Pon Ganeshamoorthy tirelessly championed the cause for the freedom of Tamil Eelam and was committed to the struggle from his early student days. From the days of "peaceful protests" his involvement in the freedom struggle goes as far back as 1965,"

As a freedom activist Pon Ganeshamoorthy, through his creative writings and artistic ability, was instrumental in arousing the intellectual interest in Tamil people the idea of liberty and liberation.

Pon. Ganeshamoorthy is a multi-talented artist. His dramatic productions included the two popular drama serials 'Ilankai Munn" and "Vaikarai." These and many other short dramas were broadcast on VoT (Voice of Tigers) Radio.

His drama serial "Ponparapiththivu" that's now being broadcast on VoT, showcasing Tamil Heritage, brought out the history and cultural significance of the Tamil race in Sri Lanka. He has also produced other programmes for VoT including "Villupaattu – Uraiveechchu."

He also wrote the lyrics for numerous freedom songs.

A prolific author he has written amongst others "Thooram Thodum Vaanam," "Thuli Thuliyai Vairangal," A Collection of Tamil English Poetry, and "Thodukkavo Kavithai Thohuthi.

He served as editor of Ina Eluchchi (Resurgence of race) publication.

He was dedicated to writings that served more like history lessons with the soul purpose of educating people. His drama serial Ilankai Munn (Soil of Ilankai) has seen print. He created the video film "Mannukkaha (For the land)" for Nitharshanam. He performed for radio, in stage and acted in films.

Pon. Ganeshamoorthy was an exceptional artist; he was an accomplished musical director, novelist, play-write, poet, singer, and songwriter, and an exponent of "Villupaattu." He has won prizes and accolades for his artistic and literary contributions.

In 1998 he was honored by the Leader of the LTTE, Velupillai Pirapaharan.

"Pon. Ganeshamoorthy has earned himself a place in history as a tireless contributor to the "Tamil Freedom Struggle,"" employees said of him during the protest against his killing.