Sri Lanka's Undeclared War on Eelam Tamils
...in the Shadow of the Ceasefire: 2002 - 2007
---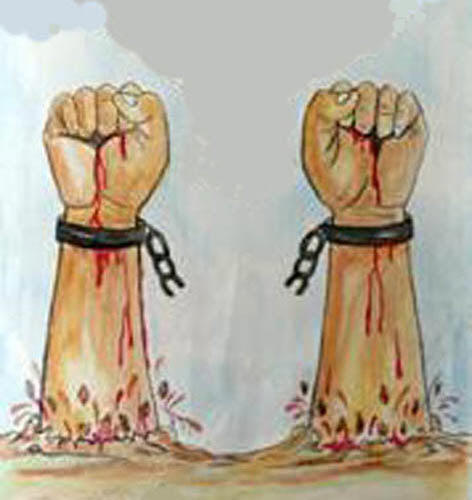 "Soldiers stopped me at the Maambalam junction last night when I was going home, dragged me inside a building there, hung me upside down by my feet and brutally assaulted me until I fainted, said Mr. Balasingham Daiyaniharan, 21, a resident of Ariyalai, in his statement to the Jaffna magistrate, Mr. R. P Vicknarajah, at the Teaching Hospital in the northern town Sunday noon. Three civilians and two journalists attacked and injured by SLA soldiers and Police Saturday night have been admitted for treatment at Jaffna Teaching Hospital.

Mr. Daiyaniharan works as a labourer in Jaffna town.

"I was returning from work last evening when I heard there was trouble at Maambalam Junction. Therefore I waited and went home after confirming everything was quiet", he said.

The magistrate recorded the statements of the injured.

"I was chased by some Policemen while covering the incident last night. I showed one of them my government press card. He looked at it and assaulted me so mercilessly that I fainted at the spot, my head bleeding. I can identify my attacker", said Mr. K. Ithayapavan, the staff reporter of the Jaffna daily, Valampuri, in his statement to the Jaffna magistrate.

Police smashed up his digital camera and bicycle. A motorbike belonging to Valampuri staffers who went in search of Mr. Ithayapavan was also smashed by troops that were searching the area house to house.

Mr. A. sabeswaran, a staff report of the Jaffna daily Thinakkural, one of the journalists who were assaulted Saturday night by soldiers and Policemen was admitted with a bone fissure to Jaffna hospital Sunday morning.

"I work in the Jaffna town as a painter. I live in Ariyalai. The only usable route to Ariyalai from Jaffna town is through Maambalam Junction. So I had no option but to take this route around 10 p.m. last night after I heard that everything had become quiet there. But soldiers and Policemen arrested me and threw me into a sentry point at the junction. They tied up my hands and legs. Then the soldiers brutally assaulted me all over with clubs", said Mr. Ramanathan Ramtheesan, 24, in his statement.

Police and army arrested 13 persons last night following a melee that was sparked off by an accident in which a speeding Sri Lanka army vehicle knocked down an auto-rickshaw Saturday evening at Maambalam Junction a suburb in the eastern sector of Jaffna town, injuring one.

The injured civilians admitted to the Jaffna Teaching Hospital are under Police guard.

"They were all innocents who were passing through the junction on their way home to Ariyalai", a resident of a neighbourhood near Maambalam Junction told TamilNet.