INDICTMENT AGAINST SRI LANKA
Censorship, Disinformation & Murder of Journalists
Press Freedom Suffers as Violence Accelerates in Jaffna, Sri Lanka
International Federation of Journalists, 22 December 2005
"The International Federation of Journalists (IFJ) is concerned of a clampdown on media freedoms in Jaffna following incidents of journalists being beaten, arrested and newspaper offices being searched. The concern is that these three incidents are just the beginning of the targeting of media and journalists in Jaffna which will result in a total clampdown of freedom of expression and free and independent reporting.... .Intimidation of journalists such as the searching of a newspaper office is an attempt at intimidating the media against a pro Tamil nationalism editorial stance.."

---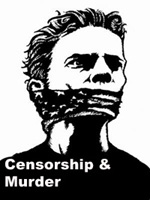 The International Federation of Journalists (IFJ) is concerned of a clampdown on media freedoms in Jaffna following incidents of journalists being beaten, arrested and newspaper offices being searched. "The concern is that these three incidents are just the beginning of the targeting of media and journalists in Jaffna which will result in a total clampdown of freedom of expression and free and independent reporting," said IFJ president Christopher Warren.

The IFJ is concerned over the following incidents in Sri Lanka:
Three journalists beaten in Jaffna

On December 19, government security forces assaulted three journalists, covering a peaceful demonstration, at Jaffna University.

T. Sabeswaran, reporter, Thinakural; Winston Jeyan, reporter from Thinakaran and G. Jerad, reporter, Namathu Eelanadu were beaten and their cameras damaged when the Sri Lanka Army opened fire during a demonstration march at Jaffna University. Several university lecturers and the vice chancellor were injured in the attack.

Journalists arrested
On December 17, B. Parathipan, a lawyer and journalist with the Tamil language daily Thinakkural along with Kulukulan and Prameshwaran from the newspaper were held in custody overnight after being stopped at a Colombo checkpoint.

The three were arrested despite having produced identity papers and press cards. They were finger printed and photographed with no explanation and were only released after the intervention of a Tamil parliamentarian.

Newspaper searched in Jaffna
On December 15, the editorial, administrative and press offices of the Tamil daily newspaper, Namathu Eelanaadu were searched by government military personal who conducted lengthy interrogations of staff.

According to an IFJ affiliate in Sri Lanka, the Free Media Movement (FMM), the search was a direct result of an escalation in violence in Jaffna in the past few weeks, which has resulted in the deaths of a number of soldiers, citizens and separatists.
The FMM and the IFJ fear that the media will become a target as a direct result of the increase in violence due to the four daily Tamil newspapers in Jaffna, including the Namathu Eelanaadu's editorial support of Tamil nationalism putting them in ideological opposition with the military.

"It is essential that the role of journalists and the media is respected as independent from the conflict," said Warren.

"Intimidation of journalists such as the searching of a newspaper office is an attempt at intimidating the media against a pro Tamil nationalism editorial stance," said Warren.

The IFJ supports FMM's calls for both sides of the conflict to respect the independent role of the media and to ensure the safety and ability of journalists to do their job of informing the public.

For more information please contact IFJ Asia-Pacific +61 (2) 9333 0919

The IFJ represents more than 500,000 journalists in more than 110 countries