INDICTMENT AGAINST SRI LANKA
The Charge is Ethnic Cleansing

THE TORTURE OF
ARULAPPU JUDE ARULRAJAH
(Amnesty Report, ASA 37/13/94, February 1994)

[see also Torture - Sri Lanka's 20 Year Record,1998]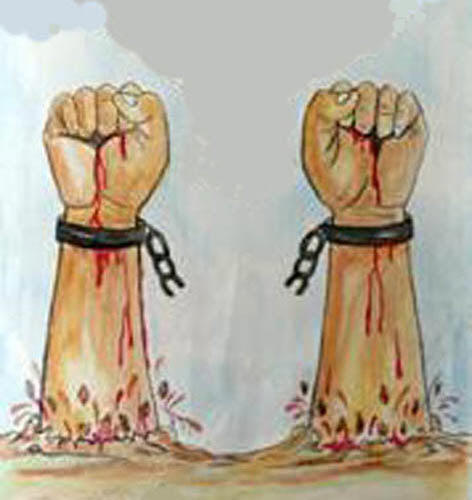 ''Arulappu Jude Arulrajah was arrested on 2 October 1993 at about 1.30 a.m. from his lodge at Bambalapitiya, Colombo by armed men in civilian dress... Amnesty International interviewed him during a recent visit to Sri Lanka and collected evidence suggesting that he had been held in two unauthorised places of detention in Colombo until he was transferred to the custody of the CID on 15 December 1993.
It also found that he had been tortured and ill treated at his first place of detention which is thought to be an army camp by the sea, off Galle Road, Kollupitiya, Colombo. During most of the two months he was held at this first place of detention, Arulrajah was blindfolded, with his hands and feet chained and he was kept in a darkened room usually naked.
He was regularly beaten and on one occasion he was hung from a wooden pole suspended between two tables and his genitals cut, possibly with a hacksaw... Arulrajah was never told the reason for the detention nor was he brought before a court or accused of having committed any crime.''
''Amnesty International is calling for an end to secret and illegal detention of people in Sri Lanka. To date, the Government has not responded to reports received by Amnesty International that people have been held at a secret place of detention located by the sea off Galle Road, Kollupitiya, behind the Indian High Commission and the American Information Centre, thought to be an army camp. Nor has it responded to reports that he was tortured in military custody during his period of illegal detention.'' (Amnesty Report, ASA 37/13/94, February 1994)