Home > Tamils - a Trans State Nation > Struggle for Tamil Eelam > Indictment against Sri Lanka > Sri Lanka's Genocidal War '95 to 01: Introduction & Index > the Record Speaks...
INDICTMENT AGAINST SRI LANKA
Sri Lanka's Genocidal War - '95 to '01
Malnutrition, Malaria and Cholera ...
British Refugee Council publication, Sri Lanka Monitor reported in January 1999: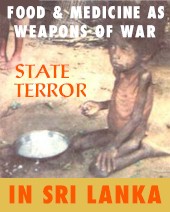 " There is shortage of food in Jaffna. Potato is sold at Rs 350 a kilo. ... Shortage of medicines and medical equipment in the Jaffna hospital is badly affecting service, reports say. A recent NGO survey in Jaffna indicates that 67% of students are malnourished and 10,000 children remain without primary education as a result of poverty. Around 9,000 young men and women are unemployed in the peninsula and 20,000 widows suffer without proper income or regular support.
....Rains have led to disease in the Vanni. Cholera is on the rise again and refugee student S Janita died of the disease in Mallavi. Refugees Suppiah Sinnammah and Santhalingam Renuka died in late January at Mulliyavalai in Mullaitivu District, after eating contaminated roots. Two others are seriously ill in Mullaitivu hospital. Reports say that these refugees had no access to food aid.
A survey by Kilinochchi Health Department indicates that 52% of the children below five years of age in 47 refugee camps in the district are malnourished. Shortage of medicines in the Vanni hospitals is making the situation worse. Kilinochchi Government Agent (GA) T Rajanayagam says malaria is spreading fast and drugs for the disease are not available in hospitals.
The displacement of 15,000 new refugees last month, following Army operation Rivi Bala (Sun Power) has put strain on the resources in Mullaitivu. The people have continued to demonstrate before the UNHCR office in Mallavi for the fourth month, demanding the international refugee agency to bring pressure on the Sri Lankan government to restore food aid to all refugees. (British Refugee Council, Sri Lanka Monitor, January 1999)