Home > Tamils - a Trans State Nation > Struggle for Tamil Eelam > Indictment against Sri Lanka > Sri Lanka's Genocidal War '95 to 01: Introduction & Index > the Record Speaks...
INDICTMENT AGAINST SRI LANKA
Sri Lanka's Genocidal War - '95 to '01
Torture & Illegal Detention of Tamils continue....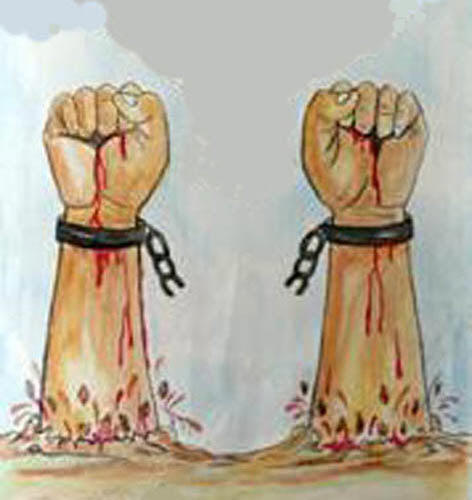 The British Refugee Council publication, Sri Lanka Monitor reported in December 1998:
"Colombo Human Rights agency, the Forum for Human :Dignity (FHD) says in a letter to the Committee of Inquiry into Undue Arrest and Detention (CIAUD), that a young Tamil woman repatriated from France is suffering torture at the Kotahena suburb police station. Muthuthamby Vanitha, was arrested on 19 November in a Kotahena lodge. The agency has appealed to the authorities to produce Ms Vanitha before the courts.In a fundamental rights application to the Supreme Court, Hill Country farmer Somasundaram Shanmugarajah says he is suffering brutal torture at the Nuwara Eliya police Counter Subversive Unit (CSU). Mr Shanmugarajah was arrested at Ragala, nine miles north-east of Nuwara Eliya, on 10 October 1998.
Article 19 points out that security operations in the south have regularly resulted in hundreds of Tamil people at a time being detained. Many people have recurring experience of such detentions, regardless of whether there is any evidence about them for the police to probe. At times, especially when such operations intensify, Tamil civilians are likely to experience such operations as direct harassment on the basis of their ethnicity, says Article 19.
Suppiah Nesammah, 37, who returned to Colombo after working in Saudi Arabia was arrested by police on 13 November. A Colombo Magistrate ordered her release on 21 December. Police arrested 72 Tamil workers in rice mills at Minneriya, 107 miles north-east of Colombo. Currently they are detained in Anuradhapura prison. Tamil MP Joseph Pararajasingham says in a letter to the Sri Lankan Human Rights Commission that the arrests are illegal and has demanded their release.
The Supreme Court awarded Rs 20,000 as compensation to Dr A Shanthakumar who was arrested in Hatton, 50 miles east of Colombo and illegally detained in police stations and prisons for 20 months....
Over 35 prisoners in Kalutara prison continued their hunger strike against detention without trial. Detainees Sritharan and Gowrithasan attempted to commit suicide by jumping off the roof of the prison and were seriously injured. There are currently 759 Tamil prisoners in Kalutara, 65 of them held for four or five years without trial. ...."