Home > Tamils - a Trans State Nation > Struggle for Tamil Eelam > Indictment against Sri Lanka > Sri Lanka's Genocidal War '95 to 01: Introduction & Index > the Record Speaks...
INDICTMENT AGAINST SRI LANKA
Sri Lanka's Genocidal War - '95 to '01
The Cases of Sinnarasa Anthony Mala & Loius Rama
- Torture, Sri Lanka Style...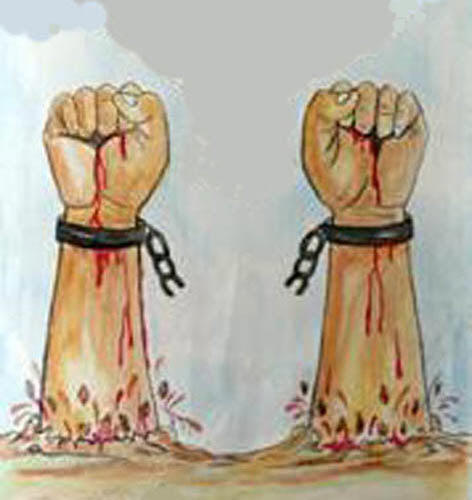 "..... Sinnarasa Anthony Mala, was a year nine student at a convent school in Jaffna. That was in 1992. Displaced due to the war, she lived in a 'refugee' camp from 1992 to 1995 in the North. A few months after the resumption of the war on July 16, 1995 after the all too short period of the peace talks between the Peoples' Alliance Government and the Liberation Tigers of Tamil Eelam (LTTE),she braved the choppy waters of the Palk Strait to seek a safe haven on the soil of Tamil Nadu, with others. With her was another girl Louise Rama, (18).
But their boat was fired upon by the Sri Lanka Navy. Mala sustained a gunshot injury on the right side of her body. The boat capsized and she was rescued by the Navy and taken to the Navy camp at Kankesanthurai (KKS). Today, three years later, she is the victim of torture and abuse in the hands of those who arrested her. The Judicial Medical Officer's (JMO) report found 46 injuries on her person. She was compelled under torture to sign a statement of being a member of the LTTE's Black Tiger suicide squad. Though released when Colombo High Court Judge Mahanama Tillekeratne exonerated her of all charges, he continues to stay at Welikade prison. The reason being that hailing from Jaffna, she has nowhere to stay in Colombo in safety. Mala was released on October 6, 1998.
........'The increase in incidence of rape is as a result of impunity offered to the armed forces under the PTA and the Emergencies Regulations and, the general militarisation of society,' said Shanthi Satchithananthan, Consultant, Christian Aid.
According to a statement made at Colombo's High Court and a report by the Colombo JMO, Mala was first blindfolded at the KKS navy camp. She was then stripped of all her clothing, and assaulted continuously during her entire stay at the camp.The report states that Sinnarasa Anthony Mala was assaulted with an iron rod and suffered a bleeding injury as a result of a blow to her head. Handcuffs were put on her ankles and she was suspended upside down from a bar of a window.
Mala also had handcuffs applied at her wrists and suspended from a rotating fan. Live electric wires were held to her body. She was also burnt with cigarettes and heated metal rods. She was also kicked and assaulted with wires and S-lon pipes. Her breasts, buttocks and thighs had been squeezed repeatedly but she was not sexually assaulted. All this was done to make her sign three documents. They were in Sinhala, a language she did not understand. Unable to withstand the pressure, Mala finally signed. On August 28, 1995 she was brought to Colombo and handed over to the Criminal Investigation Department (CID). At the CID office she was again assaulted. The back of her neck was cut, and she bled from the injuries. She was also hit on the mouth, resulting in a fracture of her tooth and bleeding from her mouth.
She had also been hit with a piece of wood and sustained an injury on her left leg. She was held at the CID for one month and forced to sign seven statements all typed in Sinhala. After this, she was handed over to the Welikada prison. It was only then that the bullet she receivedon July 16th was removed by the doctors of the Welikada prison hospital. Two years were to pass before her trial commenced in the Colombo High Court No. 7 with Judge Mahanama Tillekeratne on the Bench.
The JMO's report was taken up in Court on November 27,1997. The report stated that Sinnarasa Anthony Mala's injuries tallied with the time period between her arrest on July 16th 1995 by the Sri Lankan Navy and September 1995, when she was held for a month by the CID.Judge Mahanama Tillekaratne, who heard the case passed a verdict that on the JMO's report made available this girl had suffered 46 torture injuries. The State then withdrew the indictment against Anthony Mala that she was a member of the LTTE's Black Tigers on the grounds that there was no proof that her signed confession was voluntary. Anthony Mala was acquitted by the High Court on October 6th 1998.
---
Louis Rama was also arrested along with Sinnarasa Anthony Mala by the Sri Lankan Navy and detained at the naval camp at KKS for two months. During this time she said she was assaulted on several occasions. Louise Rama claims that she was cut with blades, burnt with cigarettes and stifled by a polythene bag put over her head.
She was later transferred to the Magazine Prison in Colombo and examined on May 17, 1997 by Dr.Ruwan Pura, Assistant JMO for Colombo. The doctor's examination revealed five multiple superficial linear scars at the front of her chest, right shoulder, and front aspects of both thighs. The doctor's report states that these injuries were more than six months old.
High Court Judge Shirani Tilakawardena heard this case in Colombo's High Court, and the indictment against Louise Rama was withdrawn by the State on the basis of the medical report which proved she had been tortured.
The navy personnel have not been arrested and the girls say they are too afraid to identify the officers concerned as they will not be able to walk free again. The Fundamental Rights cases filed in these two instances were only done so two years after the incidents, hence the inability of the court to pursue with prosecuting the abusers." ( Courtesy: Torture, abuse and assault of women - the stories of Mala and Rama: whither human rights? by Frederica Jansz , MidweekMirror, 2 December 1998)