Home > Tamils - a Trans State Nation > Struggle for Tamil Eelam > Indictment against Sri Lanka > Sri Lanka's Genocidal War '95 to 01: Introduction & Index > the Record Speaks...
INDICTMENT AGAINST SRI LANKA
Sri Lanka's Genocidal War - '95 to '01
Bishops urge restoration of food supply to the Vanni...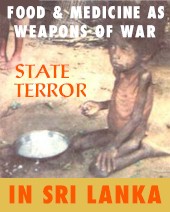 The British Refugee Council Sri Lanka Monitor reported in September 1998:
"JAFFNA Catholic Bishop Thomas Savundaranayagam and Mannar Bishop Rayappu Joseph urged President Chandrika in September to restore food supplies to the Vanni to prevent starvation and death. The government cut food supplies to the Vanni by 57% in July.
The appeal from the Bishops came after meetings with refugees in Mullaitivu and Kilinochchi. In September, refugees in these districts continued their protests against the reduction of food. EPDP leader Douglas Devananda says in a letter to foreign envoys in Colombo that the Sri Lankan government should not use food as a weapon of war.
Reports say six people died of disease in Akkarayankulam hospital in August. The hospital treated 17,900 patients, including 2,250 for malaria. Restrictions on chlorine to purify drinking water in wells and malathion insecticide for anti-malarial spraying have resulted in the increase of malaria.
British NGO, Save the Children says that the food-cut has caused immense hardship to families relying on government food supplies for calorific needs. Displaced families have poorer access to education, less opportunity for earning an income and poor health due to poor housing. The situation has deteriorated during the last year, and the implication for children is enormous, many of whom suffer stress, says Save the Children...."