Home > Tamils - a Trans State Nation > Struggle for Tamil Eelam > Indictment against Sri Lanka > Sri Lanka's Genocidal War '95 to 01: Introduction & Index > the Record Speaks...
INDICTMENT AGAINST SRI LANKA
Sri Lanka's Genocidal War - '95 to '01
Sri Lanka uses food and medicine as weapons of war...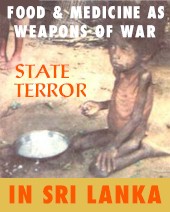 The British Refugee Council Sri Lanka Monitor reported in July 1998:
"JAFFNA'S senior government officer, Government Agent K Shanmuganathan says that Colombo's decision to cut food aid to Jaffna by 40% from 1 July will create major difficulties. Government's Essential Services Commissioner claims that Rs 200 million ($3.3 million) has been spent in Jaffna towards self-reliance and says the time is ripe for reducing assistance.
If the government proposal is implemented, 34,000 of the 84,000 families currently assisted will not receive food aid. The GA says a further 29,000 displaced families are expected to return to Jaffna in the next nine months.
Bureaucratic restrictions and prevailing security arrangements are slowing development work in Jaffna. The peninsula's new Mayor P Sivapalan says that only small-scale projects may be implemented, but major development work is impossible due to the adverse effect of the military's presence on the freedom of movement.
Reports say that the construction of 1,000 houses in Chandilipai and Chankanai, with the assistance of German development agency GTZ has been delayed by government bureaucracy by six months. People doubt that any assistance will be forthcoming for the reconstruction of the 81,000 houses damaged in the peninsula.
The restrictions on fishing continue and most fishing families are suffering without any income. Jaffna's People's Organisation says in a letter to President Chandrika that 75% of agricultural activity has not been undertaken because of lack of investment and facilities to market the produce. No proper programmes are implemented to assist women widowed in the war. There are over 19,100 widows in the peninsula, most of whom are distressed by difficulties they face in providing for their families."..
"...Some 18,200 of the 35,600 displaced families in Kilinochchi District were receiving relief. Following last month's government decision to slash food aid, only 8,800 families will be entitled to assistance. Press reports say that 15 people died in Pooneryn area as a result of lack of food.

The quantity of medicines supplied to the Vanni continues to fall and hospitals suffer. Although 1.6 million malarial tablets were requested for the first quarter of 1998, Colombo allowed only 300,000. For the second quarter, 1.65 million tablets were requested but none has been received. Vanni residents say many people have contracted malaria several times - some even six times..."

"...K ARUMUGAM, 18, died of cholera at Vaddakandal in Mannar District on 2 July. Four days later, Najima Amir of Erukkalampiddi on Mannar Island also died. Reports say many refugees in the Madhu refugee camp have contracted cholera and two were admitted to Madhu hospital. Over 50 people, including some from the Erukkalampiddi refugee camp, were admitted to Mannar hospital....

The reduction in food aid will affect Mannar badly as more refugees arrive from the Vanni. Over 75 people a day are said to be arriving on Mannar Island. The GA has been ordered to reduce the number of families receiving assistance from 16,200 to 14,200".....