Home > Tamils - a Trans State Nation > Struggle for Tamil Eelam > Indictment against Sri Lanka > Sri Lanka's Genocidal War '95 to 01: Introduction & Index > the Record Speaks...
INDICTMENT AGAINST SRI LANKA
Sri Lanka's Genocidal War - '95 to '01
The charge is genocide - Chemmani mass grave in Jaffna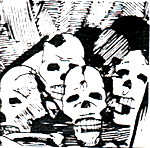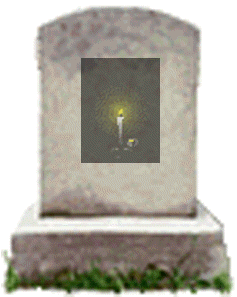 Reuters reported on 13 July 1998:
"Sri Lanka's Tamil political parties on Monday called for an immediate probe into a report of mass graves in northern Jaffna, where international human rights groups have said about 600 people disappeared during a military campaign in 1996... The report comes from a soldier sentenced to death by a court in Colombo for the (rape and) murder of a teenage Tamil schoolgirl (Krishanthi) . "We didn't kill anyone. We only buried bodies. We can show you where 300 to 400 bodies have been buried," Cpl. Dewage Somaratne told the Court July 3. His co-defendants echoed his claim. He has stated he is prepared to identify the graves of 400 Tamil youths who allegedly disappeared in Jaffna when government troops took control of the peninsula after driving out Liberation Tigers of Tamil Eelam (LTTE) rebels from their long-time stronghold. .... Human rights watchdog Amnesty International said last year some 600 people had disappeared in Jaffna in 1996...."
A month after the statement by Cpl. Dewage Somaratne on 3 July 1998, the Sri Lanka government had failed to probe the existence of the mass graves - apart, that is, from releasing a statement that the Sri Lanka Human Rights Commission would be questioning Cpl. Somaratne . On 3 August 1998 Amnesty International issued the following public statement under the heading "Chemmani graves need proper investigation":
"Amnesty International today appealed to the Attorney General of Sri Lanka to allow the Criminal Investigation Department (CID) and the Human Rights Commission of Sri Lanka (HRC) to jointly carry out preliminary investigations of the site at Chemmani, Jaffna with the help of leading forensic experts in the country. Chemmani is alleged to be a place where scores of bodies of people who "disappeared" in mid-1996 have been clandestinely buried.

The investigations arose from detailed statements by members of the security forces recently convicted in connection with a rape, abduction and murder of a school girl, two of her relatives and a neighbour. Their bodies had been recovered from this site. It was at the end of their trial that revelations about many more bodies having been disposed of at this place had been made by one of the members of the security forces.

Amnesty International appealed to the Attorney General to ensure that the CID and HRC investigations were properly conducted. The organization also appealed to the Attorney General to ensure that the investigations of the site, including any exhumation, were impartially and independently conducted in such a way that any evidence collected was admissible in court. It suggested the government invite international forensic experts with specific experience of excavating and examining in situ relevant to the specific type of exhumation required at Chemmani.

In a report published last year, Amnesty International said it had found reliable evidence suggesting that bodies of as many as 600 people "disappeared" in the area may have been disposed of in lavatory pits, disused wells and shallow graves.

It is the experience of leading forensic experts around the world that the exhumation of bodies piled on top of each other in restricted places, such as lavatory pits and wells, is one of the most complex forms of exhumations to carry out. The organization therefore urges that, if indeed this is confirmed by the preliminary investigations, forensic experts with experience of exhumations of bodies in such conditions be invited to assist local experts in the exhumations.

Amnesty International also appealed to the Attorney General to ensure that, while forensic expertise is sought, all necessary steps are taken to safeguard the area suspected of containing the mass graves, including by ensuring round-the-clock security." ( AI Index : ASA/37/18/98 News Service: 150/98, 3 August 1998)
---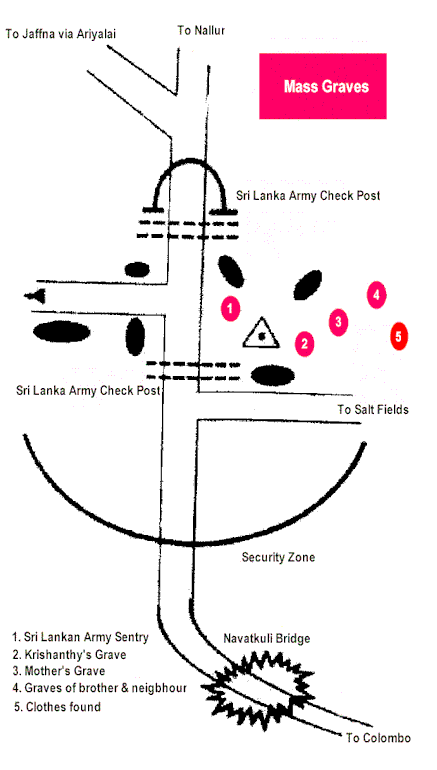 ---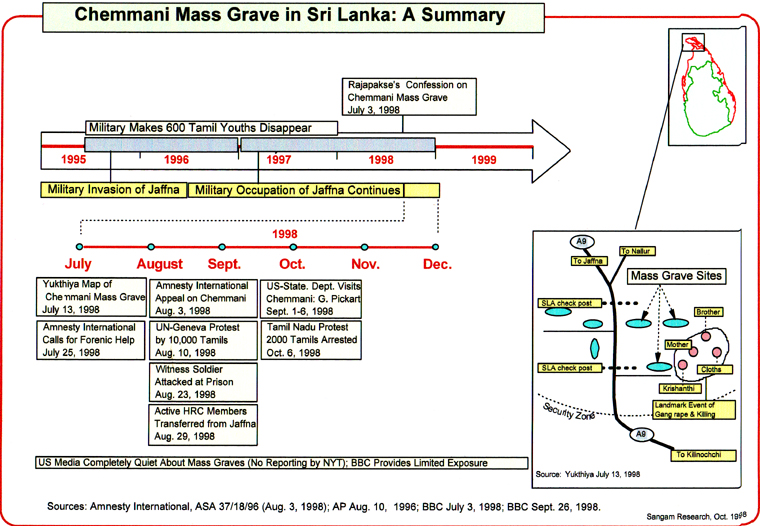 The Ghosts of Chemmani
by Marwaan Macan-Markar in the Sinhala owned Sri Lanka Sunday Leader on 20 June 1999:


Paramanathan Selvarajah still remembers the clothes his son wore that day in July '96 - a light blue shirt and ash coloured trousers - and such trinkets as a gold chain, two rings and a wristwatch. He referred to them while recalling the events surrounding his son's disappearance.

Selvarajah Prabhakaran was 24 at the time. He had been working at a textile shop. On July 31, while heading home on his scooter, he was stopped at an army checkpoint in Chemmani, four kilometres south of Jaffna. Thereafter, he had been taken to an army camp nearby.

It was hours later that his father learnt about it. A friend had informed him, a friend who had been travelling a short distance behind Prabhakaran. And Selvarajah responded to the news immediately: he headed towards the camp. It was 5:30 in the evening.

Denied
When he got there, Selvarajah recognised his son's scooter. It was parked in a corner, close to the entrance of the camp. But when he inquired after his son, the soldiers on duty denied having seen such a person. Nobody answering Prabhakaran's description had been arrested that day, he was told. Even such glaring evidence as his son's scooter, which Selvarajah had pointed to, did not matter. The soldiers had stuck to their story.

Heading home that evening, the soft-spoken, silver-haired father of two resolved to get his son back. It was a decision made amidst a swirl of worry and fear. It was a decision that Selvarajah soon found out was not an isolated one. For in his painful quest to find Prabhakaran, he came into contact with other parents, wives who had suffered a similar fate. As he said last Wednesday: "There were 22 persons who were arrested at the checkpoint that day. They were all taken to the camp and have not been seen since."

But they were not the only ones. In '96, the first year after government troops moved into the Jaffna peninsula, close to 628 youth 'disappeared.' And the narratives of their families vary marginally when they recall what happened. In the main, all of them have not been seen after they were plucked from their homes, from their work, from the streets by the army. In some instances, the soldiers had done so in uniform.

Today, 64-year-old Selvarajah heads an organisation of families who have suffered such a fate: Jaffna's Guardian Association for the Families of the Disappeared. What he remembers of his son, the clothes and the trinkets, others in this group remember, too. And such details will prove useful in their painful quest for their missing kin.

For it is evidence like that that the forensic team, led by Professor Niriellage Chandrasiri, will find helpful when they have to identify the bodies they unearth in Chemmani, where the remains of nearly 400 of the 'disappeared' are said to be buried. And it was to provide such information, if required, that prompted Selvarajah to make his way on Wednesday afternoon to witness the first spades scoop the dry earth of Chemmani, a flat marshland covered with wild grass and fringed with coconut and palmyrah palms. As he watched it, tears welled up in his eyes.

Statement
The events leading up to the excavation of mass graves in Chemmani began in July, last year, soon after the 27-year-old Somaratne Rajapakse, a corporal in the army, made a statement from the dock of the Colombo High Court after he and four other military colleagues were convicted and sentenced to death for the rape and murder of schoolgirl Krishanthi Kumarswamy and the multiple murders of her mother, her brother and her neighbour.

Rajapakse said: "We didn't kill anyone. We only buried bodies. We can show you where 300 to 400 bodies have been buried." And the locality was Chemmani, an area where Rajapakse and his colleagues had served during their tour of duty in the north.

On Tuesday morning, Rajapakse was flown to Jaffna under the watchful eye of policemen and prison officers. During the brief period he spent at the Palaly airport, he looked worried. The senior police officer who met him noticed the traces of worry on his forehead. That could be understood given Rajapakse's mission: to expose members of the army he had once served.

By then, he was aware of the two death threats that his family had received. And when he walked out of the Antonov, handcuffed to a prison official, there were a number of soldiers to be seen. It was only when he was in the custody of the Jaffna police, locked in solitary confinement in a cell, that he relaxed.

That day the Jaffna police were not taking any chances with their prisoner. To ensure his safety, no military men were permitted within the vicinity of the police station; no food from outside was given to him. What he ate and drank till his appearance in court came from the police kitchen. Everything, said a police officer, was tasted before given to Rajapakse.

Rajapakse's revelation in the magistrate's court was explosive. Clearly, he was fighting for his life.

Portraying himself as a victim, he spent close to an hour explaining in Sinhala what had gone on in the area he had served. And he was not short on details, nor did he display any restraint in naming the officers in his sector who, he said, were responsible for the bodies in Chemmani.

At one point, he said: "I can show you how people were arrested in Ariyalai, tortured, and buried." There was another occasion when he described the torment that a youth named Uthayakumar had been put through: his body had been slashed with blades and he had been hung by his feet.

Married couple
Then there was an incident involving Captain Lalith Hewa, who had taken into custody a married couple, raped the wife, and then killed her and a husband by beating them up with a mammoty and iron rods. In that gruesome instance, it was Rajapakse who had been ordered to bring the mammoty.

Following this, Rajapakse was driven to Chemmani where he had agreed to show one of the 10 grave sites where he had buried bodies. And the location he chose, a junction along the Nallur road, by the side of a gravel track, was almost 500 metres from the main road, and a similar distance from the place where Chandrasiri and his forensic team had conducted a study to assess if the soil had been disturbed on March 5 this year. According to Rajapakse, there were two bodies buried at the spot.

Investigators' strategy
At the time the investigators had agreed upon a common strategy. According to State Counsel Yasantha Kodagoda, only four bodies would be unearthed. Addressing a press conference earlier that day at the military base in Palaly, Kodagoda spelt out their reasons. "We have the logistics to collect only four skeletal remains," he said. If they succeeded, he added, the skeletal remains would be flown to Chandrasiri's office in Galle for further analysis.

Three hours after the digging had begun, a slow process, made more difficult by the dry bed of sand, the forensic team came upon earth that was of a different character to the few feet of top soil they had unearthed. It was different in colour and texture. As one soil expert said, the next day, it had the hallmarks of soil one would notice near a grave. "We knew we were onto something by the amount of moisture," he added.

An hour later, they came upon the first sign of a buried body: a part of a knee with shreds of a trouser clinging to it. It was about two feet from the surface. But with fading light and the shadows stretching over this desolate area, they stopped. The bed of the pit was covered with a black plastic sheet. A police guard was placed around it.