Home > Tamils - a Trans State Nation > Struggle for Tamil Eelam > Indictment against Sri Lanka > Sri Lanka's Genocidal War '95 to 01: Introduction & Index > the Record Speaks...
INDICTMENT AGAINST SRI LANKA
Sri Lanka's Genocidal War - '95 to '01
Sri Lanka restricts food and medicine to Tamil villages - April 1998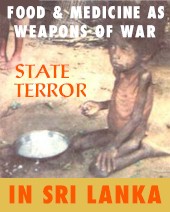 "The (Sri Lanka) Army imposed restrictions on food into Thoppur, five miles south-east of Muthur, to prevent food falling into Tiger hands. Currently, a person is allowed to take only five kilos of rice into the village. Villagers who were driven out of Upparu last month by the Army and currently living in Alankerni, staged a protest fast on 23 April and have threatened to fast unto death if they are not allowed to return to their village....
Thousands of refugees fleeing the fighting in the Vanni continue to arrive at the Uyilankulam Army checkpoint where only 500 people a day are allowed into Mannar. A young woman was crushed to death in early April as crowds rushed to the checkpoint.
On Mannar Island, 700 refugees from the Pesalai camp staged a protest fast before the government secretariat in early April and submitted a petition to Government Agent V Visvalingam, demanding to be sent to Jaffna....
... As shortages of medicines and medical equipment continue to plague the Vanni, Mullaitivu Government Agent R Tharmakulasingham says that the Health Ministry has failed to supply certain types of essential medicines to the district even after approval by the Defence Ministry. Hospitals at Mullaitivu, Mulankavil and Mallavi are particularly affected. The Mallavi hospital treated over 16,400 out-patients in March. Reports say thousands of people have contracted malaria and the shortage of medicines is forcing the hospitals to send many patients to Mannar for treatment. (British Refugee Council publication Sri Lanka Monitor, April 1998)