Home > Tamils - a Trans State Nation > Struggle for Tamil Eelam > Indictment against Sri Lanka > Sri Lanka's Genocidal War '95 to 01: Introduction & Index > the Record Speaks...
INDICTMENT AGAINST SRI LANKA
Sri Lanka's Genocidal War - '95 to '01
Illegal Arrest and Torture of Tamils continue in Colombo & the South
"Allegations of illegal arrest and torture in Colombo and the south continues. Kandasamy Lingeswaran, arrested on 3 September 1993 remains in custody for the last four years without charge or trial. Mr Lingeswaran suffered torture at an Army camp and the Crimes Detection Bureau (CDB). Mohamed Basheer was neither informed of the reasons nor a receipt issued when he was arrested in Kalpitty in October last year. He alleges he was brutally tortured and burned after he refused to massage the legs of a police officer and locked in a pig sty.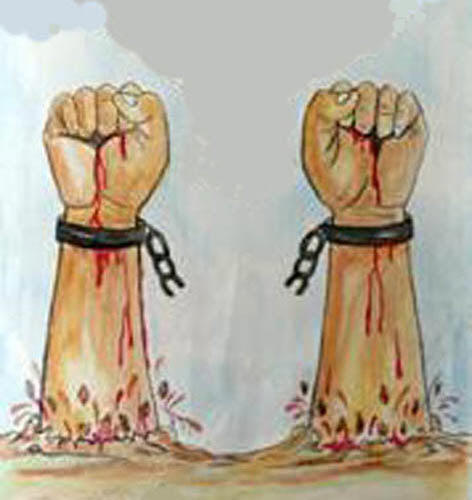 Colombo Chief Magistrate has ordered a medical examination of G Sivarajah, 22, who was arrested in a Pettah lodge last November and suffered torture for three months at the hands of the CDB. Selvarajah Ravindran who was arrested on 8 February in Trincomalee is currently in custody at Kalutara prison and has not been informed of the reasons for his arrest as required by Emergency regulations.
Yatheesh Sinniah, taken into custody on 13 August says in a fundamental rights application to the Supreme Court that he was detained at the notorious Fourth Floor of the police headquarters and severely tortured. The Supreme Court hearing a fundamental rights application filed by former Jaffna GA S Pathmanathan ordered the Attorney General in mid-September to explain reasons for his arrest. Mr Pathmanathan who was detained on 28 August on allegations of providing funds to the LTTE while in office, says police attempted to obtain a confession from him forcibly.
Former Tamil Senator Neethirajah's house at Kotahena suburb in Colombo was robbed on 24 September by a five-member armed gang which gained entry by posing as criminal investigation officers. Police have arrested a serving Airforce member and an Army deserter. Mrs Thilagavathy Neethirajah died of shock during the robbery." ( British Refugee Council Publication, Sri Lanka Monitor, September 1997)