Catholic Bishop Rayappu Joseph, says only 25% of the food and medicines needed is allowed into the Vanni...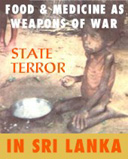 "Displaced persons and other Tamils in the north-east faced discrimination, restrictions on movement, arbitrary arrest and custodial abuse. Due to government restrictions, Tamil civilians were often unable to reach work sites, attend schools or seek urgent medical care." World Report 2001
Human Rights Watch
"Mannar Catholic Bishop Rayappu Joseph, who visited LTTE-controlled areas in the Vanni recently says that only 25% of the food and medicines needed is allowed into the region. Concern has been raised following Sri Lankan government Media Centre claims that there is no economic blockade of the north-east and food is regularly supplied by the Essential Services Commissioner (ESC).
According to reports, many people in the Vanni are affected by under-nutrition and the lack of medicines. Doctors in northern Mullaitivu hospitals say nearly 15% of the children born last year were of low birth weight due to poor maternal nutrition. Twenty five children under 12 were admitted to Kilinochchi hospital in December suffering from malnutrition.
In Kilinochchi hospital, 18,870 patients were treated in December and 18 people died, including two of malaria. According to hospital reports infant mortality rate increased last year compared to previous years. In the hospital, of 174 who died in 2000, 14 were children and 25 were still born. As a result of lack medicines and medical equipment 150 people died within 24 hours of admission. Among the 12,917 treated at Mallavi hospital in December, 2,034 suffered from malaria and 209 from diarrhoea. Between 1990 and 2000, 66 children were still born and six died after birth in Mulliyavalai maternity home...
In a January letter to the Health minister John Senaviratne, Vanni MP Rasu Kuganeswaran says that a three year-old child died at Poovarasankulam hospital because there is no ambulance at the hospital to take patients to Vavuniya. The MP says that in the last eight months four other people died because of the same reason. Ten year-old Akkarayankulam student, I Murugananthan, died of septicaemia in late January.
....According to reports, there are 11,335 disabled people in the Vanni and 432 need artificial limbs. The government has imposed a ban on materials needed to make artificial limbs. In Vavuniya District, there are over 138,000 people, including 3,000 in LTTE-controlled areas. Some 70,000 people are from other districts. Over 23,000 are in 15 government refugee camps in the district. The refugees live under severe military restrictions in cramped conditions and say the food supplied is inadequate.
A study carried out by the Health Department in the camps indicates that the refugees suffer from poor health conditions. Forty two per cent of children below five years of age suffered from moderate or severe undernutrition. Some 56% of pregnant women and 52% lactating mothers were anaemic and 50% of young women between the ages of 13 and 19 were malnourished.
Of the 5,700 families in the camps, 5,490 receive assistance from the World Food Programme and other families are assisted by the ESC. The ESC provides each family between Rs 336 and Rs 1,260 worth dry rations per month, based on the number of members in the family. But according to assessments made by officers on basic needs, families should receive between Rs 560 and Rs 2,880 worth dry rations. Under the WFP assistance each person receives Rs 11.10 worth dry rations per day. All members of the family are entitled.
Health officers are also concerned over long-term psychological impact of displacement and life in cramped conditions. They recommend immediate measures to resettle the refugees and provide them assistance until they are able to earn a living. They also say that displaced people must receive nutritional supplements to promote their health.
According to reports, over 6,000 people were killed in Vavuniya District between 1990 and 1999 mainly due to military operations. Over 13,400 died in Mullaitivu and Kilinochchi districts during the same period...
....As fighting continues, the needs of civilians receive less attention. Jaffna NGOs say that the aims of the Northern Resettlement and Rehabilitation Authority (NRRA) - relief and resettlement of the displaced, rebuilding of damaged property, maintenance of essential services, resumption of economic activity - have not been achieved in the last four years. NGOs are calling for the removal of unjust security restrictions and impact assessment of NRRA programmes...
.....In Jaffna, some 280,000 people remain displaced, including 66,000 who fled the high security zone around Palaly and Kankesanthurai military bases in 1995. The Army has also asked people to resettle in Ariyalai and Navatkuli, east of Jaffna town. People have expressed reluctance to return because of landmines. Further, many houses have been damaged in the fighting...
...In early January, the Army denied permission to Social Services officers to enter LTTE-controlled Vaharai area to assist civilians. These areas were badly affected by a cyclone in December. Social Services minister Milroy Fernando has assured equal treatment of flood victims in Army areas and LTTE territory. But local people say discrimination continues. Army restrictions on transport of goods into Tiger areas and on the freedom of movement remain.
In Trincomalee District, agencies told the visiting US ambassador that civilians in LTTE-held areas are suffering due to restrictions on food and medicines. They say medical facilities are minimal and children are affected by malnutrition..." (British Refugee Council, Sri Lanka Monitor, January 2001)