Home > Tamils - a Trans State Nation > Struggle for Tamil Eelam > Indictment against Sri Lanka > Sri Lanka's Genocidal War '95 to 01: Introduction & Index > the Record Speaks...
INDICTMENT AGAINST SRI LANKA
Sri Lanka's Genocidal War - '95 to '01
Sri Lanka continues to deny food and medicine to internally displaced Tamils...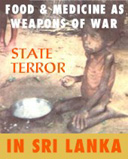 "..Despite repeated appeals by international agencies, the Sri Lankan government has failed to ensure that adequate humanitarian aid reaches the internally displaced and other people in northern Vanni region...
...Lack of medicines resulted in the death of 20 year-old P Chandralogini of Akkarayankulam in Kilinochchi hospital in July.
The military continues to deny permission for sufficient food and medicines to be taken into the area. In July, the Army refused to allow an ambulance presented by UNICEF into the Vanni. Although the Defence Ministry has granted permission for three ambulances to Vanni hospitals, the Army has blocked the delivery of the vehicles.
Following a visit to the Vanni in early July, Sri Lankan Red Cross Secretary Bulathsinhala says that his agency is unable to provide adequate assistance to the refugees. The Red Cross has written to the Health minister about shortage of medicines, but has received no reply.
Press reports say that 30% of the 300 people brought for further treatment to Vavuniya from the Vanni suffer from malnutrition. V Kandasamy, 55, and V Sellathurai of Skandapuram died on the way, while being transported from Kilinochchi hospital to the Vavuniya hospital in mid-July...
....Diseases are spreading in refugee camps (in the Jaffna Peninsula). Local NGOs have urged international agencies to help thousands of displaced people living with friends or relatives. Over 70% of medicines to private pharmacies have not been received following Defence Ministry restrictions. NGOs say hospitals face shortages and the restrictions will worsen the situation.
Agricultural Commissioner�s office says the fighting is preventing cultivation of 17,000 acres of land in Thenmaratchy. According to Jaffna farmers, 25% of the 22,500 acres cultivated in other areas has been affected by severe drought... (British Refugee Council, Sri Lanka Monitor, July 2000)