On Sunday 11 February 1996, Sri Lankan armed forces arrived in army trucks at the Tamil village of Kumarapuram in the Kiliveddi area of the Trincomalee district. Soldiers broke open the windows of houses and fired at those inside. The initial death toll of Tamils who were murdered at Kumarapuram on that fateful day was 24. They were killed because they were Tamils.They were:
1. Subiah Savirajah male age 76
2. Kinnan Kovinthan male age 72
3. Sivakkolunthu Sinnadurai male age 56
4. Vadivelu Nadarajah male age 22
5. Sundaralingam Luxmy female age 35
6. Arunasalam Kamaladevy female age 35
7. Alahuthurai Parames female age 30
8. Subramaniam Pakkiyam female age 30
9. Arumaithurai Vallipillai female age 28
10. Selladurai Pakkiyam female age 26
11. Anandan Annamah female age 26
12. Thurairajah Karunakaran young boy age 15
13. Arumaidurai Santhyaluxmy young girl age 15
14. Kanakarajah Subashinirajah young boy age 15
15. Vinayakamoorthy Suthaharan young boy age 14
16. Ramajeyam Kamaleswari young girl age 13
17. Thangavel Kala young girl age 12
18. Shanmuganathan Nizandan young boy age 11
19. Sundaralingam Pirabaharan young boy age 11
20. Amirthalingam Rasanighandi young girl age 10
21. Theepan Patiny young girl age 9
22. Sivapakiyam Thiraiyampan infant girl age 6
23. Pakkkiyarajah Vasanthini infant girl age 6
24. Sundaralingam Subasini infant girl age 3
Amnesty International issued an Urgent Action appeal on 13 February 1996:
"In the largest incident of its kind since fighting between the Sri Lankan army and the Liberation Tigers of Tamil Eelam (LTTE) resumed in April 1995, at least 24 civilians are reported to have been extrajudicially executed by members of the (Sri Lanka) army on 11 February 1996...

According to survivors, a group of soldiers from 58th Mile Post army camp, possibly accompanied by others from Dehiwatte and Kiliveddy as well as home guards from Dehiwatte, killed 24 villagers at Kumarapuram, Kiliveddy, Trincomalee district, between 5.30pm and 8pm. Two soldiers had been killed by the LTTE when their patrol had been ambushed at around 4pm about one mile north of Kiliveddy.

Several of the 25 people wounded in the same incident, who are currently receiving treatment at Trincomalee Base Hospital told human rights workers how soldiers broke open doors and windows of houses and fired at those inside. One of the women, Arumathurai Thanalakshmi was reportedly dragged from a boutique in the village and taken to the milk collection centre where she was raped before being shot. One of the other women killed was pregnant.

On 13 February, members of the military police were reportedly taking statements from the injured receiving treatment at Trincomalee Base Hospital. A magisterial inquiry has been held and the bodies were handed over to the relatives later in the day. They are reportedly due to be buried in a mass grave on 14 February.

Soldiers from the 58th Mile Post army camp have reportedly been transferred out of the area. To Amnesty International's knowledge, none of them have been arrested. Survivors claim they could identify some of the attackers. They say that five or six soldiers in particular went around killing people. Others stood guard. Amnesty International is urging that a full impartial investigation by a civilian authority be immediately established to avoid crucial evidence being lost.

Since the resumption in April 1995 of armed conflict between members of the security forces and the LTTE in the northeast of the country, there have been continuing reports of extrajudicial executions, 'disappearances', torture and arbitrary arrests, although the number of such violations have to date been on a more limited scale than in previous years.

Throughout 1995, Amnesty International recorded 55 cases of 'disappearance' and approximately 40 extrajudicial executions.

Earlier, Amnesty International appealed to President Chandrika Bandaranaike Kumaratunga for a full and impartial investigation into a number of incidents of alleged extrajudicial executions reported from the northeast during May 1995, including from Trincomalee...

In mid-January 1996, Amnesty International wrote to the President and to the Minister of Justice and Constitutional Affairs asking to be informed of the outcome of the investigations and any action subsequently taken to bring to justice those allegedly responsible. To date, no responses have been received.."
The University Teachers for Human Rights (JB), no supporter of the Liberation Tigers, reported on 16 February 1996:
"Between 5.30 and 7.30 PM on Sunday February 11th, armed men in military uniform ran amok in the village of Kumarapuram, Killivetti, killing 24 (Tamil) civilians and injuring may more. Among those killed were seven children under the age of 12, the youngest being 3 years old. Some young women were raped, including one who was raped and killed. The death toll would have been very much higher had not the people run out and sought shelter in fields and a grave yard.The incident followed the killing of two army personnel by the LTTE.

Mr.Thangathurai, MP for Trincomalee, who visited Kilevetti, his own village, confirmed that the Sri Lankan army was responsible for the massacre. According to the people a large number of troops were involved. Apart from those responsible for the outrage, many troops were on guard in the surrounding area. They said that they could identify several of the perpetrators. Several of the troops were from the camp about the 57th mile post nearer Kilivetti. Some said that troops had also been brought from other camps such as Dehiwatte in the Allai scheme.

Troops had prevented the injured from being taken away for medical treatment until 9.30 the following morning. They relented only when they heard that Brigadier Paramu Kulatunge of Trincomalee and Wimal Gunatilleke, DIG/ Police, were coming into that area. The latter had picked up several empty cartridge cases. An unexploded grenade that had been thrown into a house with 12 inhabitants was also picked up...

...People moreover suspect that the degree of organisation in the massacre could not have come about without complicity from a higher level in the local area. The act follows previous acts of indiscipline that have gone unchecked. Towards the end of last year several civilians in Mallikaitivu were badly assaulted by the army.

The matter had not been pressed after the Colonel in charge of the area gave an assurance that such would not be repeated. Another incident is the murder of two Perinparajahs. One Perinparajah, a socially active person in that area, used to pass on information to concerned persons in Trincomalee about acts of indiscipline by the armed forces. A different Perinparajah was killed, allegedly by the armed forces, who then discovered their mistake. The Perinparajah sought after was according to the people detained by the army at Mallikaitivu. His body was later found in the locality."
Tamil Net reported 8 years later:
Kumarapuram massacre victims remembered

[TamilNet, February 11, 2004 16:43 GMT]
The seventh death anniversary of twenty-four Tamil civilians, including fourteen children, who were massacred by a group of soldiers of the Sri Lanka Army in Kumarapuram, in the Muttur division of the Trincomalee district, on February 11, 1996, was held Wednesday. In the 1996 massacre, another thirty Tamil civilians were seriously wounded, human rights sources said.
Kumarapuram, a hamlet in the Kiliveddy area, which lies about 32 km south of Trincomalee town, comes under the administrative limit of the Muttur Divisional Secretariat.
On the evening of 11th February 1996, at about 5 p.m., two SLA soldiers were found dead with gunshot injuries at the 58th milepost junction on the Kiliveddy-Muttur road, which leads to the Kumarapuram village, located half a mile from the scene.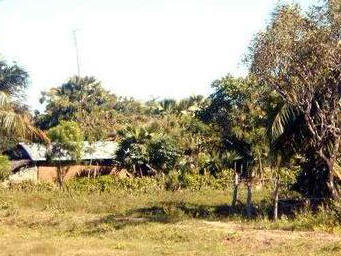 Kumarapuram village.
On receipt of information about this incident, a group of SLA soldiers entered Kumarapuram, firing at random. Thereafter soldiers ordered all civilians to come out of their dwellings and lined them up for questioning. Then soldiers started mercilessly beating them irrespective of their gender and age. Two Tamil girls were gang-raped by several security personnel and later killed. On the spot, 12 males, 13 females and 13 small children were killed at night, sources said.
The next day, February 12,1996, volunteers hearing of the massacre rushed to the village and found 24 bodies, which were later brought to the Muttur hospital where the inquests were held. On the Magistrate's order, bodies were buried with the assistance of non-governmental organizations, sources said.
Of the injured, 4 were taken to the Serunuwara hospital and the remaining 26 were taken to the Trincomalee hospital for emergency treatment.
Relatives of those killed in the massacre are still struggling to lead normal lives without a permanent income and necessary assistance from the authorities concerned, civil sources said.
The breakdown by age group of those massacred by the SLA is as follows: 3 infants below age 5, 3 children aged 5-10, 8 children aged 11-20, 6 persons aged 21-30, 2 persons 31-40 and 2 persons above 50.
A group of twenty soldiers was arrested by the Police immediately after the massacre but only nine of them had been indicted by the Attorney General with the murder of 24 Tamil civilians. The case against the accused soldiers is still pending in the Eastern High Court awaiting trial, legal sources said.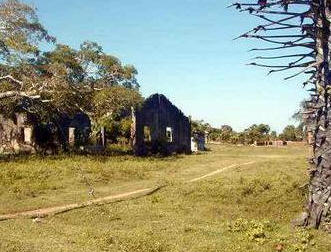 Kumarapuram village buildings destroyed by war
see also Extra judicial killings of Tamils at the Jeyanthipuram camp