" There has been a pattern in these attacks (on Tamils in Trincomalee). The attacks have been motivated by a desire to dislodge Tamil people and drive them out of these villages. The victims were Tamils who were citizens by descent, Tamils of Indian Origin who were registered citizens, and Tamils of Indian Origin who though not granted citizenship had applied for citizenship and whose applications were yet pending. There were also some Tamils of Indian Origin who fell into the stateless category, in respect of whose status and future a decision is yet to be made...There has been a concerted plan to drive these persons out of these villages.
After the houses of these persons were burnt (in June 1983), these families were accommodated in several refugee camps... Some of them had joined relations or friends in their houses. Some people had gone back and about 500 people remained in 7 Camps.
1. Kuchchaveli Roman Catholic Church,
2. Nilaveli Methodist Church,
3. Aththimeddai Govt. Tamil Mixed School,
4. Varothaya Nagar,
5. Kanniya Hindu Madam,
6. Palayoothu Church,
7. Tamil School, Avvainagar, Pankulam Morawewa.
They had expressed no desire to leave the camps and were awaiting restoration of normally before their future could have been decided. Amongst this number of people there were Ceylon Tamils, permanent residents of Trincomalee, Legitimate Permit Holders of lands occupied by them, Ceylon Tamils and Tamils of Indian origin occupying private lands some of whom had purchased such land, persons of Indian origin with citizenship who had occupied the lands for considerable periods of time, and who were entitled to have the encroachments considered for regularisation, persons whose applications for citizenship were pending and Stateless people.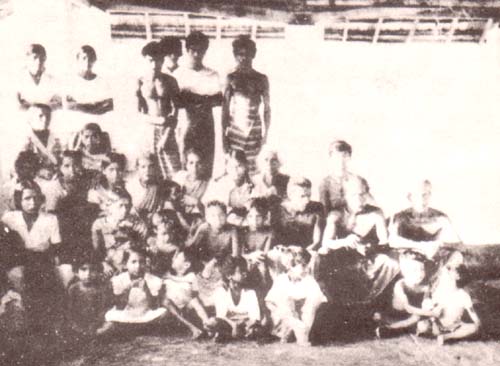 They are away from fundamental rights - A refugee camp in Trincomalee
A rude shock awaited them on the night of the 24th July. Their camps were surrounded by Armed service personnel they with their children, their belongings, without any question asked or answers given, under service command were to be bundled into vehicles to be taken away to unknown destinations, which were not disclosed. Those of them who showed unwillingness or reluctance were brusquely told to hurry up. They were given no chance. Around 3 O'Clock in the morning they were taken out of Trincomalee in Ceylon Transport Board Buses to various destinations without their free will and against their consent. Even criminals under normal laws when they are taken in by armed services are required to be informed why they are being taken and where to.
Refugees in Trincomalee were not even extended the normal courtesy extended by law to criminals. On receiving this information in Mannar on the 25th morning, I sent President Jayawardene the following Telegram
"Understand all persons in refugee camps in Trincomalee victims of racial disturbances in several areas removed from camps at midnight yesterday by service personnel without consent and against their free will to unknown destinations apparently outside Trincomalee district (stop) Lodge very strong protest against manner of removal and action taken (stop) Regret that such decision taken without prior information to me and during my absence from Trincomalee (stop) Out of about two hundred affected families more than hundred families are citizens and occupied land alienated to them on state permits or private lands (stop) Such families wanted to be rehabilitated on their own lands (stop) Action taken unjustifiably deprives them of this right (stop) More than fifty other families comprise of citizens who have occupied lands for many years and were entitled to have such occupation regularised (stop) Such persons too wanted to be rehabilitated on these lands (stop) most of even others were in occupation of lands for long periods (stop) action taken complete violation of fundamental rights and deliberately discriminatory and wrongful against Tamil people (stop) action taken tantamounts to endorsement of violence unleashed on Tamil people and would encourage such further violence (stop) perpetrators of violence bound to occupy such lands and deprive Tamil people of such lands (stop) Strongly urge that all these persons be brought back to Trincomalee forthwith and steps taken to rehabilitate them on such lands. — Sampanthan, member of parliament, Trincomalee.
I had no acknowledgement and no remedial action has been taken thus far.
These people were taken to different destinations and in so doing some families were divided. I have it on good authority that these families are unhappy in the places to which they were taken, and are deeply shocked by the treatment meted out to them.
The above incident clearly demonstrates that Tamil people both Ceylon Tamils and Tamils of Indian origin were forced to leave Trincomalee against their will, and that their fundamental rights were violated.
The action is also tantamount to an endorsement by Government of the actions of criminals who set fire to the houses of these people and looted their property. The despatch of these persons out of Trincomalee, without question, is the ultimate fulfilment of the intentions of the attackers. After these Tamil refugees were sent out of Trincomalee, there have been fresh bouts of violence in the same areas, — Sivayogapuram, Velveri, Panmadawachi, Muthalikulam (Morawewa). More houses have been burnt. After the refugees were sent out approximately a further 90 houses have been burnt in these areas; people living in these areas have been murdered and several people grievously injured. The Sinhala people were obviously emboldened into the belief, that the Government by sending out the Refugees approved of or at least was not hostile to their actions. They wanted to complete the job they had earlier begun.
Attack by Naval Personnel on the night of 26th July:
In Trincomalee no member of the armed services was ever attacked. As at 26th July the Tamils were heavily at the receiving end. The Tamils were exercising great restraint and self control, in the face of repeated attacks on them by the Sinhala mobs. The armed services were also being ruthless with the Tamils and being openly partisan towards the Sinhala people. It was in this atmosphere that the Tamil people in Trincomalee town prepared to retire to bed on the night of 26th July. Their intentions were rudely shattered by the rattle of Gun fire first heard in front of the Naval Dockyard main gate and then in front of the house of the member of Parliament, Trincomalee. Much more was to follow.